Oberparleiter takes inaugural GAP Women's Championship crown
"Welcome to the first-ever GAP Women's Championship, ladies."
| Scoring | GAP Women's homepage | Women's Schedule | Photo gallery |
Those were the historic words 46 players arrived to at the first tee of Bala Golf Club (par 68, 5,114 yards) Thursday. Fast forward a few hours later, and the first individual GAP Women's champion name was forged into history books forever.
Bala, the site of the 1952 U.S. Women's Open Championship won by Louise Suggs, was the proud host of today's inaugural championship. The new 18-hole event featured three divisional champions: Amateur (24 years of age or younger), Middle-Amateur (25 years of age or older) and Senior (50 years of age or older). The Championship Division winner was crowned from the lowest score posted in the Amateur and Middle-Amateur flights.
After 1.25 inches of rain overnight, Bala withstood the water accumulations and played ideally under sunny summer skies. Play began at 8 a.m., as Country Club of Harrisburg's Allison Wix put the inaugural tee shot into play.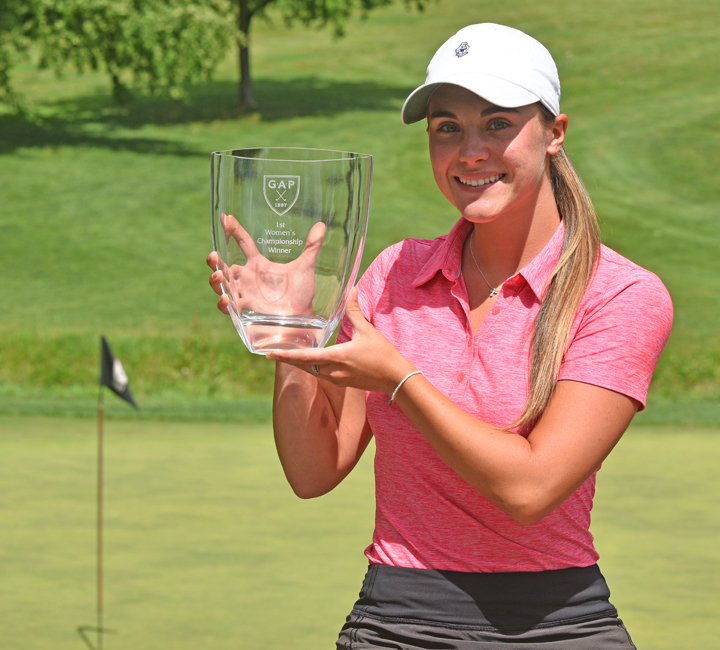 Seven hours later, a Champion Division winner was crowned. Trump National Golf Club – Philadelphia's Taylor Oberparleiter fired a 4-over 72 for the honor. Her three birdies on the day helped Oberparleiter overcome her first Bala test, lifting the inaugural trophy in the end with prideful purpose.
Here's how she got there. On the short par-4, 293-yard 2nd, Oberparleiter lifted a wedge in the air, finding the smallest green on the course, hitting her approach to three feet and converted for 3. She made the turn at 5-over par.
"I had a stretch on the front which was just not good. I was 4-over par through three holes at one point,"said Oberparleiter, who just transferred from Limestone University to Georgia Southern University, where she'll play in the fall.
On Bala's second nine, Oberparleiter started settling in. A birdie dropped on No. 11 (par 4, 371 yards) when the champion rolled a putt through six feet of fringe to card a 3. Next, on the par-3, 160-yard 13th, a hybrid off the tee came up just short, but Oberparleiter's chip crept over the front lip and in for 2.
"I hit the driver really, really well today, even when I probably shouldn't have hit driver," said Oberparleiter, 20, of Laurel Springs, N.J.. "I definitely found myself in better positions on the back nine, so that was a strong way to finish."
Winning the inaugural GAP Women's Championship may not have been in the cards for Oberparleiter without a text from friend Colton Murray. Those simple words of motivation were the nudge Oberparleiter needed to register. She's pretty happy she did looking back on it from the winner's circle.
"When he saw this event, he texted and told me I should sign up," said Oberparleiter. "He said to me, 'the first-ever GAP Women's Champion, Taylor Oberparleiter', which I thought had a nice ring to it."
Oberparleiter grew up playing all over South Jersey at courses like Trump Philly, Laurel Creek Country Club, Valleybrook Country Club and Little Mill Country Club. She and her family have split time between Florida for the past five seasons, so golf could be playable throughout the calendar year. She hopes more Junior female players will follow her lead, playing whenever possible.
"Play whenever you can. Play no matter what in these events," she said. "Even if you don't think you have the chance to win, you'll get the experience, and that's important."
Taking today's Mid-Amateur Division was Northampton Country Club's Katrin Wolfe. Her 10-over 78 took the inaugural title over a 10-player field.
"I guess I'm a little speechless," said Wolfe, 38, of East Stroudsburg, Pa. "I moved to eastern Pennsylvania right before COVID, so I haven't been able to play in a lot of GAP events yet. I've been really trying to support the GAP and WGAP, plus the Pennsylvania Golf Association. This is cool. I take these opportunities to get to know the workers at GAP and their great golfers."
Amy Kennedy of Country Club of York claimed the Senior Division with a day's low 2-over 70. Kennedy has her putter to thank for the winning scorecard.
"I made a lot of sand saves, and made several putts from six-to-eight feet for par," said Kennedy, 53, of Naples, Fla.
Today's event falls in the middle of #GAPWomensWeek, a week-long slate of women's programming ranging from Junior clinics to happy hours to national championships. As a member of GAP's Women's Committee, Kennedy is pleased to see not only the growth in women's programming, but the strong field established in the Inaugural Women's Championship.
"I think it's huge. I think the turnout was very good considering it was the first year, and I think it shows that there's definitely a demand for a GAP [women's] championship," said Kennedy. "In many cases, the GAP covers so much area it could put together a wonderful field."
GAP
Celebrating Amateur Golf since 1897, GAP, also known as the Golf Association of Philadelphia, is the oldest regional or state golf association in the United States. It serves as the principal ruling body of amateur golf in its region. The Association's 330 Member Clubs and 90,000 individual members are spread across Pennsylvania, Delaware, New Jersey and Maryland. The GAP's mission is to promote, preserve and protect the game of golf.
| | |
| --- | --- |
| Championship Division | Score |
| Taylor Oberparleiter, Trump National Golf Club – Philadelphia | 72 |
| Christina Carroll, Play Golf Delaware | 73 |
| Sarah Scarpill, USGA/GAP GC | 73 |
| Mary McGuinness, Tavistock Country Club | 76 |
| Katrin Wolfe, Northampton Country Club | 78 |
| Rhianna Gooneratne, The 1912 Club | 79 |
| Olivia Strigh, Philadelphia Junior Tour | 80 |
| Allison Wix, Country Club of Harrisburg | 80 |
| Grace Sanborn, Northampton Country Club | 81 |
| Grace Battista, Golf Course at Glen Mills | 81 |
| Monica Austin, Paxon Hollow Country Club | 83 |
| Emily Christiansen, Manufacturers' Golf & Country Club | 84 |
| Barbora Millichip, Honeybrook Golf Club | 85 |
| Meredith Finger, DuPont Country Club | 85 |
| Audrey Reese, Commonwealth National Golf Club | 86 |
| Meghan Adams, Wilmington Country Club | 88 |
| Emilee Barkley, Moselem Springs Golf Club | 91 |
| Jocelyn Abel, Regents' Glen Country Club | 93 |
| Sarah Kline, Lancaster Country Club | 98 |
| Molly Gregor, Huntingdon Valley Country Club | 102 |
| Tori Viggiano, Workhorse Tour | 113 |
| | |
| Amateur Division | |
| Taylor Oberparleiter, Trump National Golf Club – Philadelphia | 72 |
| Christina Carroll, Play Golf Delaware | 73 |
| Sarah Scarpill, USGA/GAP GC | 73 |
| Mary McGuinness, Tavistock Country Club | 76 |
| Rhianna Gooneratne, The 1912 Club | 79 |
| Olivia Strigh, Philadelphia Junior Tour | 80 |
| Grace Sanborn, Northampton Country Club | 81 |
| Meredith Finger, DuPont Country Club | 85 |
| Audrey Reese, Commonwealth National Golf Club | 86 |
| Emilee Barkley, Moselem Springs Golf Club | 91 |
| Molly Gregor, Huntingdon Valley Country Club | 102 |
| Mid-Amateur Division | |
| Katrin Wolfe, Northampton Country Club | 78 |
| Allison Wix, Country Club of Harrisburg | 80 |
| Grace Battista, Golf Course at Glen Mills | 81 |
| Monica Austin, Paxon Hollow Country Club | 83 |
| Emily Christiansen, Manufacturers' Golf & Country Club | 84 |
| Barbora Millichip, Honeybrook Golf Club | 85 |
| Meghan Adams, Wilmington Country Club | 88 |
| Jocelyn Abel, Regents' Glen Country Club | 93 |
| Sarah Kline, Lancaster Country Club | 98 |
| Tori Viggiano, Workhorse Tour | 113 |
| Senior Division | |
| Amy Kennedy, Country Club of York | 70 |
| Lisa McGill, Sunnybrook Golf Club | 72 |
| Suzi Spotleson, RiverCrest GC & Preserve | 72 |
| Donna D'amore, Woodstone Golf Club | 76 |
| Karen Siegel, Commonwealth National Golf Club | 77 |
| Alexandra Frazier, Gulph Mills Golf Club | 78 |
| Wendy Cimoch, Fox Hill Country Club | 78 |
| Muffy McCabe, French Creek Golf Club | 79 |
| Megan Grosky-McGowan, Blue Bell Country Club | 80 |
| Tina Gregor, Huntingdon Valley Country Club | 80 |
| Louise Gebhart, Hanover Country Club | 81 |
| Allison Long, Honeybrook Golf Club | 84 |
| Tia Toms, Legacy Club at Woodcrest | 87 |
| Linda Weise, Trenton Country Club | 89 |
| Ellen Miller, Gulph Mills Golf Club | 89 |
| Jackie Beck, Lehigh Country Club | 90 |
| Kathleen Gallagher, Penn National GC | 91 |
| Alison Kellock, Flourtown Country Club | 91 |
| Barbara Naglak, Moselem Springs Golf Club | 93 |
| Pat Hughes Gelardi, Manufacturers' Golf & Country Club | 95 |
| Rose Covalesky, Aronimink Golf Club | 100 |
| Shelby Noll, Lancaster Country Club | 102 |
| Lori Turnbach, Overbrook Golf Club | 103 |
| Sue Curran, Philadelphia Cricket Club | WD |
| Suzy Armbruster, Woodstone Golf Club | WD |
| WD – withdrawal | |