Frazier finds #BrewerCup victory in first GAP start
| Scoring portal | History | Medalist History | Day One recap | Day Two recap |
MOHNTON, Pa. – One for one. That's Jeff Frazier's first GAP, and Senior, claim to fame.
Frazier, playing in his first GAP event and first Senior (55 years or older) competition overall, took a title in his first crack at it. The Carlisle Country Club member battled his way to a 1-up victory over Yardley Country Club's Paul Rogowicz for the Senior crown in the 13th Brewer Cup at LedgeRock Golf Club (par 72, 6,646 yards).
In order to reach the Final, both Frazier and Rogowicz took care of business in the morning Semifinal matches, beginning at 8 a.m. The eventual champion took down Philadelphia Publinks GA's Michael Quinn, 3&1, while Rogowicz defeated Country Club of Scranton's Michael Vassil, 1 up.
Teeing off at 12:15 p.m., the Final match got off to a slow start, featuring four halved holes to begin. A Rogowicz birdie on No. 5 (par 4, 446 yards) got things going, and in turn, ignited Frazier's fuel to the title with wins on three straight holes. On No. 6, a 12-foot birdie dropped for Frazier, getting the match back to tied. Trouble off the tee spelled disaster on No. 7 (par 5, 566 yards) for Rogowicz, who would make bogey and eventually concede a 10-foot birdie putt to Frazier. Another birdie on No. 8 (par 5, 532 yards) for Frazier, who played his tee ball down the 7th fairway for a better look, gained him a 2-up edge. Before the turn, Rogowicz tossed an approach dart on No. 9 (par 4, 370 yards) to a foot, getting the match back to Frazier, 1 up.
Matching bogeys meant no change on the par-3 10th, but a Frazier birdie on No. 11 (par 4, 391 yards)– whose approach landed ideally on the left side of the green and trickled down — got things moving again. A remarkable flop shot from left of the green by Rogowicz on No. 12 (par 4, 280 yards) fell within five feet, and he'd go on to make that, taking birdie and the hole.
On the par-3 14th, both Frazier and Rogowicz found the green. And then, the skies opened up. Intense rainfall found it's way over LedgeRock, just as it did on Monday.
"It really started raining," recalled Frazier. "And then Paul hit an incredible putt from deep, and I just missed on mine from 15 feet or so that I thought looked good."
With rain continuing to pummel the players, a pivotal moment of the match arrived on No. 17, a challenging par-4, 396-yarder. Rogowicz put his shot to 10 feet while Frazier landed right of the green. Frazier lifted a wedge shot to 20 feet, stepped up, and drained it for the par save. Rogowicz missed his good look at 3.
"That actually threw me off a little, I even thought the match was over there at No. 17 after that putt. It was raining hard and I didn't really know what was even happening," said Rogowicz, runner-up in the 2006 BMW Philadelphia Amateur Championship. "It was a great putt by Jeff."
The match headed to LedgeRock's finisher (par 5, 598 yards) — a hole Frazier hadn't played since Monday's Stroke-Play Qualifying round — with Frazier 1 up. Both players would find the green in regulation, with Rogowicz 18 feet behind the hole and Frazier 30 feet, bottom left of the green. A powerful stroke from Frazier nestled up to the cup, and Rogowicz missed birdie look to tie it up.
"Obviously, it's still raining at that point and I was thinking about that, but I was also just thinking about getting it on the middle of the green. I hit an 8-iron from 160 yards out and it just hit the middle ridge and fell down there," said Frazier, of Mechanicsburg, Pa. "I hit a nice putt from there to finish it."
"I can't tell you how good [Frazier] was down the stretch. It was such a back-and-forth match. He played great, and is incredibly deserving of the win," said Rogowicz, 56, of Yardley, Pa.
Thanks to his powerful drives, Frazier enjoys a heavy advantage off the tee. He says he is capable of carrying it roughly 260 yards in the air.
"It helped me a lot this week, against some of the other guys. I had some drives roll out to 300, 310 yards on Monday when it was dried out. There were times today when I was hitting a 7-8-9 iron in, and [the other player] had 200 yards in," said Frazier. "I think that helps me in the [Senior Division]."
While he may enjoy advantages over other Seniors, the 55-year-old still expressed feelings of fatigue after Tuesday's victories. He even opted to stay local, in Reading, just to catch up on rest. That call seemed to be the right one, as the debuting Senior found the needed strength within to raise the trophy when all was said and done. Sitting down post-round, relishing in the bask of Brewer Cup glory, a rain-soaked Frazier took a moment to appreciate the run he had this week.
"Yeah, [sitting] feels good," said Frazier, a seven-time U.S. Mid-Amateur competitor. "It's been fun playing with these guys [at 55 years old]. It's been a good week for me."
Applebrook's Dowds downs Donatoni for Supers crown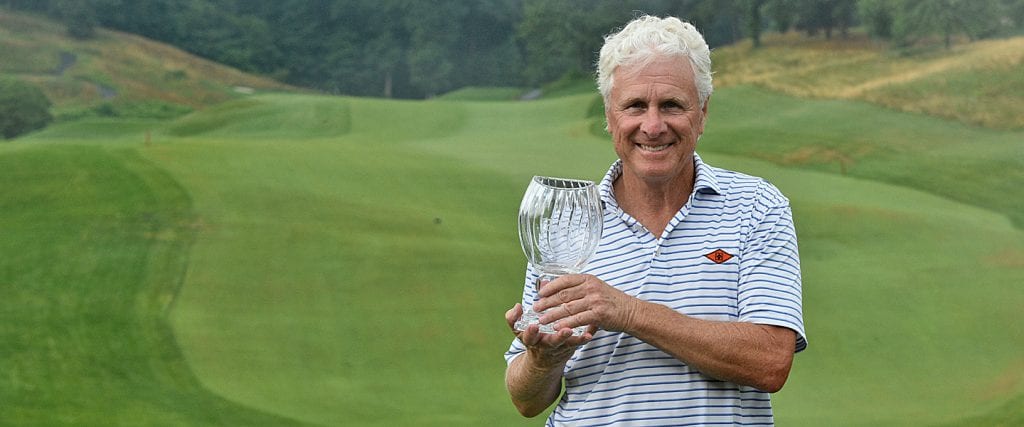 Unlike the weather, Chuck Dowds` game remained consistent all day. The 66-year-old Applebrook Golf Club member captured his first-ever Super-Senior Brewer Cup crown Wednesday at LedgeRock Golf Club (Par 72, 6,226 yards). He defeated the five-time Super-Senior winner Don Donatoni, 2&1, in the Final.
Periodical rainstorms hit the Mohnton, Pa. area throughout the day. Heavy rain caused a 15-minute delay following the competition of the 16th hole in the match. The finalists would return for one more hole before a trade of bogeys sealed the deal for Dowds.
"After the delay, I just wanted to get out of there," said the Glenside Pa., native. "The weather had a bit of an effect on us, and I had to make sure I didn't lose momentum."
Dowds got off to a quick start by taking the first hole. He also started his Semifinal matchup against Bob Billings of Rolling Green Golf Club, which he won 3&2, the same way. The eventual champ was able to stick to his "par or better" game plan on the front nine by recording seven pars and one birdie.
He was able to notch his first red figure on No. 6 (par 4, 375 yards) by lining a drive straight down the fairway. He followed that up with a sand-wedge from 65 yards out and tapped in an eight-foot putt to go 2 up.
The pair would flip flop victories on No. 7 and No. 8 before a Dowds birdie on No. 10 (par 3, 167 yards) put him 3 up. A 7-iron followed by a successful five-foot putt had Dowds feeling confident. As well as Dowds member was playing however, he knew his lead wasn't safe.
"Don is a legend," said Dowds. "My confidence was high, but I knew he would make me pay if I wasn't perfect."
Donatoni would indeed make him pay, as he won No. 11 and No. 12 to cut the deficit to one. That`s as close as the star Super-Senior would come, as Dowds would immediately take a 2-up lead, and eventually win by a score of 2 & 1.
"I`ve known Mr. Brewer for many years, and I am honored to win this tournament named after him," Dowds said. "Any GAP win is a good one and I am looking forward to the upcoming competitions."
Donatoni, who defeated Tom Bartolacci of LuLu Country Club in the Semis, 2 & 1, is not sweating today's defeat. After becoming the Super-Senior medalist on Monday, the White Manor Country Club member knew what he was getting into with match play.
"Match play is so interesting because all of the competitors are great," Donatoni said. "On any given day your opponent might outplay you, and today, I got outplayed by a tough competitor."
GAP
Celebrating Amateur Golf since 1897, GAP, also known as the Golf Association of Philadelphia, is the oldest regional or state golf association in the United States. It serves as the principal ruling body of amateur golf in its region. The Association's 274 Full Member Clubs and 75,000 individual members are spread across the Eastern half of Pennsylvania and parts of New Jersey and Delaware. The GAP's mission is to promote, preserve and protect the game of golf.
Senior Division
Final
2. Jeff Frazier, Carlisle, d. 8. Paul Rogowicz, Yardley, 1-up.
Semifinals
8. Rogowicz d. 12. Michael Vassil, Scranton, 1-up.
2. Frazier d. 14. Michael Quinn, Philadelphia Publinks GA, 3&1.
Super-Senior Division
Final
3. Chuck Dowds, Applebrook, d. 1. Don Donatoni, White Manor, 2&1.
Semifinals
1. Don Donatoni d. 4. Tom Bartolacci, LuLu, 2&1.
3. Chuck Dowds d. 2. Bob Billings, Rolling Green, 3&2.