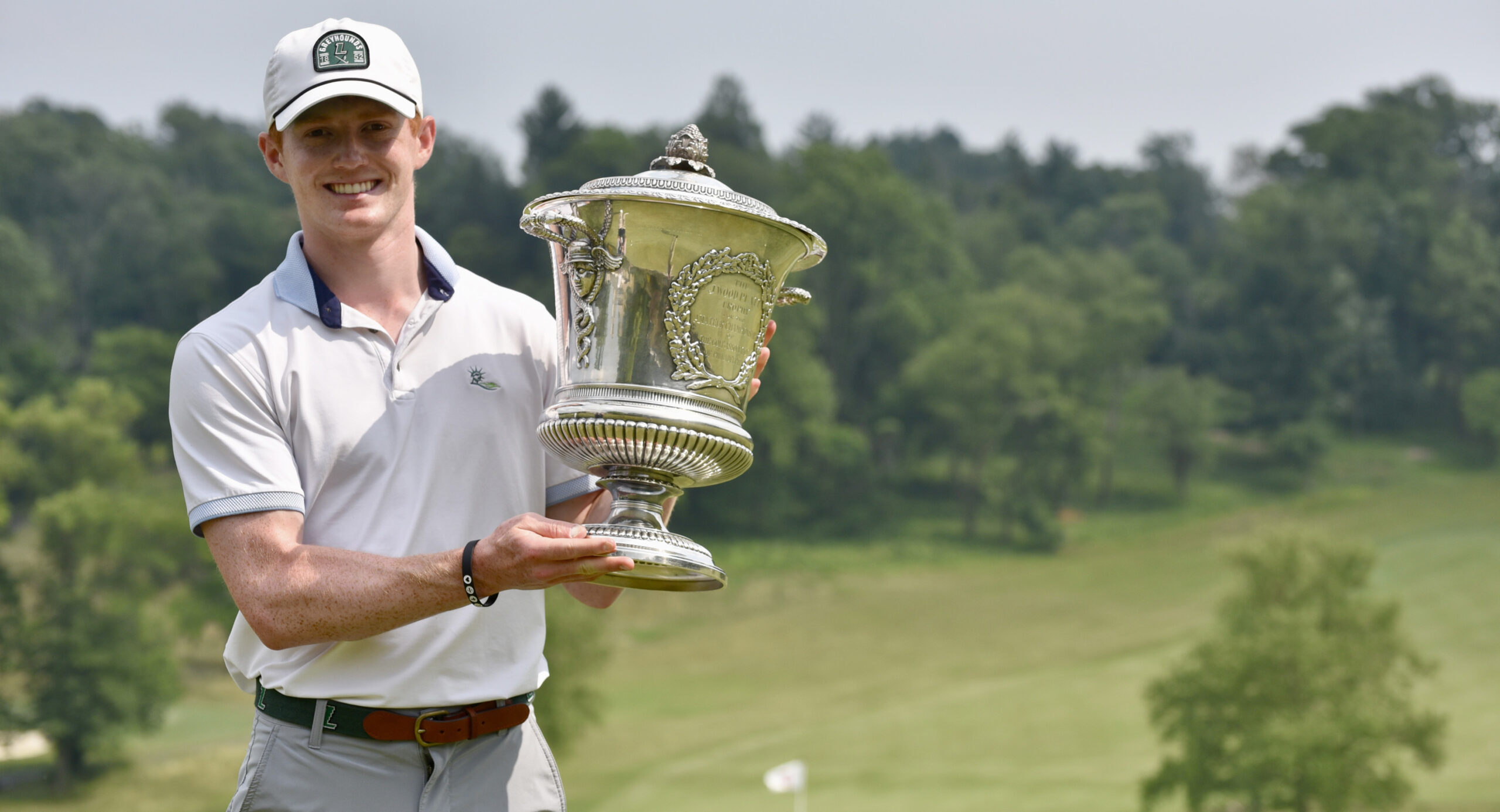 Crowley stops Isztwan for title
| Scoring portal | Photos | History | Semifinals recap | Day Three recap | Day Two recap | Day Two Notebook | Qualifying Recap |
HUNTINGDON VALLEY, Pa. — Michael Crowley's match play modus operandi all week was to hit a shot and to immediately chase it down. He called it a means to focus. A course to victory it was. Crowley, of Briarwood Golf Club, finished as the man out front in the 123rd BMW Philadelphia Amateur Championship, stopping Patrick Isztwan of host Huntingdon Valley Country Club, 7&6, Saturday in the 36-hole Final.
Crowley, a rising senior at Loyola University Maryland, stitched together high quality shots with a plethora of timely putts to hoist the J. Wood Platt Trophy in his first Amateur appearance. In the 30 holes, and with concessions, Crowley was the equivalent of 7-under par.
"I try to get in my own little world and focus on what I'm doing and what I can control," said Crowley, 21, of Hunt Valley, Md., of the walking routine. "I felt that [going ahead] is the best way for me to play. I'm going to play my game no matter what, whether the guy is a foot for birdie or in the bunker. I'm going to hit the same shots. It was a method for me to not really focus on what they're doing. And try to get in my own little world."
Isztwan was gallant in defeat as he attempted to make history. The 20-year-old rising Richmond University junior would have been the highest seed to capture the Association's most historic individual championship. He was seeded No. 32 after Qualifying. The highest prior seed to win the Amateur was Gary Deetscreek in 1981 at No. 29. Isztwan was also looking to add his name to the elite list of Amateur Champions from Huntingdon Valley. A record 16 HVCC members have won 25 Amateur titles since 1897. Conor McGrath, in 2021, an Isztwan friend and Saturday spectator, was the last to win.
"It's been [an] unbelievable [ride]. It is kind of a dream come true," Isztwan said. "It would have been nice to cap it off and take that trophy. It is all going to be positive from this week. The support I got and the confidence this week gives me."
After four holes, the match was tied. Crowley the took the lead for good on No. 5 (par 3, 180 yards) with a par helped out after Isztwan's tee shot found the penalty area. Crowley added victories on Nos. 7 (par 5, 604 yards) and 8 (par 4, 467 yards) with natural birdies. On No. 7, Crowley's second shot came up just short in two before he rolled a putt to five feet. On No. 8, Crowley dialed in an 8-iron from 165 yards to 10 feet right of the cup. Isztwan made good pars, they just weren't good enough.
The two traded victories on holes Nos. 11 (par 4, 377 yards) and 12 (par 4, 449 yards). Isztwan then almost netted an albatross on No. 15 (par 5, 571 yards) when he ripped a 5-iron from 240 yards to inches. A conceded eagle sliced the deficit to 2-down.
On No. 16 (par 4, 401 yards), Isztwan was poised to make more hay when Crowley found the left trees with his tee shot. But a punch out and ensuing wedge from 85 yards stopped five feet from the cup. Isztwan had a lengthy birdie putt from the front portion of the green that trailed off to the right. The hole was halved with pars.
"Of all the stuff I practice, I practice wedges the most. I felt like if you give me 85 yards to a middle [hole location], I'll get that up-and­-down more times than not," Crowley said.
"He played like he knew the greens for 19 years," Isztwan said. "That was supposed to be my thing. It was fun to watch. He made everything. I have not seen the kind of golf he played here in a very long time. It was impressive."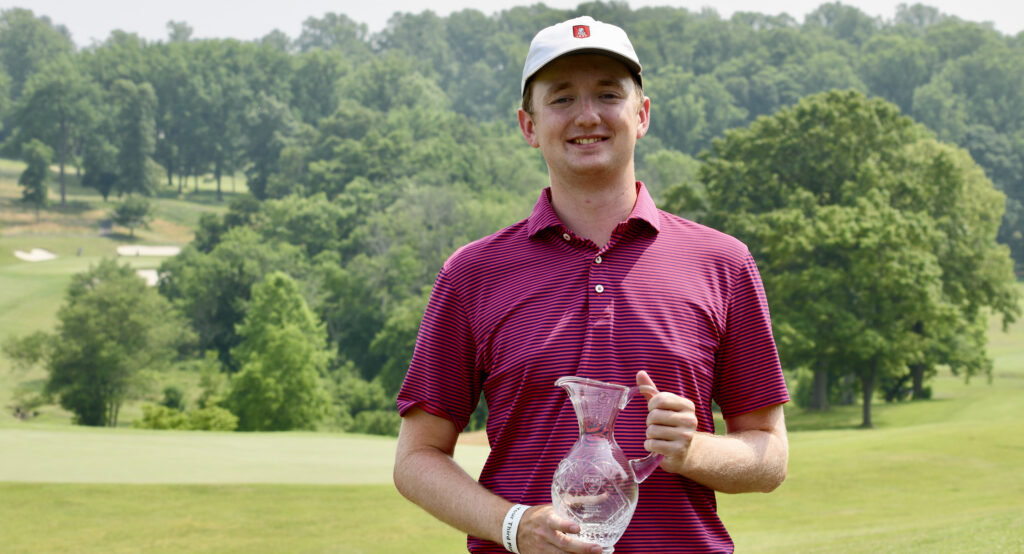 On No. 18 (par 4, 486 yards), Crowley made par for the win and a 3-up lead after 18. Isztwan's drive found trouble right off the tee. He couldn't recover.
Isztwan started the second 18 holes strong. He birdied No. 20 (No. 2, par 4, 420 yards) when he dropped a pitching wedge from 144 yards, out of a divot no less, to three feet.
However, Crowley answered immediately.
He rolled in a 20-foot birdie from a similar line Isztwan putted from minutes earlier on No. 21 (No. 3, par 3, 233 yards).
"That was a big putt. I had a similar putt in the morning. And I saw his. I felt like if I was getting a read I would make it," said Crowley.
"I was 2 under thru the first three holes of the second 18 and I didn't make any ground," said Isztwan.
Crowley added the next two holes to move 5-up but gave one back on the 24th hole.
On the 25th hole (No 7, par 5, 604 yards), Crowley basically crowned himself when he faded a 2-iron from 277 yards in the right rough to five feet.
"That was the best the shot I've hit in a really long time," said Crowley. "My dad [who was caddying] and I talked about what I was trying to do there. I hit it exactly how we saw it. You give me a 100 balls I'm not going to get one any closer than that one." He moved 5-up.
Wins on Nos. 26 (No. 8) and 28 (No. 10) pushed the advantage to 7-up.
The two halved No. 30 (No. 12). The match was over.
"To win a big tournament like this feels amazing," said Crowley. "I've had a lot of close calls in a lot of events over the last couple of months. I've worked really hard. It felt like a big stage [out there] with a lot of people [in the crowd] and the cameras around."
As the top player of Loyola University Maryland's golf team, Crowley finished second in the Patriot League Golf Championship in April and made the Round of 16 of the Maryland Amateur last week. His last victory was the Maryland Interscholastic Athletic Association (MIAA) individual title as a junior in 2019.
Final
14. Michael Crowley, Briarwood Golf Club, d. 32. Patrick Isztwan, Huntingdon Valley Country Club, 7&6.
GAP
Celebrating Amateur Golf since 1897, GAP, also known as the Golf Association of Philadelphia, is the oldest regional or state golf association in the United States. It serves as the principal ruling body of amateur golf in its region. The organization's 340 Member Clubs and 100,000 individual members are spread across Pennsylvania, Delaware, New Jersey and Maryland. The GAP's mission is to promote, preserve and protect the game of golf.