HUNTINGDON VALLEY, Pa.–The 123rd BMW Philadelphia Amateur semifinals are set and a new name is guaranteed to be inscribed on the J. Wood Platt Trophy. Huntingdon Valley Country Club's Patrick Isztwan faces Llanerch Country Club's John Lalley and Ben Smith of the Country Club of Harrisburg squares off against Michael Crowley of Briarwood Golf Club.
| Scoring portal | Photos | History | Day 2 recap | Qualifying Recap |
The matches begin at 7:30 a.m. and 7:37 a.m., respectively, at Huntingdon Valley.
The semifinal contests are a day later than originally scheduled due to a lengthy weather on Monday at both Amateur Qualifying sites, Huntingdon Valley and Lookaway Golf Club.
Isztwan vs. Lalley
Isztwan, 19, the remaining home club flagbearer, continued a MasterClass in power and precision.
Isztwan defeated Brian Gillespie of St. Davids Golf Club in the quarterfinals, 4&3, after surviving a morning Round of 16 match with Brandon Dalinka of The Ridge at Back Brook that went 21 holes.
Isztwan, a rising University of Richmond junior, is looking to gain access to the most exclusive brotherhood in Philadelphia golf – Amateur champions who call Huntingdon Valley home. A total of 16 HVCC members have won 25 Amateur titles since 1897. That is more than double the next closest club, Whitemarsh Valley Country Club, at 12. The last to win: Conor McGrath in 2021.
Since advancing to match play from a playoff, Isztwan has navigated his home track with the muscle and meticulousness needed to make the home course an advantage.
Nothing demonstrates that better than how Isztwan has played the par 5, No. 15 (572 yards), all week. He's won that hole in all three matches, going eagle, birdie, birdie. It was also the clinching hole in his opening match against medalist Troy Vannucci of Little Mill Country Club and his quarterfinal match Wednesday.
All three days he crushed driver into the fairway. He followed that up with a 7-iron from 240 yards or so, landing it 50 yards short of the green to bounce it on. The only way a ball will stay on the putting surface. Power. Precision.
Against Gillespie, he had 20 feet for eagle. A two-putt for the win.
The hole prior, No. 14 (par 4, 472 yards), Isztwan, of Huntingdon Valley, Pa., again showed that home course class. Returning from an 110-minute weather delay, Isztwan ripped a 5-iron from 197 yards into the back left bunker. A delicate sand shot to a back hole location was required. He splashed out to eight feet and made the par save.
"It's a dream come true, honestly. I've grown up at Huntingdon Valley. It's like a second home. The community here is so good," said Isztwan, playing in his third Amateur. "I've had a lot of support out there the last couple of days. It's just been incredible. Very surreal."
This is Isztwan's deepest Amateur run. He fell in the first round in 2021, his only other match play appearance.
John Lalley, 36, of Havertown, Pa., is in only his second Amateur ever. He failed to qualify for match play in 2018 at Whitemarsh Valley.
Lalley defeated Evan Eichenlaub of Saucon Valley Country Club, 7&6, in the Round of 16 before winning a taunt tilt with Logan Paczewski of Huntsville Golf Club, 1-up, in the Quarterfinals.
An admiration for the course provided Lalley the impetus to enter GAP's Cornerstone Championship.
Two more wins will result in his greatest golf achievement.
"This place forces you to hit golf shots and not be technical and play it on the ground. That's definitely worked in my favor," said Lalley, a Senior Lighting Consultant for Power Design. "I've played here a decent amount and knew how to get around. My expectations [entering the week] were very low. I've been searching a little bit."
Lalley credited his caddies, Riley Quartermain, a rising junior who plays at University of North Carolina at Chapel Hill, and Thomas Larkin, a rising junior for St. Joseph's University, with keeping him grounded and focused.
Lalley is familiar with Isztwan and his game. The two were in the same pairing in a 2021 BMW GAP Team Match Week 3 contest. Lalley said Isztwan made putts from everywhere, including a 70-footer on the par 3, No. 3 that day. He noted, ironically enough, he had a similar putt in Qualifying. In fact, it was his opening putt when play resumed on Tuesday. He went to bed with visions of Isztwan in his head that evening. He'll do the same night.
Lalley never trailed in either of his two matches Wednesday. Paczewski closed to within a hole twice, but Lalley stayed strong despite his putter going cold on the closing holes. The four-time Llanerch Men's Club Champion (2018, 2020-22) three-putted three of the final four greens but only lost one hole.
Lalley landed in the area 13 years ago after graduating from the College of Charleston. He and Patrick Knott of Merion Golf Club, grew up together in the Baltimore, Md. area. Lalley was moving to Philadelphia in search of a change of pace. He asked Knott for a club recommendation. Llanerch fit the bill.
The last Llanerch member to call Havertown and hoist the trophy, Billy Stewart in 2002.
Smith v. Crowley
According to the 2021 United States Census, Blain, Pa. was home to 226 people. One of them being Ben Smith. At home, he loves to shoot archery. So far, he's been on target in the #BMWPhillyAm at HVCC.
"I've been into archery and hunting my whole life," Smith said. "We used to have one stop light in Perry County, Pa. where I am from. So hunting and the outdoors are a lot bigger there than they would be in bigger areas. Golf and archery have similarities. There's the patience required to hit your target and deal with the pressure you feel before you release the bow or swing the golf club."
He is one of the Final Four at HVCC. Entering match play as the No. 15 seed, he won his Round of 32 match Tuesday against Cole Willcox, 3&2.
Wednesday, he took out 2014 champion Jeff Osberg of Pine Valley Golf Club, 5&4, in the Round of 16. In his afternoon quarterfinal match, he took out University of Delaware golfer Xiong Da, 2&1.
"It's a grind to even get this far," Smith, 22, and a rising fifth-year senior at Mount St. Mary's University, said. "I am blessed to have won some matches and hope I can keep it going. GAP is loaded with a lot of quality players and everyone that made match play could win this tournament. Proving to myself that I can play and get the job done in matches is nice. It is rewarding."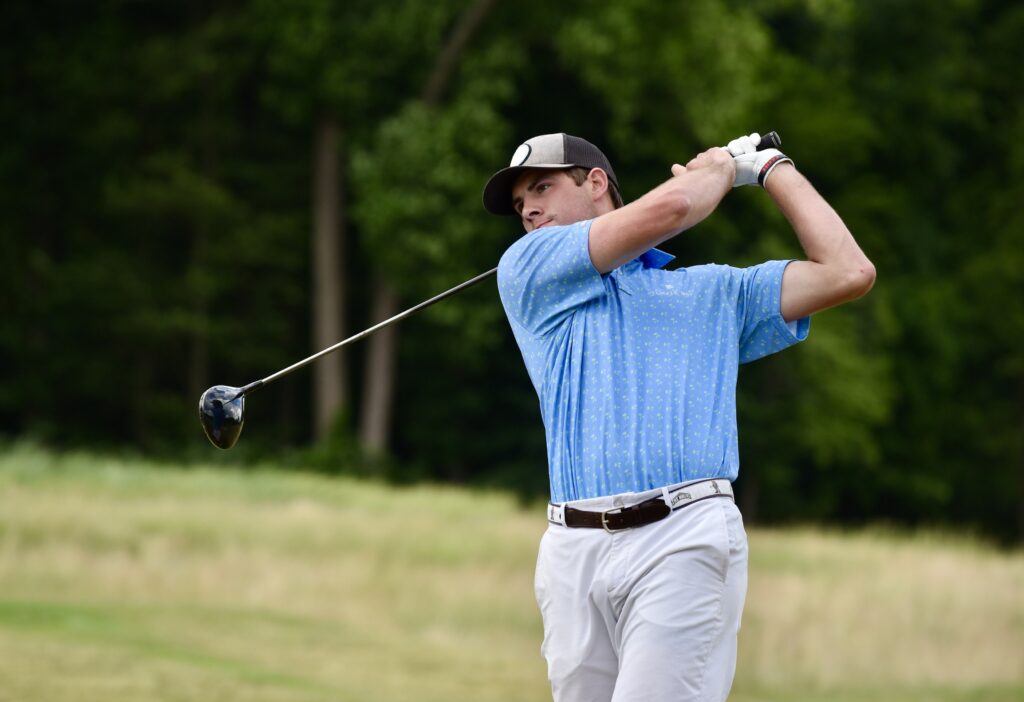 Against Osberg he was 4-up at the turn and finished him off on the 14th hole of the match. He was 3-up through his first five holes against Da thanks to victories on Nos. 2 (par 4, 448 yards), 3 (par 3, 212 yards) and 4 (par 4, 311 yards). He put up birdies on the even holes.
"Starting fast is important in this format," Smith said. "It is hard to force birdies here. Having a lead puts your opponent in a pressing position. It allows me to make pars and play smart. If you made 18 pars here, you will probably win every match."
A weather delay of 110 minutes threw a wrench in his plans. Feeling secure at 3-up with seven to play, Smith lost No. 12 (par 4, 414 yards) with a bogey.
"Before the delay I was thinking I needed to just make some pars when I was 3-up," Smith said. "Then after losing a hole right after the delay, I started to feel the pressure a little bit."
He faced a treacherous chip on No. 17 (par 3, 228 yards) with a 1-up lead after Da rolled in a 40-foot birdie bomb on the previous hole (par 4, 399 yards) to trim Smith's lead.
"I have a 60-degree and 56-degree wedge," Smith said. "I get into this rut where I use my 60-degree all the time and my father, Scott, tells me all the time to not use the 60-degree. I had a lot of green to work with. Once I got it rolling down to the pin, I knew it was going to be great."
His par was conceded from two feet and Da failed to make par from the right greenside bunker.
"I've been hitting it well," Smith said. "My putter hasn't been at full strength but I am pleased with how I putted in the afternoon. With how many holes we are playing it is easy to get off track and do things different from what you did to be successful. I just want to stick to the game plan."
Mike Crowley's mental game has been tested. He has played a round of tournament golf for the past eight days. He shows no signs of slowing down.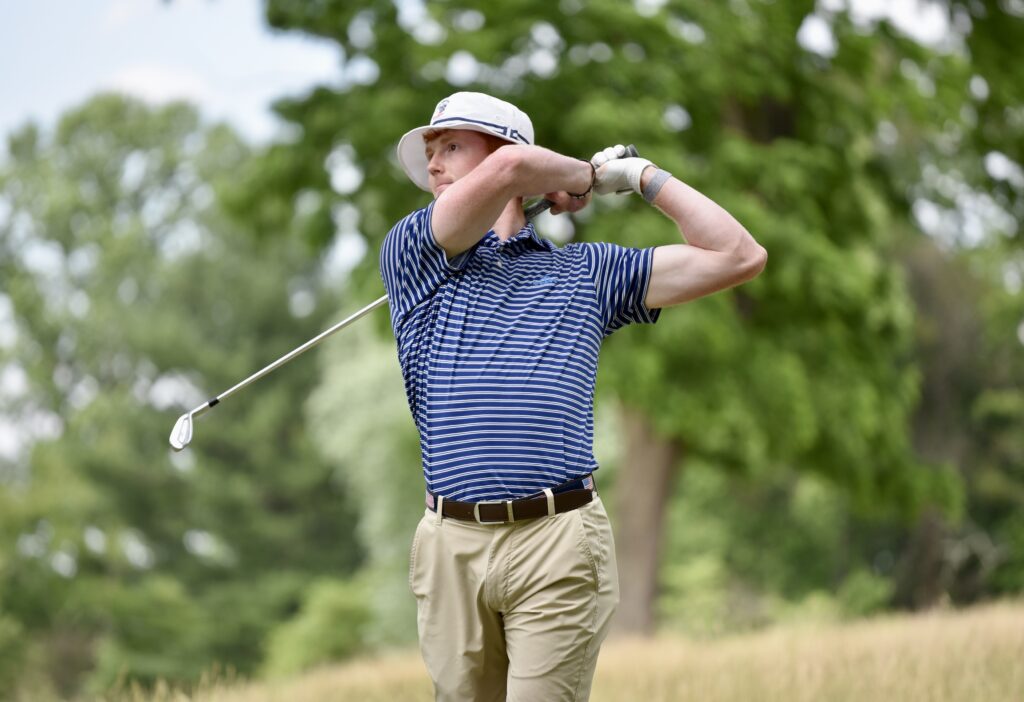 Crowley, the No. 14 seed, took out home club hopeful Andy Butler, 4&3, in the Round of 16 and outlasted USGA/GAP GC's Campbell Wolf 1-up in the quarterfinals.
"I am enjoying the creativity Huntingdon Valley requires," Crowley said. "There are so many ways to play shots here with the slopes. If you hit good shots, you will be rewarded. If you don't, you'll be penalized. I like how they move around the tees and set the course up. It is identifying good golf and I am playing well."
As the top player of Loyola University Maryland's golf team, he finished second in the Patriot League Golf Championship in April and made the Round of 16 of the Maryland Amateur last week.
"I've been playing great lately," Crowley, 21, of Baltimore, Md., said. "Coming into this event I thought I could win. This format is nice because you only have to beat one person at a time once you reach match play."
Crowley darted to a 2-up lead through six holes over Wolf only to be 1-down on No. 13 (par 3, 200 yards). Crowley would make three straight pars on Nos. 13, 14 (par 4, 472 yards) and 15 (par 5, 572 yards) to seize a 2-up advantage. He would close out the match with a par at the last (par 4, 486 yards), remaining calm under all the stress.
"I work on mental attitude a lot with my coaches at Loyola," Crowley said. "Having good body language is important. When I played with PGA TOUR player Kevin Chappell in U.S. Open Final Qualifying last year, that was the biggest thing I have learned. You couldn't tell whether he made a birdie or a triple bogey. It saves so much energy not reacting emotionally to shots."
Crowley is ready to take the next step. He's proven he's ready. Last year, he played in his first U.S. Amateur.
"I want to win," Crowley said. "I feel like I have been playing well enough to win. Tomorrow I need to make good decisions and not get too aggressive. I am a pretty disciplined player and I hit a lot of iron shots flag high. I am going to plod along and not make mistakes."
Quarterfinals
32. Patrick Isztwan, Huntingdon Valley Country Club, d. 24. Brian Gillespie, St. Davids Golf Club, 4&3; 13. John Lalley, Llanerch Country Club, d. 21. Logan Paczewski, Huntsville Golf Club, 1-up; 15. Benjamin Smith, Country Club of Harrisburg , d. 23. Xiong Da, USGA/GAP GC, 2&1; 14. Michael Crowley, Briarwood Golf Club, d. 22. Campbell Wolf, USGA/GAP GC, 1-up.
Round of 16
32. Isztwan d. 16. Brandon Dalinka, The Ridge at Back Brook, 21 holes; 24. Gillespie d. 8. Zach Dilcher, Hartefeld National, 19 holes; 13. Lalley d. 29. Evan Eichenlaub, Saucon Valley Country Club, 7&6; 21. Paczewski d. 28. Christian Matt, Cedarbrook Country Club, 6&5; 15. Smith d. 2. Jeff Osberg, Pine Valley Golf Club, 5&4; 23. Da d. 26. Michael R. Brown, Jr., LuLu Country Club, 20 holes; 14. Crowley d. 3. Andy Butler, Huntingdon Valley Country Club, 2&1; 22. Wolf d. 27. David Kim, LuLu Country Club, 19 holes.
BMW Philadelphia Amateur Championship
Originating in 1897, the Amateur Championship is GAP's premiere individual event. Philadelphia Cricket Club's Albert H. Smith captured the first Amateur Championship by defeating J.D. Winsor of Merion Cricket Club in 37 holes. The event's format switched to medal play in 1938. J. Wood Platt went on to win two consecutive Amateurs under that format. His brother William "Zimmer" Platt earned the 1940 title at Philadelphia Cricket Club by being the only competitor to finish all 72 holes. The event's format reverted back to match play in 1941. The Amateur Championship wasn't contested from 1943-45 because of World War II. Overall, 34 courses have hosted the Amateur.
GAP
Celebrating Amateur Golf since 1897, GAP, also known as the Golf Association of Philadelphia, is the oldest regional or state golf association in the United States. It serves as the principal ruling body of amateur golf in its region. The organization's 340 Member Clubs and 100,000 individual members are spread across Pennsylvania, Delaware, New Jersey and Maryland. The GAP's mission is to promote, preserve and protect the game of golf.