Isztwan, Crowley set for Saturday duel at Huntingdon Valley
Two collegiates displayed their mettle en route to a Saturday showdown for the 123rd BMW Philadelphia Amateur Championship at Huntingdon Valley Country Club. The host club's Patrick Isztwan defeated Llanerch Country Club's John Lalley, 4&2, and Michael Crowley of Briarwood Golf Club edged Ben Smith of the Country Club of Harrisburg, 1-up, Thursday in the semifinals.
| Scoring portal | Photos | History | Day 2 recap | Day Two Notebook | Qualifying Recap |
The 36-hole Championship Match begins at 7:30 a.m. Saturday. The second 18 is slated to start at 12 p.m.
The public is welcome.
*****
Isztwan's match was a birdie-fest. He made eight birdies total, only one was conceded, in fending off a spirited Lalley. The No. 32 seed Isztwan, who survived a Qualifying playoff, is a step from adding his name to the historic roll call of Huntingdon Valley's finest to win the Association's most prestigious prize. A total of 16 HVCC members have won 25 Amateur titles since 1897. That is more than double the next closest club, Whitemarsh Valley Country Club, at 12. The last to win: Conor McGrath in 2021, an Isztwan friend.
Isztwan stated his intentions immediately Thursday.
On No. 1 (par 4, 382 yards), the 19-year-old Huntingdon Valley, Pa. resident lifted a 60-degree wedge from 85 yards to four feet and made it for a 1-up lead.
Lalley, 36, of Havertown, Pa., equalized immediately taking No. 2 (par 4, 448 yards) with a par.
Three halves followed, including both players making sharp birdies on No. 4 (par 4, 311 yards).
That's when Isztwan, a rising University of Richmond junior, synched his college logoed red shirt to the scores he recorded. He made four consecutive birdies, the first conceded and the last three natural, to instantly grab a 4-up advantage.
The final two red circles, on No. 8 (par 4, 410 yards) and No. 9 (par 4, 460 yards), were most special considering the high stakes. On No. 8, he lifted a gap wedge from 130 yards to three feet and followed that up on No. 9 with another gap wedge, this from 122 yards, to six feet.
"That was maybe my shot of the day on No. 8," said Isztwan. "It's tough for me to hold the ledge up there because I hit a draw and the ball is above my feet. Generally it'll land up there and it'll spin off. I was able to kind of hold it off a little bit and it landed softly."
Lalley's pitching wedge approach from 130 yards stopped eight feet from the cup.
"No. 8 was kind of a killer. He hit a great shot in there to three feet. I matched him and hit it to seven feet," said Lalley, a Senior Lighting Consultant for Power Design. "I didn't put a good stroke on the putt. I missed it low. If I put that in who knows if he makes his. That's kind of a momentum hole there."
Isztwan was 4-up after nine holes.
Lalley gave himself a pep talk entering his favorite Huntingdon Valley holes, 10-12.
And it worked. On No. 10 (par 4, 405 yards), Lalley flagged a gap wedge from 110 yards to two inches to gain one back.
On No. 11 (par 4, 375 yards), the two turned in a true match play moment when they halved with electric birdies. Lalley lifted an 8-iron out of the right fairway bunker from 150 yards to seven feet. A fantastic play. Isztwan knocked a pitching wedge from 145 yards to 10 feet.
Isztwan went first and made it. Lalley rolled his in with a first bump.
Both players noted that hole sent them a bolt of energy.
"It was a great match. We both played well. I didn't really realize how well we were playing until some point on the back nine. I was 4-up at the turn and played 10 thru 12 even par and was 2-down on those holes. I had a large lead but it never really felt like it was over."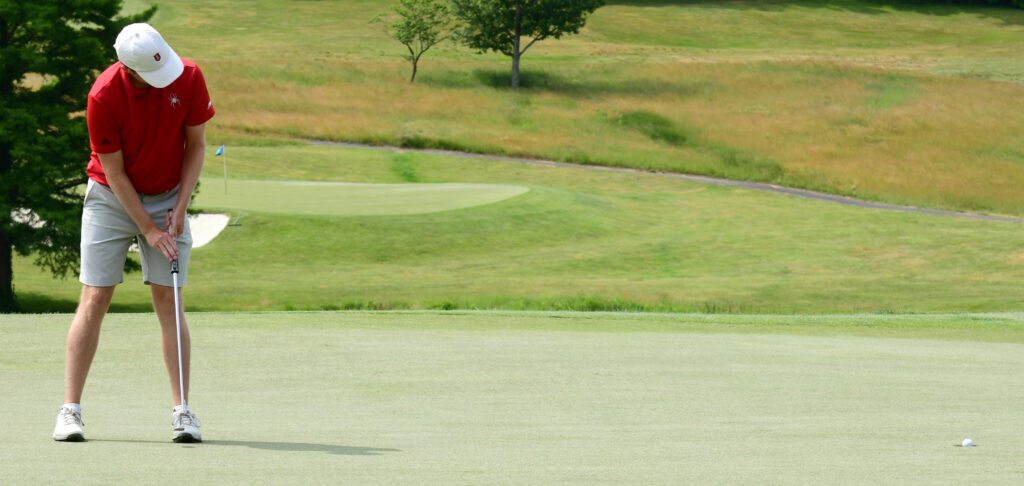 Lalley kept charging. He took the aforementioned No. 12 (par 4, 414 yards) with a par and added No. 13 (par 3, 200 yards) with a bogey, after both players found water off the tee. The deficit was one.
"I said to my caddie Riley Quartermain on No. 10 tee, I'm hitting it well. He's just playing better," said Lalley. "But I love this stretch of the course so let's go give him hell. That was my mentality."
Isztwan answered, though, like he has all week.
On No. 14 (par 4, 472 yards), Isztwan laced a 4-iron from 220 yards that just trickled over the back of the green. Lalley put his second in the right greenside bunker. Isztwan rolled in a 10-foot par save to reclaim a 2-up lead.
On No. 15 (par 5, 572 yards), Isztwan's second shot landed in the bunker short of the green, about 100 yards from the hole. Lalley for his third shot was 50 yards shy of the putting surface on the short grass.
Continuing his uncanny ability to hit any shot when needed, Isztwan knocked a 60-degree wedge to 12 feet.
Birdie, and a hole won, followed.
"I felt good about that one for some reason. I kind of like that shot when I can hit it full with a wedge," said Isztwan. "I clipped it nicely and it checked up. Where that pin was he didn't have a super easy chip shot. I was happy where I was after that shot."
A couple strokes later, he was even happier as Amateur Finalist.
Crowley, the No. 14 seed, fought back from a two-hole deficit through nine holes to defeat No. 15 seed Ben Smith, 1-up.
"It was a tough match," Crowley, 21, of Baltimore, Md., said. "We didn't play badly, but we didn't play our best. It looked like tired golf. I kept telling myself to hang in there. I was pretty comfortable if the match went the distance because I have been in that situation before."
Smith took a 2-up advantage through five holes. Highlighted by a 15-footer for birdie on No. 2 (par 4, 448 yards) and a two-putt par on No. 5 (par 3, 165 yards).
But Crowley made two timely hole-having putts to keep him in it. A 15-footer for par on No. 3 (par 3, 212 yards) and a 10-footer for birdie to halve the hole on No. 9 (par 4, 460 yards) after Smith canned a 35-footer of his own.
"Being 2-down is manageable," Crowley said. "I wanted to avoid being 3-down, that type of deficit is so hard to come back from. I was pleased with how I hung around."
Bogeys by both competitors on Nos. 10 (par 4, 405 yards) and 11 (par 4, 375 yards) started a stretch of four bogeys in five holes by Smith. He was 2 under on the front without a blemish.
Crowley's resilience and patience was rewarded with three consecutive wins on Nos. 12 (par 4, 414 yards), 13 (par 3, 200 yards), and 14 (par 4, 472 yards). Highlighted by a 7-iron dart to 10 feet on No. 13 for birdie. In those three holes, he went from being 2-down to 1-up. Tides turned.
"Trying to win matches is so hard," Crowley, a rising senior at Loyola University Maryland, said. "There's a lot of pressure. I knew I was playing well and he was going to make a mistake or two. I just had to be there not to screw up when he did. I wanted to stick around as long as I could."
Crowley tightened the proverbial vice with his shot of the day at the most opportune time. A 54-degree wedge from 118 yards to three feet on No. 16 (par 4, 399 yards). Putting him dormie with two to play.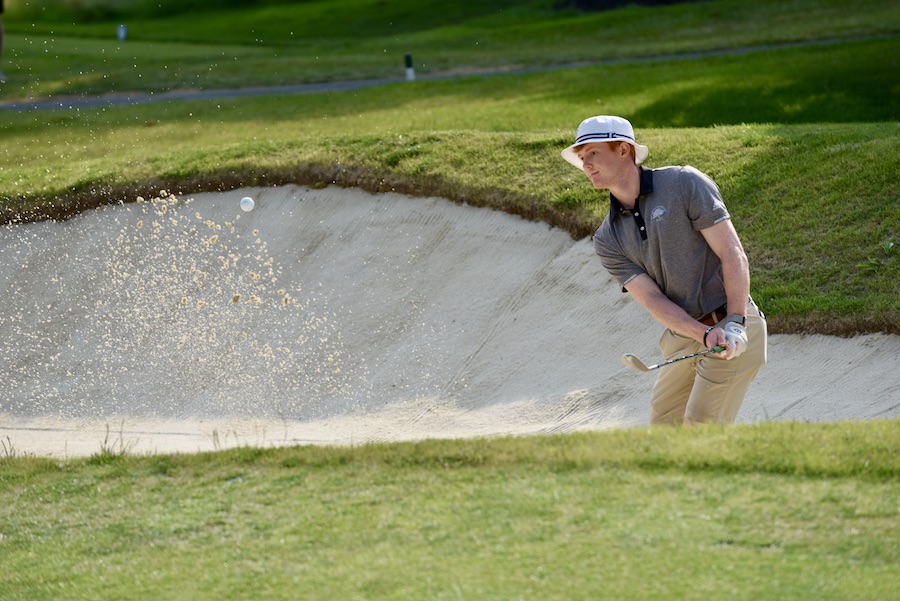 "I love the feeling of being in the heat of the moment and hitting shots that matter," Crowley said. "That is so much fun. Chasing that feeling is why I love playing golf."
Smith trimmed the deficit to 1-down with a par on the challenging 17th (par 3, 228 yards). But a 25-footer on the last (par 4, 486 yards) from the fringe just missed low and Crowley two-putted from 40 feet to punch his ticket to the Final.
"Michael made a ton of putts that kept him close early on and they ended up being huge," Smith, 22, of Blain, Pa., said. "I felt I played better on the front and he played better on the back. When things were going my way, he kept close. I couldn't separate. I am disappointed right now but I feel good about my game."
Tournament golf has been on Crowley's mind for the last nine consecutive days. He said he'll happily put the clubs down tomorrow. He will still be on a golf course but this time as a caddie in a member-guest event at Baltimore Country Club where he caddies.
He'll also get to sleep in his own bed. One he hasn't been in for a bit also. While life on the road isn't glamorous, hardware is. Saturday at Huntingdon Valley, he'll get his shot.
"I'd drive across the country to play in a tournament I think I can win," Crowley said. "I've lost so much in the last couple of months that I have realized I will be fine whether I win or not. I wasn't afraid to lose today and it felt really good to just play like that. I felt free in the big moments of the match."
Semifinals
32. Patrick Isztwan, Huntingdon Valley Country Club, d. 13. John Lalley, Llanerch Country Club, 4&2; 14. Michael Crowley, Briarwood Golf Club, d. 15. Benjamin Smith, Carlisle Country Club, 1-up.
GAP
Celebrating Amateur Golf since 1897, GAP, also known as the Golf Association of Philadelphia, is the oldest regional or state golf association in the United States. It serves as the principal ruling body of amateur golf in its region. The organization's 340 Member Clubs and 100,000 individual members are spread across Pennsylvania, Delaware, New Jersey and Maryland. The GAP's mission is to promote, preserve and protect the game of golf.