Remarkable Ryan rewrites Junior Boys' history
PHILADELPHIA, Pa. — Josh Ryan became only the second individual in the 108-year history of the Junior Boys' Championship to win three consecutive titles Wednesday.
| History | Scoring portal | Day One Notebook | Day Two Notebook |
| Day One recap | Day Two recap | Photo gallery |
The 1912 Club member defeated Merion Golf Club's Nathan Guertler, 5&4, at a cool Bala Golf Club (par 68, 5,306 yards). Ryan joins Meredith M. Jack (1914-16) as a three-time champion. Robert Galbreath, Jr. holds the most Junior Boys' titles with four (2004-05, 2007-08).
"It's awesome. Winning was definitely the goal every year I played," Ryan, 18, of Norristown, Pa., said. "I love match play, so it's always good to be competing [in that format] and grinding. It's awesome to be in that position and try to win matches as quickly as possible. When you're playing good golf, it becomes sometimes easy."
"I'm very proud. I feel like a winner today," Guertler, 17, of Merchantville, N.J., said. "Josh is the best player in this tournament. I'm happy he won. It's cool be a part [of history]. It's cool to watch it."
The Ryan show aired without delay Wednesday.
He won No. 1 (par 4, 336 yards) on the wings of his prototypical short game: 50-yard wedge to three feet for par. Ryan holed an eight-yard chip for birdie on No. 2 (par 4, 303 yards) to move to 2-up. Prior to those theatrics, Guertler hit a gap wedge 110 yards to 10 feet.
"I was on the fringe. I had a putt for birdie. I'm thinking to myself, 'Maybe I can get one from him here,'" Guertler said. "He chipped it in from off the green. It was absolutely beautiful. That was kind of when I knew I was a little outmatched here."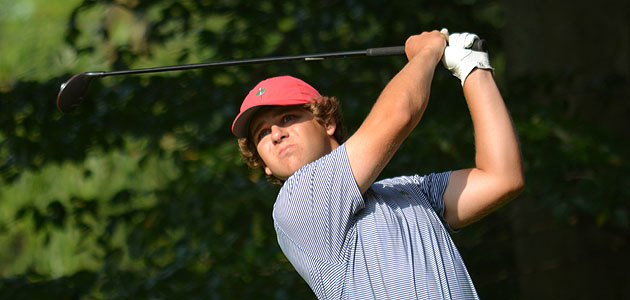 More Guertler misfortune on No. 4 (par 3, 195 yards) somewhat validated such thinking. His hybrid caught the left greenside bunker and created a plugged lie. A workmanlike Ryan won the hole with a workmanlike par: 5-iron short of the putting surface, chip to three feet. Guertler manufactured a manageable 2-down deficit at the turn. He drained a downhill 28-footer for birdie on No. 9 (par 3, 164 yards) following a smooth 7-iron.
Then Ryan returned to his regularly scheduled, red-hot programming at Bala: Nos. 10-12. In four matches, he swept No. 10 and claimed No. 12 on three occasions. Ryan bagged No. 11 twice Wednesday.
"No. 10 is a reachable par 5 for me. No. 12 sets up really well for me. I'm really good at greenside bunker shots. My goal is that front right bunker every time," Ryan, who will attend Liberty University in the fall, said. "No. 11 is just a wedge. You always have a birdie look there."
True to script, Ryan pulverized a drive on No. 10 (par 5, 487 yards) and reached the green with an 8-iron from 165 yards. Two putts from 30 feet meant birdie. Guertler drilled a 6-iron 185 yards to 14 feet below the hole location. He missed the birdie attempt. Poor tee positioning on the next two holes afforded Ryan full control. But the latter did receive a dose of luck on No. 11 (par 4, 385 yards). He pulled a 2-iron off the tee. A bundle of sticks stopped his golf ball in the middle of the cart path. Out of bounds prevented. A thimble of general area to the left didn't grant Ryan stance relief. He therefore took a drop in the right rough. Ryan then lifted an a-wedge to 15 feet and two putted to win the hole. Guertler's drive drifted right and clipped a tree. He attempted a self-diagnosed "hero shot," but it plummeted into the right greenside bunker. On No. 12 (par 4, 306 yards), he again drifted right off the tee. Another hero shot failed to save his damsel in distress. Ryan's drive reached the friendly confines of the front right bunker. He moved to 5-up after splashing out to 15 feet and two putting.
"It was nice to put pressure just by being in position," Ryan said. "When I won Nos. 10-12, I got to 5-up with six to go, I liked my chances."
"I don't want to sound negative. Josh is a good player. I wasn't coming back from that," Guertler, a rising senior at Haddon Heights High School, added. "I just wanted to take it as far as I could and have some fun."
A handshake between Guertler and Ryan on No. 14 (par 4, 333 yards) served as the final scene in Ryan's Junior Boys' Championship series. When he watches the figurative documentary, say 20 years from now, expect humility. Expect pride. The weight of such a historical achievement isn't lost on a teenager craving Chick-fil-A as a celebratory meal.
"I'll be grateful," Ryan said. "It's always nice to play in GAP events. They're run amazingly and we play at great courses. Bala is a hidden gem being 5,300 yards. It's in great shape, and you really have to think your way around the golf course.
"I'm grateful. This is a really cool thing to have happened."
Before making every golf shot happen this week at Bala, Ryan adjusted his cap. Superstition? Nope. That's the striped orange RLX polo he wore for each of his Junior Boys' Final appearances. The hat is a necessary evil.
"I got sponsored by Titleist and they sent me hats. They're all a little small and they sit up on the back. Half of the hats don't fit," Ryan said. "I don't like things loose. I have to tighten it. If my hat's feeling a little crooked, I have to fix it."
That's OK, Josh. Hats off to you.
Semifinals
An eventful semifinal round preceded the championship match.
Ryan defeated Whitford Country Club's Keller Mulhern, 6&5. Guertler dispatched Matthew Homer of Wilmington Country Club in 20 holes.
"I was missing shots," Mulhern, 18, of Exton, Pa., said. "I was just putting myself out of holes, and just not striking the ball well compared to previous rounds, which really set me back especially against a player like Josh."
"[Guertler] made a lot of putts on me and I could've made more putts, but there wasn't much more I could've done," Homer, 17, of Wilmington, Del., said. "Hats off to him, he played great."
To solidify his spot in the championship, Ryan made a trio of birdies on holes Nos. 10-12. On No. 10 (par 5, 487 yards) he nearly reached the green in two with his driver and 7-iron. A chip to four feet made for a tap-in birdie. A wedge from 55 yards to 12 feet allowed Ryan to add another circle to the card on No. 11 (par 4, 385 yards). Using his driver on No. 12 (par 4, 306 yards) allowed him to pitch his ball to 18 feet and hole another one. To close out his opponent on No. 13 (par 3, 174 yards), Ryan hit the green with his 8-iron to set himself up for par. Mulhern made bogey after catching the left greenside bunker.
During the first nine, Guertler controlled the match. Homer never held the lead. A 54-degree wedge to five feet allowed Guertler to make birdie on No. 14 (par 4, 333 yards) and to regain a 1-up lead. On No. 17 (par 4, 293 yards), Homer hit a lob wedge from 82 yards to 15 feet to make birdie and to tie the match. Both players made two-putt pars on No. 18 (par 4, 362 yards) to extend the match into extra holes.
On the first extra hole (No. 1, par 4, 336 yards), Guertler lifted a 54-degree wedge to three feet, a birdie look he couldn't capitalize on. Homer matched, and the pair headed to No. 2 (par 4, 303 yards).
Homer sent a 6-iron into the right rough, which forced a punchout. Guertler flighted a 50-degree wedge over the green from 126 yards out. Homer two putted from 20-feet to make bogey, while Guertler sunk a 17-foot left-to-right slider for par and to win match in 20 holes.
Mulhern, a recent Malvern Prep graduate, will Saint Joseph's University in the fall. Homer is a rising senior The Tatnall School.
First Flight
Carlisle Country Club's James Ulsh upended recent BMW Philadelphia Amateur Championship Quarterfinalist Kevin Lydon, 7&5.
A birdie on No. 2 (par 4, 303 yards) is just the start that Ulsh needed to get up early on Lydon, 18, of Doylestown, Pa.
"No. 2 has been playing hard I think for every person out here," Ulsh, 18, of Carlisle, Pa., said. "It's probably the hardest 325-yard hole I've played in a while."
Today, it didn't seem that hard for him. After sailing a 60-degree wedge from 111 yards over the green, Ulsh's chip with a pitching wedge from 20 feet fell into the cup for the match's only birdie. From there, Ulsh steadily won holes to close out his opponent on No. 13 (par 3, 174 yards).
Ulsh's performance in his first match play tournament seemed to get better as the event progressed.
"Every single match I just kept pushing myself to play better, and that's kind of what happened," Ulsh said.
Ulsh, a recent Trinity High School graduate, will be attending Villanova University in the fall to pursue studies in finance, business analytics, and business law. Lydon graduated from Central Bucks West High School and will be begin his undergraduate studies in business administration at La Salle University. There he will also represent the Explorers' on the golf team.
Junior Boys' Championship
The Junior Boys' Championship is the premier Major in the GAP Junior Division. It is open to members of a GAP Member Club 14-18 years of age who have not started their college education and who hold a handicap index of 14.4 or lower. Sixteen players qualify for match play; an additional 16 advance into the event's First Flight.
The Junior Boys' Champion is awarded the Peg Burnett Trophy, named in honor of the Association's Executive Secretary from 1951-76. Ms. Burnett was an ardent Junior golf supporter who emphasized sportsmanship and respect for the game. "I was very strict about checking the rule book. I didn't make the rules, but since they are there, you have to abide by them."
GAP
Celebrating Amateur Golf since 1897, GAP, also known as the Golf Association of Philadelphia, is the oldest regional or state golf association in the United States. It serves as the principal ruling body of amateur golf in its region. The Association's 300 Member Clubs and 80,000 individual members are spread across the Eastern half of Pennsylvania and parts of Delaware, Maryland and New Jersey. The GAP's mission is to promote, preserve and protect the game of golf.
Final
Championship Flight
1. Joshua Ryan, The 1912 Club 10. d. Nathan Guertler, Merion GC, 5&4
First Flight
7. James Ulsh, Carlisle CC d. 4. Kevin Lydon, Commonwealth National GC, 7&5
Semifinals
Championship Flight
1. Joshua Ryan, The 1912 Club d. 4. Keller Mulhern, Whitford CC, 6&5
10. Nathan Guertler, Merion GC d. 3. Matthew Homer, Wilmington CC, 20 holes
First Flight
4. Kevin Lydon, Commonwealth National GC d. 9. Jack Orr, Little Mill CC
7. James Ulsh, Carlisle CC d. 11. Ethan Martin, GAP Youth on Course, 2-up