Shah & Sako walk among GAP's Junior giants
PHILADELPHIA, Pa. – Eli Shah and Seiji Sako were both pinned against giants, figuratively and literally, during the 108th Junior Boys' Championship Round of 16 at Bala Golf Club (par 68, 5,306 yards).
| History | Scoring portal | Day One Notebook | Day Two Recap | Day One Recap |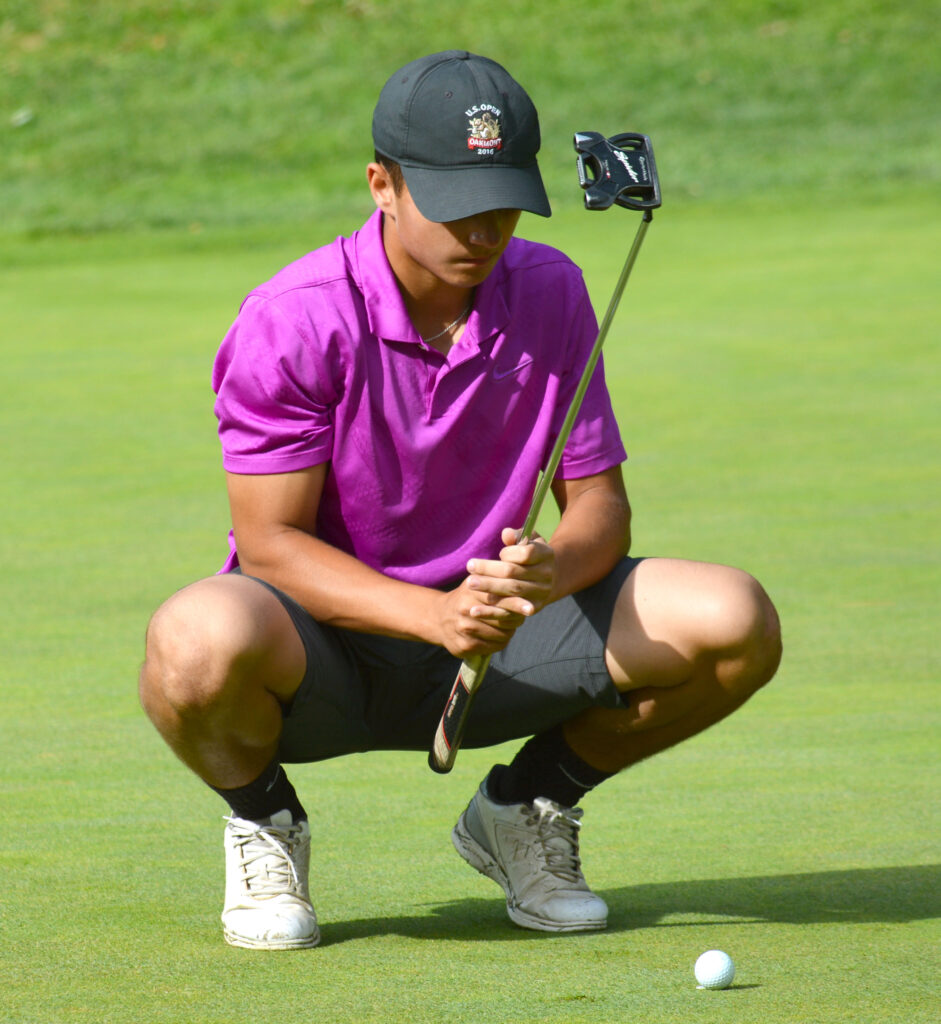 While neither match ended in a fashion similar to David and Goliath, both defeated players learned lessons that they can apply to future competitions.
Shah faced Josh Ryan of The 1912 Club, the event's two-time defending champion. Sako met Matthew Homer of Wilmington Country Club, the reigning Jock MacKenzie Memorial Champion and a semifinalist in this event last year. Both measure 5 feet 6 inches, a good six inches less than their respective opponents.
"[I learned that] I can stay in there with the 18-year-olds which surprised me because I wasn't even expecting to qualify for the Championship Flight," Sako, 14, said. "I knew [Homer] was a plus 2 handicap and that he was four years older than me."
Maintaining confidence is a skill that Shah proudly possessed during his round.
"My plan coming into the round was to try and get off to a really good start, and I was able to do that," Shah, 17, of Newtown Square, Pa. said. "I was just playing steady to start, and I just wanted to limit my mistakes. [Ryan] is a really good player and I'm pretty sure he's won this twice in a row."
Yes he has. And Shah won two holes in a row to start their Round of 16 match. He remained 1-up until the seventh hole. As their battle continued, Ryan made a clutch birdie on No. 8 (par 4, 331 yards) to square the match. From there, Ryan gained momentum and ended the match, 3&2.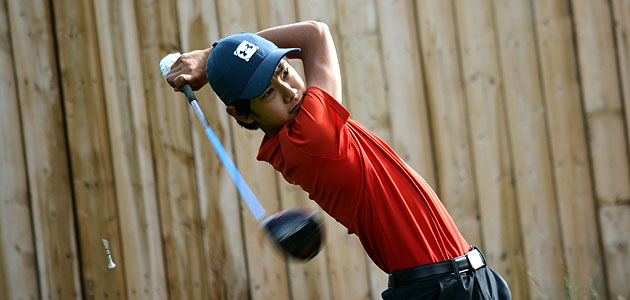 Sako's match was tied after 10 holes. The Wynnewood Pa. resident thanked his putter for the close start.
"I made a few six-to-eight footers for par. I made five or six on the front nine," Sako said.
A few bad lies on the back nine, including a plugged ball in No. 12's (par 4, 306) right greenside bunker, proceeded Sako's concession on No. 15 (par 4, 323 yards). Sako fell to Homer, 4&3.
Shah is a rising senior at Penncrest High School. Sako will be a freshman at Lower Merion High School in the fall.
They may be small in stature, but both proved their skills are strong enough to stand tall among GAP's Junior giants.
Zerfass caps off his final GAP Junior Boys' Championship
Matthew Zerfass is no stranger to GAP's Junior Boy's Championship. Where he is unfamiliar, is the event's quarterfinals.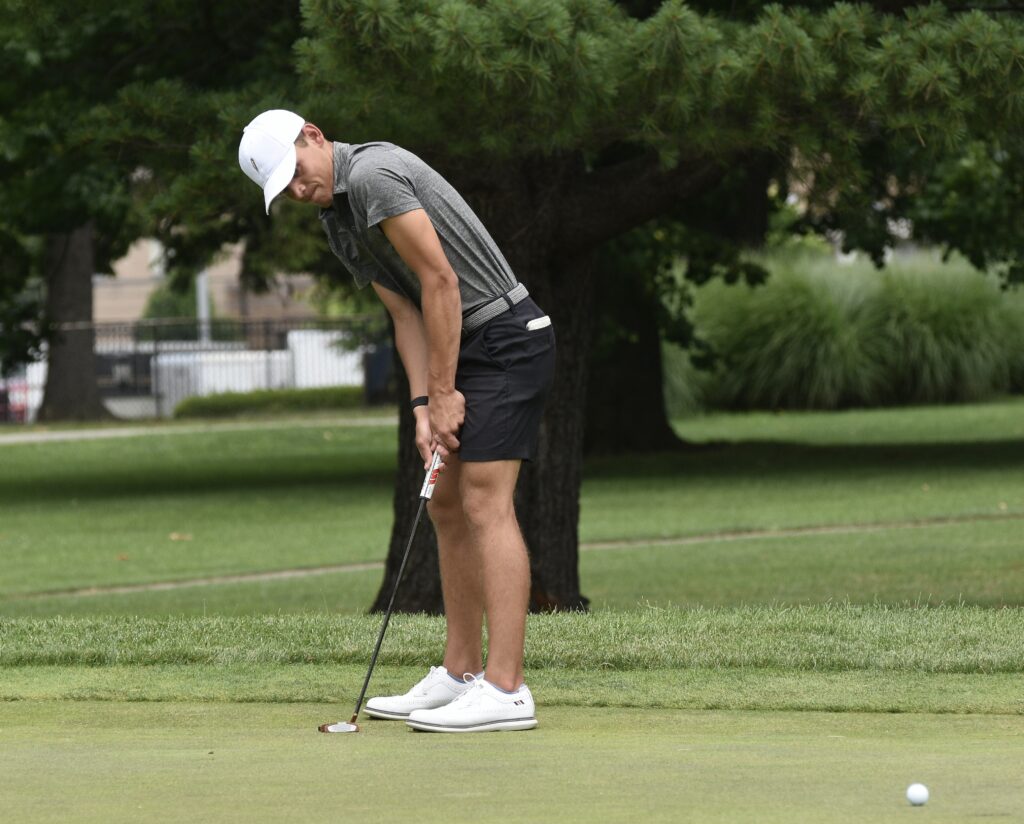 The 18-year-old is in his last year of eligibility for the event, but could not be happier with his performance.
"I couldn't really ask for much more," the Macungie, Pa. resident said. "I felt that I played pretty much the best I could except for maybe one or two shots here or there. It was kind of like a shootout all day."
Zerfass faced two-time defending champion Josh Ryan in the quarterfinals. This is the furthest that he has made it in the years he has participated in this event.
A true battle it was for the two. Zerfass held the lead for for most of the front nine at 1-up before Ryan took the lead on the back nine and closed out the match on No. 17 (par 4, 239 yards), 2&1.
"I used to play with [Josh] in U.S. Kids when we were really little." Zerfass said.
Given their history, Zerfass knew that Ryan was going to be difficult to beat. Instead of letting nerves get in his way, Zerfass was excited to make his final Junior Boys' Championship appearance and to play against a good player.
Zerfass has committed to St. Joseph's University to pursue a degree in finance and play on the Hawks' golf team.
This summer, he is looking forward to enjoying his last year of Junior tournament eligibility, volunteering at Faith Church in Allentown, Pa., and hanging out with friends before classes begin.
GAP
Celebrating Amateur Golf since 1897, GAP, also known as the Golf Association of Philadelphia, is the oldest regional or state golf association in the United States. It serves as the principal ruling body of amateur golf in its region. The Association's 300 Member Clubs and 80,000 individual members are spread across the Eastern half of Pennsylvania and parts of Delaware, Maryland and New Jersey. The GAP's mission is to promote, preserve and protect the game of golf.