HVCC's Cooley sizzles in Players Series
ELVERSON, Pa. — A text to friend and former University of Pennsylvania teammate Max Marsico is Ben Cooley's version of "break glass in case of unseen golf course." He smashed the case, figuratively speaking, in advance of Tuesday's Players Series event at a steamy French Creek Golf Club (par 71, 6,368 yards).
| Scoring portal | Photo gallery | Jericho National recap |
The consultation with Marsico, who employed Cooley as his caddie on the Korn Ferry Tour in 2018, created comfort. That comfort created a 2-under-par 69 and a spot atop the leaderboard at French Creek.
Meadia Heights Golf Club's Shaun Fedor also finished in red figures (70). White Manor Country Club's David Hurly and Huntsville Golf Club's Tyler McGarry carded respective even-par 71s to collect GAP Players Series profits as well.
All four of the aforementioned earned exemptions into next year's Middle-Amateur Championship (if 25 years of age or older), BMW Philadelphia Amateur Championship and Joseph H. Patterson Cup. GAP canceled qualifying for all of its 2020 Majors due to the COVID-19 pandemic. It, in turn, created the Players Series to provide future opportunity for those who lost opportunities to qualify.
The third and final Players Series event is set for July 29 at Green Valley Country Club.
" I thought this was a really good move by the GAP: to give people like me an opportunity to not just compete, but to also give us a little bit of reward for next year."

Ben Cooley
"Max always Google Earths courses before he goes and plays them. He did that for me and gave me some sight lines [at French Creek]," Cooley, 27, of Philadelphia, Pa., said. "That was really helpful, to have a bit of extra confidence. I was excited about coming out here, trying to prove myself a little bit and free things up for next year. I was happy to do well."
Proven just like Marsico's mapping.
Cooley, a Huntingdon Valley Country Club member, opened with four consecutive par saves before netting his first green in regulation on No. 5 (par 3, 112 yards). After catching his sand wedge a groove thin, Cooley watched his golf ball spin sans excess, allowing it to coast comfortably along the slope and to settle six feet from the flagstick. Cooley cleaned up the birdie putt. He also birdied the next hole (par 5, 545 yards) by knocking a wedge 75 yards to five feet.
A loose 9-iron on the downhill No. 8 (par 3, 176 yards) put Cooley an Uber away from a middle-right hole location. His ride raced 20 feet past the jar. Cooley, sporting arm sleeves and a Newport Country Club bucket hat to combat the summer heat, missed the comebacker. He made a three-footer for birdie on the next hole (par 4, 382 yards) following a 50-degree wedge from 117 yards.
No Uber needed. Cooley sat in the driver's seat at 2 under until the 11th hole (510 yards) — a par 5 that preys upon inaccuracy off the tee — unbuckled his seatbelt.
"I stood up to the tee with driver and didn't feel all that comfortable," Cooley said. "My mindset the last year or so is comfort is very important. I found myself trying to force the issue sometimes when I would stand on a tee and feel uncomfortable and know it wasn't going to be my best shot. So, I decided to hit 3-wood [on No. 11]."
Cooley, though comfortable with his club selection, hooked his 3-wood into a penalty area. He returned to the tee and inexplicably felt fine with a driver in hand. A powerful rip thereafter spearheaded a bogey save. Cooley followed that critical conversion with a birdie on the next hole (par 4, 450 yards), hitting an 8-iron 170 yards to 35 feet below the hole location.
Cooley, a dedicated GAP tournament supporter, completed a web development certification program at the University of Pennsylvania in 2019. He hopes to enter the field of web development/data analytics in Philadelphia.
Golf, in the interim, serves as sanctity amid uncertainty. Rounds among friends at Huntingdon Valley? Great. Shining on the GAP stage? Even better.
"I've been playing in GAP events forever. It's been rare that there's been a year where I haven't been in a bigger Junior tournament or a bigger amateur tournament," Cooley said. "It was a bummer that I hadn't played well enough last year and I didn't earn my spot [in GAP Majors in 2020]. It's understandable but unfortunate that there weren't any qualifying opportunities. I thought this was a really good move by the GAP: to give people like me an opportunity to not just compete, but to also give us a little bit of reward for next year."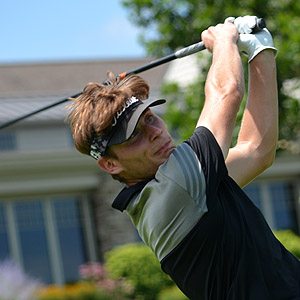 Like Cooley, Fedor saw French Creek for the first time Tuesday. It also marked his first GAP event.
"This was going to be the year that my friend Brock (Fassnacht) and I were going to try and get into the GAP Majors. We only played in Junior events before," Fedor, 19, of Lancaster, Pa., said. "We couldn't play [because GAP canceled qualifying due to COVID-19], but I saw that GAP started the Players Series, and I thought, 'This is perfect.' I figured if I played a decent round, I should be good."
Fedor's subpar score suggests solid, not decent. He stood at 2 over through eight holes before flipping a switch. Fedor fired five birdies in an eight-hole stretch to vault up the leaderboard.
"Honestly, I started just hitting the ball better," Fedor, a rising sophomore at Indiana University of Pennsylvania, said. "I really was struggling on the first couple of holes. I was blocking everything. Then I kind of got it together, changed up a couple of swing thoughts in the middle of the round."
On No. 9, Fedor hit a wedge 90 yards to four feet for birdie. Back-to-back birdies on Nos. 11 and 12 brought the marketing major at IUP into red figures: a 10-footer on the first, a four-footer following a 52-degree wedge from 110 yards on the latter. Fedor sprinkled in scorecard comfort — there's that word again — after reaching No. 16 (par 5, 498 yards) in two strokes with a 6-iron from 199 yards. Two putts from 12 feet for birdie there softened the sting of three-putt bogeys on Nos. 17 (par 3, 205 yards) and 18 (par 4, 418 yards).
Fedor, who earned PSAC (Pennsylvania State Athletic Conference) Men's Golfer of the Year and Freshman of the Year honors for the 2019-20 season, will next compete in the 107th Pennsylvania Amateur Championship, presented by DICK's Sporting Goods July 27-29 at Lookaway Golf Club.
GAP
Celebrating Amateur Golf since 1897, GAP, also known as the Golf Association of Philadelphia, is the oldest regional or state golf association in the United States. It serves as the principal ruling body of amateur golf in its region. The Association's 288 Member Clubs and 75,000 individual members are spread across the Eastern half of Pennsylvania and parts of New Jersey and Delaware. The GAP's mission is to promote, preserve and protect the game of golf.
| | |
| --- | --- |
| Qualifiers | |
| Name, club | Score |
| Ben Cooley, Huntingdon Valley Country Club | 69 |
| Shaun Fedor, Meadia Heights Golf Club | 70 |
| David Hurly, White Manor Country Club | 71 |
| Tyler McGarry, Huntsville Golf Club | 71 |
| Failed to qualify | |
| Anthony Barr, Blue Bell Country Club | 72 |
| Connor Bennink, Kennett Square G&CC | 72 |
| Zach Dilcher, Hartefeld National | 72 |
| Jack Hamilton, Merion Golf Club | 72 |
| Kevin Kelly, Philadelphia Cricket Club | 72 |
| Caleb Ryan, The 1912 Club | 72 |
| Parker Wine, Radley Run Country Club | 72 |
| Dan Feeney, Philadelphia Cricket Club | 73 |
| Jason Loehrs, Cobbs Creek Golf Club | 73 |
| Stephen Lorenzo, Manufacturers' G&CC | 73 |
| Buddy Hansen, Blue Bell Country Club | 74 |
| Connor Vanin, Philadelphia Publinks Golf Association | 74 |
| Kevin Haag, Glenmaura National Golf Club | 75 |
| Shawn Lavin, Rolling Green Golf Club | 76 |
| Chris Lawler, Riverton Country Club | 76 |
| John Venne, Laurel Creek Country Club | 76 |
| Mathias Wanner, Lancaster Country Club | 76 |
| William Bennink, Kennett Square G&CC | 77 |
| Mark Coassolo, Brookside CC of Allentown | 77 |
| A.J. Donatoni, Fox Hill Country Club | 77 |
| Luca Jezzeny, Doylestown Country Club | 77 |
| Tim Pici, Paxon Hollow Country Club | 77 |
| Brock Fassnacht, Meadia Heights Golf Club | 78 |
| Daniel Rudershausen, Philadelphia Publinks Golf Association | 78 |
| L.J. Scurfield, Penn Oaks Golf Club | 78 |
| Greg Berdini, Little Mill Country Club | 79 |
| Mark Lowrie, Rolling Green Golf Club | 79 |
| Robert Olseski, Applebrook Golf Club | 79 |
| Mark Wachter, Loch Nairn Golf Club | 79 |
| Kyle Ginty, Talamore Country Club | 80 |
| Nathan Guerrini, Spring Ford Country Club | 80 |
| Nick Orlando, The Shore Club | 80 |
| Henry Pilliod, GAP Youth on Course | 80 |
| John Riviezzo, Cobbs Creek Golf Club | 80 |
| Stephen Seiden, Llanerch Country Club | 80 |
| Chris Colman, Merchantville Country Club | 81 |
| Rob Good, Merion Golf Club | 81 |
| Corey Haydu, Spring Mill Country Club | 81 |
| Cory Meyer, Huntingdon Valley Country Club | 81 |
| Matthew Vassil, Country Club of Scranton | 81 |
| Logan Snyder, Briarwood Golf Club | 82 |
| Jimmy O'Connor, Penn Oaks Golf Club | 83 |
| Joe Zulli, Trump National Golf Club – Philadelphia | 83 |
| Christopher Coughlan, Stonewall | 84 |
| Gregory Hiriak, Brookside Country Club | 84 |
| Denis Darragh, Olde Homestead Golf Club | 85 |
| Derek Isbrandt, Philadelphia Publinks Golf Association | 85 |
| Robert Rossetti, LuLu Country Club | 85 |
| Billy Driscoll, Atlantic City Country Club | 86 |
| Ryan Schneiter, Philadelphia Cricket Club | 86 |
| Brian Degnan, Cobbs Creek Golf Club | 88 |
| Joe Duhack, LuLu Country Club | 88 |
| Mike Ellis, Loch Nairn Golf Club | 88 |
| Jeremy Frederick, Rolling Green Golf Club | 88 |
| Patrick McCusker, Sandy Run Country Club | 88 |
| Fran Migliocco, DuPont Country Club | 88 |
| Mark Hodgson, Medford Village Country Club | 89 |
| Jack Wallace, Burlington Country Club | 89 |
| Robert Oswald, Skippack Golf Club | 90 |
| Alex Howell, Gilbertsville Golf Club | 93 |
| Bryan Algeo, Paxon Hollow Country Club | 94 |
| Mike Amtsberg, Bellewood Country Club | 100 |
| Joseph O'Malley, West Chester G&CC | NS |
| Samuel Walker, Philadelphia Cricket Club | NS |
| Joe April, Waynesborough Country Club | WD |
| Johnny Goff, Tavistock Country Club | WD |
| NS — no show; WD — withdrawal | |