Lutz leads Senior Amateur at CC of Scranton after Round One
CLARKS SUMMIT, Pa. – Chip Lutz took his first spin of the Country Club of Scranton (par 72, 6,616 yards) last Friday courtesy of member Mike Vassil. In Tuesday's Final Round of the 51st Senior Amateur Championship, the two find themselves together once again after finishing atop the Day One leaderboard.
Lutz of LedgeRock Golf Club leads after a stellar 4-under 68. Vassil stands alone in second place at 2 under. Both are in search of a second Allan Sussel Memorial Trophy.
They begin their title quest at 1:45 p.m., along with groupmate Mark Bartkowski of Pocono Farms Country Club, who finished level par.
"We played a practice round together. He was a great host. He showed me around and gave me some pointers so I have to give him some credit for my round today," said Lutz, 66, of Reading, Pa. "It'll be fun to play with Mike again tomorrow."
This won't be the first time the two face each other with Senior Amateur glory up for grabs. In 2012, Vassil defeated Lutz in a playoff for the title at Wilmington Country Club (South). Lutz's tournament triumph came in 2014.
"It's nice knowing the course and where to hit it and not to hit it," said Vassil, a 14-time Scranton Club Champion and 10-time Senior Club Champion. "The course is playing firm and fast for the first time all year. Home course knowledge is a big advantage when the greens get like this."
Lutz's recent knowledge – courtesy of Vassil – and a sensational wedge game, proved the perfect scoring potion Monday.
The nine-time GAP Senior Player of the Year Award (2010-18) carded seven birdies and three bogeys. He carded a spotless front nine with birdies on Nos. 4, 8 and 9. On No. 4 (par 5, 514 yards), he lifted a 60-degree wedge from 72 yards to two feet; on No. 8 (par 4 , 293 yards) clipped a 56-degree wedge from 82 yards to two feet; and on No. 9 (par 4, 343 yards), lofted a pitching wedge from 108 yards to three feet.
Wedge theme alert.
Lutz, who advanced to the U.S. Senior Amateur Championship Quarterfinals two weeks ago, gave a pair of shots back to start his inward nine when he missed the fairway on No. 10 (par 4, 400 yards) and three-putted No. 11 (par 3, 151 yards) from 40-feet before ripping off three straight birdies to regain his footing. On No. 12 (par 5, 480 yards), he hit a 50-degree wedge from 105 yards to five inches; on No. 13 (par 4, 356 yards) drained a 15-footer; and on the downhill No. 14 (par 5, 532 yards) ripped a 5-iron from 240 yards to the front of the green before two-putting from 90 feet.
An eight-foot par try on No. 15 (par 4, 403 yards) resulted in another bogey, before on No. 18 (par 5, 530 yards), Lutz knocked down a pitching wedge from 109 yards that flew 15-feet past the cup, spun back and stopped five feet below the hole.
"It was a gratifying day for me. I've actually been putting well but not on the level I did today," said Lutz. "All the approaches were really good. All my wedges were spot on today."
Vassil, who started his round on the back nine, also made his turn at 3 under. The highlight coming on the difficult No. 17 (par 3, 215 yards) when he laced a 3-hybrid to five-feet left of the hole and made the putt. The 17th played as the fourth hardest hole with a 3.63 scoring average.
Vassil is a 30-year member of Scranton.
"We had a better-ball-of-partners tournament over the weekend so I got used to the course being firm for the first time there. It was meant to play firm and fast. [The course] is fairly generous off the tee. The greens are big but when the ball is bouncing you have to be in the correct quadrant of the green to have a chance. Knowing how the course plays makes a big difference."
This is Lutz's first GAP tournament of the year. Schedules and life have dictated such. Vassil has competed in the other two GAP Senior Majors of the season, the Chapman Cup (Gross) and Warner Cup (Gross), without any success.
"I didn't have a whole lot of expectations," said Vassil. "I haven't been playing great all year long. I was just looking forward to playing a solid round. I started making a couple of putts which I haven't been making lately."
Jeff Hudson of Olde Homestead Golf Club, at 3 over, leads the Senior Silver Cross Award by three strokes over Oscar Mestre of Overbrook Golf Club. Hudson has never won the Senior Silver Cross.
Mestre won the award in 2019. The Senior Silver Cross is awarded to the player with the lowest aggregate score in the Francis B. Warner Cup (Gross), Frank H. Chapman Cup (Gross) and Senior Amateur Championship.
Owsik owns Super-Senior Division lead after Round One
Mike Owsik owns the Super-Senior lead after Round One in the Senior Amateur Championship at Country Club of Scranton (par 72, 6,114 yards).
The Hershey's Mill Golf Club member got in the house Monday at even-par 72, giving him a one-stroke lead over four players at 1-over par. Tuesday's Final Round begins at 8 a.m.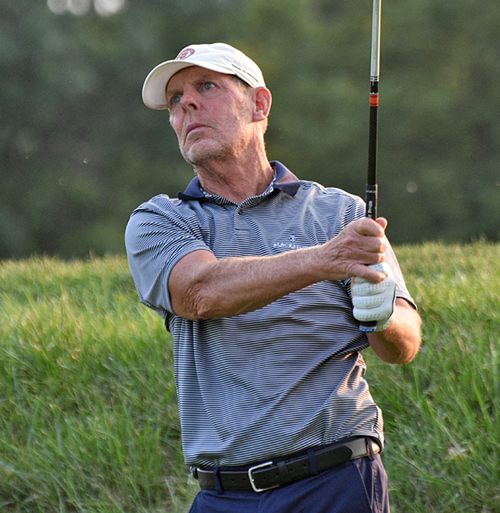 Despite beginning the day with a three-putt bogey on Scranton's opener (par 4, 360 yards), eight pars followed on the front side.
"It was a really clean card besides that one, especially on the front," said Owsik, 66, of Bryn Mawr, Pa. "I just trusted the putter today."
A second bogey blemish surfaced on No. 10 (par 4, 360 yards), but the leader's first birdie soon followed. On No. 11 (par 3, 133 yards), Owsik's 8-iron landed 35 feet away, and the long look rolled in over the front lip for a 2. He'd go on to make his second and final birdie on No. 16 (par 4, 398 yards) to get back to level par. A pured driver rolled to the bottom of the hill, and again his trusty 8-iron was struck and placed to eight feet. Owsik rolled that birdie putt in.
"It just seems I'm too streaky with the [putter]. One day it's good, you know, and the next day it's bad. You've got to make all of those putts [out here]," said Owsik.
As the owner of MGOLF Driving Range & Learning Facility in Newtown Square, Pa., Owsik didn't play much golf last season. He was understandably busy with his business due to the COVID-19 pandemic, and then the golf craze that came along with it. This season is a different story. He's back, and his game is fine tuned.
"Last year I really didn't play in many tournaments. We were closed down for six weeks when all the courses were closed down. But after that, it was just crazy on the business side," said Owsik. "At the beginning of this year, I kind of refocused. I played in 20 tournaments, really all over the place."
With a chance at his first GAP Senior Major trophy, Owsik sees another even-par round getting the job done tomorrow. Scranton's grueling greens, plus the Super-Senior talents chasing the top spot, will make that goal even more challenging. Fourteen players are within five shots of the lead.
"I'll try and shoot the best score I can and see where the chips fall. That's all I can do," said Owsik.
The Super-Senior Silver Cross race also wraps up tomorrow. Heading into the fourth and final round, Owsik (10-over par) sits tied for second, just three strokes back of Great Bear Golf Club's Craig Scott (7-over). Five Ponds Golf Club's Brian Rothaus also sits at 10 over.
The Super-Senior Silver Cross is awarded to the player with the lowest aggregate score in the Francis B. Warner Cup (Gross), Frank H. Chapman Cup (Gross) and Senior Amateur Championship.
GAP
Celebrating Amateur Golf since 1897, GAP, also known as the Golf Association of Philadelphia, is the oldest regional or state golf association in the United States. It serves as the principal ruling body of amateur golf in its region. The Association's 300 Member Clubs and 80,000 individual members are spread across the Eastern half of Pennsylvania and parts of Delaware, Maryland and New Jersey. The GAP's mission is to promote, preserve and protect the game of golf.
| | |
| --- | --- |
| Senior Division | |
| Name, club | R1 Score |
| Lutz, Chip, LedgeRock Golf Club | 68 |
| Vassil, Michael, Country Club of Scranton | 70 |
| Bartkowski, Mark, Pocono Farms Country Club | 72 |
| Fieger, Sr., Chris, Philadelphia Publinks Golf Association | 73 |
| Weiscarger, Joseph, Wyoming Valley Country Club | 74 |
| Hudson, Jeff, Olde Homestead Golf Club | 74 |
| Burns, Tim, Country Club of Scranton | 74 |
| Frazier, Jeff, Carlisle Country Club | 74 |
| Anderson, Michael, Philadelphia Cricket Club | 74 |
| Kelly, Kevin, Philadelphia Cricket Club | 74 |
| Darragh, Denis, Olde Homestead Golf Club | 74 |
| Landis, Perry, Moselem Springs Golf Club | 75 |
| Ruby, Bob, Bon Air Country Club | 75 |
| Charpek, Bill, Merion Golf Club | 75 |
| Rogowicz, Paul, Yardley Country Club | 75 |
| Pruchnik, Rich, Downingtown Country Club | 75 |
| Brunn, Art, Wyoming Valley Country Club | 75 |
| Armagost, Adam, Little Mill Country Club | 76 |
| Mestre, Oscar, Overbrook Golf Club | 76 |
| Lupica, John, Lookaway Golf Club | 76 |
| Lewis, Norman, Pine Valley Golf Club | 77 |
| Tash, Michael, Stone Harbor Golf Club | 77 |
| Roeder, Joe, Merion Golf Club | 77 |
| Kahn, Ed, Little Mill Country Club | 77 |
| Choi, Mark, Saucon Valley Country Club | 78 |
| Buliga, Gregory, Yardley Country Club | 78 |
| Boyle, Bill, Metedeconk National Golf Club | 78 |
| Beck, Bob, Lehigh Country Club | 78 |
| Fedoryshyn, Doug, Concord Country Club | 78 |
| Barry, John, Lancaster Country Club | 78 |
| Cuddy, Matt, Huntsville Golf Club | 78 |
| Russo, Joseph, Running Deer Golf Club | 78 |
| Cahill, Barry, Radley Run Country Club | 79 |
| Dimoff, Don, Bon Air Country Club | 79 |
| Kliewer, Craig, Lebanon Country Club | 79 |
| Bolcavage, Kenneth, Elkview Country Club | 79 |
| Gill, Bob, Fox Hill Country Club | 79 |
| Andrejko, Bob, StoneHedge Golf Assn. | 80 |
| Brown, Michael, Country Club of Scranton | 80 |
| Smeraglio, Glenn, LuLu Country Club | 80 |
| Walsh, P. Chet, Philadelphia Country Club | 80 |
| Trymbiski, Brian, Doylestown Country Club | 80 |
| Hooper, Bruce, Jack Frost National Golf Club | 80 |
| Atcavage, Rick, Whitemarsh Valley Country Club | 80 |
| Strohl, David, Olde Homestead Golf Club | 80 |
| Day, Gregory, Old York Road Country Club | 81 |
| Steinmetz, George, Spring Ford Country Club | 81 |
| Hutchinson, Mark, Lookaway Golf Club | 81 |
| Brown, William, Country Club of Scranton | 81 |
| Jankowski, Brad, Little Mill Country Club | 81 |
| Ball, Russ, Gulph Mills Golf Club | 82 |
| Blichar, David, Olde Homestead Golf Club | 82 |
| Loftus, Bob, Overbrook Golf Club | 82 |
| Sterge, Andrew, Applebrook Golf Club | 82 |
| Wiedecke , Jeff, Shawnee Country Club | 82 |
| Ochoa, Carlos, Little Mill Country Club | 82 |
| McIntosh, Scott, LuLu Country Club | 82 |
| Hinton, Tim, Elmhurst Country Club | 82 |
| Coulson, Joe, Wedgewood Golf Club | 82 |
| Jasinski, Joe, Steel Club | 82 |
| Bell, III, James, Makefield Highlands Golf Club | 82 |
| Swanson, Paul, Mountain View Country Club | 82 |
| Whitman, Byron, Berkshire Country Club | 82 |
| Soares, Tom, Lehigh Country Club | 83 |
| Westington, Barry, Scranton Canoe Club | 83 |
| Gross, James, Glenmaura National Golf Club | 83 |
| Cattoni, J.R., Huntsville Golf Club | 83 |
| Carr, Dominic, Olde Homestead Golf Club | 84 |
| Shanahan, Jerry, Radley Run Country Club | 84 |
| Allen, Jeffrey, Loch Nairn Golf Club | 84 |
| Speaker, Andrew, Jericho National Golf Club | 84 |
| Uhrig, Don, LedgeRock Golf Club | 84 |
| Nestor, Sr., Kenneth, Country Club of Scranton | 85 |
| Dougherty, Jerry, Scranton Canoe Club | 85 |
| Wall, Kevin, Old York Road Country Club | 85 |
| Treese, Kevin, Mountain View Country Club | 85 |
| Corbett, Brian, Country Club of Scranton | 85 |
| Sartell, Kevin, Loch Nairn Golf Club | 85 |
| Hess, Paul, Hartefeld National | 85 |
| Holstein, Richard, Rolling Green Golf Club | 85 |
| Cubberley, Mark, Mercer Oaks Golf Course | 85 |
| Hamm, Fran, Country Club of Scranton | 86 |
| Folkes, David, Metedeconk National Golf Club | 86 |
| Gosselin, John, Aronimink Golf Club | 86 |
| Occhipinti, Mark, Country Club of Scranton | 87 |
| O'Sullivan, Stephen, Philadelphia Cricket Club | 87 |
| Decker, Michael, Old York CC at Chesterfield | 87 |
| Leddy, Paul, Seaview Country Club | 88 |
| Lanzalotto, Jim, Llanerch Country Club | 88 |
| Dietz, Andy, Laurel Creek Country Club | 88 |
| McCormick, Andy, Rolling Green Golf Club | 92 |
| Cavanaugh, Mike, Jericho National Golf Club | 92 |
| Smith, Gary, Pine Valley Golf Club | WD |
| Lykon, Andy, Wedgewood Golf Club | WD |
| O'Brien, Patrick, North Hills Country Club | WD |
| Alterman, John, Commonwealth National Golf Club | WD |
| Robinson, John, LuLu Country Club | WD |
| Luca, John, Philadelphia Publinks Golf Association | WD |
| Quinn, Michael, Philadelphia Publinks Golf Association | WD |
| | |
| | |
| Super-Senior Division | R1 Score |
| Owsik, Mike, Hershey's Mill Golf Club | 72 |
| Delcher, Duke, Sandy Run Country Club | 73 |
| Polizzi, Frank, Whitemarsh Valley Country Club | 73 |
| White, Thomas, Buck Hill Falls Golf Club | 73 |
| Scott, Craig, Great Bear Golf Club | 73 |
| Rothaus, Brian, Five Ponds Golf Club | 74 |
| Panebianco, Drew, Five Ponds Golf Club | 74 |
| Osborne, Gregory, Overlook Golf Course | 75 |
| Scarpetta, Jr., Vince, Nittany Country Club | 76 |
| Clauson, Christopher, LuLu Country Club | 76 |
| Mastromatteo, Jim, Briarwood Golf Club | 77 |
| Daniels, Gary, Applebrook Golf Club | 77 |
| Brewer, Gordon, Pine Valley Golf Club | 77 |
| Thon, Rich, The Springhaven Club | 77 |
| Detweiler, Marlin, Lancaster Country Club | 78 |
| Maloney, Kerry, Country Club of Scranton | 78 |
| Dowds, Chuck, Applebrook Golf Club | 79 |
| Billings, Bob, Rolling Green Golf Club | 79 |
| Hyland, Tom, Little Mill Country Club | 79 |
| Smith, Matthew, Regents' Glen Country Club | 79 |
| Sheftel, Elliot, Lehigh Country Club | 79 |
| Majczan, Bob, Lookaway Golf Club | 80 |
| Donatoni, Don, White Manor Country Club | 80 |
| Gonsior, John, The Bucks Club | 80 |
| Nilon, Michael, Philadelphia Country Club | 80 |
| Heck, Michael, Elkview Country Club | 80 |
| DiCinti, Tom, Philadelphia Publinks Golf Association | 81 |
| van Horn, Al, Commonwealth National Golf Club | 82 |
| Carney, Scott, Commonwealth National Golf Club | 82 |
| Borsello, Tom, Wyncote Golf Club | 82 |
| Press, Howard, Little Mill Country Club | 82 |
| Zavada, John, Elkview Country Club | 83 |
| Farlling, Mike, Carlisle Country Club | 83 |
| Dorsey, Bob, Medford Lakes Country Club | 83 |
| Pappas, Kevin, Mercer Oaks Golf Course | 84 |
| Culley, Joe, The Springhaven Club | 84 |
| McCool, Robin, Saucon Valley Country Club | 84 |
| Sullivan, James, Huntingdon Valley Country Club | 85 |
| Duhack, Joe, LuLu Country Club | 86 |
| Lusto, Thomas, Green Pond Country Club | 87 |
| Burton, Dan, Lancaster Country Club | 87 |
| Dietrich, Robert, Loch Nairn Golf Club | 88 |
| Vergari, John, Tavistock Country Club | 89 |
| Mimmo, Peter, North Hills Country Club | NS |
| WD – withdrawal; NS – no show | |