| Scoring portal | Day One recap | Video | History |
HUNTINGDON VALLEY, Pa. – Ashley Grier began to have doubts about a appearance in the GAP Open Championship. In the back of her mind, she was initially concerned about the yardage on the scorecard.
The worrisome thinking faded quickly after just a few swings. In fact, it quickly turned into confidence when Grier teed it up Wednesday at Huntingdon Valley Country Club (par 70, 6,786 yards), becoming the first female to compete in the GAP Open in 15 years.
"I looked at the back tees, and I didn't really know if I could reach them. Just looking at 7,000 yards on the scorecard for someone who just hits it 230 or 240, it's pretty long. In my mind, I had this huge challenge," said Grier. "It wasn't as hard as I made it out to be in my mind. I knew it was going to be a challenge, but I figured, 'What the heck?' I just stayed calm and got the full experience. I had nothing to lose."
Today's appearance, featuring a 12-over 82, marked the first time a female has played in the Open since Kimberly Verrecchio did so in 2004 at Philadelphia Country Club.
"I'm so glad I was able to play. It was awesome," said Grier, an assistant professional at Overbrook Golf Club. "I'm used to playing in the Section events versus the guys and the pros so I feel comfortable. I'm looking forward to trying again next year if I get the opportunity."
The round itself began on the back nine, where Grier recorded an 8-over 43 to begin. Things turned around on her second side with a 4-over 39. The most memorable shot of the day came on No. 5 (par 3, 165 yards) when her 6-iron tee shot was so on target that it hit the flag.
"It would have been cool if it went it, but it was a good shot," said Grier, of Springfield, Pa. "I think if I started on the front, I may have ended the round a little better. Getting some of the holes — 10, 12, 14 — was tough. I was trying to overpower some of my shots, but it happens."
Despite suffering neck and back injuries in a traffic accident last February, Grier's season has been one to savor so far, featuring a schedule littered with highlights. Grier made the cut in this year's PGA Professional Championship at Belfair. The 35-year-old then competed in the Symetra Tour's Valley Forge Invitational at Raven's Claw Golf Club in late May, carding rounds of 76 and 72. In mid-June, an LPGA Major appearance came in the Women's KPMG Championship at Hazeltine National Golf Club. Grier carded rounds of 82 and 81 there, good enough for a finish above LPGA star Michelle Wie.
"Playing in the KPMG Championship last month, it was pretty long [off the tee]. It was about the same [as today]," said Grier, a Symetra Tour player from 2007 to 2012. "I do a great job of balancing work and golf. My coworkers are awesome. I try to come back and fill in as much as I can, and I have had great support from the membership at Overbook, either good or bad. It's been a fun season so far."
Today's accomplishment for Grier, who played collegiately for the University of Central Florida, can now be stowed away on a long list of accolades. In 2017, she became the first female PGA professional to win a points event in the Section's 97-year history, taking the Callaway Golf TPD Championship at Trump National Philadelphia. A T-10 finish in the 2018 Philadelphia PGA Professional Championship at Concord Country Club gave Grier an exemption into this week's #GAPOpen.
Along with those accolades also comes a sense of responsibility. Grier says she hopes to inspire other females, especially junior golfers and even other professionals, to accept the challenge of testing their games at any level possible.
"I know it's hard. I know it's easy to say I'm not going to play," said Grier. "I hope that I can inspire others to play and challenge themselves."
For Grier, today's #GAPOpen challenge was accepted and made good on. The next one — wherever or whoever it may be played against — will be no different.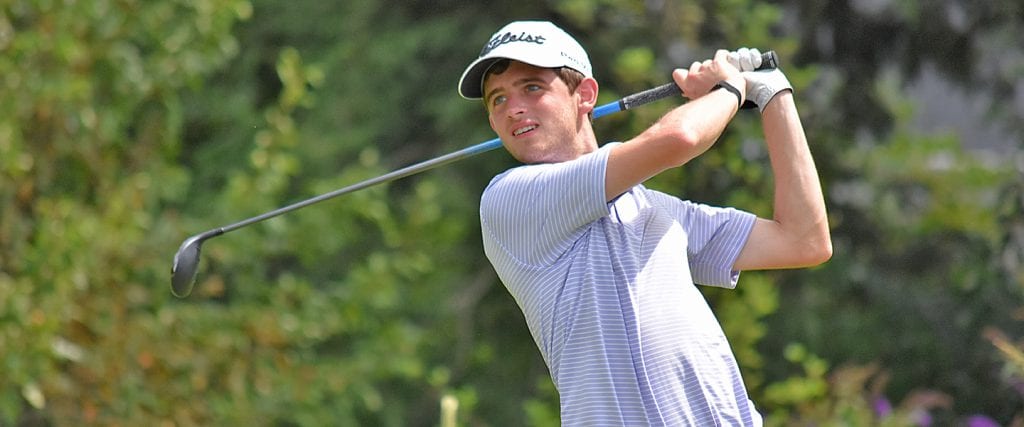 Less than two years ago, Casey Lyons' name resided at the bottom of the leaderboard at the Tee it Forward – Fall Net Championship. Now, Lyons will be playing the second day at a GAP Major Championship.
On Wednesday, the 20-year-old Lyons carded a 4-over-par 74 at Huntington Valley Country Club (par 70, 6786 yards), placing him two shots inside the cut line at the 115th GAP Open Championship.
Lyons latest result is just a part of his rapid ascent in the world of competitive golf. The Medford Village Country Club member played in his first GAP Major a year ago when the Patterson Cup was hosted at Gulph Mills Golf Club in 2018.
As Lyons will tell you, his swift progression can be attributed more to his mental development than any mechanical modifications.
A severe anxiety disorder, which forced Lyons to withdraw from Shawnee High School during his sophomore year, also manifested itself by preventing the Medford Lakes, N.J. native from competing on the golf course.
"It's mental," Lyons said. "I've always had the game. I've always been pretty good outside of tournaments but it was just that pressure. The mental side just wasn't there."
As his anxiety began to diminish, things began to turn around both on and off the course for Lyons. He was able to earn his high school degree by taking classes at Rowan College at Burlington County and simultaneously began to put his golf game to the test in more competitive situations. Lyons started small, playing in net events such as the one in 2017 at Schuylkill Country Club, and built up from there.
"The past three years have been a lot better," Lyons, who will attend Florida Gulf Coast University next year, said. "Just being confident in myself and who I am and playing the golf I know I can."
Confidence appeared to be in abundance as Lyons demonstrated his capabilities to a field of Philadelphia's top pros and amateurs. A couple of birdie putts found the hole from over 40 feet on Nos. 7 (par 5, 567 yards) and 17 (par 3, 211 yards), to go along with an additional red figure on No. 6 (par 4, 436 yards) – where Lyons punched an 8-iron from the left trees to six feet from 144 yards.
Wednesday's round marked just another step up the ladder for Lyons on what has been an exceptionally rapid climb.
He will return to Huntington Valley on Thursday when he will look to move up the leaderboard from his current position at T-28.
GAP
Celebrating Amateur Golf since 1897, GAP, also known as the Golf Association of Philadelphia, is the oldest regional or state golf association in the United States. It serves as the principal ruling body of amateur golf in its region. The Association's 274 Full Member Clubs and 75,000 individual members are spread across the Eastern half of Pennsylvania and parts of New Jersey and Delaware. The GAP's mission is to promote, preserve and protect the game of golf.