Troutman tops #GAPMidAm Qual. at home
Jason Troutman felt right at home Tuesday at Frosty Valley (par 72, 6,679 yards), taking medalist honors in a GAP Middle-Amateur Championship Qualifying event.
| Scoring portal |
Troutman fired a remarkable 3-under 69 to lead the way on more-than-familiar turf. Despite starting his round with a bogey on Frosty Valley's opener (par 4, 443 yards), the 48-year-old Danville, Pa. resident would avoid another bogey blemish while adding four birdies altogether. Troutman finished three clear of the remaining championship hopefuls, including Frosty Valley members Brian Noonan (even-par 72) and Sean Duffy (2-over 74).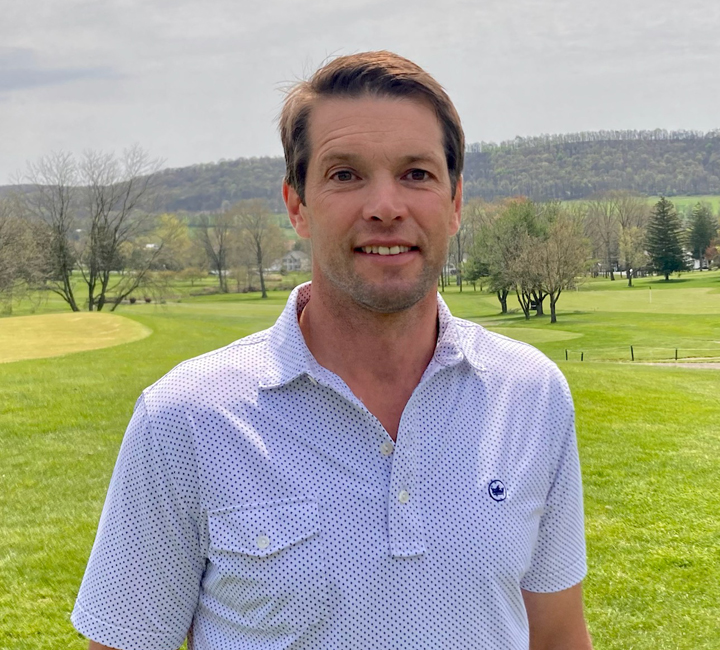 On the day, seven players received initiations after the cut line stopped at 4-over 76. The 39th Middle-Amateur Championship will take place May 24-25 at Jericho National Golf Club.
New in 2022, Middle-Amateur Qualifying includes an alternate pool of players, which allows the Championship proper to reach its advertised field size. Alternate positions are determined by the recommended USGA tiebreaking method: Comparing the gross score from the last nine holes, last six holes, last three holes, last hole, and if still tied, positions will be decided by lot.
The Middle-Amateur Championship is open to males 25 years of age or older with a Handicap Index of 7.0 or better. It is a two-day, 36-hole stroke play event.
Jericho National previously hosted the Middle-Amateur, then an 18-hole stroke play event, in 2000. The event switched to a 36-hole format the following year.
A William Hyndman, III Player of the Year points event, the Middle-Amateur started in 1984, three years after the USGA created the U.S. Mid-Amateur as a formal championship for post-college amateurs. GAP followed suit with the USGA in creating a Middle-Amateur, but initially differed in its administration of the tournament in a couple of respects.
The most obvious difference was the age requirement. Prior to 2001, the GAP Middle-Amateur was only available to players 30 years of age or older.
The GAP Executive Committee reviewed and revised that age requirement in 2001 to match the USGA's guidelines of 25 years of age or older for eligible players. It also, as previously mentioned, changed the format of the event to a two-day stroke play tournament with a cut to the low 70 players and ties after the first round.
GAP
Celebrating Amateur Golf since 1897, GAP, also known as the Golf Association of Philadelphia, is the oldest regional or state golf association in the United States. It serves as the principal ruling body of amateur golf in its region. The Association's 330 Member Clubs and 90,000 individual members are spread across Pennsylvania, Delaware, New Jersey and Maryland. The GAP's mission is to promote, preserve and protect the game of golf.
| | |
| --- | --- |
| Qualifiers | |
| Name, club | Score |
| Jason Troutman, Frosty Valley | 69 |
| Brian Noonan, Frosty Valley | 72 |
| Jarred Texter, Conestoga Country Club | 72 |
| Sean Duffy, Frosty Valley | 74 |
| Patrick Prough, Tyoga Country Club | 75 |
| Peter Reilly, Eagle Rock Resort | 75 |
| Eric Williams, Honesdale Golf Club | 76 |
| Failed to qualify | |
| Sean Seese, Huntingdon Valley Country Club (First alternate) | 77 |
| Kevin O'Brien, Cedarbrook Country Club (Second alternate) | 78 |
| Daniel Oh, Blue Bell Country Club | 78 |
| Brian Trymbiski, Doylestown Country Club | 80 |
| Dan Hinckley, Northampton Country Club | 82 |
| Connor Vanin, Philadelphia Publinks Golf Association | 83 |
| Jonathan Wilson, Irem Country Club | 83 |
| Brian Keane, Mercer Oaks Golf Course | 84 |
| Jared Palubinski, Schuylkill Country Club | 84 |
| Brad Shade, Makefield Highlands Golf Club | 84 |
| Billy Hallman, Shepherd Hills Golf Club | 85 |
| Thomas Murray, Country Club of Scranton | 85 |
| Michael Reese, Eagle Rock Resort | 85 |
| Cody Dinger, Mountain View Country Club | 87 |
| Jay Pagana, Susquehanna Valley Country Club | 87 |
| Jeffrey Swetland, Philadelphia Publinks Golf Association | 88 |
| Sean Coary, Applebrook Golf Club | 90 |
| Aaron Katyl, Schuylkill Country Club | 91 |