Philly Cricket's teaching pro gets sponsor's invite
Meaghan Francella, Philadelphia Cricket Club's LPGA Teaching Professional, has accepted a sponsor's exemption into the ShopRite LPGA Classic presented by Acer for the second-consecutive year. The event will take place June 9-11 at Seaview Golf Club in Galloway, N.J.
| ShopRite LPGA Classic | #GAPWomensWeek |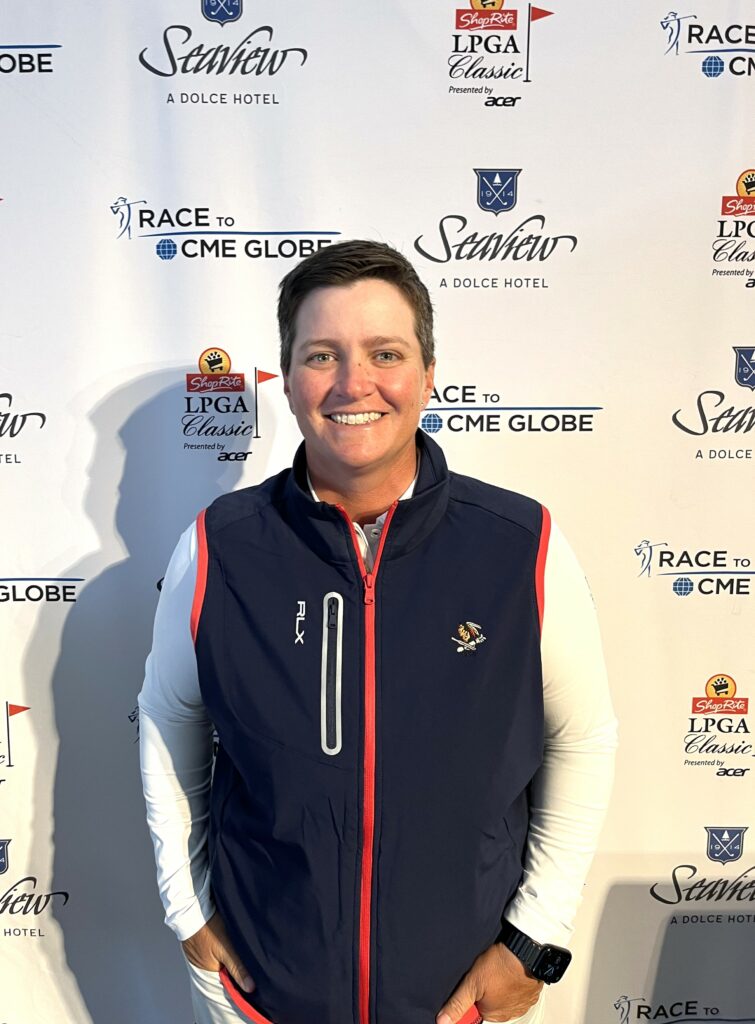 "I think being able to be here, play and have family come is really important for me," Francella, 41, of Wilmington, Del., said. "It means a lot to my family and friends to have me back inside the ropes."
After her graduation from the University of North Carolina in 2004, Francella began playing professionally on the Epson Tour. Later, she earned her LPGA Tour card for the 2007 season. She won her first LPGA Tour event by edging out Annika Sörenstam in a four-hole playoff to win the 2007 MasterCard Classic. In 2010, Francella found victory in the HSBC Brazil Cup. She then lost her LPGA card in 2013.
During her time away from the LPGA Tour, Francella held a few different positions within the golf industry. Caddying on the LPGA Tour and working at the Dormie Network reignited her love for the game and her desire to compete. Earning an exemption into the 2022 KPMG Women's PGA Championship showed that she harnessed her previous professional playing abilities. In February 2022, she became the LPGA Teaching Professional at Philadelphia Cricket. That same year, she played in the ShopRite LPGA Classic where she fired 68 and 75 during Rounds 1 and 2 to miss the cut.
"I'm honored to be a part of Philadelphia Cricket Club," Francella said. "I think it's the greatest place in the world, just from a membership standpoint [and] the staff is incredible. Jim Smith is the greatest boss. I'm super proud to wear the logo, be here and play and represent and have everybody watch. It will be fun."
"Meaghan is a phenomenal human being and someone our team loves working with," Jim Smith, Jr., Director of Golf at Philadelphia Cricket said. "While she is a great player, she has this opportunity because of the relationships she's developed over the years. I've yet to run into anyone who knows her who doesn't love her. We feel very fortunate to be her teammate and friend. We're looking forward to being at the event to cheer her on."
Francella is proud of the state of women's golf in the Philadelphia area, and is excited to represent it on a national level.
"Women's golf is getting so big, especially in the Philly area," Francella said. "It's incredible between all the WGAP (Women's Golf Association of Philadelphia) stuff with Merion [Golf Club], Aronimink [Golf Club] and Cricket. I just love being a female professional golfer."
The Philly Cricket family has come together to create a strong support system for Francella.
"Anybody that knows Philly Cricket knows that it's a group of really good players that pride themselves on competition," Francella said. "Somebody I teach right now, [Isabella Dilisio], played in the U.S. Women's Amateur Four-Ball out in Seattle, Wash. She was a semifinalist of the U.S. Women's Mid-Amateur last year. We have people playing in the GAP Mid-Am, a bunch of my students have qualified for that. They understand competition and they are very supportive."
The ShopRite LPGA Classic presented by Acer is scheduled during #GAPWomensWeek (June 5-11). Other events of the week include clinics, networking events and tournament golf for women to participate in.
GAP
Celebrating Amateur Golf since 1897, GAP, also known as the Golf Association of Philadelphia, is the oldest regional or state golf association in the United States. It serves as the principal ruling body of amateur golf in its region. The organization's 340 Member Clubs and 100,000 individual members are spread across Pennsylvania, Delaware, New Jersey and Maryland. The GAP's mission is to promote, preserve and protect the game of golf.