Day One recap| Scoring portal | History |Day One video
Wolf makes ace to win BMW lease
GLADWYNE, Pa. – Campbell Wolf will arrive in the Land of Lincoln in a shiny new BMW.
Thanks to his ace on Philadelphia Country Club's No. 11 (par 3, 181 yards) during the 122nd BMW Philadelphia Amateur Championship 36 hole Stroke-Play Qualifying, Wolf earned himself a new set of keys.
Ironically clad in a Greyson Clothiers shirt emblazoned with wolf graphics, the Northern Illinois University transfer used his 7-iron to find the hole, which was tucked in the back left portion of the green. Wolf won the stunning BMW M850i xDrive Coupe parked adjacent to the tee box. According to his longtime friend and caddie, Brendan Shay, Wolf did not see his own ball travel into the hole. It was not until he conversed with playing partners and his caddie that he discovered what he just done.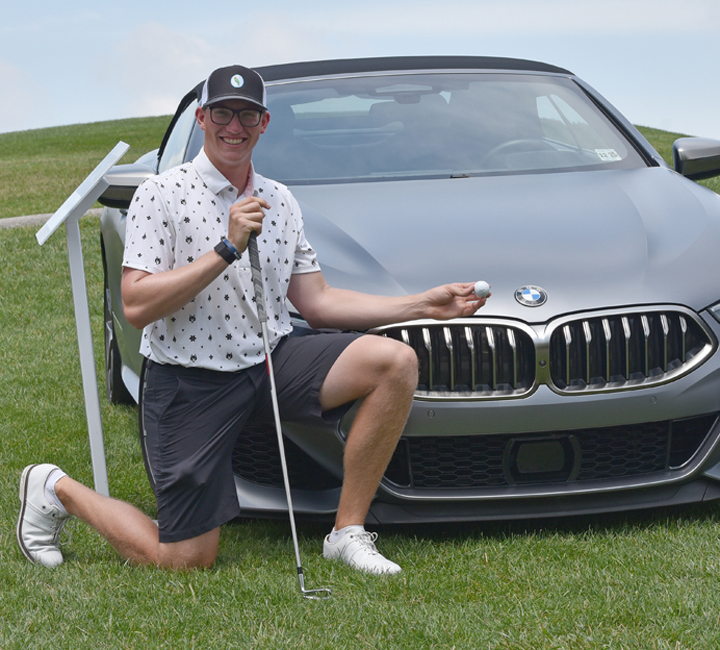 "It happened, and then I was like, 'OK, well I still have to refocus and get back to playing,'" Wolfe said. "I was obviously focused on making match play, but the car is a pretty nice bonus."
Witnessing Wolf's outstanding feat was his caddie, co-medalist Troy Vannucci and other bystanders. The players agreed that the pitch mark suggested that Wolf's tee shot landed directly in front of the hole before dropping into the cup.
"He promised me the car," Shay said with a smile.
Wolf and Shay have been best friends since the sixth grade, which has created a strong player-caddie relationship between the duo as they have traversed fairways and greens together over the years.
"He told me not to take a video," Shay said.
Shay's lack of video documentation was just the good luck charm that Wolf needed to add Philadelphia Country Club to his collection of scorecards that he has marked 1s on. Other rounds where he has made aces include two rounds at his home club (Carlisle Country Club) as well as one during a scramble-format charity event in Maryland.
The Mechanicsburg, Pa. resident's ace aided him in firing 1-over par 144 to make the cut, which stopped at 2-over-par.
The 23-year-old recently graduated from East Tennessee State University with a major in sports management after playing two years for the Bucs. He will be attending Northern Illinois University to pursue an MBA, using his final year of college eligibility for the Huskies.
As temperatures rose, so did Ayars' shotmaking
Sakima Country Club's Dan Ayars put on an impressive display of shotmaking Monday.
The 43-year-old, Millville, N.J. resident completed the "scorecard cycle," carding figures of 1, 2, 3, 4, 5 and 6 across both rounds of 18.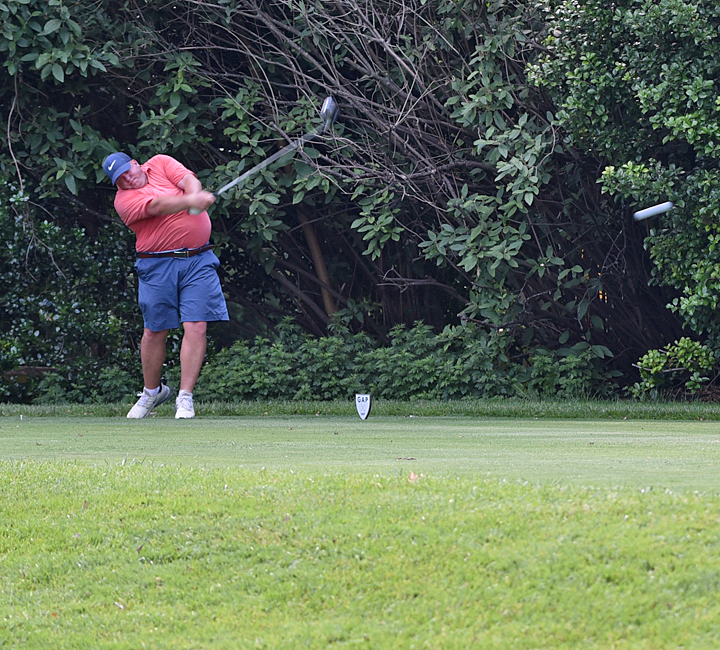 "I've never had rounds quite like this," the Millville police officer said. "Definitely not my best round I've ever played. I didn't putt it good at all."
A modest Ayars revealed that he had a rough start during his first round, which took place at Union League Liberty Hill. Breaking the spell was a hole-in-one on No. 14 (par 3, 140 yards), Ayars' fifth hole. He used a 9-iron to attack the front-middle hole location, which resulted in his ball landing behind the flag and spinning back into the hole. This is Ayars' second ace, the first of which was at Running Deer Golf Club in 2018. Little did he know what else was in store for the rest of the day. As temperatures continued to heat up, so did Ayars' game.
On No. 7 (par 4, 439 yards), he chipped in for birdie from 20 yards off the left side of the green to sustain a wish of his caddie, Christopher Meares.
"We come to No. 7 and he says 'Just make one birdie coming in and it'll be a good day'," Ayars said.
And a good day it was. On No. 8 (par 4, 361 yards), Ayars holed a sand wedge from 110 yards.
After a short drive to Philadelphia Country Club for the day's second round of 18, he maintained momentum by jarring a birdie on No. 8 (par 4, 385 yards) — the only traditional birdie hole where he dropped a putt from a spectacular 40 feet.
Match play of the 122nd BMW Philadelphia Amateur Championship continues tomorrow with the bracket beginning play at 7:30 a.m.
GAP
Celebrating Amateur Golf since 1897, GAP, also known as the Golf Association of Philadelphia, is the oldest regional or state golf association in the United States. It serves as the principal ruling body of amateur golf in its region. The Association's 300 Member Clubs and 80,000 individual members are spread across the Eastern half of Pennsylvania and parts of Delaware, Maryland and New Jersey. The GAP's mission is to promote, preserve and protect the game of golf.