Overlook's Greg Osborne takes first GAP title
| Scorecards | History | Lutz takes Senior Amateur in record fashion |
| Super-Senior Silver Cross Award history |
CLARKS SUMMIT, Pa. – At the start of the week, winning the Super-Senior Amateur Championship was a "Shot in the Dark" for Greg Osborne of Overlook Golf Course. On Tuesday, Ozzie and his "straight driving and streaky putting" turned in an "Iron Man" performance.
The 67-year-old Lititz, Pa. resident carded a closing-round even-par 72 at a difficult Country Club of Scranton (par 72, 6,188 yards) to quietly rise to the top of the leaderboard and eventually secure a one-shot victory. Duke Delcher of Sandy Run Country Club, playing in the final group, left his birdie try inches short to force a playoff. Brian Rothaus of Five Ponds Golf Club tied for second, but secured his first Super-Senior Silver Cross Award.
Osborne finished the 36 holes of the championship at 3-over-par 147. It is his first GAP victory.
"I started the round today three shots behind and I really had no expectations," said Osborne, a retired La-Z-Boy store furniture manager in Lancaster, Pa. "[Yesterday] was the first time I played here and I bogeyed the first two holes. I realized pretty quickly how difficult the greens are. I was just trying to play well and see what happened. I never for a second thought I was in contention. I just kept playing and it was fortunate I got through the round like I did."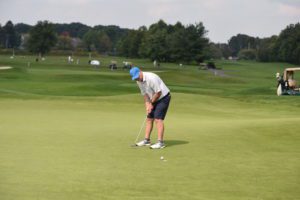 Osborne is not without a competitive track record. He made the U.S. Senior Amateur Championship in 2011 and 2012, advancing to match play in the latter (but dropped his opening match). Locally, he's won a handful of Lancaster County Golf Association titles, including the Senior Championship in 2010 and 2015. In 2016, he tied for third in the Pennsylvania Golf Association Senior Amateur Championship at Lancaster Country Club.
"I'm 67 and I'm fortunate to play a fair amount of competitive golf. I love the competition," said Osborne. "I certainly didn't come up here expecting to win. I played with Duke Delcher [in the 2011 U.S. Senior Amateur at Kinloch Golf Club in Manakin-Sabot, Va.]. He's a great player. I'm just thrilled to be able to compete with him."
Osborne kept his title hopes alive with a 1-over front side, before pouring in a 22-footer for birdie on No. 11 to get back to even. At that stage of the tournament, Thomas White of Buck Hill Falls Golf Club was the one to catch after he had overtaken first-round leader Mike Owsik of Hershey's Mill Golf Club. White's trophy run, however, was derailed by some mid-round putting struggles. Osborne, in the meantime, kept grinding out shot-after-shot. He strung together five-straight pars and stood on No. 17 (par 3, 184 yards) one-shot clear of the field. A three-putt bogey on No. 17 from 30 feet dropped him into a temporary tie with Delcher.
On No. 18 (par 5, 476 yards), Osborne hopped aboard the "Crazy Train." His drive landed short of the fairway bunker and bounced left before stopping in the first cut. He then rocketed a 3-wood from 220 yards that landed a foot on the putting surface and ended eight feet, short of the cup, which was positioned in the back portion of the 36-yard deep green. A spectacular shot. His eagle try ran out of energy inches short but a tap-in birdie positioned him atop the leaderboard.
Delcher had four bogeys in his first 10 holes before finally regaining his footing. He played the final eight holes 1 under. Knowing he needed a closing birdie, Delcher's 20-footer ended two rolls short, in the heart of the cup.
The former Walker Cupper and GAP Major Champion had a spectacular summer, winning the Pennsylvania Golf Association's Super-Senior Amateur, Art Wall, Jr. Memorial Championship and Senior Four-Ball Championship with partner Alan van Horn.
"If you didn't have control of your golf ball you weren't going to shoot a very good score and I didn't have control of my golf ball to the green or on the green," said Delcher, 65, of Bluffton, S.C.
Rothaus, in the group ahead of Delcher, birdied No. 18 from 30 feet left of the cup to earn the Super-Senior Silver Cross and to tie for second in the Championship. His greatest challenge for the Silver Cross came from a late-charging Gary Daniels of Applebrook Golf Club. Daniels carded two eagles in his final seven holes to vault up the Super-Senior Silver Cross leaderboard and into a tie with Rothaus late in the day. Rothaus struggled early– 3 over thru four holes – but leveled out and played the final 14 holes in 1 under.
"I had such a horrible start. Then I stabilized. I played pretty good on the back. [A score of] 74 felt like a good round after the start today," said Rothaus, 65, of Huntingdon Valley, Pa., who recorded two three-putts and a four-putt in his first four holes. "I played consistent in all the tournaments this year."
The Super-Senior Silver Cross is awarded to the player with the lowest aggregate score in the Francis B. Warner Cup (Gross), Frank H. Chapman Cup (Gross) and Senior Amateur Championship.
GAP
Celebrating Amateur Golf since 1897, GAP, also known as the Golf Association of Philadelphia, is the oldest regional or state golf association in the United States. It serves as the principal ruling body of amateur golf in its region. The Association's 300 Member Clubs and 80,000 individual members are spread across the Eastern half of Pennsylvania and parts of Delaware, Maryland and New Jersey. The GAP's mission is to promote, preserve and protect the game of golf.
| | |
| --- | --- |
| Name, club | R1-R2–Total |
| Gregory Osborne, Overlook Golf Course | 75-72–147 |
| Duke Delcher, Sandy Run Country Club | 73-75–148 |
| Brian Rothaus, Five Ponds Golf Club | 74-74–148 |
| Frank Polizzi, Whitemarsh Valley Country Club | 73-76–149 |
| Christopher Clauson, LuLu Country Club | 76-74–150 |
| Gary Daniels, Applebrook Golf Club | 77-74–151 |
| Thomas White, Buck Hill Falls Golf Club | 73-79–152 |
| Tom Hyland, Little Mill Country Club | 79-73–152 |
| Vince Scarpetta, Jr., Nittany Country Club | 76-77–153 |
| Marlin Detweiler, Lancaster Country Club | 78-79–157 |
| Don Donatoni, White Manor Country Club | 80-77–157 |
| Tom DiCinti, Philadelphia Publinks Golf Association | 81-76–157 |
| Drew Panebianco, Five Ponds Golf Club | 74-84–158 |
| Mike Owsik, Hershey's Mill Golf Club | 72-86–158 |
| Craig Scott, Great Bear Golf Club | 73-86–159 |
| Chuck Dowds, Applebrook Golf Club | 79-80–159 |
| Howard Press, Little Mill Country Club | 82-77–159 |
| Rich Thon, The Springhaven Club | 77-83–160 |
| Mike Farlling, Carlisle Country Club | 83-78–161 |
| Gordon Brewer, Pine Valley Golf Club | 77-86–163 |
| John Gonsior, The Bucks Club | 80-83–163 |
| Scott Carney, Commonwealth National Golf Club | 82-81–163 |
| Elliot Sheftel, Lehigh Country Club | 79-84–163 |
| James Sullivan, Huntingdon Valley Country Club | 85-79–164 |
| Bob Majczan, Lookaway Golf Club | 80-85–165 |
| Robin McCool, Saucon Valley Country Club | 84-81–165 |
| Michael Nilon, Philadelphia Country Club | 80-85–165 |
| Al van Horn, Commonwealth National Golf Club | 82-84–166 |
| Tom Borsello, Wyncote Golf Club | 82-84–166 |
| Bob Billings, Rolling Green Golf Club | 79-87–166 |
| Jim Mastromatteo, Briarwood Golf Club | 77-90–167 |
| Matthew Smith, Regents' Glen Country Club | 79-89–168 |
| Kerry Maloney, Country Club of Scranton | 78-90–168 |
| Bob Dorsey, Medford Lakes Country Club | 83-86–169 |
| Joe Culley, The Springhaven Club | 84-86–170 |
| John Zavada, Elkview Country Club | 83-88–171 |
| Dan Burton, Lancaster Country Club | 87-85–172 |
| Thomas Lusto, Green Pond Country Club | 87-86–173 |
| Joe Duhack, LuLu Country Club | 86-88–174 |
| Kevin Pappas, Mercer Oaks Golf Course | 84-92–176 |
| John Vergari, Tavistock Country Club | 89-87–176 |
| Robert Dietrich, Loch Nairn Golf Club | 88-90–178 |
| Michael Heck, Elkview Country Club | DQ |
| Peter Mimmo, North Hills Country Club | NS |
| | |
| DQ-disqualification; NS-no show | |