Rothaus adds another title, Irey takes Super-Senior Silver Cross
LANCASTER, Pa. – Brian Rothaus has five reasons to remember the 2023 golf season.
| Scoring Portal | History | Super-Senior Silver Cross Standings | Super-Senior Silver Cross History | Photos |
He has been a Super-Senior stalwart this season winning four Pennsylvania Golf Association (PAGA) Super-Senior events.
He won its Super-Senior Amateur at The Club at Nevillewood, its Super-Senior Division of the Art Wall, Jr. Memorial at The 1912 Club, its Super-Senior Division of the George Dressler Memorial at Southpointe Golf Club and its Super-Senior Match Play at Chambersburg Country Club.
Tuesday at Conestoga Country Club (par 70, 5,969 yards), Rothaus added a GAP title to his collection, claiming the 18th Super-Senior Amateur Championship.
His 2-over-par 72 beat reigning Super-Senior Player of the Year Greg Osborne of Overlook Golf Course by a shot.
The event was reduced to 18 holes due to weather over the weekend from Hurricane Ophelia. Monday's first round was canceled.
"It's awesome to win this event," Rothaus, 67, of Elkins Park, Pa., said. "I didn't think I was even in the hunt. My game was horrible today but I managed to scramble well. I can't even fathom the number of bad shots I hit today."
It was a grinding type of day. Temperatures were in the high 50s with a steady breeze and chilling light rain. The field scoring average was 79.57.
Rothaus made the turn in 2-over-par 37 and was in full recovery mode. He said his best scrambling effort came after blading an 85-yard wedge shot on No. 10 (par 5, 480 yards). He eloquently extricated a pitch from juicy rough to tap-in range.
His first birdie came after canning a 30-footer on No. 11 (par 3, 148 yards) after hitting the green with a 7-iron.
"I had a solid putting day," Rothaus said. "I have always been a pretty good putter. I really didn't play spectacular golf this year. I just was consistent and hung around."
Bogeys on Nos. 12 (par 4, 424 yards) and 14 (par 4, 403 yards) put him in a sprint to the finish with Osborne. After Osborne hit his approach at the last (par 4, 318 yards) inside 10 feet, Rothaus striped a pitching wedge from 115 yards to three feet. Once Osborne missed, Rothaus cleaned it up for the title.
"I still work and I don't practice at all," Rothaus, who has a flooring business, said. "But in reality I never really practiced throughout my life. When I won the Philadelphia Amateur in 1988 at Cedarbrook Country Club, I didn't hit a ball on the range all week. I just rolled a couple of putts and headed to the tee. I play in a lot of events. I don't really play casual golf. My short game and putting are the best parts of my game and I put zero effort into practicing them."
Rothaus is on pace to successfully defend his PAGA Super-Senior Player of the Year crown from last year.
"I don't know why my success in Pennsylvania Golf Association events hasn't translated much to GAP events recently," Rothaus, GAP's 2021 Super-Senior Player of the Year, said. "It feels nice to add another win to what has been a great season. It's a cool feeling to have a season like I had."
Super-Senior Silver Cross
LuLu Country Club's Roc Irey held on to claim his first Super-Senior Silver Cross with a round of 74 at Conestoga in the weather-shortened Super-Senior Amateur.
The Super-Senior Silver Cross is awarded to the player with the lowest aggregate score in the Francis B. Warner Cup, Frank H. Chapman Cup and the Super-Senior Amateur Championship.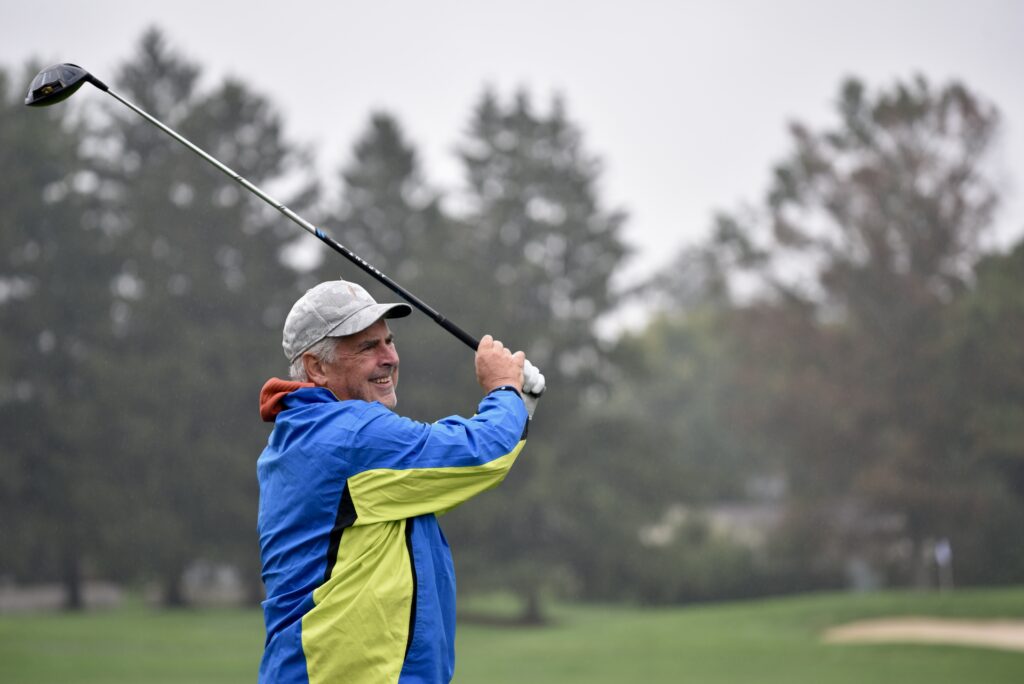 "It's a pretty cool accomplishment to be able to win the Super-Senior Silver Cross," Irey, 71, of Doylestown, Pa., said. "I've been battling my back all year and some highs and lows on the course. I knew coming into this event that I wanted to win this award."
Irey kicked off his Super-Senior Silver Cross campaign by blitzing the field at Medford Lakes Country Club for the Warner Cup Super Senior title with a 66. Irey shot 76 at Penn Oaks Golf Club at the Chapman.
His 54-hole total of 216 (6 over) was good enough for a five-shot victory over six-time (2013-16, 2019-20) Super-Senior Silver Cross winner Don Donatoni of White Manor Country Club.
Irey and Donatoni are the only two players to win both the Senior and Super Senior Silver Cross Awards. Irey won the Senior Silver Cross in 2015 and Donatoni in 2008.
"I just wanted to make pars and limit my mistakes," Irey said. "When you have a lead of any kind you tend to protect it. I am pleased with how I hung tough throughout the season with my back. Winning both the Senior and Super-Senior Silver Cross award is awesome. Just happy to get the job done."
GAP
Celebrating Amateur Golf since 1897, GAP, also known as the Golf Association of Philadelphia, is the oldest regional or state golf association in the United States. It serves as the principal ruling body of amateur golf in its region. The Association's 340 Member Clubs and 100,000 individual members are spread across Pennsylvania, Delaware, New Jersey and Maryland. The GAP's mission is to promote, preserve and protect the game of golf.
| | |
| --- | --- |
| Results | |
| Name, club | Score |
| Brian Rothaus, Five Ponds Golf Club | 72 |
| Gregory Osborne, Overlook Golf Course | 73 |
| David Richards, Bent Creek Country Club | 74 |
| Michael Vassil, Country Club of Scranton | 74 |
| Roc Irey, LuLu Country Club | 74 |
| David Cameron, Penn National Golf Club | 76 |
| William Chase, Regents' Glen Country Club | 76 |
| Don Donatoni, White Manor Country Club | 76 |
| Ed Short, Carlisle Country Club | 76 |
| Dan Burton, Lancaster Country Club | 77 |
| Drew Panebianco, Five Ponds Golf Club | 77 |
| Gary Daniels, Applebrook Golf Club | 77 |
| Christopher Clauson, LuLu Country Club | 78 |
| Robin McCool, Saucon Valley Country Club | 78 |
| Scott Kimmel, Mulligan's Pointe | 78 |
| Joe Duhack, LuLu Country Club | 78 |
| Mike Moser, Kennett Square Golf & Country Club | 79 |
| Bob Billings, Rolling Green Golf Club | 79 |
| Kit Conner, Carlisle Country Club | 79 |
| John Robinson, LuLu Country Club | 79 |
| Matthew Smith, Regents' Glen Country Club | 80 |
| Jimmy Muller, Manufacturers' Golf & Country Club | 80 |
| Bob Dorsey, Medford Lakes Country Club | 80 |
| Jeffrey Allen, Wild Quail Golf & Country Club | 80 |
| Jack Conway, Little Mill Country Club | 80 |
| Robert Dietrich, Philadelphia Publinks Golf Association | 81 |
| Robert Schubach, Wedgewood Golf Course | 81 |
| Mike Farlling, Carlisle Country Club | 81 |
| Craig Wheeland, Radnor Valley Country Club | 82 |
| Bernard Morris, Downingtown Country Club | 82 |
| Tom Mallouk, Lookaway Golf Club | 82 |
| Chuck Tait, LedgeRock Golf Club | 83 |
| Phil Howard, Deerfield Golf Club | 84 |
| Ken Beard, Ed Oliver Golf Club | 84 |
| David Staebler, Rolling Green Golf Club | 85 |
| Elliot Sheftel, Lehigh Country Club | 85 |
| Andy McCormick, Rolling Green Golf Club | 86 |
| Craig Scott, Glen Brook Golf Club | 86 |
| Scott Carney, Commonwealth National Golf Club | 86 |
| David Kearney, Lehigh Country Club | 86 |
| Andrew Tompos, Overlook Golf Course | 87 |
| Jeffrey Amrhein, Briarwood Golf Club | 88 |
| Jim Mastromatteo, Overlook Golf Course | WD |
| Charlie McDowell, Wilmington Country Club | WD |
| Legends Division | Score |
| Roc Irey, LuLu Country Club | 74 |
| Don Donatoni, White Manor Country Club | 76 |
| Dan Burton, Lancaster Country Club | 77 |
| Drew Panebianco, Five Ponds Golf Club | 77 |
| Robin McCool, Saucon Valley Country Club | 78 |
| Mike Moser, Kennett Square Golf & Country Club | 79 |
| Bob Billings, Rolling Green Golf Club | 79 |
| Bob Dorsey, Medford Lakes Country Club | 80 |
| Robert Dietrich, Philadelphia Publinks Golf Association | 81 |
| Bernard Morris, Downingtown Country Club | 82 |
| Tom Mallouk, Lookaway Golf Club | 82 |
| Phil Howard, Deerfield Golf Club | 84 |
| David Staebler, Rolling Green Golf Club | 85 |
| Craig Scott, Glen Brook Golf Club | 86 |
| David Kearney, Lehigh Country Club | 86 |
| Andrew Tompos, Overlook Golf Course | 87 |
| Charlie McDowell, Wilmington Country Club | WD |
| WD – withdraw | |