Donatoni takes fifth Super-Senior Amateur
COATESVILLE, Pa. – At 74 years old, Don Donatoni still isn't close to slowing down. Instead, he's only getting better.
Donatoni dazzled again this week at Coatesville Country Club (par 71, 6,019 yards), topping the 17th Super-Senior Amateur Championship. His final-round 4-over 75 landed him at 1-over par overall for the championship, earning Donatoni his fifth Super-Senior Amateur trophy.
| Scorecards | History | Super-Senior Silver Cross Award history |
To meet the needs of its members, GAP instituted a separation of the Senior and Super-Senior Divisions in Major competitions. Today's event marks the first-ever standalone Super-Senior Championship.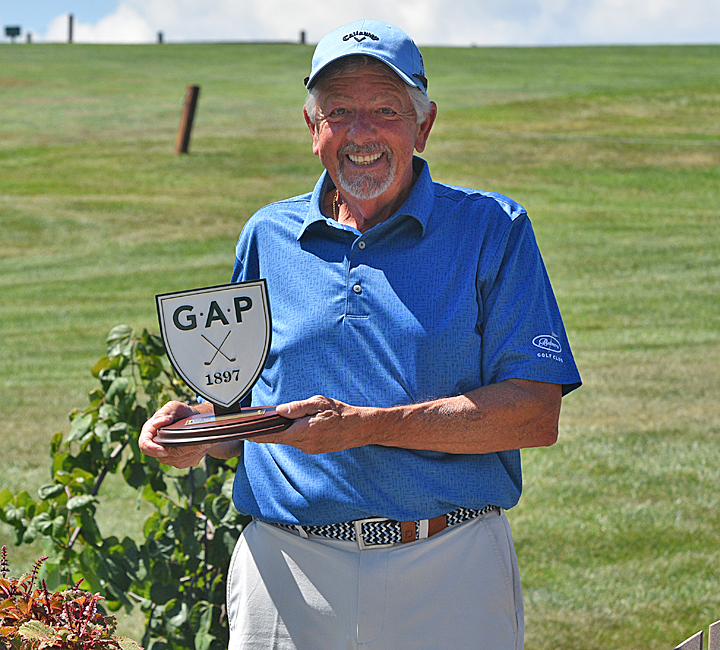 Donatoni, an eight-time Super-Senior Player of the Year, led the way after Round One. His 3-under 68 set the pace on Wednesday, with Sandy Run Country Club's Duke Delcher one back, followed by Wilmington Country Club's Steve Walczak at 1-under par.
He quickly gave up that lead starting with a three-putt bogey on No. 1 (par 5, 458 yards).
"Making a bogey on the opening hole, that hurt. To give one back on a par 5, where you know some guys are going to make birdie, all of a sudden you bring some of the field back into it," said the White Manor Country Clubber.
Two more bogey blemishes on Nos. 5 (par 4, 403 yards) and 6 (par 3, 188 yards) brought even more of the field back into the mix. Donatoni made the turn at 3 over par. Although he didn't know it at the time, those behind him on the leaderboard also struggled to begin, as the field averaged 38.9 strokes on Coatesville's first side.
Although the second nine wasn't as birdie-filled as it was on Wednesday — Donatoni jarred four birdies there in Round One — it was still kind to the legend. The triumphant tale of his round was scripted on the finishing two holes. On No. 17 (par 4, 412 yards), Donatoni converted "one of the best up-and-down par saves in competition", tossing a lob wedge from below the green left to a cozy three feet. He jarred that look to give him some comfort heading to 18, a par-4, 339-yarder.
Stepping up to the tee with no knowledge where he stood, Donatoni held a two-stroke lead. A few moments later, a sniped 3-wood flirted with out of bounds left. Although he played a provisional, he wouldn't need it, as his first drive came to rest safely in bounds. An 8-iron approach from 144 yards landed on the top right of the green and ran out to 25 feet away, where he eventually would two putt from for par.
"It was a grind out there. It wasn't like yesterday when I was making all those birdies. I didn't have my swing today," said Donatoni. "On 17, I asked Duke [Delcher] where we stood, so I didn't have much of an idea. I didn't know that [the last par putt] was the winning putt."
Luckily for the champion, it was. He's had a few of those winning putts throughout his Super-Senior dominance. Donatoni's previous Super-Senior Amateur crowns came in 2013, 2016, 2018 and 2020. In addition to those trophies, Donatoni holds six Super-Senior Silver Cross Awards (2013-16, 2019, 2020), five Brewer Cups (2013-15, 2017-18), three Francis B. Warner Cups (2013, 2015, 2019) and four Frank H. Chapman Memorial wins (2013, 2015-16, 2019). Don't forget the aforementioned eight Super-Senior Player of the Year honors, either.
"I think back to when I was 55, I was a pretty good senior. But when I turned 65, I thought I was pretty darn good. I started to tell a difference. My ball striking was better. I could read greens better. I was longer off the tee," said Donatoni, 74, of West Chester, Pa. "Now that I'm 74, I've lost some swing speed, but what I haven't lost is the passion for the game or my competitive fire. That's what drives me to keep playing against all of these great players. I'm thrilled that I can still play with the best players in Philadelphia."
And it's not just the best players in Philly he's competing (and winning) against. It's now the best players in the country. This year, Donatoni has made it a priority to play more on the national stage. He's been traveling all over the country — and winning. Donatoni is currently ranked the No. 1 Legend (Ages 70-74) player in the country according to Golfweek. He also leads the Society of Seniors Player of the Year rankings.
"I decided to test my game out more nationally this year to see how I'd fare against the top [Super-Senior players] in the country. I've had to give up some GAP events to make it work. But, gosh, I've got some good things going," said Donatoni. "And hopefully, while out competing on that national stage, I'm representing GAP well."
Silver Cross update:
Overlook Golf Course's Greg Osborne closed out the Super-Senior Silver Cross Award with his performance this week at Coatesville.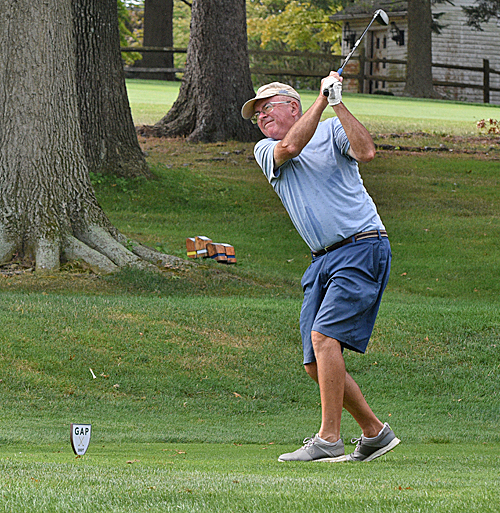 "It's the first time I've ever been in all three events, so that's special in itself," Osborne, 68, of Lititz, Pa. said. "I was at the GAP [Players Dinner] here last year, and I remember [the Super-Senior Silver Cross award] being a big deal, so [winning it is] really cool. I'm thrilled."
The Super-Senior Silver Cross is awarded to the player with the lowest aggregate score in the Francis B. Warner Cup (Gross), Frank H. Chapman Cup (Gross) and both rounds of the Super-Senior Amateur Championship.
In the 88th Francis B. Warner Cup contested at Bala Golf Club (par 68, 5,184 yards), Osborne fired a 2-under 66. A 1-over-par 71 in the 17th Frank H. Chapman Memorial Cup at Merion Golf Club – West (par 70, 5,897 yards) kept Osborne at the top of the Super-Senior Silver Cross leaderboard. Round One of the 17th Super-Senior Amateur Championship gave way to a 7-over 78. In Round Two of the tournament, Osborne carded a 3-over 74. His aggregate score in the season long event was 9-over 289.
"I get older and older every year and for whatever reason I've stayed pretty consistent," Osborne said. "It's been a lot of fun."
GAP
Celebrating Amateur Golf since 1897, GAP, also known as the Golf Association of Philadelphia, is the oldest regional or state golf association in the United States. It serves as the principal ruling body of amateur golf in its region. The Association's 330 Member Clubs and 90,000 individual members are spread across Pennsylvania, Delaware, New Jersey and Maryland. The GAP's mission is to promote, preserve and protect the game of golf.
| | |
| --- | --- |
| Round Two | |
| Name, club | R1-R2-Total |
| Don Donatoni, White Manor Country Club | 68-75–143 |
| Tom Borsello, Wyncote Golf Club | 71-74–145 |
| Duke Delcher, Sandy Run Country Club | 69-76–145 |
| Mike Moser, Kennett Square Golf & Country Club | 72-73–145 |
| Mike Owsik, Hershey's Mill Golf Club | 71-75–146 |
| Steve Walczak, Wilmington Country Club | 70-77–147 |
| Jeffrey Allen, Wild Quail Golf & Country Club | 74-74–148 |
| Chris Clauson, LuLu Country Club | 72-76–148 |
| Craig Scott, Great Bear Golf Club | 74-74–148 |
| Roc Irey, LuLu Country Club | 72-77–149 |
| Michael Quinn, Philadelphia Publinks Golf Association | 77-72–149 |
| Ed Short, Carlisle Country Club | 75-74–149 |
| William Cregar, Little Mill Country Club | 78-72–150 |
| Robin McCool, Saucon Valley Country Club | 75-75–150 |
| Brian Rothaus, Five Ponds Golf Club | 73-77–150 |
| William Chase, Regents' Glen Country Club | 76-75–151 |
| Marlin Detweiler, Lancaster Country Club | 75-76–151 |
| Frank Polizzi, Whitemarsh Valley Country Club | 75-76–151 |
| Jim Prendergast, Philadelphia Publinks Golf Association | 77-74–151 |
| Rich Thon, The Springhaven Club | 74-77–151 |
| Ron Vannelli, Philadelphia Publinks Golf Association | 74-77–151 |
| Gregory Osborne, Overlook Golf Course | 78-74–152 |
| Raymond Pawulich, Little Mill Country Club | 75-77–152 |
| Michael Vassil, Country Club of Scranton | 75-77–152 |
| Tom Bartolacci, LuLu Country Club | 76-77–153 |
| Scott Carney, Commonwealth National Golf Club | 75-78–153 |
| Mike Farlling, Carlisle Country Club | 76-77–153 |
| Jim Mastromatteo, Overlook Golf Course | 80-73–153 |
| Buck Jones, Philadelphia Publinks Golf Association | 79-75–154 |
| Matthew Smith, Regents' Glen Country Club | 78-76–154 |
| Alan Wagenschnur, Newark Country Club | 77-77–154 |
| Marty Dorminy, Philadelphia Publinks Golf Association | 77-78–155 |
| Peter Mimmo, North Hills Country Club | 76-79–155 |
| Drew Panebianco, Five Ponds Golf Club | 75-80–155 |
| Brian Sexton, Greate Bay Country Club | 76-79–155 |
| Chuck Dowds, Applebrook Golf Club | 76-80–156 |
| Bob Majczan, Lookaway Golf Club | 78-78–156 |
| Gary Daniels, Applebrook Golf Club | 81-76–157 |
| Bob Dorsey, Medford Lakes Country Club | 78-80–158 |
| Tom White, Buck Hill Falls Golf Club | 80-78–158 |
| Bob Winter, Pilgrim's Oak Golf Course | 82-77–159 |
| Bob Billings, Rolling Green Golf Club | 82-78–160 |
| Jeffrey Poet, Country Club of York | 81-79–160 |
| John Gonsior, The Bucks Club | 81-81–162 |
| Keith Wilson, Ed Oliver Golf Club | 81-81–162 |
| Gary Sutton, Regents' Glen Country Club | 79-84–163 |
| David Kearney, Lehigh Country Club | 80-84–164 |
| Carl Everett, Sunnybrook Golf Club | 81-84–165 |
| Robert Dietrich, Philadelphia Publinks Golf Association | 84-83–167 |
| Harold Schweitzer, Broad Run Golfer's Club | 82-85–167 |
| Jeffrey Amrhein, Briarwood Golf Club | 89-80–169 |
| Chuck Caparo, The 1912 Club | 92-86–178 |
| Vince Scarpetta, Jr., Nittany Country Club | 75-WD–WD |
| Mark Walker, Laurel Creek Country Club | 77-WD–WD |
| Vince Yost, Cedarbrook Country Club | 78-DQ–DQ |
| WD – withdrawal; DQ – disqualification | |