Brown, Dougherty share Senior Division medal
BLUE BELL, Pa. — A pair of Senior Division sophomores shared medalist honors in stroke-play qualifying for the 15th Brewer Cup at Blue Bell Country Club (par 71, 6,481 yards) Monday.
| Scoring portal | History | Photo gallery |
Manada Golf Club's Dan Brown and Philadelphia Cricket Club's G. Patrick Dougherty carded respective 1-over-par 72s to seize two of 16 available match play positions. Lot determined seedings: Dougherty is No. 1, Brown No. 2.
Dougherty will face Philadelphia Publinks GA's Michael Quinn, the 2013 Brewer Cup runner-up, at 7:30 a.m. Brown opposes Concord Country Club's Doug Fedoryshyn at 8 a.m.
The Brewer Cup rookies both experienced a back-nine flashpoint that catalyzed their leaderboard status. For Dougherty, it occurred on No. 10 (par 3, 169 yards).
"I made a double bogey," he said. "After hitting the perfect shot, I was posing, and it just sailed right over the flag and into the penalty area right behind it. I was like, 'Oh my gosh.' I was just glad I came back after making the double bogey on No. 10."
Dougherty indeed reset with back-to-back birdies. On No. 13 (par 4, 375 yards), he nearly holed a lob wedge from 94 yards. Dougherty cleaned up the birdie putt. He buried a three-footer on No. 14 (par 5, 514 yards after hitting a half sand wedge 97 yards to three feet. The par 3, 195-yard 16th hole temporarily halted the rekindled momentum. Apprehensive given his experience on No. 10, a conservative Dougherty left a 5-iron short. He then missed an eight-foot comebacker to save par. But again, Dougherty reset. He knocked a sand wedge 112 yards to eight feet for birdie on No. 18 (par 4, 395 yards).
"I thought I played pretty solid under the circumstances. It's a tricky golf course, and the greens are hard to read. There's a big number waiting on every swing," Dougherty, 56, of Montgomeryville, Pa., said. "The greens were just perfect. All in all, it was a really solid round."
Brown's moment of Zen occurred on No. 15 (par 4, 436 yards). He holed out for eagle with a 6-iron from 195 yards.
"I saw it hit right on top of the hill, and it looked like it went right to the hole. But we couldn't see it go in," Brown, 56, of Cleona, Pa. "Once we got up to the green, I told those guys, 'I think that went in the hole.' I was kind of hovering at that point. That made it more free down the stretch."
Brown's eagle came on the heels of another red figure. He birdied No. 14 (par 5, 514 yards) after launching a 5-wood from 225 yards to the top of the green. It trickled down the slope and stopped four feet from the cup. Whereas Dougherty used a birdie on Blue Bell's closer to share the top spot, Brown slipped into coownership thanks to a bogey. Needing to navigate a tree, Brown punched a low 7-iron from 158 yards to the back fringe. His ensuing chip settled five feet from the hole location. Brown's par putt missed on the low side.
"I just kind of bunted it around most of the day. I got lucky," Brown said. "I just wanted to get a feel for the course. tomorrow, I'll hit driver everywhere."
Although Brown is a GAP babyface, his name isn't foreign to competitive golf. Or success, for that matter. Brown won the Pennsylvania Golf Association's Middle-Amateur Championship in 2016 and Art Wall, Jr. Memorial in 2017. His Brewer Cup audition came courtesy of the event's two-time defending champion.
"Jeff Frazier said, 'You should come down and play in some of these GAP events.' I said, 'Yeah, I'll give it a try.' Jeff is obviously one of the better players for sure. He said that there's good competition, good courses [in GAP]," Brown, who joined Manada three years ago, said. "He said, 'Come on down and give it a whirl.' I just wanted to come down and see what GAP is all about. I just wanted to throw my hat in the ring and see what I can do." Frazier qualified for match play Monday with a score of 2-over-par 73.
Like Brown, Dougherty wants to show the Senior Division what he can do. He offered a glimpse a year ago by qualifying for the U.S. Senior Amateur.
"You just know there a ton of good players out here. What I take from [my first year in the Senior Division] is I feel like I can play with a lot of the guys out here," Dougherty said. "As long as I'm patient and just play my game, try not to let the nerves get the better of me, I feel like I can do pretty well out here."
The fighting Irey heads Super-Senior Division
LuLu Country Club's Roc Irey successfully completed his battle against prostate cancer. He was also able to successfully battle the field of 30 Super Seniors at Blue Bell Country Club (par 71, 6,021 yards) Monday.
Irey carded an even-par 71 to earn medalist honors on Day One of the 15th Brewer Cup.
"I've had 10 surgeries in eight years," Irey, 70, of Furlong, Pa. said. "I haven't really been able to play."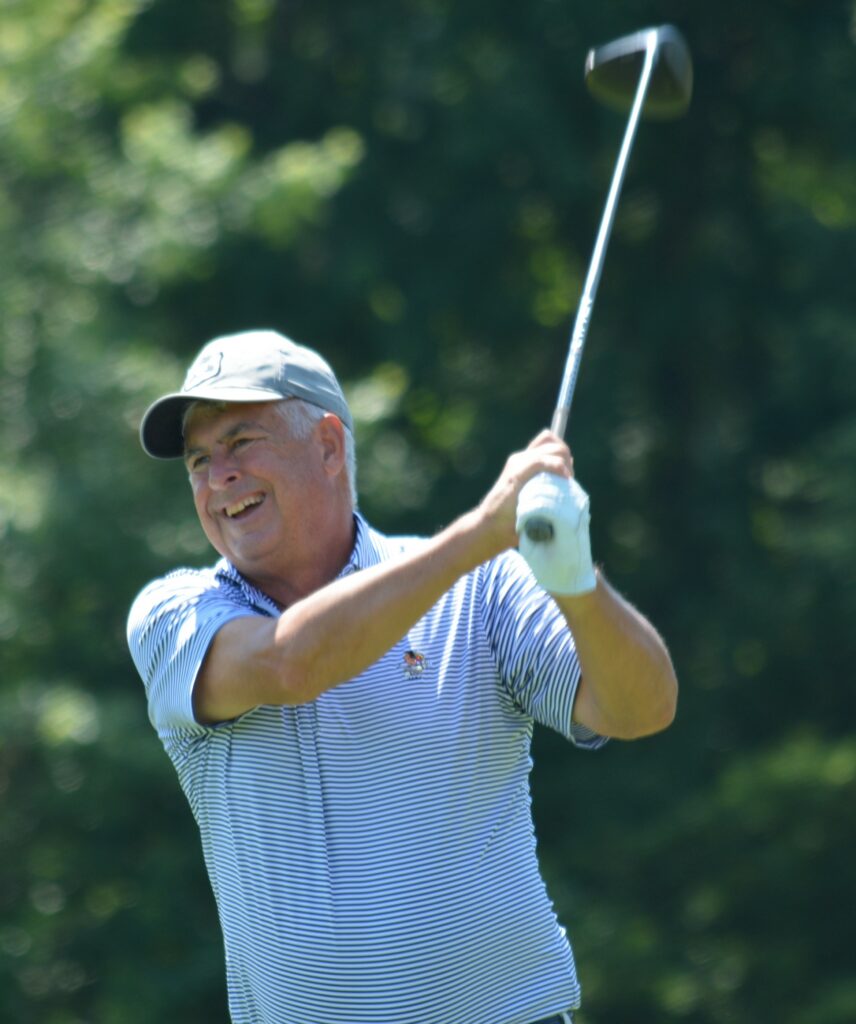 Operations on his knees (left knee replacement in 2021), hip (right hip replacement in 2016) and back (2018) limited his time on the golf course. Irey's cancer, however, is five years in remission.
"I keep getting a checkup every year. I just had it done. I get to live another year," Irey, who won the Super-Senior title in the Frank H. Chapman Cup in 2018, said. "I've basically been playing golf one-legged for six years."
This is the first year since Irey has been able to hit the ball with the technique required to compete. Motivating Irey to get back into playing competitive tournaments is the opportunity to play with his buddies.
Judging by his scorecard, Irey was here for more than just a round with his friends and a cocktail afterward.
Irey had a slow start with two bogeys in the first four holes. It was No. 5 (par 4, 321 yards) where Irey was able to find his first birdie. He hit a wedge 75 yards to three feet. Irey closed his outward tour with birdies on Nos. 8 (par 4, 388 yards) and 9 (par 5, 509 yards): a 9-iron from 130 yards to 12 feet on the former, a wedge 76 yards to three feet.
A pair of birdies populated Irey's inward nine. On No. 13 (par 4, 336 yards), he lifted a wedge 89 yards to eight feet, and on No. 17 (par 5, 468 yards), he nearly holed a wedge from 82 yards to an inch. Those conversions overshadowed back-to-back bogeys on Nos. 15 (par 4, 390 yards) and 16 (par 3, 170 yards). On the former, he missed the green with a pitching wedge from 130 yards, then surprisingly missed a three-footer. "Leaking gas," Irey failed to execute a sand save for par on No. 16. He did, however, preserve par from the right greenside bunker on No. 18 (par 4, 348 yards).
"It's always fun to play in a GAP event," Irey, the Brewer Cup runner-up in 2009, said. "It's always fun to see guys that you played with all of your career, and of course it's good to play good."
Wild Quail Golf & Country Club's Jeffrey Allen survived a 3-for-one sudden-death playoff for the final match play spot by getting up-and-down for par from the front fringe on No. 2 (par 4, 382 yards). He will face Irey in the first quarterfinal match at 8:30 a.m. tomorrow.
The Brewer Cup is named in honor of O. Gordon Brewer, Jr., the former president of Pine Valley Golf Club. He is a two-time U.S. Senior Amateur Champion and veteran of 42 USGA Championships. He's captured two Golf Association of Philadelphia Amateur Championship titles (1967, 1976), a GAP Senior Amateur Championship crown (1997) and a Senior Player of the Year (1997) as well as countless invitational titles. He is a recipient of the USGA's Bob Jones Award and a member of the GAP Hall of Fame.
GAP
Celebrating Amateur Golf since 1897, GAP, also known as the Golf Association of Philadelphia, is the oldest regional or state golf association in the United States. It serves as the principal ruling body of amateur golf in its region. The Association's 330 Member Clubs and 90,000 individual members are spread across Pennsylvania, Delaware, New Jersey and Maryland. The GAP's mission is to promote, preserve and protect the game of golf.
| | |
| --- | --- |
| Qualifiers | |
| Senior Division | |
| Name, club | Score |
| G. Patrick Dougherty, Philadelphia Cricket Club | 72 |
| Dan Brown, Manada Golf Club | 72 |
| Bob Beck, Lehigh Country Club | 73 |
| Jeff Frazier, Carlisle Country Club | 73 |
| Rand Mendez, Fieldstone Golf Club | 73 |
| Mike Moffat, LuLu Country Club | 73 |
| Ken Phillips, Lancaster Country Club | 73 |
| Mark Walkush, Sunnybrook Golf Club | 73 |
| Fred Greene, Lehigh Country Club | 74 |
| Oscar Mestre, Overbrook Golf Club | 74 |
| Ron Weaver, Bent Creek Country Club | 74 |
| John Alterman, Commonwealth National Golf Club | 75 |
| Mark Czerniakowski, LuLu Country Club | 75 |
| Doug Fedoryshyn, Concord Country Club | 75 |
| Joe Roeder, Merion Golf Club | 75 |
| Michael Quinn, Philadelphia Publinks Golf Association | 76 |
| Failed to qualify | |
| Michael Stanley, Aronimink Golf Club | 77 |
| John Barry, Lancaster Country Club | 78 |
| Gregory Buliga, Yardley Country Club | 78 |
| Michael Anderson, Philadelphia Cricket Club | 79 |
| Bob Gill, Fox Hill Country Club | 79 |
| Mark Kosko, Greate Bay Country Club | 79 |
| Eric Meyer, Whitford Country Club | 79 |
| P. Chet Walsh, Philadelphia Country Club | 79 |
| Bill Davis, Merion Golf Club | 80 |
| Edward Kelly, Old York Road Country Club | 80 |
| Joe Russo, Running Deer Golf Club | 80 |
| George Steinmetz, Spring Ford Country Club | 80 |
| Brian Corbett, Country Club of Scranton | 81 |
| Ronan Culligan, Saucon Valley Country Club | 81 |
| Patrick O'Brien, North Hills Country Club | 81 |
| Steve Owens, Philmont Country Club | 81 |
| Jules Quinones, Blue Bell Country Club | 81 |
| Chris Storck, LedgeRock Golf Club | 81 |
| Brian Trymbiski, Doylestown Country Club | 81 |
| Steve Walczak, Wilmington Country Club | 81 |
| Joe Arrante, Newark Country Club | 82 |
| Joe Coulson, Wedgewood Golf Course | 82 |
| Steven Harris, Hartefeld National | 82 |
| Mark Hutchinson, Lookaway Golf Club | 82 |
| Greg Mitchell, Fieldstone Golf Club | 82 |
| Carlos Ochoa, Little Mill Country Club | 82 |
| Frank Corrado, LuLu Country Club | 83 |
| Rick James, Doylestown Country Club | 83 |
| Brian Sexton, Greate Bay Country Club | 83 |
| Barry Cahill, Radley Run Country Club | 84 |
| Ed Kahn, Little Mill Country Club | 84 |
| Michael Decker, Mercer Oaks Golf Course | 85 |
| John Gosselin, Kennett Square Golf & Country Club | 85 |
| David West, Philadelphia Publinks Golf Association | 86 |
| Byron Whitman, Berkshire Country Club | 87 |
| Denis Darragh, Olde Homestead Golf Club | 88 |
| Vince Yost, Cedarbrook Country Club | 89 |
| Andy McCormick, Rolling Green Golf Club | 91 |
| Kevin Wall, Old York Road Country Club | 93 |
| Adam Armagost, Little Mill Country Club | WD |
| Rick Atcavage, Whitemarsh Valley Country Club | WD |
| Michael Gregor, Huntingdon Valley Country Club | WD |
| Chris Smedley, Hartefeld National | WD |
| Glenn Smeraglio, LuLu Country Club | WD |
| Qualifiers | |
| Super-Senior Division | |
| Name, club | Score |
| Roc Irey, LuLu Country Club | 71 |
| Robert Dietrich, Philadelphia Publinks Golf Association | 72 |
| Don Donatoni, White Manor Country Club | 72 |
| Tom Hyland, Little Mill Country Club | 73 |
| Robin McCool, Saucon Valley Country Club | 73 |
| Michael Vassil, Country Club of Scranton | 73 |
| Mike Farlling, Carlisle Country Club | 74 |
| *Jeffrey Allen, Wild Quail Golf & Country Club | 75 |
| Failed to qualify | |
| *Christopher Clauson, LuLu Country Club | 75 |
| *Mark Walker, Laurel Creek Country Club | 75 |
| Tom Humphrey, Wilmington Country Club | 76 |
| Jimmy Muller, Manufacturers' Golf & Country Club | 76 |
| William Chase, Regents' Glen Country Club | 77 |
| Rich Thon, The Springhaven Club | 77 |
| Marlin Detweiler, Lancaster Country Club | 78 |
| Brian Rothaus, Five Ponds Golf Club | 78 |
| Elliot Sheftel, Lehigh Country Club | 78 |
| Alan Wagenschnur, Newark Country Club | 78 |
| Jim Prendergast, Philadelphia Publinks Golf Association | 79 |
| Tom Borsello, Wyncote Golf Club | 81 |
| Dan Burton, Lancaster Country Club | 81 |
| Vince Scarpetta, Jr., Nittany Country Club | 81 |
| Joe Cordaro, Saucon Valley Country Club | 82 |
| Bob Majczan, Lookaway Golf Club | 83 |
| Tom Mallouk, Lookaway Golf Club | 83 |
| Drew Panebianco, Five Ponds Golf Club | 83 |
| Wayne Bartolacci, LuLu Country Club | 84 |
| Tom DiCinti, Philadelphia Publinks Golf Association | 84 |
| Frank Polizzi, Whitemarsh Valley Country Club | 87 |
| Chuck Caparo, The 1912 Club | 92 |
| * – determined in playoff; WD – withdrawal | |