Nicholas defeats Brown in Patterson playoff
| Scoring portal | History | Round 1 recap | Round 2 notebook | Round 2 video |
WAYNE, Pa. – Drue Nicholas' grit made great.
The polished 20-year-old from Galloway National Golf Club outdueled veteran and champion golfer Michael R. Brown, Jr. in a playoff to win the 120th Joseph H. Patterson Memorial Cup presented by Provident Bank Thursday at St. Davids Golf Club (par 70, 6,546 yards). Nicholas' birdie on the fifth playoff hole, in sudden-death, clinched his first GAP Major victory. Both players completed a four-hole aggregate playoff, the event's tiebreaker, deadlocked at 15 strokes apiece. The two finished regulation tied at 7-under par with a score of 133.
"I'd say Junior golf is probably the root of it. You are living and dying on every stroke out there because you are trying to get a scholarship. That's probably where I got my grit," said Nicholas, who attended N.C. State for a year before transferring. "Coming back to go to Drexel [University], being in Philadelphia, which is one of the grittiest cities in the country. You just have to dig deep some times."
At multiple times, Nicholas' championship chances seemed buried. Each time, he escaped. None better than on the final hole of the four-hole aggregate playoff, No. 9 (par 3, 230 yards).
Nicholas trailed Brown by a stroke, 11 to 12. Both players pushed their tee balls right. Brown found the hard-pan next to the cart path. Nicholas landed in the greenside bunker on a downward slope. Brown chipped up to 20 feet left of the cup, but on the proper tier. Nicholas "chunked" his bunker shot and stared at a 30-footer up-the-hill must make. As if it was his destiny, Nicholas' par putt tumbled over the edge. Brown's look for par and the win dried up short.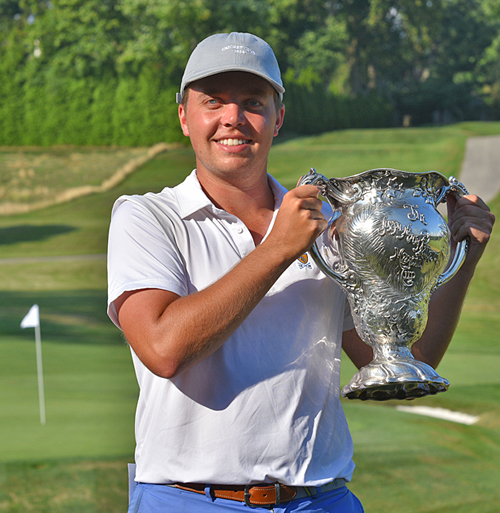 "I was just telling myself get it to the hole. Luckily it fell. I didn't expect that, quite frankly," said a candid Nicholas, who lives in Philadelphia, Pa. "Luckily I got it there. I struggled with that all day today. I put the ball a cup out right. I thought I was done. I just couldn't believe it went in."
Brown, the 2018 Patterson Cup victor and reigning BMW Philadelphia Amateur Champion, understands the mettle Nicholas displayed.
"Drue did what winners do. They hit big shots at big moments," said Brown, 49, of LuLu Country Club and Maple Shade, N.J. "I'd be lying if I said I wasn't surprised when he made the putt on the fourth playoff hole. Usually, somebody that wins a golf tournament does something special like that. And that was certainly that. It was an amazing putt at a time he absolutely had to have it."
On the fifth playoff hole (No. 1, par 4, 385 yards), the first of sudden death, Nicholas secured the precious Patterson. With Brown long of the green in two shots, Nicholas knocked a 60-degree wedge from 89 yards to three feet. Brown managed a par, but the steely Nicholas stepped forward and calmly rolled in the winner.
"I hit it really good. I just didn't want it to hit the pin. I know that sounds bad to say. Luckily it was perfect," said Nicholas. "I figured Michael was going to make par. I knew I had to make the putt. I was so happy [when it went in]. It rolled end over end. I said, 'I think it's in, I think it's in. I was just relived.' Mike's one of the best. To be able to beat him on a pretty big stage, almost mano-to-mano, so to speak, was awesome."
Brown's victory in the Amateur this June completed the GAP Grand Slam.
Nicholas entered the day atop the leaderboard, carding a first-round Patterson Cup scoring record of 7-under par. Brown started a stroke back.
Little separated the two all day. Nicholas had Brown by two strokes after the opening nine holes. However, Brown birdied No. 10 (par 3, 177 yards) and Nicholas bogeyed No. 12 (par 4, 454 yards). The two remained deadlocked all the way to the clubhouse.
Nicholas' second-best Houdini escape of the day came on No. 17 (par 3, 184 yards). Knowing what was at stake, he tugged a 6-iron into the deep, left greenside bunker. Facing certain disaster, Nicholas blasted out, with touch, and watched his ball dry up just short of the cup. An easy par. Never a doubt.
Nicholas' earlier Junior golf mention may seem a bit peculiar, but consider he won the prestigious Optimist International Junior Golf Championship Boys 14-15 Division in 2017. The list of winners is a whose who of golf: Tiger Woods, Phil Mickelson, and many more PGA TOUR stars.
He noted he received a serious amount of college offers before heading to N.C. State. Not the fit he was looking for, Nicholas headed back home.
"I was getting those looks and figured I had to take it," said Nicholas. "At the time, I wanted to go pro in golf. It just wasn't for me. I came back to Philly. I have a much better balance now with golf and everything else. I want to be in finance and there is not a much better place than Philly."
The week wasn't a total loss for Brown, who sits as one of GAP's most accomplished players these days. He added to his career playing resume by clinching the season-long Silver Cross Award – his first. Brown's four-round total ended at 8-under 275 and bested Carlisle Country Club's John Peters by two strokes for the honor. Before his Patterson rounds (64-69), Brown carded rounds of 72 and 70 during his march to the BMW Philadelphia Amateur trophy.
The Silver Cross is presented to the player with the lowest aggregate score in the qualifying rounds of the BMW Philadelphia Amateur Championship and the Joseph H. Patterson Cup.
Provident Bank
Provident Bank, a community-oriented financial institution offering "Commitment you can count on" since 1839, is the wholly owned subsidiary of Provident Financial Services, Inc. (NYSE:PFS), which reported assets of $13.72 billion as of June 30, 2022. With $10.87 billion in deposits, Provident Bank provides a comprehensive suite of financial products and services through its network of branches throughout northern and central New Jersey, as well as Bucks, Lehigh and Northampton counties in Pennsylvania and Nassau and Queens counties in New York. The Bank also provides fiduciary and wealth management services through its wholly owned subsidiary, Beacon Trust Company and insurance services through its wholly owned subsidiary, Provident Protection Plus, Inc. For more information about Provident Bank, visit www.provident.bank or join the conversations on Facebook (ProvidentBank) and Twitter (@ProvidentBank).
GAP
Celebrating Amateur Golf since 1897, GAP, also known as the Golf Association of Philadelphia, is the oldest regional or state golf association in the United States. It serves as the principal ruling body of amateur golf in its region. The Association's 340 Member Clubs and 99,000 individual members are spread across the Eastern half of Pennsylvania and parts of Delaware, Maryland and New Jersey. The GAP's mission is to promote, preserve and protect the game of golf.
| | |
| --- | --- |
| Round Two | |
| Name, club | R1-R2-Total |
| *Drue Nicholas, Galloway National Golf Club | 63-70–133 |
| *Michael R. Brown, Jr., LuLu Country Club | 64-69–133 |
| Cole Willcox, Merion Golf Club | 67-67–134 |
| Andrew Keeling, Kennett Square Golf & Country Club | 69-67–136 |
| Joseph Tigani, Fieldstone Golf Club | 70-66–136 |
| Conor McGrath, Huntingdon Valley Country Club | 66-71–137 |
| Brian Isztwan, Huntingdon Valley Country Club | 69-69–138 |
| Kevin Kramarski, Moorestown Field Club | 68-70–138 |
| Chris Baloga, Briarwood Golf Club | 68-71–139 |
| Peter Barron, III, Galloway National Golf Club | 70-69–139 |
| Andy Butler, Huntingdon Valley Country Club | 64-75–139 |
| Marty McGuckin, Philadelphia Cricket Club | 70-69–139 |
| Gregor Orlando, Philadelphia Cricket Club | 70-69–139 |
| Ryan Tall, LuLu Country Club | 68-71–139 |
| David Hurly, Aronimink Golf Club | 72-68–140 |
| Morgan Lofland, Phoenixville Country Club | 67-73–140 |
| Jake Maddaloni, Aronimink Golf Club | 65-75–140 |
| Matthew Mattare, Saucon Valley Country Club | 67-73–140 |
| John Peters, Carlisle Country Club | 67-73–140 |
| John Brennan, Philadelphia Cricket Club | 70-71–141 |
| Zach Dilcher, Hartefeld National | 73-68–141 |
| Brock Kovach, LedgeRock Golf Club | 68-73–141 |
| Richard Riva, LuLu Country Club | 68-73–141 |
| Jamie Slonis, Tavistock Country Club | 71-70–141 |
| Jack Wallace, Riverton Country Club | 69-72–141 |
| David Colleran, Overbrook Golf Club | 72-70–142 |
| Brandon Dalinka, The Ridge at Back Brook | 66-76–142 |
| Stephen Dressel, St. Davids Golf Club | 70-72–142 |
| Jason Loehrs, McCall Golf Club | 69-73–142 |
| Joey Morganti, Llanerch Country Club | 67-75–142 |
| Colin Sanderson, Makefield Highlands Golf Club | 72-70–142 |
| Roy Anderson, Kennett Square Golf & Country Club | 73-70–143 |
| Zak Drescher, Bent Creek Country Club | 73-70–143 |
| Buddy Hansen, Blue Bell Country Club | 70-73–143 |
| Nikita Romanov, Philadelphia Publinks Golf Association | 73-70–143 |
| J.T. Spina, Philadelphia Cricket Club | 71-72–143 |
| Jim Sullivan, LuLu Country Club | 71-72–143 |
| Matt Teesdale, The 1912 Club | 69-74–143 |
| Dawson Anders, Indian Valley Country Club | 73-71–144 |
| Stephen Barry, Running Deer Golf Club | 69-75–144 |
| Connor Bennink, Kennett Square Golf & Country Club | 71-73–144 |
| Michael Davis, Aronimink Golf Club | 72-72–144 |
| Thomas Larkin, Paxon Hollow Country Club | 72-72–144 |
| Christian Matt, Cedarbrook Country Club | 70-74–144 |
| Ross Pilliod, LedgeRock Golf Club | 71-73–144 |
| Scott Ehrlich, Waynesborough Country Club | 73-72–145 |
| Logan Hay, Burlington Country Club | 70-75–145 |
| Jack Irons, Little Mill Country Club | 71-74–145 |
| Anthony Cordaro, Saucon Valley Country Club | 70-76–146 |
| Dan Keenan, Little Mill Country Club | 69-77–146 |
| Scott McLaughlin, LuLu Country Club | 71-75–146 |
| Johnny Murphy, The Shore Club | 73-73–146 |
| Jon Rusk, LuLu Country Club | 73-73–146 |
| Kevin Scherr, Allentown Municipal | 69-77–146 |
| Brendan Borst, Philadelphia Cricket Club | 73-74–147 |
| Joshua Krumholz, Moselem Springs Golf Club | 72-75–147 |
| Logan Paczewski, Huntsville Golf Club | 70-77–147 |
| R.J. Wren, Honeybrook Golf Club | 70-77–147 |
| Alex Seelig, Reading Country Club | 72-76–148 |
| Max Siegfried, Aronimink Golf Club | 73-75–148 |
| Alex Butler, Overbrook Golf Club | 73-76–149 |
| John Dimler, Northampton Country Club | 72-78–150 |
| Matt Dolinsky, Honeybrook Golf Club | 73-77–150 |
| Luis Diaz, Wedgwood Country Club | 71-80–151 |
| Luke Fagley, LedgeRock Golf Club | 73-80–153 |
| Jarred Texter, Conestoga Country Club | 72-WD–WD |
| WD – withdrawal | |
| * – Nicholas wins on fifth playoff hole | |