Tigani goes low during Final Round
| Scoring portal | History | Round 2 Recap |
WAYNE, Pa. – Fieldstone Golf Club's Joseph Tigani fired a 4-under 66 during Round Two of the 120th Joseph H. Patterson Cup presented by Provident Bank held at St. Davids Golf Club (par 70, 6,546 yards) Thursday.
"Today, I just came out with kind of a mindset of zero expectations and just take it one shot at a time," Tigani, 26, of Hockessin, Del. said. "I just attempted to hit a good shot every time regardless of the circumstances and it worked out pretty well, so I'm very pleased with the day today."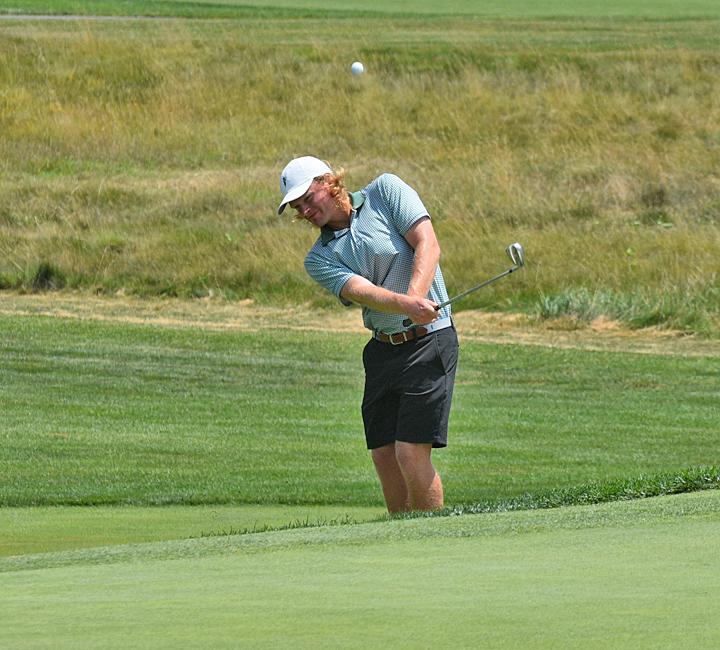 Tigani found red numbers early in his first nine. On No. 1 (par 4, 385 yards), a 3-wood followed by a 54-degree wedge from 123 yards to 20 feet paired with a one putt led to his first birdie. Another 3-wood on the 311 yard, par 4 third hole that landed on the front edge of the green allowed for a two putt birdie. Tigani's third red figure came on No. 6 (par 3, 137 yards) via a pitching wedge that landed 15 feet from the hole, a steadily warming putter allowed for another birdie. On No. 8 (par 5, 490 yards), an approach from 140 yards with a pitching wedge landed 12 feet from the front-right hole location, resulting in a two-putt birdie. During his inward walk, three more birdies graced his card. An 8-iron on No. 10 (par 3, 177 yards) landed 18 inches from the hole for a stress-free two. On No. 11 (par 5, 545 yards) a 9-iron from 176 yards resulted in a two-putt birdie. A chip shot from the back fringe of the green on the 504-yard, par 5 16th led Tigani to secure his final birdie of the day.
In Round 1, Tigani fired even par 70. His 66 during Round Two combined with the score he carded today caused him to tie for fourth place and capture the day's low round. This year was Tigani's third Patterson Cup appearance. His best finish was in the 2018 Patterson Cup at Gulph Mills Golf Club where he finished tied for 18th place.
"I had three three-putts on my first nine yesterday and was 2 over at one point, so that was just kind of mentally not where I needed to be putting wise," Tigani said. "Today I made probably a 15 or 20 footer on the first hole for birdie which kind of took the pressure off with that club. [It's] always nice when you get the putter going and make a couple."
In 2018, Tigani graduated from Hamilton College (Clinton, N.Y.) with a degree in mathematics. After graduation, he worked as a treasury analyst at Hartree Partners, an oil and energy trading company based in New York City, until April.
In the fall, Tigani will attend Columbia University where he will pursue undergraduate studies in psychology.
Drescher returns after hiatus
GAP didn't see much of Zak Drescher of Bent Creek Country Club in recent years. The Drescher sightings this season were during the first two weeks of the BMW GAP Team Matches, where he played for Bent Creek's first team and this week's Patterson Cup.
"I played professionally for four years until 2014, and then quit golf for a while and moved," Drescher, 33, of Lancaster Pa. said. "I was in Florida, then Kansas, and then moved back to Lancaster [during] COVID, 2020."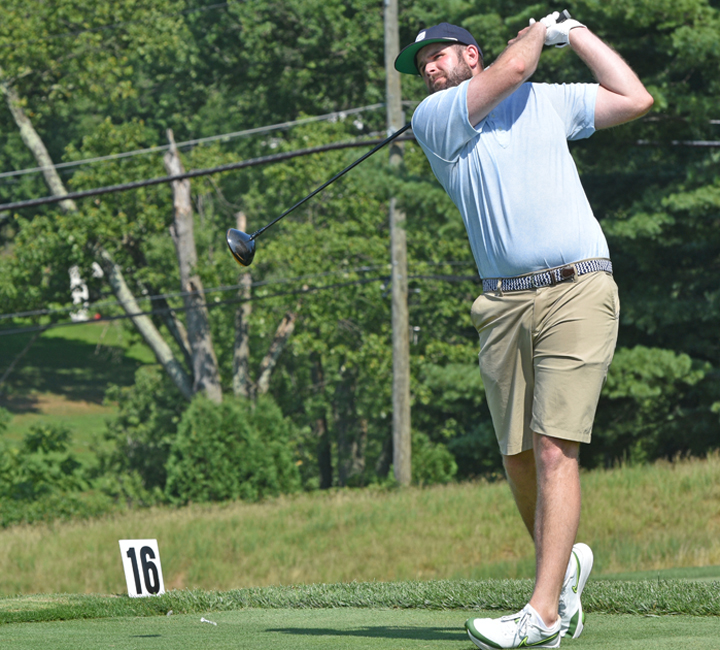 During Round Two, Drescher shot even-par 70, besting his Round One score of 73. Aiding his improvement today were three birdies and an eagle.
On No. 1 (par 4, 385 yards), Drescher teed off with his 3-wood followed by a gap wedge from 113 yards that landed 12 feet from the hole. He'd drained that look. After his drive landed in the left greenside bunker on No. 3 (par 4, 311 yards), he was able to splash out of the sand and into the cup for an eagle two. A well-placed drive on No. 8 (par 5, 490 yards) followed by a 9-iron from 145 yards led to a two-putt birdie. Drescher's final red figure came on the par 5, 545 yard 11th hole where he was able to land a 5-iron from 225 yards to 25 feet from the hole. Another two-putt birdie was in order.
After a recent divorce, he decided to take up competitive golfing again.
Drescher says he's happy to be home and playing in GAP events once again.
"I just played golf for 20 straight years. I wanted to get away a little bit. I [ended picking up] tennis, pickleball and a few other sports," said Drescher. "I've just been playing in the local stuff. I'm planning to do some more GAP stuff in the future."
In 2005, Drescher played for Pennsylvania Golf Association in the 42nd Williamson Cup held at his home club Bent Creek, where he shot a total score of 145. When asked to give advice to this year's competitors who will travel to the Belle Haven Country Club located in Alexandria Va. for the 57th Williamson Cup, he assured them that it was a great event they they are sure to enjoy.
Silver Cross goes to LuLu's Brown
LuLu Country Club's Michael R. Brown, Jr., a two-time William Hyndman, III Player of the Year and reigning BMW Philadelphia Amateur Champion, secured the season-long Silver Cross Award.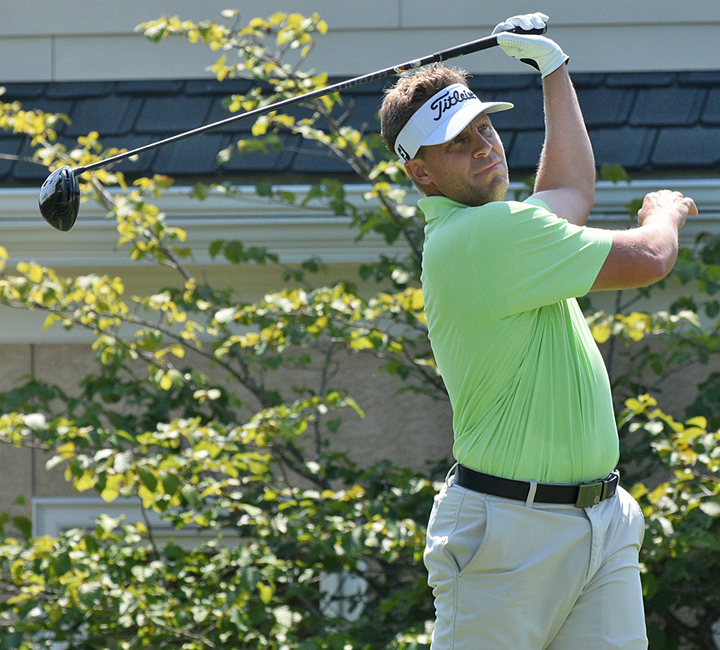 Although falling in today's Patterson Cup Final Round on the fifth playoff hole to champion Drue Nicholas, Brown's runner-up finish earned him the Award. He ended the week at St. Davids with rounds of 6-under 64 and 1-under 69. Before his Patterson rounds, Brown carded rounds of 72 and 70 during his march to the BMW Philadelphia Amateur Championship crown. His four-round total ended at 8-under 275.
At 49 years old, this marks Brown's first Silver Cross honor.
The Maple Shade, N.J. resident became only the third player to capture the GAP Grand Slam, joining Chris Lange and Jeff Osberg. His Amateur win was the final elusive prize. Brown won each GAP Major once: Middle-Amateur Championship (2009), Open Championship (2010) and Joseph H. Patterson Cup (2018). Those events, along with the Amateur, comprise the Grand Slam.
The Silver Cross is presented to the player with the lowest aggregate score in the qualifying rounds of the BMW Philadelphia Amateur Championship and the Joseph H. Patterson Cup.
Provident Bank
Provident Bank, a community-oriented financial institution offering "Commitment you can count on" since 1839, is the wholly owned subsidiary of Provident Financial Services, Inc. (NYSE:PFS), which reported assets of $12.92 billion as of Dec. 31, 2020. With $9.84 billion in deposits, Provident Bank provides a comprehensive suite of financial products and services through its network of branches throughout northern and central New Jersey, as well as Bucks, Lehigh and Northampton counties in Pennsylvania and Queens County in New York. The Bank also provides fiduciary and wealth management services through its wholly owned subsidiary, Beacon Trust Company and insurance services through its wholly owned subsidiary, SB One Insurance Agency, Inc. For more information about Provident Bank, visit provident.bank or join the conversations on Facebook (ProvidentBank) and Twitter (@ProvidentBank).
GAP
Celebrating Amateur Golf since 1897, GAP, also known as the Golf Association of Philadelphia, is the oldest regional or state golf association in the United States. It serves as the principal ruling body of amateur golf in its region. The Association's 300 Member Clubs and 80,000 individual members are spread across the Eastern half of Pennsylvania and parts of Delaware, Maryland and New Jersey. The GAP's mission is to promote, preserve and protect the game of golf.