Brennan, Cricket's own, secures 118th #GAPOpen
FLOURTOWN, Pa.–Two years ago, at age 41, John Brennan's golf game experienced great heartbreak and uncertainly after falling in 42 holes for the Philadelphia Cricket Club Men's Championship. Father time, he felt, may have finally caught him.
| Scoring portal | History | Round One recap | Notebook Round Two | Photo gallery |
Wednesday, at the same Wissahickon Course where he thought it ended, those hallowed grounds gave it back with the biggest victory of Brennan's amateur career. The 43-year-old Spring-Ford Area High School economics teacher outlasted the area's most talented field to secure the 118th Open Championship at Philadelphia Cricket Club (Wissahickon, par 70, 7,069 yards).
He is the first amateur from Cricket to hoist the Johnny J. McDermott Trophy and only the second in the club's history, joining professional Donald Ball (1906).
Brennan birdied No. 18 (par 4, 482 yards) to finish 1-under for the 36 holes, the only player to break par for the tournament. He closed with a workmanlike second round of 3-under 67.
Four players finished tied for second at 1 over, including first-round leader Braden Shattuck of Rolling Green Golf Club. Shattuck, the club's director of instructions, and Robert Fenton, an assistant professional at Sunnybrook Golf Club, tied for low professional honors. They earned $6,125 each. Amateurs Rij Patel of the Country Club of York and Marty McGuckin of Philadelphia Cricket Club rounded out the second-place quartet. Ironically, it was McGuckin who defeated Brennan that year for the Cricket Club Championship.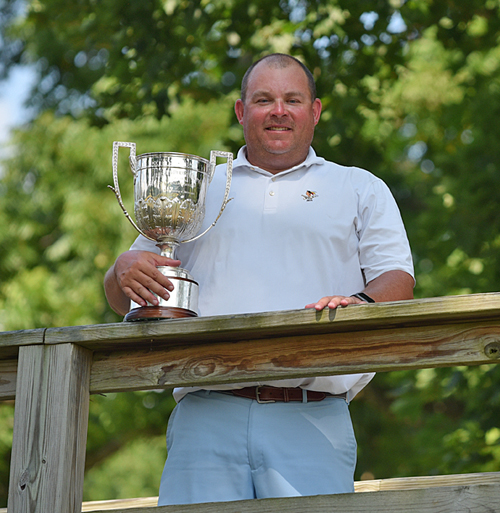 "That was a crusher," said Brennan of losing to McGuckin. "I was 41 years old and how many more chances are you really going to have to win with the caliber of players here. The caliber of players in GAP. If I'm getting older, there are more 25 year olds in the Middle-Amateur Championship. The Philadelphia Amateur is a grind. That's built for the young person in golf.
"This is two days, 18 holes. If I'm going to do something this is what's built for my mentality. I didn't feel that home club pressure. I was just comfortable with every shot I was trying to hit out there. It wasn't anything I hadn't seen before. When I lost to Marty I didn't know how long I could keep this level of competition up."
Brennan was in full stealth mode most of the day.
After nine holes, Shattuck stood at 2 under and possessed a two-shot lead.
Brennan was three back at 1 over and not yet inserted into the conversation.
Cricket, playing hard and fast, is relentless. Add in some Shattuck erratic driving, and the field started to show its claws, just like the club's resident hawks.
A handful of challengers charged up the board. All failed to sustain bids other than Brennan.
He opened his final nine holes with two pars before reaching No. 12 (par 5, 546 yards) in two shots and tapping in for birdie. Brennan laced a 3-wood from 250 yards to the front of the green and two-putted from 30 feet.
A bogey on No. 15 (par 3, 238 yards) temporarily derailed the Brennan Express, however, the savvy veteran responded with a birdie on No. 16 (par 4, 422 yards) courtesy of a 25 footer. Long putts were a Brennan theme. He made five putts, three for par, of 12 feet or more.
He two-putted from 35 feet on No. 17 (par 4, 450 yards) for a 4 – he was on the far right of the green putting to a far left hole location – before hitting a pair of the better shots in his competitive career. On No. 18 (par 4, 482 yards), Brennan hammered a drive down the hill, leaving him with a 176 yards to the hole. He then laced an 8-iron, downhill and downwind, to eight feet. Playing the putt outside left edge, the ball trundled up and into the right side of the cup. Birdie. Winner.
"It's really cool to do something like that at this stage of my career," said Brennan, of Collegeville, Pa. "It's the best field of the year. To put your name on a GAP trophy is always a really big deal. People really care."
Shattuck stepped onto No. 18 tied with Brennan. However, his drive flared to the right and stopped out-of-bounds by about four inches. He would make double bogey.
This is Brennan's second GAP Major victory. He won the 2012 Middle-Amateur Championship held at Chester Valley Golf Club.
"I didn't feel [any pressure] going into this tournament. I was more, I'm ready for this," said Brennan, a decade-long Cricket member. "They can put the tees whenever they want I've played it before. They can put the pins wherever they want, I've seen that more than likely before. You just can't press the issue here. If you start pressing the issue you are going to make bogeys. You have to plod along and make some pars. Avoid a number. Just don't press the issue. That's when bad things can happen. That's not the way to play the golf course."
Obviously, Brennan heeded his own advice.
GAP
Celebrating Amateur Golf since 1897, GAP, also known as the Golf Association of Philadelphia, is the oldest regional or state golf association in the United States. It serves as the principal ruling body of amateur golf in its region. The Association's 330 Member Clubs and 90,000 individual members are spread across Pennsylvania, Delaware, New Jersey and Maryland. The GAP's mission is to promote, preserve and protect the game of golf.
| | |
| --- | --- |
| Round Two | R1-R2-Total |
| (a)John Brennan, Philadelphia Cricket Club | 72-67–139 |
| Robert Fenton, Sunnybrook Golf Club | 69-72–141 |
| (a)Marty McGuckin, Philadelphia Cricket Club | 72-69–141 |
| (a)Rij Patel, Country Club of York | 74-67–141 |
| Braden Shattuck, Rolling Green Golf Club | 68-73–141 |
| Trevor Bensel, Sandy Run Country Club | 71-71–142 |
| (a)Drue Nicholas, Galloway National Golf Club | 71-71–142 |
| (a)Joshua Ryan, The 1912 Club | 71-71–142 |
| (a)Christopher Ault, Yardley Country Club | 74-69–143 |
| (a)Brian Isztwan, Huntingdon Valley Country Club | 70-73–143 |
| (a)Matthew Mattare, Saucon Valley Country Club | 71-72–143 |
| (a)Jeff Osberg, Pine Valley Golf Club | 74-69–143 |
| (a)Zach Dilcher, Hartefeld National | 72-72–144 |
| Chris Krueger, Kings Creek Country Club | 74-70–144 |
| (a)Morgan Lofland, Phoenixville Country Club | 71-73–144 |
| (a)Ross Pilliod, LedgeRock Golf Club | 71-73–144 |
| Parks Price, Country Club of York | 72-72–144 |
| Ryan Rucinski, Wilmington Country Club | 71-73–144 |
| (a)Austin Barbin, Chesapeake Bay Golf Club | 70-75–145 |
| Michael Little, Makefield Putters | 75-70–145 |
| (a)Scott McNeil, Philadelphia Publinks Golf Association | 74-71–145 |
| Zac Oakley, Bidermann Golf Course | 75-70–145 |
| (a)Jalen Griffin, Five Ponds Golf Club | 73-73–146 |
| (a)Logan Paczewski, Huntsville Golf Club | 74-72–146 |
| (a)Alex Seelig, Reading Country Club | 71-75–146 |
| (a)David Kim, LuLu Country Club | 73-74–147 |
| Alexander Knoll, Glen Brook Golf Club | 73-74–147 |
| (a)Gregor Orlando, Philadelphia Cricket Club | 72-75–147 |
| John Pillar, Sr., Woodloch Springs | 71-76–147 |
| Rich Steinmetz, Spring Ford Country Club | 75-72–147 |
| Billy Stewart, Union League Liberty Hill | 75-72–147 |
| (a)Michael Gallagher, Galloway National Golf Club | 71-77–148 |
| Eric Kennedy, Overbrook Golf Club | 72-76–148 |
| (a)Stewart Rickenbach, Huntingdon Valley Country Club | 75-73–148 |
| (a)Max Siegfried, Aronimink Golf Club | 72-76–148 |
| Colin Smith, Bidermann Golf Course | 72-76–148 |
| (a)Zachary Barbin, Chesapeake Bay Golf Club | 74-75–149 |
| (a)Ben Cooley, Huntingdon Valley Country Club | 73-76–149 |
| John Cooper, Green Valley Country Club | 72-77–149 |
| (a)Jeffrey Cunningham, LuLu Country Club | 73-76–149 |
| Brian Kelly, Bucknell Golf Club | 74-75–149 |
| (a)Shane Lawler, Chester Valley Golf Club | 75-74–149 |
| Mark Sheftic, Lookaway Golf Club | 75-75–150 |
| Brian Bergstol, Shawnee Country Club | 74-77–151 |
| (a)Corey Betham, St. Davids Golf Club | 75-76–151 |
| Scott Chisholm, Rolling Green Golf Club | 74-77–151 |
| (a)Anthony Cordaro, Saucon Valley Country Club | 74-77–151 |
| (a)Jackson Debusschere, The Springhaven Club | 74-77–151 |
| (a)Ben Keyser, Legacy Club at Woodcrest | 75-76–151 |
| (a)Tyler McGarry, Huntsville Golf Club | 75-76–151 |
| (a)Mark Miller, Philadelphia Cricket Club | 75-76–151 |
| (a)Gerald Haftmann, Rolling Green Golf Club | 75-77–152 |
| (a)Scott McLaughlin, LuLu Country Club | 74-79–153 |
| Lorenzo Sanz, Briarwood Golf Club | 74-79–153 |
| (a)Oscar Mestre, Overbrook Golf Club | 74-80–154 |
| (a)Daniel Oh, Blue Bell Country Club | 72-82–154 |
| Travis Deibert, Doylestown Country Club | 75-80–155 |
| (a)Conrad Von Borsig, Philadelphia Cricket Club | 74-82–156 |
| Kyle Early, Waynesborough Country Club | 75-82–157 |
| (a)John Meyers, Golden Pheasant Golf Course | 74-WD–WD |
| WD – withdrawal | |
| (a) – denotes amateur | |