Stevenson sizzles in #GAPJunior Final at LuLu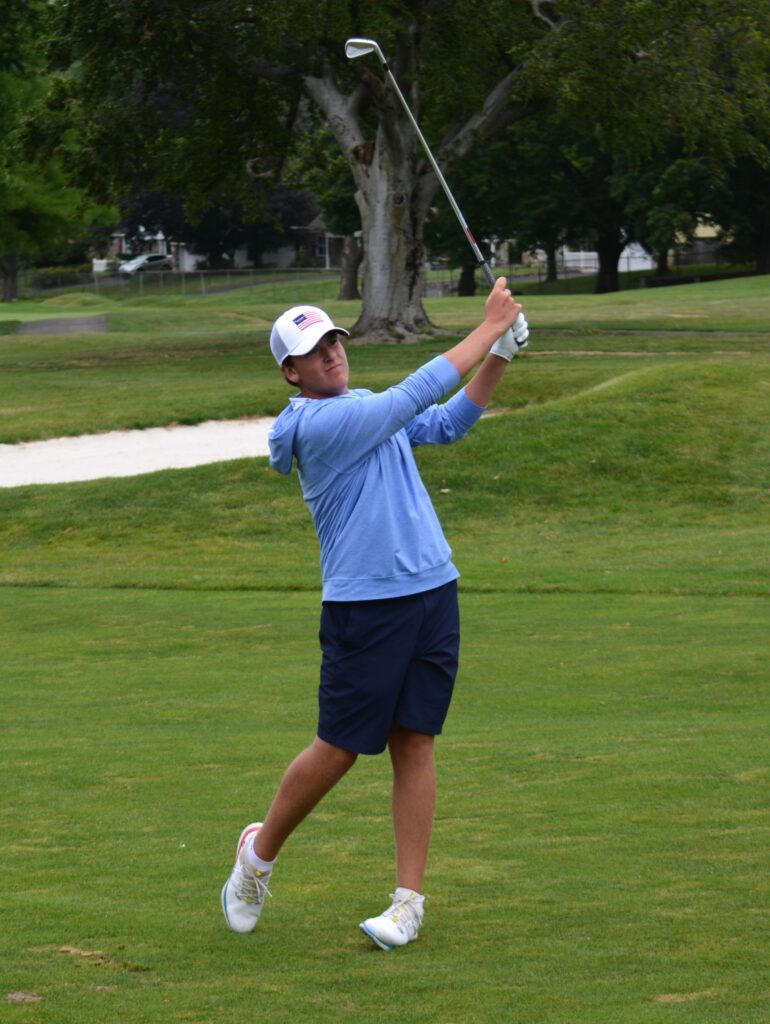 GLENSIDE, Pa. – John Stevenson, of the host club has been crowned the 109th Junior Boys' Champion with his 4&3 victory over Winston Kelenc-Blank of Saucon Valley Country Club at a brisk LuLu Country Club (par 71, 6,313 yars) Thursday.
| History | Day One recap | Day Two recap | 
| Scoring portal | Day Three Video recap | Photos
Impressive is an understatement.
Stevenson is the first #GAPJunior champion from LuLu and the 17th individual to win the event when held at the champion's home club.
"It feels great," Stevenson, 17, of Ambler, Pa., said. "Even just to make it through to match play and to make it to the Final is just amazing. Last year, I didn't even make it to match play. It's a different story this year."
In the championship match, Stevenson was up early. On No. 3 (par 4, 424 yards), Stevenson's tee shot found the left fairway bunker. After splashing out into the fairway, he landed his third shot — a 60-degree wedge from 89 yards — 15 feet from the hole and drained the putt to save par. Kelenc-Blank missed his birdie putt from eight feet after comfortably reaching the green in regulation.
"I think that was a really big swing in the match," Stevenson, a rising senior at La Salle College High School, said. "I used that momentum to win [Nos. 4 (par 3, 120 yards) and 5 (par 4, 444 yards)] back to back and then I felt like I had control."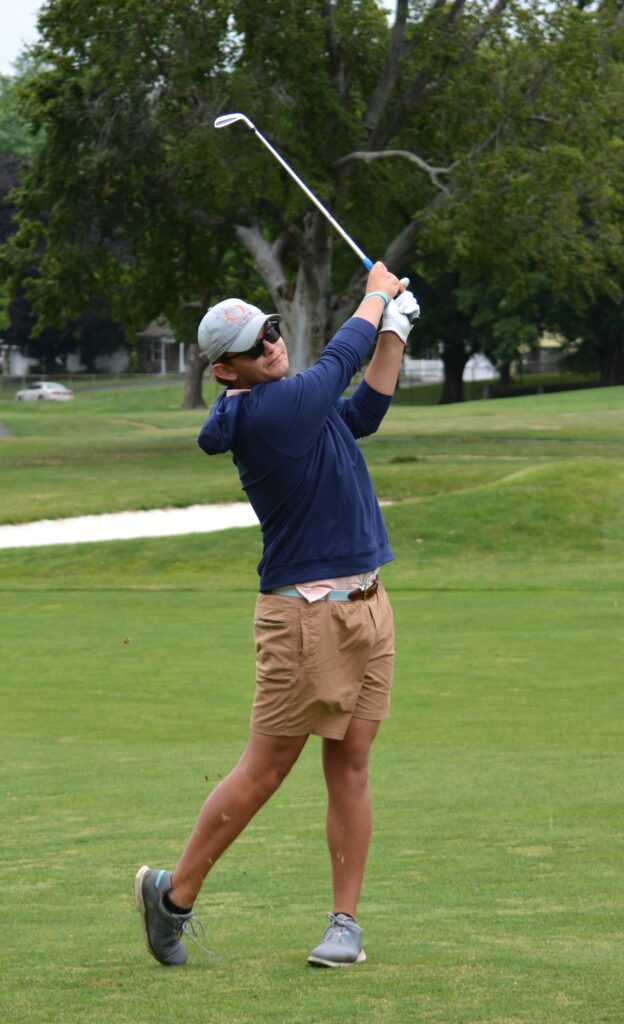 Kelenc-Blank won with a birdie on No. 10 (par 5, 524 yards) after hitting a 3-wood 240 yards to 10 feet. He converted another birdie on No. 11 (par 4, 341 yards) after his wedge from 67 yards landed 18 inches from the hole. Winning Nos. 10 and 11 cut Stevenson's lead to 3-up. The pair tied the next three holes with pars. On No. 15 (par 3, 108 yards) Kelenc-Blank was faced with a difficult greenside bunker shot with little green to work with. Stevenson made a two-putt par to close out Kelenc-Blank, who failed to make the lengthy 50-footer to match him.
"It's nice knowing there's a hundred-something competitors to start and I was one of the last two to be here," Kelenc-Blank, 18, of Rumson, N.J., and a rising freshman at Lafayette College, said. "It's definitely disappointing to come up short, but it definitely gives me some confidence for the rest of the summer to keep pushing and grinding away."
Stevenson had his coach, Mike Dynda on his bag today for both the Semifinal and Final matches. When he was a freshman, Stevenson came to see Dynda for lessons for the first time after being cut from his high school's golf team. The improvement since then has been constant.
"We've come a long way," Stevenson said. "I wouldn't be here without Mike Dynda or Steve Sieracki (Stevenson's other coach). It's really cool to see how far I've come."
To Stevenson, having Dynda as his caddie today was a "gamechanger." Stevenson was particularly grateful for his caddie's help on the greens. With Dynda's aid, Stevenson clocked 25 total putts, including concessions.
After capturing the Peg Burnett Trophy in this year's #GAPJunior, Stevenson is excited to contend in other upcoming tournaments this summer.
First-Flight Final
Kyle Mauro of Waynesborough Country Club edged Matthew Homer of Wilmington Country Club, 19 holes.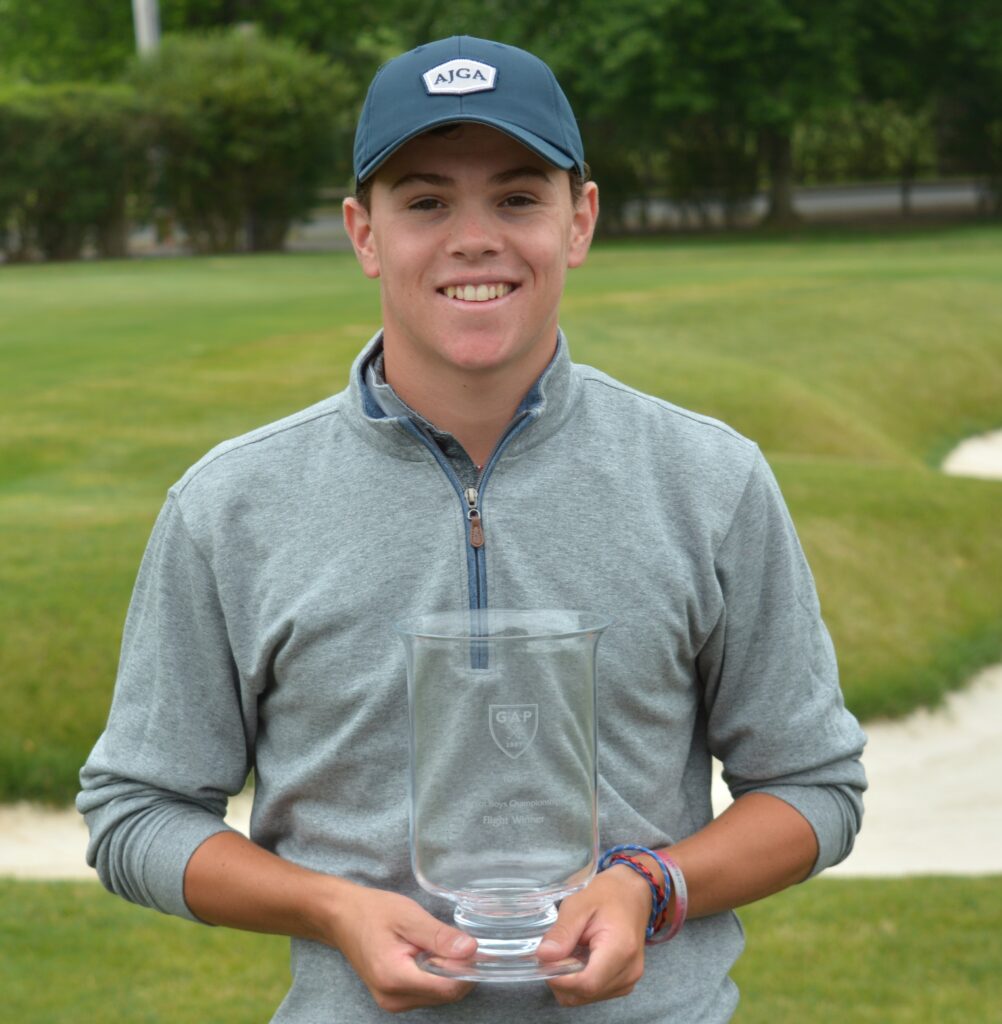 "I played well, but Matthew was battling all day," Mauro, 18, of Paoli, Pa., said. "[He] made it hard to get a big lead going."
Mauro controlled the match early before Homer took the lead at the conclusion of the first nine. Mauro recaptured the lead early in the back nine, but Homer tied the match with an eight-footer on No. 18 (par 4, 397 yards). The pair headed to extra holes.
"It was a good time to have it," Homer, 18, of Wilmington Del., said. "I'm happy I was able to make a good stroke at that time."
On the 19th hole, No. 1 (par 5, 479 yards), Mauro hit a gap wedge from 120 yards to 30 feet. He steamed in the birdie putt for the win.
"It was somewhat nerve-racking because Matthew had some momentum coming off the win on 18," Mauro, a recent graduate of Conestoga High School, said. "I just hung in there."
"I was happy that I was able to get into match play win a few matches, and make it all the way to the finals," Homer, a recent graduate of The Tatnall School, said. "[I'm] disappointed that I didn't win the whole thing, but at least I showed some guts."
Championship Flight Semifinals
Both #GAPJunior finalists dominated in their semifinal matches.
Kelenc-Blank took the lead in his semifinal match on the first hole after his competitor, Jaden Minter of Spring Ford Country Club, was late to the tee forcing a loss of hole.
From there, Kelenc-Blank remained steady and captured the match's only birdies on Nos. 8 (par 4, 419 yards) and 9 (par 4, 270 yards). The match ended on No. 13 (par 4, 426 yards), 6&5.
"Today, I just didn't play well," Minter, 18, of Royersford Pa., said. "He played pretty solid [and made] a couple of birdies."
In Stevenson's route to the finals, he edged past Michael Deussing of Jericho National Golf Club, 7&6.
Birdies on Nos. 8 (par 4, 419 yards) and 10 (par 5, 524 yards) preceded a handshake between the two on No. 12 (par 3, 171 yards).
"Today I didn't hit it well and I didn't putt well, kind of the worst of both worlds," Deussing, 17, of Solebury, Pa., said. "Overall, I'm happy with how I did this week, I didn't expect to make it all the way to the [Semifinals].
Junior Boys' Championship
The Junior Boys' Championship is the premier Major in the GAP Junior Division. It is open to members of a GAP Member Club 14-18 years of age who have not started their college education and who hold a handicap index of 14.4 or lower. Sixteen players qualify for match play; an additional 16 advance into the event's First Flight.
The Junior Boys' Champion is awarded the Peg Burnett Trophy, named in honor of the Association's Executive Secretary from 1951-76. Ms. Burnett was an ardent Junior golf supporter who emphasized sportsmanship and respect for the game. "I was very strict about checking the rule book. I didn't make the rules, but since they are there, you have to abide by them."
GAP
Celebrating Amateur Golf since 1897, GAP, also known as the Golf Association of Philadelphia, is the oldest regional or state golf association in the United States. It serves as the principal ruling body of amateur golf in its region. The organization's 340 Member Clubs and 100,000 individual members are spread across Pennsylvania, Delaware, New Jersey and Maryland. The GAP's mission is to promote, preserve and protect the game of golf.
Finals
Championship Flight
2. John Stevenson, LuLu CC, d. 9. Winston Kelenc-Blank, Saucon Valley CC, 4&3.
Finals
First Flight
2. Kyle Mauro, Waynesborough CC, d. 1. Matthew Homer, Wilmington CC, 19 holes.
Semifinals
Championship Flight
9. Kelenc-Blank d. 5. Jaden Minter, Spring Ford CC, 6&5; 2. Stevenson d. 11. Michael Deussing, Jericho National GC, 7&6.
Semifinals
First Flight
1. Matthew Homer d. 4. Eli Shah, Penn Oaks GC, 4&3; 2. Mauro d. 6. Harrison Brown, Philadelphia CC, 3&2.