#GAPJunior semifinals set at LuLu
GLENSIDE, Pa. — After Day Two of the 109th Junior Boys' Championship at LuLu Country Club (par 71, 6,280 yards), the semifinals are set. Saucon Valley Country Club's Winston Kelenc-Blank will duel with Spring Ford Country Club's Jaden Minter. The host club's John Stevenson will face off against Jericho National Golf Club's Michael Deussing.
| History | Day One recap | Scoring portal | Day Two Video recap | Photos |
The bingo card is full.
Kelenc-Blank and Minter are #GAPJunior rookies. Chance drove Minter's participation in the event after seeing it advertised on GAP's website. Timing led Kelenc-Blank to LuLu.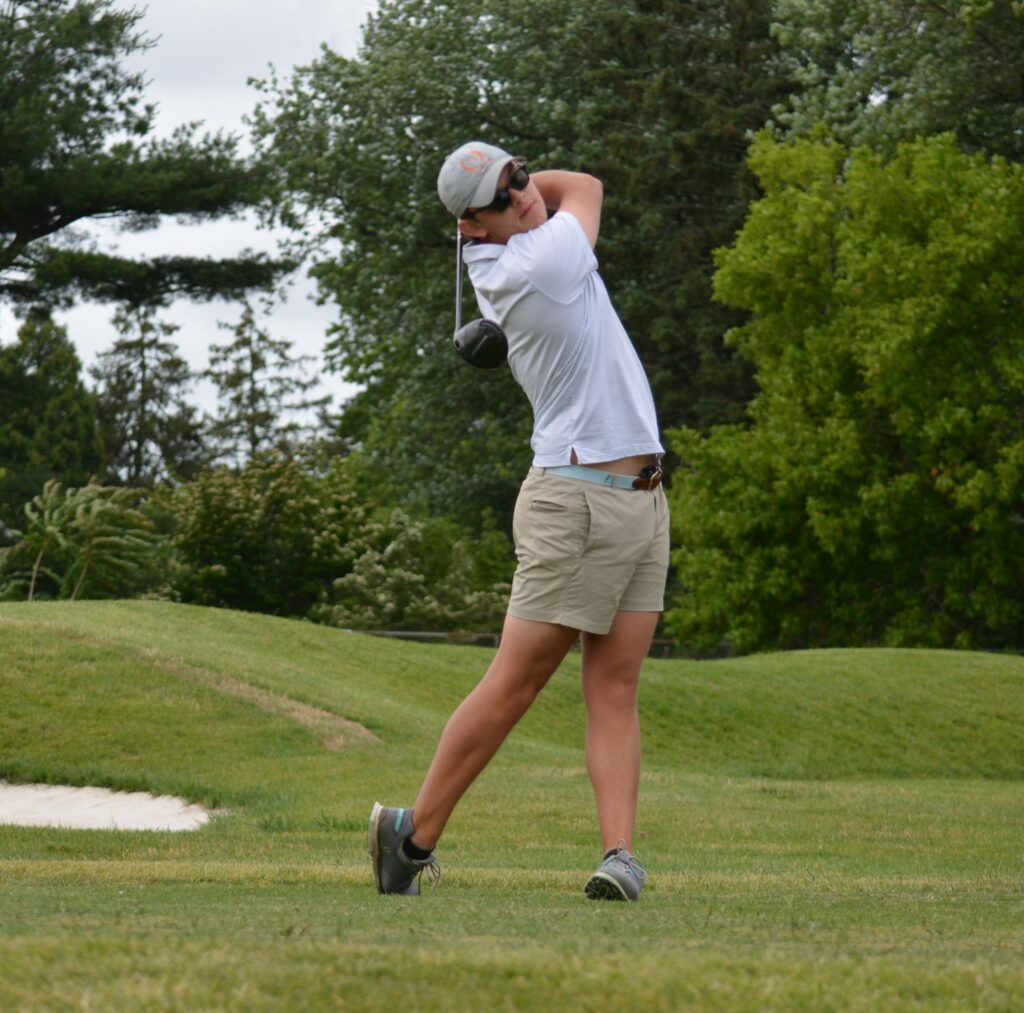 "Last year, I had an event [in Killington, Vt. at the same time]," Kelenc-Blank, 18, of Rumson, N.J. said. "One of my friends has done this [event] their whole life. They said it was a great event and a great field. I kind of thrive in match play so I was like, 'Why not give it a try?'"
Stevenson and Deussing played in the event last year but failed to qualify for match play.
"I hit the ball a million times better," Stevenson, 17, of Ambler, Pa., said. "After the qualifying round, I went back to the range and fixed a few things, which really helped out today."
"I think I played pretty well. I could have struck it a little better," Deussing, 17, of Solebury, Pa., said. "I definitely putted a little better today."
The Semifinals begin at 7:30 a.m. Thursday with the Final to follow.
To secure his spot in the semis, Kelenc-Blank dispatched Hunter Stetson of Aronimink Golf Club in the Round of 16, 3&2, before prevailing against Jack Homer of Wilmington Country Club in the Quarterfinals, 3&2.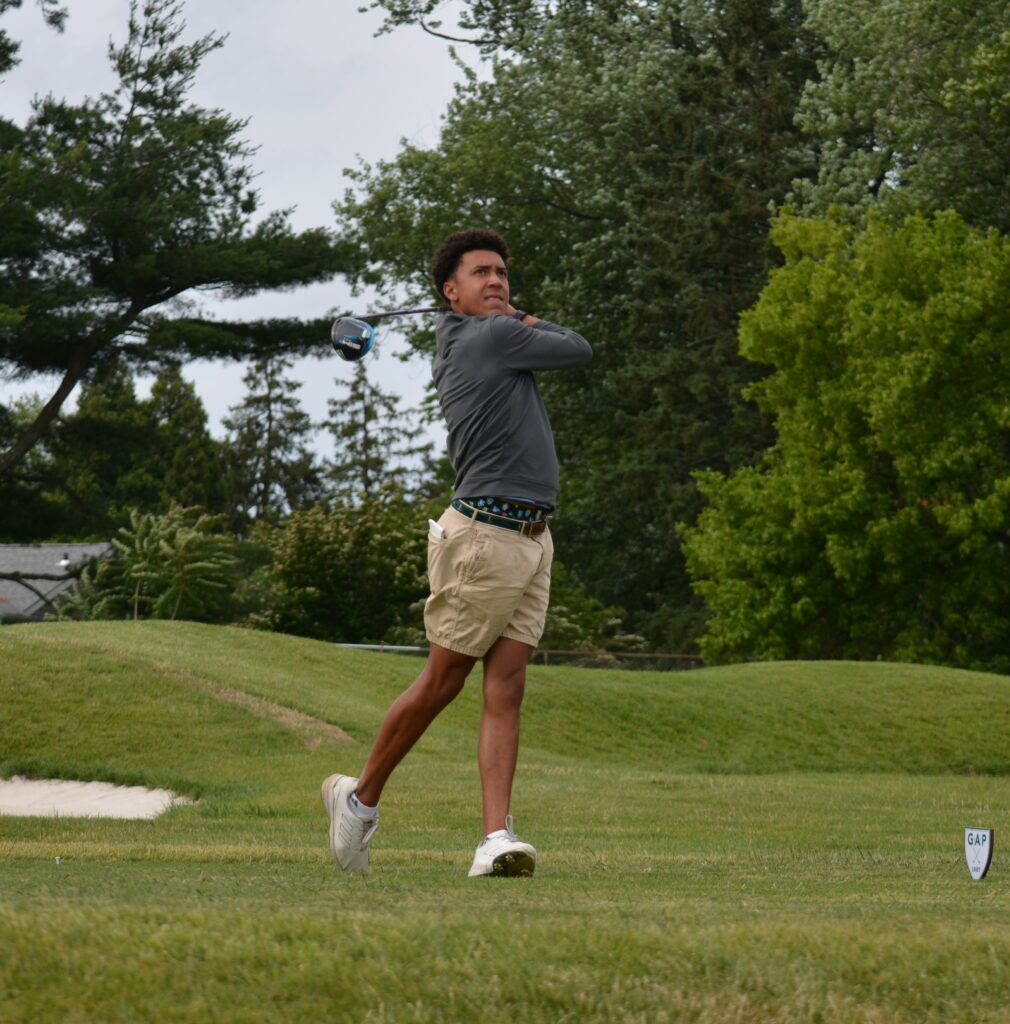 Kelenc-Blank dominated in the afternoon. Throughout the match, he never lost the lead. On No. 1 (par 5, 473 yards), he followed his tee shot with a 7-iron from 165 yards to just short of the green. A chip and a putt blotted his first red figure on the card. A lob wedge off the tee on No. 4 (par 3, 88 yards) resulted in a four-footer for another birdie. Kelenc-Blank's final red mark came on the 174 yard, par 3, 15th hole, where he hit a knockdown 6-iron to 15 feet.
"I definitely thrive in match play," the Choate Rosemary Hall graduate said. "You can make big numbers and then forget about it."
Minter defeated The 1912 Club's J.P. Hoban in the Round of 16, 6&4. In the afternoon, he bested Huntsville Golf Club's Michael Lugiano in the Quarterfinals, 2-up.
In his match against Lugiano, the recent Spring-Ford Area High School graduate chased his opponent's lead until the final two holes. On No. 14 (par 4, 360 yards) he managed to chip-in from behind the green for a birdie to tie the match. A conceded birdie on No. 17 (par 5, 520 yards) put Minter 1-up. Lugiano conceded No. 18 (par 4, 385 yards) after hitting his drive out-of-bounds.
"I wasn't getting off the tee that well in the beginning, I didn't hit many greens at all," Minter, 18, of Royersford Pa., said. "There was a lot of scrambling for par putts."
In Stevenson's flight to the semifinals, he held off Llanerch Country Club's Aidan Farkas in the Round of 16, 2&1, and dispatched 2021 #GAPJunior Quarterfinalist Jeffrey Homer of Wilmington Country Club, 2&1, in this year's Quarterfinal tilt.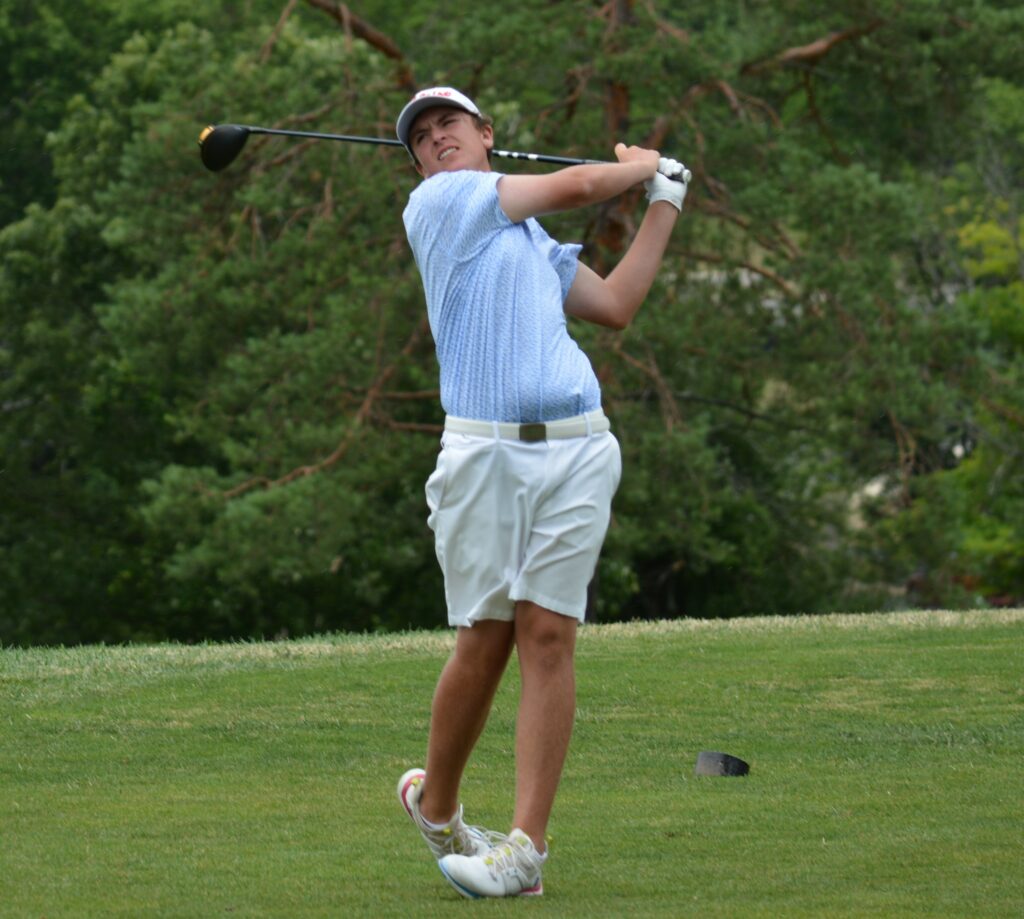 In Stevenson's Quarterfinal match, Homer struck first. A birdie on No. 1 forced Stevenson to trail early. On No. 4, Stevenson's tee shot settled four feet from the hole for an easy two. A one-putt following a 7-iron from 179 yards that stopped three-feet from the flagstick on No. 5 (par 4, 427 yards), allowed him to take the lead. He extended that lead on No. 11 (par 4, 338 yards) after he hit a wedge from 126 yards to three feet. Stevenson won the match on No. 17 after his 9-iron from 135 yards landed five feet from the hole.
"The stretch from [holes] 5 through 11 is a big stretch for me," the rising senior at La Salle College High School said. "I think [I've always] played those holes very well, even in [Stroke-Play Qualifying]."
Deussing battled to a 3&1 win over Sunnybrook Golf Club's Ian Natale in the Quarterfinals. He edged Overbrook Golf Club's Lannon Boyd, 2&1, in the Round of 16.
In his afternoon match, Deussing captured the lead early with birdie on No. 4 via a lob-wedge to four feet. Natale tied the match with a par on No. 6 (par 3, 162 yards) and took the lead with a birdie on No. 8 (par 4, 414 yards). A birdie on No. 10 (par 5, 485 yards) put Deussing two holes behind. Deussing tied the match by winning Nos. 11 and 12 (par 3, 165 yards) with pars. A par on No. 15 and a birdie on No. 16 (par 4, 280 yards) after his chip shot stopped just three feet from the hole allowed Deussing to lead the match, 2-up. Natale conceded No. 17 after sending his tee shot out-of-bounds.
"Last year I didn't qualify [for match play]," Deussing, a rising senior at The Hun School of Princeton, said. "I think it's pretty cool to be in this position this year."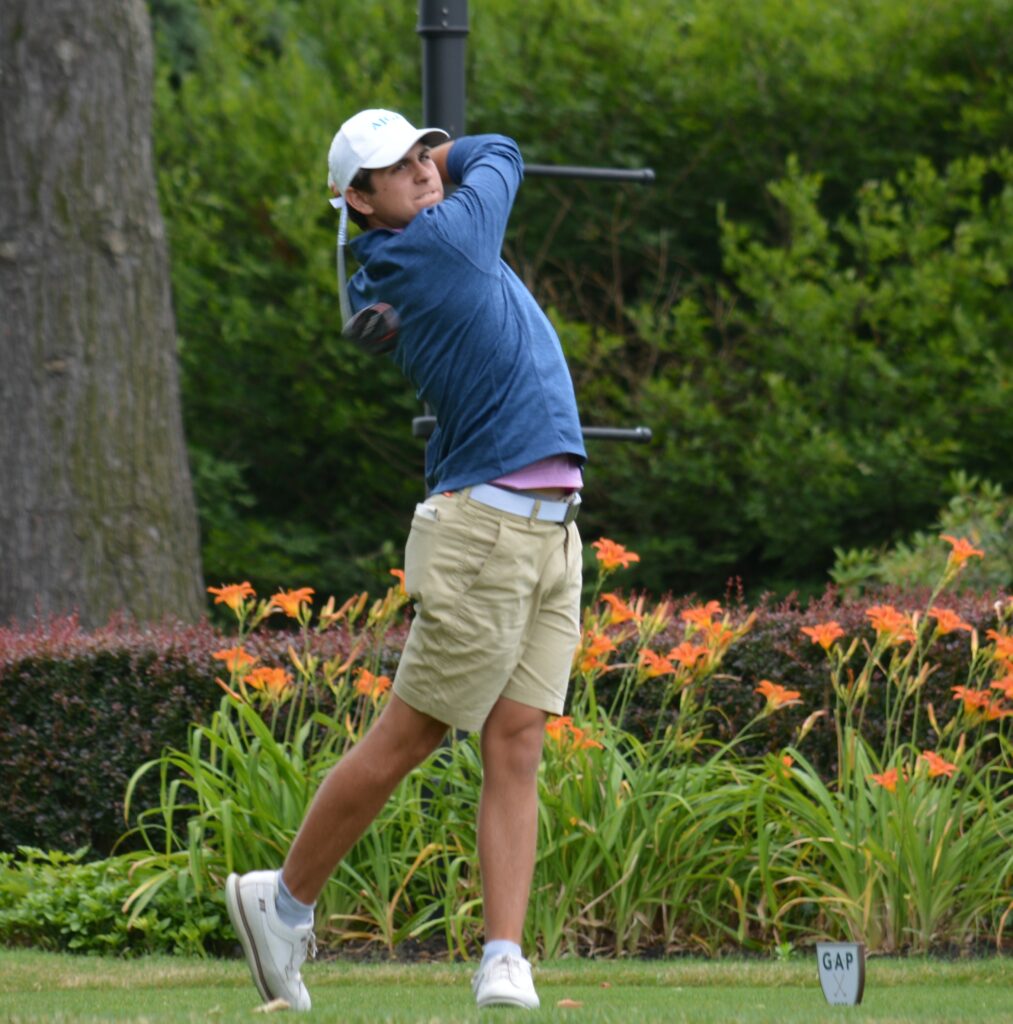 Round of 16
The only Championship Flight Round of 16 Match to finish in extra holes was between Stroke-Play Qualifying medalist Davis Conaway of Fieldstone Golf Club and Jack Homer. It was a battle of the #GAPJrJr champions: Homer in 2019 and Conaway in 2021. Homer defeated Conaway in an impressive duel, which lasted until the 20th hole (No. 2, par 4, 347 yards).
"I knew I could make the swings," Homer, 16, of Wilmington, Del. said. "I lost a couple left on 17 and 18, [but] I was going into the playoff knowing [I was] perfectly capable. I can now trust my putter under pressure, I just have to get myself into position."
Homer dominated most of the match. At one point, he had extended his lead to 4-up. After Homer lost No. 14, his lead was cut to 3-up. The duo halved No. 15. On No. 16, Homer's tee shot rolled out of bounds, resulting in a loss of hole. On No. 17, an errant second shot left Homer with a difficult approach to the green. Conaway made an easy birdie to win the hole and to dwindle his opponent's lead to just 1-up. On No. 18, Homer's tee shot traveled out of bounds, resulting in a bogey with his provisional ball. Conaway made a two-putt par to take Homer into extra holes.
"Don't make it easy on him," Conaway, 15, of West Chester, Pa., said. "I knew he was struggling a bit at that point, so at least make it difficult on him and have him make pars."
On the first extra hole, No. 1, both players rolled in birdies warranting another deciding hole. On No. 2, Homer rolled in a birdie that bested Conaway's par.
"It was awesome. He's a good player," Conaway, a rising sophomore at Malvern Preparatory School, said. "He was fun to play with, too. He's a really nice kid."
"He's a Junior-Junior Champion, so I know he has match play experience," Homer, a recent graduate of the Tatnall School, said. "I knew it was no easy walk in the park, but I reminded myself [of] when I [won] the [#GAPJrJr], [and I had] a number of moments where I was wavering for a bit and then I was able to come back."
Add to your bingo card that both Homer and Conaway share the same coach; John Dunigan from Applebrook Golf Club.
The 109th #GAPJunior Champion will be crowned tomorrow. Bring your blotter.
Junior Boys' Championship
The Junior Boys' Championship is the premier Major in the GAP Junior Division. It is open to members of a GAP Member Club 14-18 years of age who have not started their college education and who hold a handicap index of 14.4 or lower. Sixteen players qualify for match play; an additional 16 advance into the event's First Flight.
The Junior Boys' Champion is awarded the Peg Burnett Trophy, named in honor of the Association's Executive Secretary from 1951-76. Ms. Burnett was an ardent Junior golf supporter who emphasized sportsmanship and respect for the game. "I was very strict about checking the rule book. I didn't make the rules, but since they are there, you have to abide by them."
GAP
Celebrating Amateur Golf since 1897, GAP, also known as the Golf Association of Philadelphia, is the oldest regional or state golf association in the United States. It serves as the principal ruling body of amateur golf in its region. The organization's 340 Member Clubs and 100,000 individual members are spread across Pennsylvania, Delaware, New Jersey and Maryland. The GAP's mission is to promote, preserve and protect the game of golf.
Quarterfinals
Championship Flight
9. Winston Kelenc-Blank, Saucon Valley CC, d. 16. Jack Homer, Wilmington CC, 3&2; 5. Jaden Minter, Spring Ford CC, d. 4. Michael Lugiano, Huntsville GC, 2-up;
2. John Stevenson, LuLu CC, d. 7. Jeffrey Homer, Wilmington CC, 2&1; 11. Michael Deussing, Jericho National GC, d. 3. Ian Natale, Sunnybrook GC, 3&1.
Quarterfinals
First Flight
1. Matthew Homer, Wilmington CC, d. 8. Nicky Nemo, Merion GC, 2&1; 4. Eli Shah, Penn Oaks GC, d. 12. Benjamin Saggers, Applecross CC, 1-up; 2. Kyle Mauro, Waynesborough CC, d. 10. Ryan Quinn, Commonwealth National GC, 1-up; 6. Harrison Brown, Philadelphia CC, d. 3. Marshall Kain, Overbrook GC, 3&1.
Round of 16
Championship Flight
16. Jack Homer d. 1. Davis Conaway, Fieldstone GC, 20 holes; 9. Kelenc-Blank d. 8. Hunter Stetson, Aronimink GC, 3&2; 4. Lugiano d. 13. Carson Thompson, Laurel Creek CC, 3&1; 5. Minter d. 12. J.P. Hoban, The 1912 Club, 6&4; 2. Stevenson d. 15. Aidan Farkas, Llanerch CC, 2&1; 7. Jeffrey Homer d. 10. Nicky Riscica, Trenton CC, 2&1; 3. Natale d. 14. Charlie Ferrise, RiverCrest GC & Preserve, 3&1; 11. Deussing d. 6. Lannon Boyd, Overbrook GC, 2&1.
Round of 16
First Flight
1. Matthew Homer d. 16. Kevin Lafond, Blue Bell CC, 2&1; 8. Nemo d. 9. John Keba, USGA/GAP GC, 3&1; 4. Shah d. 13. Seiji Sako, McCall GC, 4&3; 12. Saggers d. 5. Jackson Puskar, Kennett Square G&CC, 3&2; 2. Mauro d. 15. Liam Crowley, Aronimink GC, 4&3; 3. Kain d. 14. Ryan Hromiak, Heidelberg CC, 1-up; 6. Brown d. 11. Matthew Hurchalla, The Springhaven Club, 5&4.