MALVERN, Pa.–Philip Arouca of Philadelphia Publinks GA regained his composure on the 18th green to force a playoff and then survived a miraculous chip-in by reigning Amateur Champion Kyle Davis of Fieldstone GC on the first extra hole to advance into the semifinals of the 107th Amateur Championship on Wednesday at Applebrook GC.
*First-Round Match Play scores | *Match play bracket | *Duncan holds clubhouse lead | *Duncan, Von Borsig share medallist honors | *Reigning champion Davis, three past winners head to second round | *DAY 3 VIDEO
  Arouca, the No. 9 seed, closed out the defending champion and top seed on the 20th hole (No. 2, par 4, 365 yards) with a two-putt par. Davis' chance at a halve to extend the match rolled just past the right edge.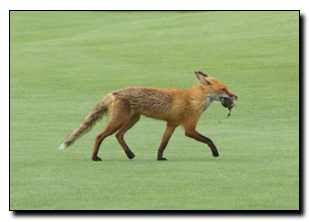 "My goal was just to get to match play," said Arouca, who is a senior at St. Joseph's University. He has a semester of school remaining but no longer has any NCAA eligibility. "I have never met Kyle before but I have heard so many stories about him from last year. I knew I had my work cut out. I tried not to think about him too much and just focus on what I could do."
Arouca executed that strategy to perfection, at least early in his quarterfinal match-up.
The 22-year-old resident of Wilmette, Ill., had Davis 5-down after five holes.
He made three birdies to open the round and followed those up with a pair of pars.
  Arouca two-putted from 50 feet on No. 1 (par 5, 517 yards); left himself with a tap-in on No. 2 (par 4, 365 yards) and after leaving his 3-wood short of the green on No. 3 (par 4, 306 yards) chipped up to six feet. Two pars and two Davis bogeys later gave the All-Atlantic 10 Conference selection a seemingly insurmountable lead.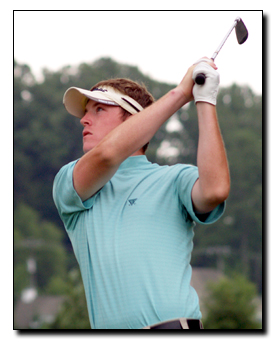 The two exchange miscues and holes on Nos. 8 (par 5, 576 yards) and 9 (par 3, 145 yards) and Arouca eventually made the turn 4-up.
Davis cut the deficit to three holes on No. 10 (par 5, 528 yards) with a birdie and then brought the match All Square with a run midway through the back nine. The 21-year-old from Kennett Square, Pa., parred Nos. 13-15 to get back even. Arouca carded three bogeys in that span and the momentum swung to the champ.
Arouca had a birdie chance on No. 16 (par 5, 575 yards) to jump back ahead when his 10-foot putt just slid past and Davis saved a three on No. 17 (par 3, 175 yards) when he almost holed out from just short of the green. On the uphill 18th hole (par 4, 454 yards), that was playing into a strong headwind, Davis, a left-hander, pushed his 3-wood from 225 yards left. Arouca just in front of Davis in the fairway left his approach short. Davis played first and from about five yards short and 75 feet left of the hole rolled it to within inches. Arouca, standing on the grassy knoll between the gigantic bunker and green, flopped his third shot on and made the clutch 20-foot, left-to-right, downhiller.
On the first extra hole, Davis' drive clipped a tree and he was forced to punch out leaving himself with more than 200 yards to the green. His third shot came up short and he left his chip about three yards in front of the green. Arouca found the right fescue, played it safe and knocked his third shot from 127 yards just left and off the green. He putted it down a slope and was left with a five-footer for par. Davis drained his 30-foot downhill, left-to-right breaker.
"I didn't think it would go in, I was just trying to give myself a chance," said Davis.
Added Arouca, "I told my caddie [Bob Cunningham, a teammate at St., Joseph's] he was going to make it."
On the 20th hole, Davis again found trouble from the tee. This time to left. Arouca cleared the right fairway bunker and was left with 95 yards to the green. Davis came up about 40 yards short of the green after having to play out of the fescue and around a tree. He knocked his third shot to about 12 feet past the hole. Arouca cut a gap wedge to 15 feet. Arouca two putt and Davis saw the end of his title reign trickle by the high side.
"I stayed there five minutes after the match and still didn't make that putt," said Davis. "It was an honor being the Amateur Champion. I was trying to go back-to-back but what are you going to do."
Arouca simply added, "I'm really happy to get this far."
This is Arouca's first try in the Amateur Championship. He said he normally competes in Chicago District and Illinois state events at this time.
Arouca's opponent in tomorrow's semifinal will be Bill McGuinness of Tavistock CC.
McGuinness, the 12th seed, is the only former champion of the four who advanced to Day Two of match play still alive. McGuinness stopped Cole Willcox of Philadelphia CC, the fourth seed, 5&3, in the quarterfinals.
McGuinness, 47, of Woodbury, N.J., was 3-down after three but won eight of the next nine holes to build a 5-up advantage after 12.
McGuinness' short game was spectacular all day. He chipped in from 25 feet for par putting with a wedge on No. 5 (par 3, 204 yards). McGuinness chipped in again, this time for birdie from 20 feet, on No. 11 (par 3, 119 yards), after registering a four on the par 5, 10th. He then followed that up with a sand wedge to eight feet on No. 12 (par 4, 368 yards) for a third straight red figure.
"It was one of those great days," said McGuinness, the 1996 Amateur Champion. "I was 6-under par for the day, 3-under in each match."
In the morning McGuinness and Michael McDermott of Merion GC, the five seed, put on a spectacular display. McGuinness built a 4-up lead after nine holes but watched McDermott card a 4-under-par 31 on the back side to bring the match to No. 18, 1-down. McDermott actually had drawn even before McGuinness carded a two on No. 17 when he drained a 35-foot birdie to regain the lead. On the final hole, McDermott watched a birdie try from 30-plus feet just miss and McGuinness made a nice up-and-down to save par and take the win 1-up.
The other semifinal match will guarantee a Yardley CC entrant in the final for a second straight year. Phil Bartholomew, the seventh seed, will face good friend and 14th seeded Mark Miller.
Bartholomew defeated Chris Gallagher of Penn Oaks GC, the 18th seed, 1-up while Miller stopped Robin McCool of Saucon Valley CC, the 22 seed and oldest competitor in the Amateur Championship, 2&1.
Bartholomew birdied holes 6-9 to build a lead he would never relinquish. Miller started hot – eagle, birdie on the first two holes – and never trailed in fending off McCool, 56, of Bethlehem, Pa.
Bartholomew, 19, of Yardley, Pa. and Miller, 21, of Levittown, said they play golf together at least four times a week.
"It's easier playing someone you know," said Miller, "you just don't want to lose."
Last year, Paul Rogowicz of Yardley CC represented the club in the final.
The semifinal matches begin at 7:30 a.m. tomorrow.
Quarterfinals
9. Philip Arouca, Philadelphia Publinks GA., d. 1. Kyle Davis, Fieldstone GC, 20 holes
12. William McGuinness, Tavistock CC, d. 4. Cole Willcox, Philadelphia CC, 5&3
7. Philip Bartholomew, Yardley CC, d. 18. Chris Gallagher, Penn Oaks GC, 1-up
14. Mark Miller, Yardley CC, d. 22. Robin McCool, Saucon Valley CC, 2&1
Round of 16
1. Kyle Davis, Fieldstone GC, d. 17. Cory Siegfried, Philadelphia CC, 2&1
9. Philip Arouca, Philadelphia Publinks GA, d. 25. Thomas Gramigna, Tavistock CC, 5&4
4. Cole Willcox, Philadelphia CC, d. 20. Chris Lange, Overbrook GC, 1-up
12. William McGuinness, Tavistock CC, d. 5. Michael McDermott, Merion GC, 1-up
18. Chris Gallagher, Penn Oaks GC, d. 31. Chip Lutz, LedgeRock GC, 4&3
7. Philip Bartholomew, Yardley CC, d. 23. Glenn Smeraglio, Yardley CC, 5&4
14. Mark Miller, Yardley CC, d. 3. Conrad Von Borsig, Concord CC, 1-up
22. Robin McCool, Saucon Valley CC, d. 6. Stephen Seiden, Concord CC, 3&2