MALVERN, Pa.–Qualifying for match play of the 107th Amateur Championship will be completed tomorrow after some unstable weather forced delays throughout the day at both Applebrook GC (par 71, 6,701 yards) and White Manor CC (par 71, 6,963 yards). Applebrook GC had play stopped twice, for 70 and 100 minutes, respectively, while White Manor CC saw stoppages of 1:40 and 1:10 minutes.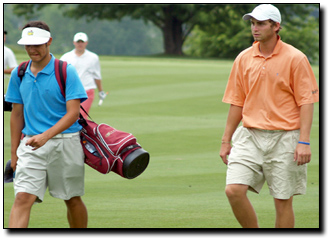 All players completed their first round of play and all the competitors at Applebrook in the afternoon completed their second 18 holes. The final round of qualifying for those at White Manor CC will be finished tomorrow morning beginning at 8:30 a.m.
The Amateur qualifying consists of 36 holes, 18 at each course. The low 31 finishers and defending champion, Kyle Davis of Fieldstone GC, advance into the match play draw. Tomorrow, the first round of match play will commence immediately following the conclusion of qualifying. The second round and quarterfinals will take place on Wednesday with the semifinals now being scheduled for Thursday, June 14. The 36-hole final begins at 8 a.m. on Saturday.
Chase Duncan of Meadia Heights GC holds the clubhouse lead after carding rounds of 73 at White Manor CC in the morning and 67 at Applebrook GC in the afternoon. He stands at 2-under par. Duncan, a redshirt junior at North Carolina State University, entered his second Amateur off a successful spring season in college. He traveled with the team for the final six events in the highly competitive Atlantic Coast Conference.
Today, he continued his strong play hitting 16 greens at White Manor CC and 17 greens at Applebrook GC.
"From tee to green I played well all day," said Duncan, 22, of Lancaster, Pa. "I putted poorly this morning. This afternoon I was able to take advantage of the par 5s."
Duncan birdied three of the four par 5s at Applebrook GC. He hit No. 1 (par 5, 521 yards) and No. 10 (par 5, 573 yards) in two shots and then hit it within 10 feet on No. 16 (par 5, 571 yards).
After opening with a birdie, he made a 14-footer on No. 4 (par 4, 412 yards) after knocking a sand wedge on from 111 yards. Duncan dropped a shot with a three putt on No. 7 (par 4, 460 yards), but rebounded by knocking a 9-iron to two feet on the intimidating ninth (par 3, 149 yards).
He followed a birdie on No. 10 with another on No. 11 (par 3, 119 yards) from 30 feet short of the green. An errant drive on No. 15 (par 3, 214 yards) cost Duncan a shot on the long par 3 but the nice birdie on No. 16 and two ensuing pars netted a 67.
Davis, who competed in the prestigious Sunnehanna Amateur at Sunnehanna CC over the weekend, opted out of competing in the Amateur Championship Qualifier. He will the top seed when match play opens tomorrow.
"I figured it was better to rest," said Davis, 21, of Kennett Square, Pa.
NOTES–Stroke play qualifying will commence at White Manor CC at 8:30 a.m. A playoff, if necessary, will begin at 10:30 a.m. at Applebrook GC with match play starting at 11:30 a.m.