MALVERN, Pa.–Conrad Von Borsig of Concord CC joined Chase Duncan of Meadia Heights GC as medallists at the 107th Amateur Championship on Tuesday (the Amateur qualifying consists of 36 holes, 18 at each course). Both players finished at 2-under-par 140.
*Match play bracket | *Duncan holds clubhouse lead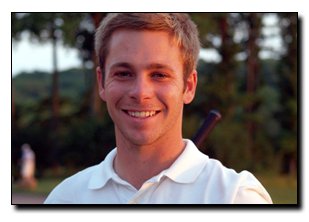 Yesterday, the field at Applebrook GC (par 71, 6,701 yards) completed its qualifying, however, Von Borsig and about half of the White Manor CC (par 71, 6,963 yards) field had to return to the course at 8:30 a.m. to complete their second and final round.
Von Borsig posted an even-par total over his remaining seven holes, finishing at 2-over-par 73. At Applebrook GC he posted a 4-under-par 67.
"My goal for the summer is to win every tournament," said Von Borsig, 20, of Swarthmore, Pa. "I'm excited to be playing tournament golf again, I haven't played in one in awhile, and it was nice to shoot in the 60s yesterday. I haven't done that in a tournament in awhile either."
Von Borsig used a four-hole stretch at Applebrook GC yesterday morning to propel himself up the leaderboard. The University of Virginia junior birdied holes 3-6. He made a fantastic up-and-down from the front bunker on No. 3 (par 4, 310 yards); drained an uphill eight-foot birdie on No. 4 (par 4. 412 yards); rattled in a 35 footer on the par 3, 5th (200 yards) and hit a perfect 9-iron from 148 yards "uphill and downwind" to three feet on No. 6 (par 4, 390 yards).
He carded a front nine 5-under-par 31.
Duncan, by virtue of his tee time, was seeded No. 2. Von Borsig was the three seed.
Duncan, a redshirt junior at North Carolina State University, was all-around solid on Monday.
He hit 16 greens at White Manor CC and 17 greens at Applebrook GC.
"From tee to green I played well all day," said Duncan, 22, of Lancaster, Pa. "I putted poorly [in the] morning. This afternoon I was able to take advantage of the par 5s."
Duncan birdied three of the four par 5s at Applebrook GC. He hit No. 1 (par 5, 521 yards) and No. 10 (par 5, 573 yards) in two shots and then hit it within 10 feet on No. 16 (par 5, 571 yards).
After opening with a birdie, he made a 14-footer on No. 4 (par 4, 412 yards) after knocking a sand wedge on from 111 yards. Duncan dropped a shot with a three putt on No. 7 (par 4, 460 yards), but rebounded by knocking a 9-iron to two feet on the intimidating ninth (par 3, 149 yards).
He followed a birdie on No. 10 with another on No. 11 (par 3, 119 yards) from 30 feet short of the green. An errant drive on No. 15 (par 3, 214 yards) cost Duncan a shot on the long par 3 but the nice birdie on No. 16 and two ensuing pars netted a 67.
A six player for two qualifying positions followed at Applebrook on Tuesday.
Chip Lutz of LedgeRock GC made an ace on the par 3 11th (119 yards) with a pitching wedge and Mike Moffat of Commonwealth National GC outlasted his fellow competitors in six holes to advance.
  Match play began at Applebrook at 12 p.m.
Qualifiers
Name
Club
Rd. 1
Rd. 2
Total
Conrad Von Borsig
Concord Country Club
67
AGC
73
WM
140
Chase Duncan
Meadia Heights Golf Club
73
WM
67
AGC
140
Michael McDermott
Merion Golf Club
72
AGC
69
WM
141
Cole Willcox
Philadelphia Country Club
67
AGC
74
WM
141
Stephen Seiden
Concord Country Club
73
AGC
70
WM
143
Philip Bartholomew
Yardley Country Club
68
AGC
76
WM
144
Douglas Zelner
Coatesville Country Club
70
AGC
75
WM
145
Robert Galbreath, Jr.
Huntingdon Valley Country Club
72
AGC
73
WM
145
William McGuinness
Tavistock Country Club
73
WM
72
AGC
145
#Raymond Thompson
Overbrook Golf Club
72
WM
73
AGC
145
Jamie Slonis
Tavistock Country Club
76
WM
69
AGC
145
Alan Borowsky
White Manor Country Club
73
WM
72
AGC
145
Philip Arouca
Philadelphia Publinks GA
72
WM
73
AGC
145
Mark Miller
Yardley Country Club
75
WM
70
AGC
145
Douglas Schroer
St. Davids Golf Club
75
AGC
71
WM
146
Bill Murray
Merchantville Country Club
71
AGC
75
WM
146
Brian Gillespie
St. Davids Golf Club
73
AGC
73
WM
146
Stephen Arnold
Yardley Country Club
71
AGC
75
WM
146
Chris Gallagher
Penn Oaks Golf Club
74
AGC
72
WM
146
Christopher Lange
Overbrook Golf Club
75
WM
71
AGC
146
Cory Siegfried
Philadelphia Country Club
77
WM
69
AGC
146
Robin McCool
Saucon Valley Country Club
72
AGC
75
WM
147
Glenn Smeraglio
Yardley Country Club
74
AGC
73
WM
147
Thomas Gramigna
Tavistock Country Club
74
AGC
73
WM
147
David West
Whitford Country Club
74
WM
73
AGC
147
James Sullivan, Jr.
Huntingdon Valley Country Club
78
WM
69
AGC
147
James Kania, Jr.
Overbrook Golf Club
74
AGC
74
WM
148
Donny Wessner
Golden Oaks Golf Club
73
AGC
75
WM
148
#Andy Achenbach
RiverCrest Golf Club & Preserve
77
WM
71
AGC
148
John Michael Pelet
Wyncote Golf Club
73
WM
75
AGC
148
Ryan McCarty
Little Mill Country Club
78
WM
70
AGC
148
*Chip Lutz
LedgeRock Golf Club
76
AGC
73
WM
149
*Michael Moffat
Commonwealth National Golf Club
72
AGC
77
WM
149
Failed to qualify
James Donnelly
Philadelphia Cricket Club
75
AGC
74
WM
149
Oscar Mestre, Jr.
Overbrook Golf Club
71
AGC
78
WM
149
Brian Corbett
Huntsville Golf Club
78
WM
71
AGC
149
Christopher Kaspar
Lu Lu Country Club
77
WM
72
AGC
149
#Steve Owens
Commonwealth National Golf Club
73
WM
76
AGC
149
Michael O'Keefe
Little Mill Country Club
74
AGC
76
WM
150
James Kieserman
Talamore at Oak Terrace Country Club
73
AGC
77
WM
150
Thomas Hyland
Little Mill Country Club
74
AGC
76
WM
150
Gary Daniels
Applebrook Golf Club
74
AGC
76
WM
150
Paul Rogowicz
Yardley Country Club
75
WM
75
AGC
150
Robert Billings
Rolling Green Golf Club
74
WM
76
AGC
150
Billy McCrossan
White Manor Country Club
75
WM
75
AGC
150
Kevin Huntington
Penn Oaks Golf Club
74
AGC
77
WM
151
Matt Raudenbush
Pine Valley Golf Club
74
AGC
77
WM
151
Zach Smith
Doylestown Country Club
76
AGC
75
WM
151
Christopher Ault
Yardley Country Club
75
WM
76
AGC
151
Brian Rothaus
Philmont Country Club
78
WM
73
AGC
151
Brandon Detweiler
Lancaster Country Club
79
WM
72
AGC
151
John Sawin
Merion Golf Club
78
WM
73
AGC
151
Michael Tash
Tavistock Country Club
76
AGC
76
WM
152
Jon Thomas
Hartefeld National
78
AGC
74
WM
152
Rand Mendez
Fieldstone Golf Club
78
WM
74
AGC
152
Ted Harris
Makefield Highlands Golf Club
81
WM
71
AGC
152
G. Patrick Dougherty
Talamore at Oak Terrace Country Club
78
WM
74
AGC
152
Amory Davis
DuPont Country Club
80
WM
72
AGC
152
Ryan Gelrod
Commonwealth National Golf Club
78
AGC
75
WM
153
John Robinson
Commonwealth National Golf Club
76
AGC
77
WM
153
Jhoon Chang
Philadelphia Cricket Club
76
AGC
77
WM
153
Timothy Hager
Lookaway Golf Club
75
WM
78
AGC
153
David Taraschi
Merchantville Country Club
79
WM
74
AGC
153
Sean Seese
Huntingdon Valley Country Club
78
WM
75
AGC
153
Tom Borsello
DuPont Country Club
80
WM
73
AGC
153
Matthew Finger
Running Deer Golf Club
75
AGC
79
WM
154
Kevin Genuardi
Cedarbrook Country Club
75
AGC
79
WM
154
Bo Maguire
Brookside Country Club
77
AGC
77
WM
154
William Naylor
Applebrook Golf Club
73
AGC
81
WM
154
Chris Esbenshade
Meadia Heights Golf Club
76
AGC
78
WM
154
Steven Passalacqua
Wedgwood Country Club
75
WM
79
AGC
154
Daniel Charen
Yardley Country Club
77
WM
77
AGC
154
David Liotta
Whitemarsh Valley Country Club
76
WM
78
AGC
154
Andrew Zoeller
Waynesborough Country Club
77
AGC
78
WM
155
Joe Bernard
RiverCrest Golf Club & Preserve
79
WM
76
AGC
155
Michael Gross
Glenmaura National Golf Club
82
WM
73
AGC
155
Francis McFadden
Overbrook Golf Club
76
WM
79
AGC
155
James Macallister
Manufacturers Golf & Country Club
76
WM
79
AGC
155
Peter Moran
Edgmont Country Club
76
AGC
80
WM
156
R. Blake Slawecki
Spring Ford Country Club
78
AGC
78
WM
156
Patrick Hardin
Northampton Country Club
81
WM
75
AGC
156
Robert Gill
Fox Hill Country Club
75
AGC
82
WM
157
Alexander Maguire, Jr.
Philadelphia Cricket Club
78
AGC
79
WM
157
Michael Kania
Overbrook Golf Club
78
WM
79
AGC
157
John Simone
Blue Bell Country Club
75
AGC
83
WM
158
Robert Dziak
Spring Ford Country Club
78
AGC
80
WM
158
Kenneth Matt
Commonwealth National Golf Club
74
AGC
84
WM
158
Chris Comer
Ballamor Golf Club
79
WM
79
AGC
158
Douglas Gregor
Huntingdon Valley Country Club
73
AGC
86
WM
159
David Smith
Doylestown Country Club
81
WM
78
AGC
159
Matt Ehrlich
Meadowlands Country Club
82
AGC
78
WM
160
Duncan Zeiders
Old York Road Country Club
82
WM
78
AGC
160
Rich Thon
The Springhaven Club
78
AGC
83
WM
161
Jeffrey Stanford
The ACE Club
85
WM
76
AGC
161
Matt Dolinsky
Honeybrook Golf Club
76
WM
85
AGC
161
Paul Liebezeit
Aronimink Golf Club
80
WM
81
AGC
161
Matthew Pesci
Yardley Country Club
84
WM
77
AGC
161
Phillip Anzaldo
Tavistock Country Club
82
WM
79
AGC
161
Patrick Garrison
Philadelphia Publinks GA
82
AGC
80
WM
162
Art Brosius
DuPont Country Club
75
AGC
87
WM
162
Chris Anderson
Wilmington Country Club
78
WM
85
AGC
163
Eugene Flanagan
The Springhaven Club
82
WM
81
AGC
163
Michael Nilon
Philadelphia Country Club
80
WM
83
AGC
163
Bobby Arthur
Tavistock Country Club
84
WM
79
AGC
163
Robert Schmeck
Seaview Marriott Resort & Spa
88
WM
76
AGC
164
Jack Wallace
Burlington Country Club
84
WM
80
AGC
164
Manus Friel
Philadelphia Publinks GA
84
WM
80
AGC
164
Chris Stout
Concord Country Club
81
WM
84
AGC
165
C.J. Sturgell
Applebrook Golf Club
84
WM
84
AGC
168
Tim Dolan
Galloway National Golf Club
82
WM
86
AGC
168
Thomas DiCinti
Little Mill Country Club
86
WM
83
AGC
169
Michael Costonis
Blue Bell Country Club
84
AGC
89
WM
173
Alexander Liebman
Seaview Marriott Resort & Spa
89
WM
85
AGC
174
James O'Connor
Penn Oaks Golf Club
86
AGC
89
WM
175
Jeff Rogatz
Fieldstone Golf Club
91
WM
86
AGC
177
Tom Piersanti
Applebrook Golf Club
84
AGC
WD
WM
WD
John Brennan
Spring Ford Country Club
72
AGC
WD
WM
WD
Eric Schmehl
Moorestown Field Club
76
AGC
WD
WM
WD
John Mullins
Spring Ford Country Club
77
AGC
WD
WM
WD
Gil Moniz, Jr.
Woodbury Country Club
76
AGC
WD
WM
WD
Robert Bechtold
Fieldstone Golf Club
78
AGC
WD
WM
WD
John Donnelly
Concord Country Club
78
AGC
WD
WM
WD
Stephen Sieracki
Merchantville Country Club
84
AGC
WD
WM
WD
Chris Kallmeyer
Philadelphia Cricket Club
82
AGC
WD
WM
WD
Mark Kosko
Seaview Marriott Resort & Spa
77
AGC
WD
WM
WD
Roc Irey
Cedarbrook Country Club
83
AGC
WD
WM
WD
Jeff Osberg
Brandywine Country Club
77
AGC
WD
WM
WD
Michael Lewers
St. Davids Golf Club
77
AGC
WD
WM
WD
Frank Corrado, Jr.
Jericho National Golf Club
78
AGC
WD
WM
WD
Thomas Finn
Cavaliers Country Club
82
AGC
WD
WM
WD
Chris Lange, Jr.
Overbrook Golf Club
81
AGC
WD
WM
WD
Kenneth Ralston
Huntsville Golf Club
78
WM
WD
AGC
WD
Kyle Davis
Fieldstone Golf Club
NC
WM
WD
AGC
WD
Bill Boyle
Metedeconk National Golf Club
81
WM
NC
AGC
WD
Sean Leonard
Tavistock Country Club
82
AGC
NC
WM
WD
Joshua Krumholz
Berkleigh Country Club
80
WM
NS
AGC
NS
Kevin Weeks
Seaview Marriott Resort & Spa
83
AGC
NS
WM
NS
Logan Terry
Plymouth Country Club
85
WM
DQ
AGC
DQ
*-advanced in playoff
#-will not compete in match play
WD-withdrawal; NC-no card; DQ-disqualification; NS-no show