Altieri, Kellock lead Spring Net at Philmont
HUNTINGDON VALLEY, Pa. – A severe thunderstorm, mixed in with thousands of lightning strikes, washed play off the course as the last group stood on No. 18 fairway. Gus Altieri, playing in his first competitive event, waited inside as his ball sat lonely in the short grass.
The wait was well worth it for Medford Village Country Club's Altieri. Despite the 90-minute lightning stoppage, the overall champion eventually carded a net par to take the Tee it Forward – Spring Net Championship with 42 Stableford Net points.
On a sizzling hot day at Philmont Country Club (par 70, 6,275 yards), Altieri, playing to a 26 USGA Handicap Index, fired a 20-over 90 for the win in a match of scorecards with playing partner and friend Joe Zulli of Trump National Golf Club – Philadelphia.
"I just started playing golf four or so years ago, and I wanted to take things up a notch by playing in a competitive event. This was a great start," said Altieri, 66, of Ocean City, N.J. "Joe has been very influential in kind of motivating me to get better. He was the reason I was out here today."
In the end, ironically enough, it was Altieri who beat out Zulli for the top spot with a clutch performance down the stretch. On No. 16 (par 4, 420 yards), Altieri's 3-wood, 3-wood combination landed just in front of the green. From there, a chip up to six feet left a net-eagle putt that was jarred. On the par-3, 117-yard 17th, Altieri's 9-iron tee sheet came up just short, as did his greenside wedge attempt. Left with another six-foot tester, Altieri stepped up and drained it. After teeing off with a perfect 3-wood on No. 18 (par 4, 307 yards), Altieri's ball was abandoned for the weather delay. As the only group left on the course, the foursome waited it out in Philmont's grill room.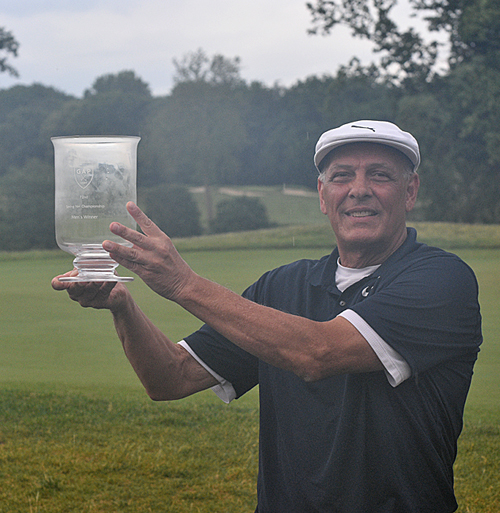 "All day, I had no idea where I stood. I wasn't even thinking about the points," said Altieri. "But once we got inside for the delay, I knew where I stood and what I needed to do."
Consider the pressure a plus. After play resumed, Altieri's wedge approach rolled in the right fringe. Then Zulli stepped up and threw a wedge approach that landed within a foot of the cup and rolled out to 10 feet. Altieri would putt next, leaving his birdie short, followed by a second miss. Zulli's birdie putt — which would have won the overall prize — lipped out. Altieri's bogey putt earned him a net par and the two points needed to take the scorecard tiebreaker.
"If you would have told me that I would win at the beginning of the day, I would be the last guy to believe that," said Altieri. "It feels great to win. It shows that I'm improving."
Today's event also marked a record-breaking Spring Net field in the Women's Division with 19 players teeing it up Tuesday.
Playing to a scorecard of par-72, 5,222 yards, the overall Women's prize went to Flourtown Country Club's Alison Kellock, who finished with 37 Stableford Net points.
Both the highlight and lowlight of Kellock's day both came in the sand. On No. 16 (par 5, 420 yards), Kellock blasted out of a fairway bunker with a wedge and placed her ball to 15 feet. That gross birdie putt was jarred, and with it came four crucial net points. Following that, Kellock was forced to pick up on No. 17 (par 3, 117 yards) after finding bunker issues and unable to escape, leading to zero points. Kellock got into the clubhouse with the lead, which prevailed over the rest of the field. Kellock bettered LedgeRock Golf Club's Charlotte Kocher, who won last week's Women's Division in the Francis B. Warner Cup (Net) at Talamore Country Club, by two net points.
"After winning the [Winter Series Women's Net Player of the Year], my game was kind of up-and-down to start the season. I took some time off because all of the snow in February, and I think that's what hurt me a little," said Kellock, 55, of Oreland, Pa. "My game is starting to settle down now and I'm starting to consistently shoot around the 80s, and that's what I saw today. I'm proud of how I played today."
This marks the fifth year of a Women's Flight in the Spring Net. Two years ago in 2019, Kellock was the only Women's competitor in the field at Heidelberg Country Club. Two years later, a crowded field had Kellock beaming with pride.
"It's amazing to see how many ladies we had show up and play today. The word really has started to get out," said Kellock, who also took home the 2019 title. "I've been encouraging others to come out and play, and today we had some other ladies out here from Flourtown, so that was really exciting for us to see."
The Spring Net Championship, formerly known as the First Handicap Tournament, is open to players 18 years of age and older with handicap index less than 36.0. The event began in 1946. The Association adopted the Tee It Forward parameters in 2012. It also changed the scoring format to net Stableford. The 2020 edition of the Spring Net was canceled due to the COVID-19 pandemic.
The Tee It Forward initiative encourages golfers to play the course at a length that is aligned with their average driving distance.
GAP
Celebrating Amateur Golf since 1897, GAP, also known as the Golf Association of Philadelphia, is the oldest regional or state golf association in the United States. It serves as the principal ruling body of amateur golf in its region. The Association's 300 Member Clubs and 80,000 individual members are spread across the Eastern half of Pennsylvania and parts of Delaware, Maryland and New Jersey. The GAP's mission is to promote, preserve and protect the game of golf.
| | |
| --- | --- |
| **Stableford scoring used** | |
| Men's | |
| Overall | |
| Name, club | Points |
| *Augustine Altieri, Medford Village Country Club | 42 |
| Joe Zulli, Trump National Golf Club – Philadelphia | 42 |
| Ernie Menold, The Springhaven Club | 41 |
| Duncan Herder, Pinecrest Country Club | 40 |
| Matthew Miller, Five Ponds Golf Club | 39 |
| Terrance Schmidt, Talamore Country Club | 38 |
| Paul Gruzeski, Paupack Hills Country Club | 38 |
| Keith Bewley, Wyncote Golf Club | 38 |
| Chuck Simalchik, Glenmaura National Golf Club | 37 |
| Jeff Vecere, The Shore Club | 37 |
| Ed Osciak, Loch Nairn Golf Club | 37 |
| Eric Martin, Penn Oaks Golf Club | 36 |
| William Erksine, Philadelphia Publinks Golf Association | 36 |
| Mick Dunphy, Flourtown Country Club | 36 |
| Nathaniel Oxman, Philadelphia Publinks Golf Association | 35 |
| Joseph DeAngelis, Makefield Highlands Golf Club | 35 |
| Robert Schermerhorn, Moselem Springs Golf Club | 35 |
| Patrick Foley, Moselem Springs Golf Club | 35 |
| Ted Hospodar, Overbrook Golf Club | 35 |
| Allan Shannon, Makefield Highlands Golf Club | 35 |
| Chace Caruso, Conestoga Country Club | 34 |
| Matt Peters, Five Ponds Golf Club | 34 |
| Ed Kocher, LedgeRock Golf Club | 34 |
| Robert Hsu, Lookaway Golf Club | 34 |
| Robert Riley, Scranton Canoe Club | 34 |
| Bob Moore, Trump National Golf Club – Philadelphia | 33 |
| Gerry McCloy, Flourtown Country Club | 33 |
| Jay Dilworth, The Shore Club | 33 |
| Malachy Duffin, Flourtown Country Club | 33 |
| Joseph Templin, LedgeRock Golf Club | 32 |
| Todd Shelly, Wyncote Golf Club | 32 |
| Edward Attarian, Commonwealth National Golf Club | 32 |
| John O'Rourke, McCall Golf Club | 32 |
| Lee Oxman, Moselem Springs Golf Club | 32 |
| Scott Miller, Five Ponds Golf Club | 32 |
| David Bulman, Jeffersonville Golf Club | 31 |
| Thomas Brennan, Moselem Springs Golf Club | 31 |
| Jason Marie, Five Ponds Golf Club | 31 |
| Thoma Weinman, Mercer Oaks Golf Course | 31 |
| Tom Watterson, Loch Nairn Golf Club | 31 |
| Terrance Welsh, The Shore Club | 31 |
| Richard Breder, The Shore Club | 30 |
| Chuck Caparo, The 1912 Club | 29 |
| J.T. Clarke, Running Deer Golf Club | 29 |
| Don Neill, LuLu Country Club | 28 |
| Tom Bell, Meadia Heights Golf Club | 28 |
| Gregg Rosenfeld, LuLu Country Club | 27 |
| Mike Connell, The Springhaven Club | 27 |
| George Crouse, Ramblewood Country Club | 26 |
| Michael Penso, Metedeconk National Golf Club | 26 |
| Mac R. McGroggan, Makefield Highlands Golf Club | 25 |
| Frank Andrusiewicz, Mercer Oaks Golf Course | 25 |
| Richard Turner, Llanerch Country Club | 22 |
| Vince Pitcherella, Applecross Country Club | 22 |
| Tom Clarke, Scotland Run Golf Club | 20 |
| Larry Glazerman, Hartefeld National | NS |
| Scott Bracken, Medford Village Country Club | NS |
| Paul Depaoli, Honesdale Golf Club | WD |
| | |
| First Flight | |
| Name, club | Points |
| Joe Zulli, Trump National Golf Club – Philadelphia | 42 |
| Terrance Schmidt, Talamore Country Club | 38 |
| Chuck Simalchik, Glenmaura National Golf Club | 37 |
| Eric Martin, Penn Oaks Golf Club | 36 |
| Nathaniel Oxman, Philadelphia Publinks Golf Association | 35 |
| Chace Caruso, Conestoga Country Club | 34 |
| Joseph Templin, LedgeRock Golf Club | 32 |
| Todd Shelly, Wyncote Golf Club | 32 |
| David Bulman, Jeffersonville Golf Club | 31 |
| Thomas Brennan, Moselem Springs Golf Club | 31 |
| Chuck Caparo, The 1912 Club | 29 |
| J.T. Clarke, Running Deer Golf Club | 29 |
| George Crouse, Ramblewood Country Club | 26 |
| Richard Turner, Llanerch Country Club | 22 |
| Scott Bracken, Medford Village Country Club | NS |
| | |
| Second Flight | |
| Name, club | Points |
| Duncan Herder, Pinecrest Country Club | 40 |
| Matthew Miller, Five Ponds Golf Club | 39 |
| Paul Gruzeski, Paupack Hills Country Club | 38 |
| Keith Bewley, Wyncote Golf Club | 38 |
| William Erksine, Philadelphia Publinks Golf Association | 36 |
| Joseph DeAngelis, Makefield Highlands Golf Club | 35 |
| Robert Schermerhorn, Moselem Springs Golf Club | 35 |
| Matt Peters, Five Ponds Golf Club | 34 |
| Ed Kocher, LedgeRock Golf Club | 34 |
| Bob Moore, Trump National Golf Club – Philadelphia | 33 |
| Gerry McCloy, Flourtown Country Club | 33 |
| Edward Attarian, Commonwealth National Golf Club | 32 |
| Jason Marie, Five Ponds Golf Club | 31 |
| Michael Penso, Metedeconk National Golf Club | 26 |
| Mac R. McGroggan, Makefield Highlands Golf Club | 25 |
| Paul Depaoli, Honesdale Golf Club | WD |
| | |
| Third Flight | |
| Name, club | Points |
| Ernie Menold, The Springhaven Club | 41 |
| Mick Dunphy, Flourtown Country Club | 36 |
| Patrick Foley, Moselem Springs Golf Club | 35 |
| Ted Hospodar, Overbrook Golf Club | 35 |
| Jay Dilworth, The Shore Club | 33 |
| Malachy Duffin, Flourtown Country Club | 33 |
| John O'Rourke, McCall Golf Club | 32 |
| Lee Oxman, Moselem Springs Golf Club | 32 |
| Thoma Weinman, Mercer Oaks Golf Course | 31 |
| Gregg Rosenfeld, LuLu Country Club | 27 |
| Frank Andrusiewicz, Mercer Oaks Golf Course | 25 |
| Vince Pitcherella, Applecross Country Club | 22 |
| Tom Clarke, Scotland Run Golf Club | 20 |
| | |
| Fourth Flight | |
| Name, club | Points |
| Augustine Altieri, Medford Village Country Club | 42 |
| *Ed Osciak, Loch Nairn Golf Club | 37 |
| Jeff Vecere, The Shore Club | 37 |
| Allan Shannon, Makefield Highlands Golf Club | 35 |
| Robert Hsu, Lookaway Golf Club | 34 |
| Robert Riley, Scranton Canoe Club | 34 |
| Scott Miller, Five Ponds Golf Club | 32 |
| Tom Watterson, Loch Nairn Golf Club | 31 |
| Terrance Welsh, The Shore Club | 31 |
| Richard Breder, The Shore Club | 30 |
| Don Neill, LuLu Country Club | 28 |
| Tom Bell, Meadia Heights Golf Club | 28 |
| Mike Connell, The Springhaven Club | 27 |
| Larry Glazerman, Hartefeld National | NS |
| | |
| Women's | |
| Overall | |
| Name, club | Points |
| Alison Kellock, Flourtown Country Club | 37 |
| Charlotte Kocher, LedgeRock Golf Club | 35 |
| Jill Marie, Five Ponds Golf Club | 34 |
| Pat Ellis, Doylestown Country Club | 33 |
| Muffy McCabe, French Creek Golf Club | 33 |
| Lynn Schmidt, Talamore Country Club | 33 |
| Kathleen Gallagher, Penn National Golf Club | 32 |
| Barbora Maralikova, Honeybrook Golf Club | 31 |
| Sandy Silbiger, Talamore Country Club | 30 |
| Mary Conway, French Creek Golf Club | 30 |
| Carol Landgraf, Riverton Country Club | 29 |
| Sarah Reese, French Creek Golf Club | 29 |
| Kathy Echternach, Philadelphia Publinks Golf Association | 29 |
| Tish Lawson, Talamore Country Club | 28 |
| Virgil Maderich, Riverton Country Club | 27 |
| Jane Ludlow, Talamore Country Club | 26 |
| Lisa Hogan, Talamore Country Club | 24 |
| Margie Rothfeld, Flourtown Country Club | 23 |
| Roseanne Dalton, Flourtown Country Club | 22 |
| | |
| First Flight | |
| Name, club | Points |
| *Pat Ellis, Doylestown Country Club | 33 |
| Muffy McCabe, French Creek Golf Club | 33 |
| Barbora Maralikova, Honeybrook Golf Club | 31 |
| Carol Landgraf, Riverton Country Club | 29 |
| Tish Lawson, Talamore Country Club | 28 |
| Virgil Maderich, Riverton Country Club | 27 |
| | |
| Second Flight | |
| Name, club | Points |
| Alison Kellock, Flourtown Country Club | 37 |
| Lynn Schmidt, Talamore Country Club | 33 |
| Kathleen Gallagher, Penn National Golf Club | 32 |
| Sandy Silbiger, Talamore Country Club | 30 |
| Mary Conway, French Creek Golf Club | 30 |
| Sarah Reese, French Creek Golf Club | 29 |
| Lisa Hogan, Talamore Country Club | 24 |
| | |
| Third Flight | |
| Name, club | Points |
| Charlotte Kocher, LedgeRock Golf Club | 35 |
| Jill Marie, Five Ponds Golf Club | 34 |
| Kathy Echternach, Philadelphia Publinks Golf Association | 29 |
| Jane Ludlow, Talamore Country Club | 26 |
| Margie Rothfeld, Flourtown Country Club | 23 |
| Roseanne Dalton, Flourtown Country Club | 22 |
| | |
| | |
| *-decided in scorecard tiebreaker | |
| NS-no show; WD-withdrawal | |