HVCC's Isztwans ink 66, take Father & Son (Younger)
WEST CHESTER, Pa. — The flashbulbs triggered flashbacks for Andy Isztwan Wednesday.
| Photo gallery | History | Scoring portal |
It happened once he and son Patrick inked a 31 (4 under) on the front nine at Concord Country Club (par 70, 6,217 yards) during the 63rd Father & Son (Younger). Andy's mind immediately travelled to the 2018 Father & Son (Middle), when he and son Brian made the turn in 5 under. The team stumbled on the back nine and finished tied for third that year.
Andy didn't let a sore spot stay sore. He and Patrick, members of Huntingdon Valley Country Club, finished at 4-under-par 66 to capture the tournament's Junior Division. Elmhurst Country Club's William Pabst, Sr. and his son William placed second at 1-under-par 69.
The event's format is selective drive/alternate shot.
"It [the 2018 Father & Son] was a sore spot and a spot of humor within the house. We were talking about it last night at dinner again, having a few laughs," Andy, 51, said.
"Brian always brings it up because he always talks about how well dad was playing that day," Patrick, 17, added. "There's no sharing the blame on that one."
A smile and a quick Andy retort.
"It's all on me. Once we started getting hot, the flashbulbs started, and that got in my head," Andy said. "I was thinking about that when I saw [a photographer on No. 10] today. I just tried to focus on the fact that I can still get the ball around. I put the past out of my head."
Pre-round strategy never departed the Isztwan psyche either. If Andy put the team in position off the tee, then Patrick played the approach, regardless of distance differential.
"We had a plan where if I he hit a good tee shot, we were playing it no matter where mine went. He was putting the ball in play, and I was hitting my irons really well," Patrick, a rising senior at William Penn Charter School, said. "There were a couple times where we were almost tempted, where I would've had a wedge in. But we just stuck to our plan."
"We routinely would give up 60-80 yards on his tee shot just he could play the approach shot," Andy added.
Patrick, who won the First Flight in the Junior Boys' Championship last week, set up three of the team's four birdies at Concord. On No. 4 (par 3, 164 yards), he burnt the edge with a picture-perfect 9-iron. Andy tapped in for 2. Patrick hit a 7-iron 185 yards to 20 feet on the slight dogleg left No. 7 (par 4, 421 yards). A dicey downhiller from Andy dropped. Patrick converted a 10-footer for birdie on the next hole (par 3, 180 yards) after Andy left a sharp 6-iron below the hole location.
The par 4, 395-yard No. 9 enticed the Huntingdon Valley, Pa. residents to stray from the script. Patrick obliterated a drive, leaving Andy with a favorable wedge in. The Isztwan team resisted temptation, and it paid off. Andy sank a seven-footer for birdie following Patrick's 9-iron approach from 165 yards.
A clean back nine secured leaderboard status. The Isztwan team flirted with 65 after Andy bumped a wedge to four feet on No. 18 (par 5, 523 yards). Patrick narrowly missed the ensuing birdie putt.
Signing for a 66 is much better than signing for a 105. That's the score Andy projected if he didn't consult Brian beforehand.
"This was definitely a family effort," Andy said. "I was playing some of the best golf I've ever played until two days ago. I lost with my swing entirely. So, I spent two hours on the driving range with Brian last night. He finally found something for me that I could play with today. If I didn't have that, we would've shot 105."
"We were in Hershey [for the Pennsylvania Golf Association's Junior Boys' Championship], and he left early to come home and see Brian," Patrick said.
Andy, perhaps out of apprehension, didn't check his phone whatsoever during the round, therefore eliminating the possibility of any texts seeping into his mind and stirring ghosts. Patrick did receive a message from Brian.
"I expect a dedication for this win," it read.
Granted.
"I will dedicate it to Brian, for sure. It wouldn't have happened without him," Andy said.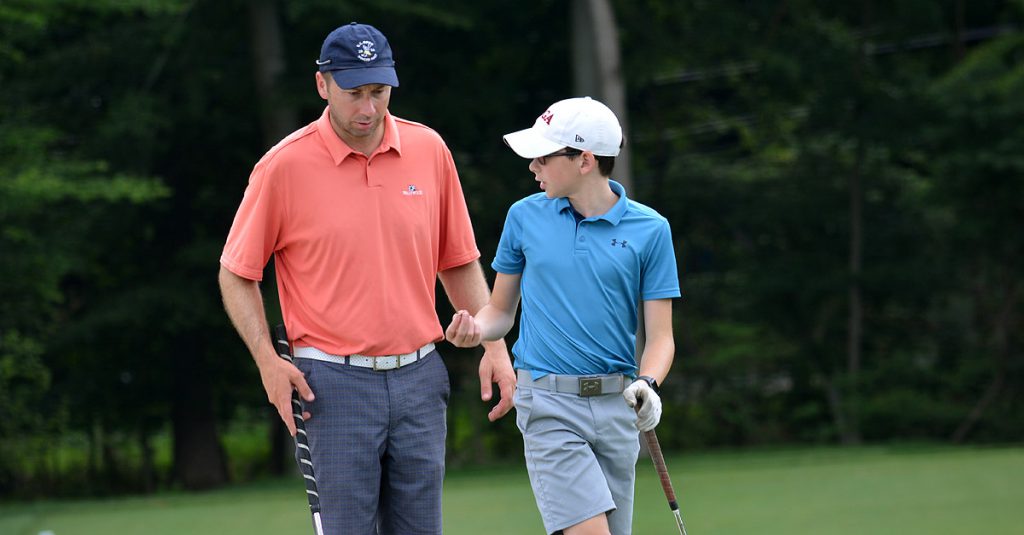 Junior-Junior Division
Bellewood Country Club's Greg and Jack O'Connor carded an 8-over-par 78 to claim the tournament's Junior-Junior (par 70, 5,794 yards) title.
"We got off to a good start. We were probably overachieving the first nine holes. We hit our first eight greens in regulation and were 1 under," Greg, 45, said. "Things caught up with us a little bit after that."
The Collegeville, Pa. residents finished the front nine at even before struggling on the back. It's during the inward tour, however, when the O'Connor team experienced a highlight a la Tiger Woods in the 2005 Masters.
"I had a 60-footer for birdie on No. 11 (par 3, 152 yards). It ended up hanging on the lip," Jack, 13, a rising eighth grader at Spring-Ford Middle School, said.
NOTE — Play was suspended at 3:21 p.m. due to weather. It resumed at 3:31 p.m.
GAP
Celebrating Amateur Golf since 1897, GAP, also known as the Golf Association of Philadelphia, is the oldest regional or state golf association in the United States. It serves as the principal ruling body of amateur golf in its region. The Association's 288 Member Clubs and 75,000 individual members are spread across the Eastern half of Pennsylvania and parts of New Jersey and Delaware. The GAP's mission is to promote, preserve and protect the game of golf.
| | | |
| --- | --- | --- |
| Gross results | | |
| Junior Division | | |
| Name | Club | Score |
| Andy Isztwan/Patrick Isztwan | Huntingdon Valley Country Club | 66 |
| William Pabst/William Pabst, Sr. | Elmhurst Country Club | 69 |
| Christian Matt/Ken Matt | Talamore Country Club | 71 |
| Colman Mitchell/Randy Mitchell | Wilmington Country Club | 72 |
| Fran McCabe/Ryan McCabe | The Springhaven Club | 73 |
| David Woods/Nicklaus Woods | Concord Country Club | 73 |
| Eric Fryer/Steven Fryer | Commonwealth National Golf Club | 74 |
| Michael Gradisek/James Gradisek | Philadelphia Country Club | 74 |
| Mark Lafond/Matt Lafond | Blue Bell Country Club | 74 |
| Jacob Sokalsky/Lee Sokalsky | Penn Oaks Golf Club | 75 |
| Bill Kearns/Jack Kearns | Trenton Country Club | 75 |
| Brendan Nolan/Darren Nolan | LuLu Country Club | 76 |
| Greg Hanna/Alex Hanna | Overbrook Golf Club | 76 |
| Christopher LaRosa/David LaRosa | Cedarbrook Country Club | 77 |
| Brian Block/Michael Block | Overbrook Golf Club | 77 |
| Matt Gilbert/Eric Gilbert | Hershey Country Club | 77 |
| David Guertler/Nathan Guertler | Tavistock Country Club | 77 |
| Benjamin Griffaton/George Griffaton | Bellewood Country Club | 78 |
| Brad Cantwell/Bradyn Cantwell | Concord Country Club | 78 |
| Kevin Roberts/Gary Roberts | LuLu Country Club | 78 |
| Andrew Damico/Phillip Damico | McCall Golf Club | 79 |
| Jim Dalzell/James Dalzell | Galloway National Golf Club | 79 |
| Luke Watson/Troy Watson | RiverCrest GC & Preserve, Raven's Claw Golf Club | 80 |
| Ken Resuta/Kyle Resuta | Spring Ford Country Club | 80 |
| Jack Fialko/Jeff Fialko | Aronimink Golf Club | 80 |
| Rand Mendez/Will Mendez | Fieldstone Golf Club | 81 |
| Robert Powelson/Shane Powelson | Bidermann Golf Club | 81 |
| Bryce Fazio/Michael Fazio | Huntingdon Valley Country Club | 82 |
| Marc Shaffer/Reilly Shaffer | Llanerch Country Club | 82 |
| Bruce Robertson/Travis Robertson | Sunnybrook Golf Club | 83 |
| Michael Schafer/Mike Schafer | Llanerch Country Club | 83 |
| Jack Benedetto/Larry Benedetto | Concord Country Club | 85 |
| Andrew Ranaudo/Andrew Ranaudo | Chester Valley Golf Club | 86 |
| Rich Biborosch/Richie Biborosch | Aronimink Golf Club | 87 |
| Thomas DiGiulio/Stephen DiGiulio | Wedgwood Country Club | 88 |
| Edward Maul/Owen Maul | Concord Country Club | 93 |
| David Kay/Lance Kay | Green Valley Country Club | 94 |
| Bob Harnish/Evan Harnish | Phoenixville Country Club | 103 |
| Tim Yenawine/Zachary Yenawine | Lehigh Country Club | 103 |
| Simon Blake/Sachin Blake | White Manor Country Club | NS |
| Junior-Junior Division | | |
| Name | Club | Score |
| Greg O'Connor/Jack O'Connor | Bellewood Country Club | 78 |
| E.J. Legarda/Ethan Legarda | Woodcrest Country Club | 79 |
| Nick Linkchorst/Rich Linkchorst | Golf Course at Glen Mills | 79 |
| Liam McFadden/Brad McFadden | Overbrook Golf Club, Merion Golf Club | 80 |
| Dave Pender/Nick Shoemaker | Colonial Golf & Tennis Club | 85 |
| Brian McDonald/Conor McDonald | Llanerch Country Club | 86 |
| Charlie Isler/Josh Isler | Radley Run Country Club | 86 |
| Geoffrey Cooper/Grant Cooper | North Hills Country Club | 86 |
| Chong Moua/Zach Moua | St. Davids Golf Club | 87 |
| Jackson Puskar/John Puskar | Kennett Square G&CC | 88 |
| Phil Over, Jr./Matthew Over | Penn Oaks Golf Club | 88 |
| Ari Flaisher/Jonah Flaisher | Llanerch Country Club | 89 |
| Charles Meadows/Hayden Meadows | Whitford Country Club | 93 |
| Ethan Clouser/Randall Clouser | Merion Golf Club | 95 |
| Keith Zdimal/Kooper Zdimal | French Creek Golf Club | 97 |
| Michael Mannon/Walker Mannon | Phoenixville Country Club | 100 |
| Jackson Armstrong/Rob Armstrong | GAP Youth on Course, Phoenixville Country Club | 101 |
| Gavin Toto/Mark Toto | Radley Run Country Club | 103 |
| Dan Delaney/Ryan Delaney | Stonewall | 104 |
| Ben Marie/Jason Marie | Five Ponds Golf Club | 108 |
| Joey Ferenchick/Joe Ferenchick | Skippack Golf Club | 132 |
| Benjamin Branche/Cameron Branche | Northampton Valley Country Club | NS |
| Net results | | |
| Junior Division | | |
| Name | Club | Score |
| Andy Isztwan/Patrick Isztwan | Huntingdon Valley Country Club | 63 |
| Eric Fryer/Steven Fryer | Commonwealth National Golf Club | 67 |
| David Woods/Nicklaus Woods | Concord Country Club | 67 |
| Fran McCabe/Ryan McCabe | The Springhaven Club | 68 |
| Brian Block/Michael Block | Overbrook Golf Club | 68 |
| William Pabst/William Pabst, Sr. | Elmhurst Country Club | 69 |
| Colman Mitchell/Randy Mitchell | Wilmington Country Club | 69 |
| Bill Kearns/Jack Kearns | Trenton Country Club | 69 |
| Jacob Sokalsky/Lee Sokalsky | Penn Oaks Golf Club | 70 |
| Greg Hanna/Alex Hanna | Overbrook Golf Club | 70 |
| Matt Gilbert/Eric Gilbert | Hershey Country Club | 70 |
| Kevin Roberts/Gary Roberts | LuLu Country Club | 70 |
| Ken Resuta/Kyle Resuta | Spring Ford Country Club | 70 |
| Mark Lafond/Matt Lafond | Blue Bell Country Club | 71 |
| Brad Cantwell/Bradyn Cantwell | Concord Country Club | 72 |
| Christian Matt/Ken Matt | Talamore Country Club | 72 |
| Robert Powelson/Shane Powelson | Bidermann Golf Club | 72 |
| Benjamin Griffaton/George Griffaton | Bellewood Country Club | 73 |
| Brendan Nolan/Darren Nolan | LuLu Country Club | 73 |
| Christopher LaRosa/David LaRosa | Cedarbrook Country Club | 73 |
| Andrew Damico/Phillip Damico | McCall Golf Club | 73 |
| Michael Gradisek/James Gradisek | Philadelphia Country Club | 74 |
| Luke Watson/Troy Watson | RiverCrest GC & Preserve, Raven's Claw Golf Club | 75 |
| David Guertler/Nathan Guertler | Tavistock Country Club | 75 |
| Michael Schafer/Mike Schafer | Llanerch Country Club | 75 |
| Bryce Fazio/Michael Fazio | Huntingdon Valley Country Club | 76 |
| Bruce Robertson/Travis Robertson | Sunnybrook Golf Club | 76 |
| Marc Shaffer/Reilly Shaffer | Llanerch Country Club | 76 |
| Jim Dalzell/James Dalzell | Galloway National Golf Club | 76 |
| David Kay/Lance Kay | Green Valley Country Club | 77 |
| Rand Mendez/Will Mendez | Fieldstone Golf Club | 77 |
| Jack Fialko/Jeff Fialko | Aronimink Golf Club | 77 |
| Jack Benedetto/Larry Benedetto | Concord Country Club | 78 |
| Andrew Ranaudo/Andrew Ranaudo | Chester Valley Golf Club | 78 |
| Thomas DiGiulio/Stephen DiGiulio | Wedgwood Country Club | 79 |
| Rich Biborosch/Richie Biborosch | Aronimink Golf Club | 80 |
| Edward Maul/Owen Maul | Concord Country Club | 82 |
| Bob Harnish/Evan Harnish | Phoenixville Country Club | 85 |
| Simon Blake/Sachin Blake | White Manor Country Club | NS |
| Junior-Junior Division | | |
| Name | Club | Score |
| Brian McDonald/Conor McDonald | Llanerch Country Club | 62 |
| Greg O'Connor/Jack O'Connor | Bellewood Country Club | 67 |
| Dave Pender/Nick Shoemaker | Colonial Golf & Tennis Club | 69 |
| Nick Linkchorst/Rich Linkchorst | Golf Course at Glen Mills | 70 |
| Liam McFadden/Brad McFadden | Overbrook Golf Club, Merion Golf Club | 73 |
| E.J. Legarda/Ethan Legarda | Woodcrest Country Club | 73 |
| Chong Moua/Zach Moua | St. Davids Golf Club | 76 |
| Jackson Puskar/John Puskar | Kennett Square G&CC | 82 |
| Michael Mannon/Walker Mannon | Phoenixville Country Club | 85 |
| Dan Delaney/Ryan Delaney | Stonewall | 86 |
| Keith Zdimal/Kooper Zdimal | French Creek Golf Club | 94 |
| NS — no show | | |