| News Portal | History | Photos |
The story of John Leighton is one of triumph and one of redemption. It is a tale that is incomplete without mention of the past, yet one that is told with a focus on the future.
For Leighton, life as a caddie began at Huntington Valley Country Club at the age of 12. He spent the next 10 years looping around the course before moving to his current residence in Delray Beach, Fla., where he attends Florida Atlantic University.
Now 26, Leighton has found a spot on the bag for one of GAP's top players, Jeff Osberg. This week, with Leighton as his caddie, Osberg finished as the runner-up at the 2019 BMW Philadelphia Amateur. Given his current place of residence, Leighton's role requires some extensive summer traveling. However, the plane rides are ones Leighton is more than willing to make.
"I look forward to doing stuff like this," Leighton said. "I've been looking forward to this since he [Osberg] texted me in April. If those are the only days off I'll take all year, I'm happy to take them."
Leighton's relationship with Osberg began when the latter joined Huntington Valley Country Club in 2013. Leighton, who is originally from Huntington Valley, Pa., and was both a member and a caddie at the club, became a frequent playing partner of Osberg's.
It was not until a moment of desperation in 2014, however, that caddie-golfer partnership between the two first formed. The night before the match play portion of that year's Amateur Championship was set to begin at White Manor Country Club, Osberg's caddie informed him that he would be unable to make it the next day. Wary of attempting to carry his own bag for what could be as many as 36 holes, Osberg made a last minute attempt to find a replacement.
"It [was] probably 9 or 10 p.m. and I thought to myself 'Who would be awake right now and be willing to caddy?'" Osberg said. "It crossed my mind, John's probably the only person I know. I don't think I even heard back from him that night. I woke up in the morning and I got a message from him, like, 'Hey, I'm here I'm waiting for you.'"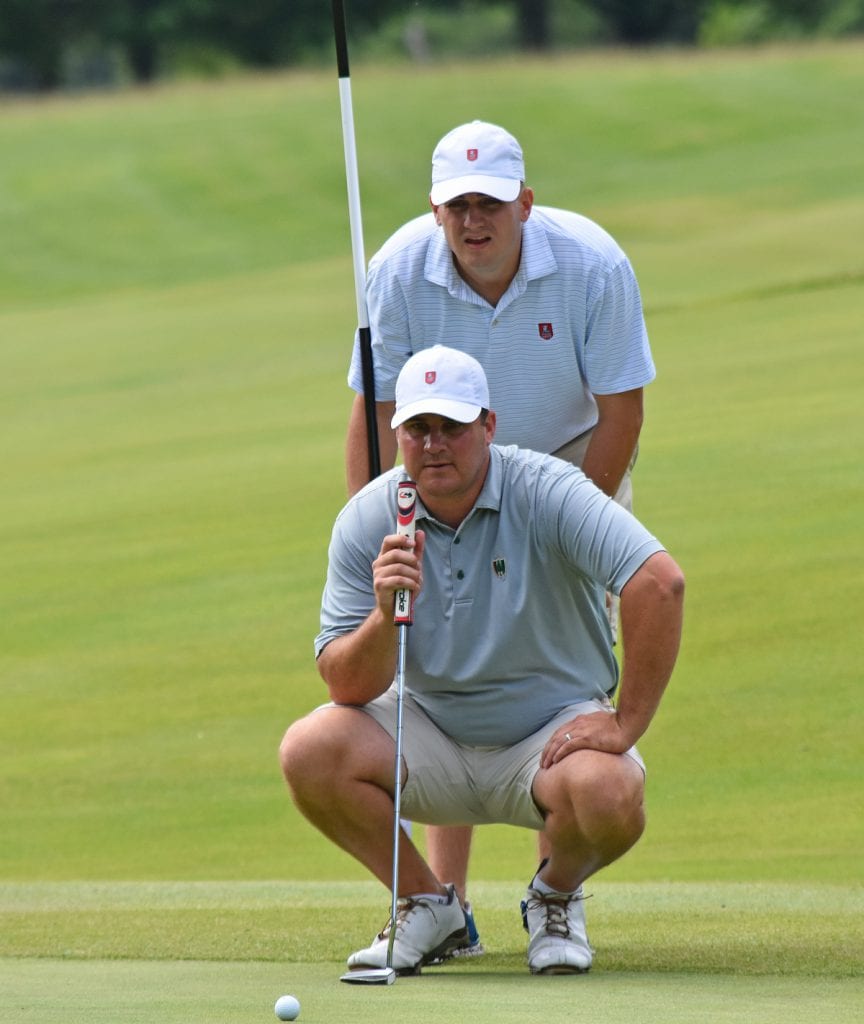 As things turned out, the duo ended up working pretty well together. Osberg would win that year at White Manor, the second of his four GAP Major victories.
"We just kind of hit it off," Osberg said. "I just realized he takes caddying really seriously."
Since then, Leighton has been regular on the bag of the two-time William Hyndman III Player of the Year. Not only has he carried Osberg's bag on the GAP circuit, but also in multiple U.S. Middle-Amateur Championships.
The pair have a uniquely stable relationship despite the fact that the dynamic between caddie and player is often difficult to manage.
"He [Leighton] doesn't give me too much information," Osberg said. "I like him to tell me what he thinks and I tell him what I think, and normally he goes along with it. Every now and then he'll tell me, you know, 'I don't think that's right,' and we'll kind of reassess it."
This week, Leighton and Osberg once again collaborated effectively. Although Osberg came up just short in the Championship Match, he still took home medalist honors and maintains the lead in both the Player of the Year and Silver Cross Standings.
As Leighton sits with his family on Stonewall's patio celebrating the week's accomplishments, all seems right in his world. While an outside observer wouldn't know it, Leighton's journey has not been particularly smooth. Beginning in 2011, however, Leighton entered a difficult period in his life. A battle with drug addiction resulted in him seeking help at Caren Treatment Center in Reading, Pa. When he moved to Florida in the spring of 2016, Leighton continued his treatment there. By dedicating himself to rehab, Leighton, now three years sober, has revived both his life and his love for the game.
"I played more golf this year than I have in five years," Leighton said. "I lost interest for a little while. It makes it all this much better coming back and doing it."
Leighton , who now works at a treatment center in Florida while pursuing his degree in finance, plans to make the trip back to Philadelphia to caddy for Osberg in the upcoming GAP Open. The event will be hosted by Leighton's home club, Huntington Valley.
GAP
Celebrating Amateur Golf since 1897, GAP, also known as the Golf Association of Philadelphia, is the oldest regional or state golf association in the United States. It serves as the principal ruling body of amateur golf in its region. The Association's 274 Full Member Clubs and 75,000 individual members are spread across the Eastern half of Pennsylvania and parts of New Jersey and Delaware. The GAP's mission is to promote, preserve and protect the game of golf.