LuLu dominates; Brown, Cunningham in Final
GLADWYNE, Pa.– History will be made Saturday in the 122nd BMW Philadelphia Amateur Championship Final (36 holes) when Jeff Cunningham and Michael R. Brown, Jr. meet at Philadelphia Country Club to determine the winner of GAP's grandest prize.
| Scoring portal | Day Three Notebook | History | Day One recap | Day Two recap |
Cunningham, 23, of Philadelphia, Pa., is a match away from becoming the first African-American to hoist the J. Wood Platt Trophy, presented to the victor. He's already made history as the first African-American finalist. Brown, 49, of Maple Shade, N.J., looks to become the third player in Association history to complete the GAP Grand Slam. Only Chris Lange and Jeff Osberg have won each Major title.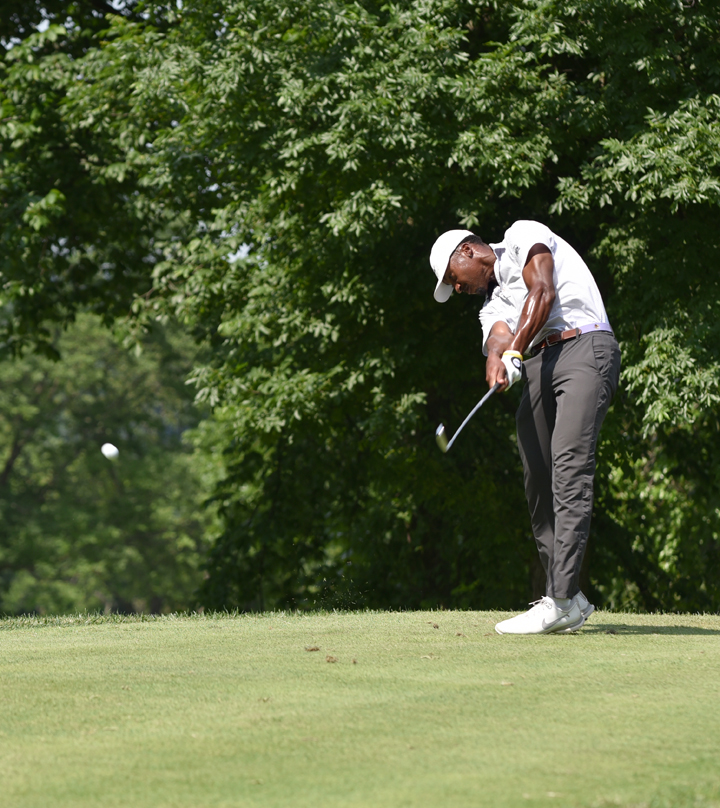 The LuLu Country Club duo also made history as the first clubmates to reach the Amateur Final since 1980. That year, Benjamin Goldman defeated Bob Levy in an all Philmont Country Club title match. This is the ninth time clubmates have squared off in the Championship Match, but only the second time since 1926.
The 36-hole Final begins at 7:30 a.m. Saturday. Spectators are welcome.
"I totally expect and I hope that the picture of what GAP looks like and what our whole entire golf community and the world looks like will change," said Cunningham, a recent Drexel University graduate. "If I have any ounce of sway in that, or impact on that, then that's what makes me really proud."
"It's hard for me to not think this is my chance at [the career Grand Slam]," said Brown. "I'm aware of it, but it's not a monumental focus right now."
Cunningham advanced to the title tilt with stripe-show shots and timely putts. The third-seed Cunningham defeated fellow LuLu member, and club owner, Jon Rusk (yes, that is as awkward to type as it is to read), 2&1, in the semifinals. He stopped J.T. Spina of Philadelphia Cricket Club, 4&3, in the morning Quarters.
Cunningham was steely all day. Against Rusk, he took holes No. 1 (par 4, 302 yards) and No. 4 (par 4, 465 yards) to grab a quick 2-up lead. That's when an exchange on the next pair of holes provided a definitive moment. Both players found the putting surface on No. 5 (par 3, 167 yards). Rusk opened the equation with a stunning 45-foot birdie drop. Cunningham answered immediately with a walk-in 25-footer for 2. The hole was halved. At the par 5, No. 6 (520 yards), he ripped a 4-iron from 212 yards long and left. Rusk's second shot came up just short of the green. Cunningham hit a flop shot to 15 feet and made the subsequent stroke. Rusk managed only par. Cunningham moved 3-up.
After a couple of back-and-forth exchanges, Cunningham extended his advantage to 4-up through 12 holes. Rusk, competing in the Amateur for the first time in 20 years, kept extending the match with key putts. Cunningham finally closed the door on No. 17 with a par.
"Besides losing to Michael Brown, Jeff Cunningham is the next nicest guy to lose to," said Rusk, 43, of Yardley, Pa. "I'm glad I got to play. I'm excited I started to play golf again. And we have two LuLu guys in the Final."
Rusk was a top GAP competitor before turning professional in 2002. He returned to the amateur ranks in 2010, but only recently, with a better balance of work and family, has rekindled the competitive fire.
Brown navigated an intense Quarterfinal duel with top-seed Troy Vannucci in the morning, winning 1-up, after a birdie on No. 17. Vannucci, 30, the recent GAP Middle-Amateur Champion, is the hottest player in the region. Brown then defeated 19-year-old upstart and Rutgers-bound Logan Paczewski of Huntsville Golf Club, 2-up, in the other semifinal.
Both of Brown's victories were filled with symmetries. He took No. 12 with a red figure to regain some footing in each contest – a birdie versus Vannucci to get back to 1-down, and an eagle versus Paczewski to tie the match – and won No. 17 with a birdie to move ahead for good. In the crazy stat department from the Brown-Paczewski match, 14 of 18 holes were exchanged, including the final seven. Brown tied the match on No. 12 and never trailed again, though Paczewski, of Dallas, Pa. and Dallas High School, did draw even two more times. This is Brown's deepest Amateur run since. He made the Quarterfinals a year ago at Cedarbrook Country Club.
This is only Cunningham's second Amateur attempt. The West Palm Beach, Fla., native fell in the Round of 32 last year. Cunningham attended Cardinal Newman High School, the same high school as Brooks and Chase Koepka.
Last year's Amateur came at a difficult time. Cunningham lost his mother Pamela, 62, to cancer just weeks earlier.
"That was less than three weeks after my mother had passed. It was a very trying time for me. I remember the feeling of being out there with my father (Malcolm), and everything we had been through. It was a safe haven [out there]. And it still is my safe haven," said Cunningham, who played ice hockey before making golf his full-time sport in high school. "I'm thinking about my mother, every day, every minute and every second, and to come back this year and look at where I was last year, mentally and emotionally, I know she would be over the moon proud."
Semifinals
9. Michael R. Brown, Jr., LuLu Country Club, d. 20. Logan Paczewski, Huntsville Golf Club, 2-up; 3. Jeffrey Cunningham, LuLu Country Club, d. 10. Jon Rusk, LuLu Country Club, 2&1.
Quarterfinals
9. Brown, Jr. d. 1. Troy Vannucci, Little Mill Country Club, 1-up; 20. Paczewski d. 28. Kevin Lydon, Commonwealth National Golf Club, 4&3; 10. Rusk d. 18. Dawson Anders, Indian Valley Country Club, 1-up; 3. Cunningham d. 22. J.T. Spina, Philadelphia Cricket Club, 4&3.
GAP
Celebrating Amateur Golf since 1897, GAP, also known as the Golf Association of Philadelphia, is the oldest regional or state golf association in the United States. It serves as the principal ruling body of amateur golf in its region. The Association's 330 Member Clubs and 90,000 individual members are spread across Pennsylvania, Delaware, New Jersey and Maryland. The GAP's mission is to promote, preserve and protect the game of golf.