Top-seeded Vannucci finds friend in caddie
Day Three recap| Scoring portal | History |Day Three video
GLADWYNE, Pa. – What Little Mill Country Club's Troy Vannucci thought was a routine call to Philadelphia Country Club (par 71, 6,893 yards) to arrange for a caddie in the 122nd BMW Amateur Championship became more meaningful.
Meet Shane Nocito, a fourth-season caddie at Philly Country. Nocito is a recent graduate of Penn State University Abington, where he studied corporate communications.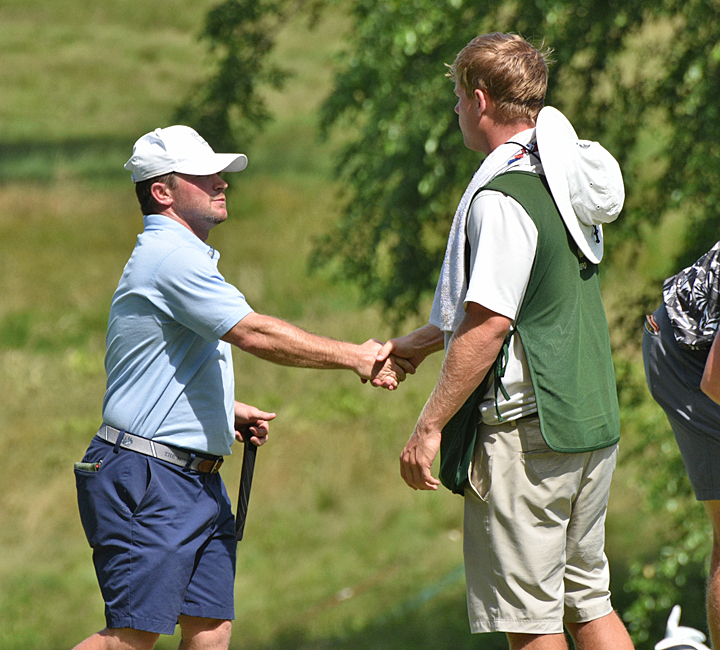 "I met Troy Monday morning," the 23-year-old said. "He requested a home caddie. It ended up being me."
Chance is what led to a Nocito/Vannucci meeting on Monday morning. After making pars on Nos. 1 (par 4, 323 yards) and 2 (par 4, 349 yards) at Philadelphia Country Club, Vannucci requested that his new caddie accompany him on the demanding walk at Union League Liberty Hill (par 72, 7,247 yards). Vannucci's 6-under-par 137 total during stroke-play qualifying warranted that Nocito remain under the strap for the rest of the week. Vannucci earned a share of medalist honors as well as the top overall seed (as determined by lot). He fell in today's Quarterfinal round to eventual Finalist Michael R. Brown, Jr. of LuLu Country Club, 1-up.
"Right off the bat on the first hole of the qualifying, he just nailed a read and it was just like 'Game on.' He knows the place like the back of his hand." Vannucci, 30, of Marlton, N.J., said.
Based on accolades received from Philadelphia Country Club members and Ryan Plower, the club's caddiemaster, Nocito claims to be one of the club's Top-3 caddies.
Nocito served as captain of PSU Abington's golf team from 2017-22. The Levittown Pa. resident collected Top-5 finishes in every event during his senior year. Prior to caddying in the 122nd BMW Philadelphia Amateur Championship, Nocito tried to qualify for the event himself. Carding a 6-over-par 78 at Radley Run Country Club made Nocito finish two strokes off of the cut line.
"I've played in [GAP events], and done qualifiers," Nocito said. "But I've actually never caddied in a GAP event. It was a great time, especially with Troy. [Troy] knows what he's doing. He just needs a guy out there who can just let him play his game and stay out of his way a little bit, but give him what he needs when he wants it."
Nocito has little tournament caddying experience. He mainly uses his skills for membership and outing play at the club. As a result of Vannucci's performance in the #BMWPhillyAm this week, there is a good chance that he will be on his bag again.
"Troy and I got along well. We clicked fast, and he said that his former full-time caddie that he would always take is in school now," Nocito said. "I told Troy that if he ever needs me in any events [he can] text me, and I also think that we are going to become friends a little bit."
What started as a random caddie draw for Vannucci turned into a relationship that could continue to benefit from Nocito's strong looping abilities.
GAP
Celebrating Amateur Golf since 1897, GAP, also known as the Golf Association of Philadelphia, is the oldest regional or state golf association in the United States. It serves as the principal ruling body of amateur golf in its region. The Association's 330 Member Clubs and 90,000 individual members are spread across Pennsylvania, Delaware, New Jersey and Maryland. The GAP's mission is to promote, preserve and protect the game of golf.