Chappa crowned Amateur champion at Bayside
SELBYVILLE, Del. – Jacoby Chappa, on active duty with the United States Air Force, turns 31 years old Thursday at midnight. Just hours before he did, Chappa found himself sitting under a serene sunset surrounded by family, friends, and with a well-earned cold beverage in hand.
And the 71st Delaware Amateur Championship trophy.
| Scoring | History | Day One recap | Day Two recap |
Chappa, a Maple Dale Country Clubber, finished the Delaware Amateur at 4-over par 292 to win his first Major by two strokes at Bayside Resort Golf Club (par 72, 6,824 yards).
"I'm 30 years old, and my birthday is just in a few hours. I just told myself, 'You know what?' Start betting on yourself because no one else is going to do it for you', and that's what I did out here this week," said Chappa, who has been stationed in Dover, Del. for the past 10 years.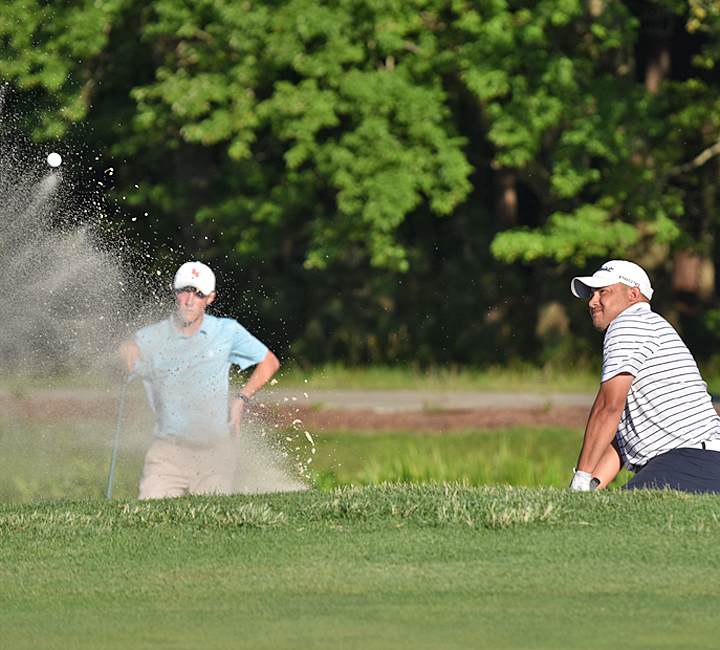 Betting on himself wouldn't have been possible without the aid of his mother, Andrea Maria Perez, who sponsored his tournament entry this week. That entry ended in a total of 4-over 292 (77-69-72-74) and the Amateur victory on Wednesday.
After Tuesday's second-round action, Mike Crowley, a Loyola University golfer, held on to a 1-stroke lead over Chappa as he sat 1-over par overall. To start Wednesday's 36-hole marathon, it appeared Crowley was destined to run away with the trophy after starting the third round with three-straight birdies. Pressure didn't appear to be a final-day factor, until it was. Crowley would go on to finish the remaining 15 holes at 4-over par.
In the morning, Chappa and Crowley held on tight to the lead throughout the majority of the a.m. session. One player would join them at 2-over par after 54 holes, as Reeve Felner, who finished with the low number Monday with a 1-under 71, matched that round in his third lap around Bayside. His 3-under 33 second nine (Felner's second of the week), moved him to the top with both Crowley and Chappa, making it essentially a three-man race in the afternoon.
Only one other player made a major move in the morning — Rij Patel, a former Harvard University player and Country Club of York member, who collected the week's low round of 5-under 67 to move into third place. He sat three back with 18 to play, but closed with a 6-over 78 and a fifth-place finish.
After a fueling bite to eat inside Bayside's beautiful clubhouse, the lead groups again hit the first tee just before 3 p.m. to decide the ultimate champion. Crowley and Patel teed off first, leaving Felner and Chappa as the final pairing.
"During lunch, all I could think about the food. But once I stepped up to the first tee, the wind picked up, which made me feel like I was back home in West Texas. I felt comfortable," said the champion. "But you know tournaments, they do their thing [in your mind], so I just needed to stay steady."
"I just told myself, 'You know what? Start betting on yourself because no one else is going to do it for you', and that's what I did out here this week."
Steady is one way to describe Chappa's composed closing round. After nearly acing a punch 6-iron on No. 3 (par 3, 170 yards), he would make the turn at 1 under for the round, giving him a three-stroke edge over Crowley at the time.
On the dangerous approach of No. 12 (par 4, 398 yards), Chappa finally showed signs of nerves. His approach fizzled out to the right, landed on the edge of the penalty area, forcing him to take a drop and eventually leading to double-bogey 6. His lead was cut down to just one.
"I just got lazy with a little bit of nerves mixed in there as well. It's a scary shot with a green that is not inviting at all. I made a bad mistake … a bad shot where you just can't have one," said Chappa. "But you can't cry over spilled milk, so I just got back on the horse."
An impressive two-putt par from the front of No. 15 (par 3, 198 yards) was a sign of confidence. On the par-4, 269-yard 16th, Chappa's tee ball found the right trees, but he chipped out cleanly and two putted for a non-damaging bogey. An up-and-down par on No. 17 (par 4, 389 yards) had Chappa headed to Bayside's closer with a two-stroke lead over Crowley.
On that tee box, Chappa clipped a clean 3-wood over the left pond and found the middle of the fairway. His approach shot came up a yard too short, and his ball stayed up near the greenside bunker's top lip. It appeared to everyone but Chappa as major trouble, until Chappa showed the spectators why this was his trophy to hold.
"I was actually happy that one stayed up instead of rolling down into the bunker. It was almost on a shelf. I knew I just had to stick my club in the sand and live with the result," said Chappa.
The result was a clean one, as he muscled that sand shot out to 8 feet (see picture above right) and drained the putt for par and the Delaware Amateur trophy.
Chappa says his military background and training — he's in the Air Force's Ammunition Division — helped him close the championship out.
"I take putting that uniform on pretty serious, but it is nice to take it off and put some golf clothes on sometimes. I'm just fortunate enough to be stationed in a place where I have the luxury to do both," said Chappa, who competes for the Air Force's golf team. "It's helped me learn more life experiences, and you learn that sometimes you're going to catch a bad break, but you just have to keep going. I used to be pretty emotional, but the military has helped me to keep my composure."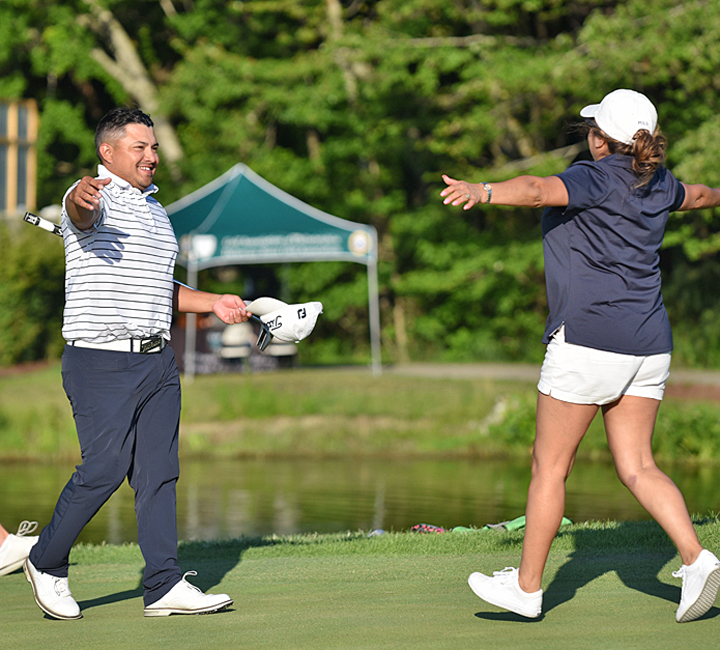 Military training, golf experience, it all helped out there this week for the champion. But he says nothing compares to the support system his mother (see right) provided this week as she flew in from San Angelo, Texas to be by her son's side during his title run.
"Even more than all of that, having my mom here this week helped the most. She sponsored me this week to play after I asked her, 'Hey Mom, you know, I want to play in these golf tournaments. Do you think you would want to help me out?', and she did. She's doing great with her business, but even if she wasn't, she would still have said yes," said Chappa.
Chappa's mom, Andrea, had preplanned to be in the area for her son's 31st birthday. Getting to see him do what he loves — and the gift he has to excel in golf — was the best gift she could have gotten in return.
"What his win means to me is that he's doing what he loves to do. I try to tell him all the time that this is his gift. You've been doing it since you were young and you love it. Even if it's a competition or tournament or what not, just remember why you do it," said Perez. "It's not because all of these people around you want you to play but it's because you love it. I'm so proud of him."
GAP
Celebrating Amateur Golf since 1897, GAP, also known as the Golf Association of Philadelphia, is the oldest regional or state golf association in the United States. It serves as the principal ruling body of amateur golf in its region. The Association's 330 Member Clubs and 90,000 individual members are spread across Pennsylvania, Delaware, New Jersey and Maryland. The GAP's mission is to promote, preserve and protect the game of golf.