Guillaume makes return to tournament golf
VILLANOVA, Pa. – For John Guillaume, tournament golf is just like riding a bike. The once impressive Junior golfer reignited his competitive spirit and sits in a tie for fifth after Round One of the 53rd Senior Amateur Championship at Overbrook Golf Club (par 70, 6,404 yards).
| Day One Story | Day One Video | Scoring portal | History |
"I just started playing again about three or four years ago. I haven't played in probably 25 years," Guillaume, 55, of Wayne, Pa., said. "I played as a Junior but I lost my game with family and kids. When they were old enough to go to college and drive and such, it opened up some time, and I decided to get back into the game."
Guillaume, a St. Davids Golf Club member, grew up in Washington. He said he won the 1981 Washington State Junior Championship as an 11-year-old.
In the 1990s, his work in technology and software innovation prompted several moves around the country. In 2012, work brought him to the Philadelphia area. At that time, he was working as vice president of product management for Comcast Business. Now, he works as a technology software innovation advisor for his own company, Full Stack Innovation.
Guillaume joined St. Davids shortly after moving to Pennsylvania for the evening time nine-hole playing opportunities with his son J.J. As J.J. and Sam, Guillaume's daughter, grew up, he began playing casually again.
"I started playing some of the fun tournaments at St. Davids and playing with some guys regularly," Guillaume said. "I'm fully addicted again."
One particularly inspiring friend of Guillaume's is 2001 Philadelphia Amateur Champion, Brian Gillespie.
"[Brian has] been a pretty good player around here for a long time," Guillaume said. "Over the last few years, I've gotten to know him really well. We've played together a lot, and he plays in all kinds of events. There's definitely some motivation there."
Competing in tournaments at the club level inspired Guillaume to seek more fierce competition.
"I haven't played a lot of proper competitive golf tournaments in decades," Guillaume said. "I felt like, 'Why not? Let's do it.' It wasn't necessarily in the masterplan going into this year, but my game has been pretty good lately."
Guillaume carded a 1-over-par 71 in the tournament's opening round. His scorecard included an eagle and a birdie. On No. 1 (par 4, 360 yards), he watched as his 9-iron dropped into the hole from 140 yards. His single red figure on the back nine came on No. 15 (par 3, 165 yards) when his 8-iron settled five feet from the hole.
Guillaume has made his return to competitive golf, and he's back in a big way.
Landis, Storck revisit Overbrook memory, friendship
Perry Landis and Chris Storck go back into the Berks County golf time capsule.
Friends, foes and teammates throughout the course of a more than 30-year period, Overbrook Golf Club holds a hilarious memory in the depths of their relationship.
"The last time I was here was in a BMW GAP Team Match back in 2009," Landis, 59, of Kutztown, Pa., said. "It was freezing that day, and I was playing with Chris. I hit a 4-iron as hard as I could on No. 18, and I hit it into the back patio. Chris was laughing for at least 10 minutes."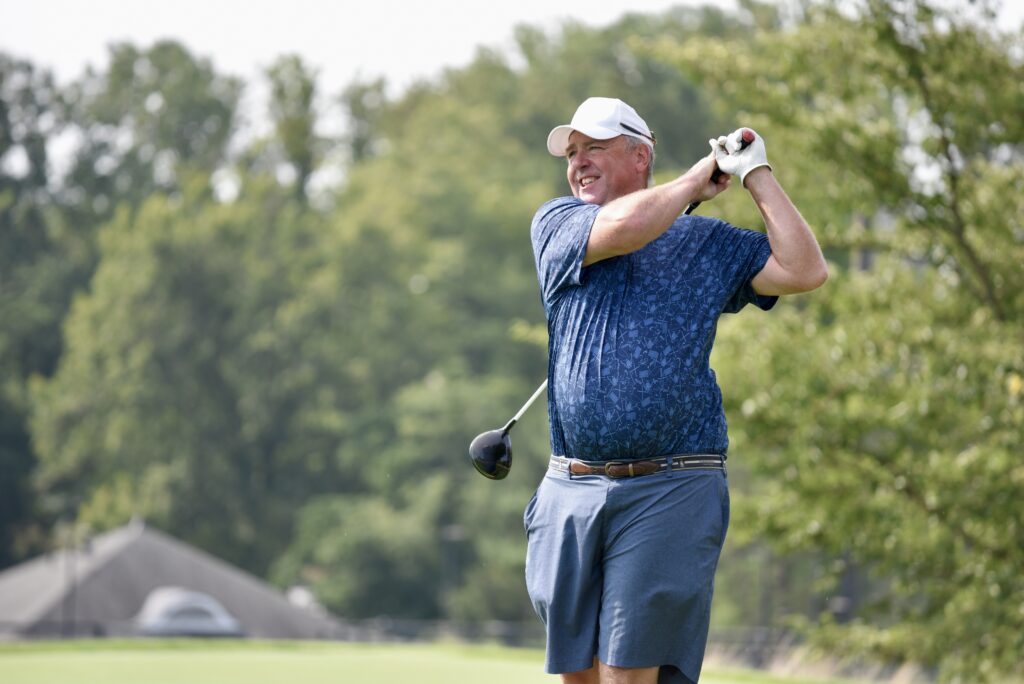 "We were both members of Moselem Springs at the time, and we still have a lot of great memories here at Overbrook," Storck said. "Perry pulled his second shot so much on the last, it landed near people on the patio. I am a big fan of Overbrook and the amount of great players that have come out of this club."
After the first day of the 53rd Senior Amateur at Overbrook, Landis and Storck both reside in the Top 5 on the star-studded leaderboard.
Landis carded a 1-under-par 69 and Storck, of LedgeRock Golf Club strided in with a round of 70.
"I played all the par 3s today absolutely perfectly," Landis said. "I hit my shots at the flag on each one. I had multiple good looks for birdie on those holes. I drove the ball well and my putting has been improving this summer. My game feels like it is right where it needs to be. It was a solid round of golf."
"I played OK," Storck, 56, of Reading, Pa., said. "I was able to make par from areas I wouldn't expect to but was fortunate to get some breaks. My golf didn't dictate an even-par score but I am happy with it. Hopefully tomorrow I'll be able to strike the ball a little bit better."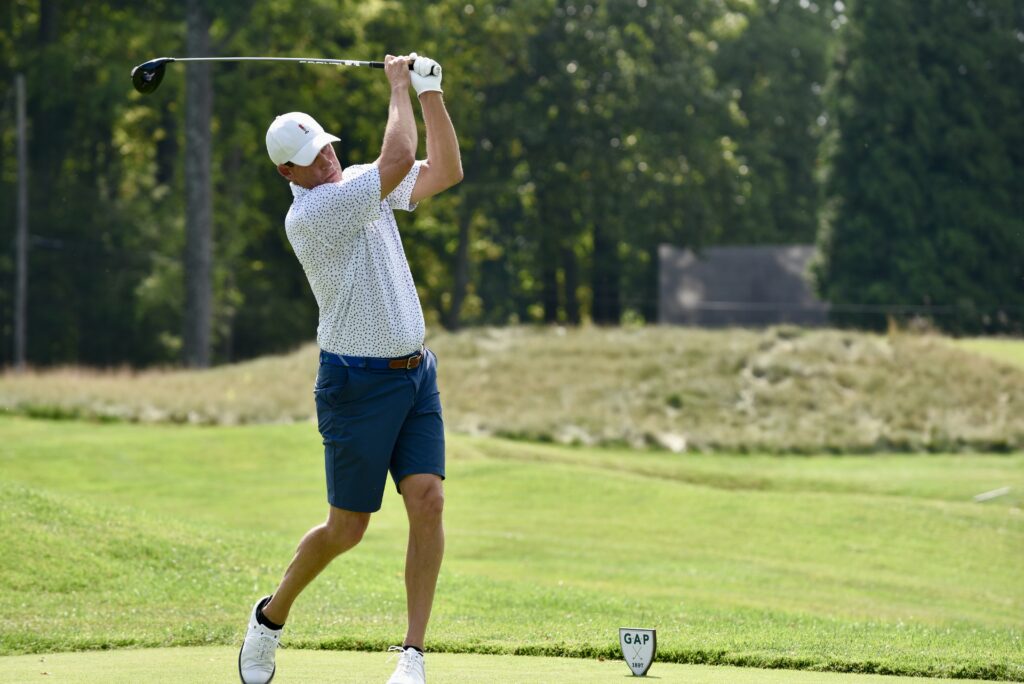 Last year, Storck and Landis teamed up at their former home to claim the Senior Four-Ball Stroke Play.
Although they don't have frequent games at Moselem Springs like they used to, the friendship and shared experiences light the cauldron of their tight bond. Once again, they'll be duking it out for a revered title in the GAP Senior circuit.
"Chris and I have played a ton of golf together over the years as partners and as competitors," Landis said. "We've played together so much that I know what his game will look like without even seeing him hit a shot. He has such a smooth putting stroke."
"Perry and I have been playing in Berks County events since the mid 1990s, whether against each other or teaming up," Storck said. "We've been fortunate to win a couple of partner events. Throughout the years our fathers were the two guys out there watching, walking around and cheering us on. They were a part of the whole atmosphere and they brought a different generation of parents watching. We became close because of that."
GAP
Celebrating Amateur Golf since 1897, GAP, also known as the Golf Association of Philadelphia, is the oldest regional or state golf association in the United States. It serves as the principal ruling body of amateur golf in its region. The organization's 340 Member Clubs and 100,000 individual members are spread across Pennsylvania, Delaware, New Jersey and Maryland. The GAP's mission is to promote, preserve and protect the game of golf.