Fieger records third victory
The strong-hitting Fieger carded a second consecutive 2-under 70 (140 total) amidst swirling winds and fast greens for a two-stroke victory. GAP newcomer Dan Brown of Manada Golf Club finished second.
| Scoring portal | History | Day 2 video | Day 1 recap |
For the record, Fieger finished runner-up in his other two Senior Amateur starts.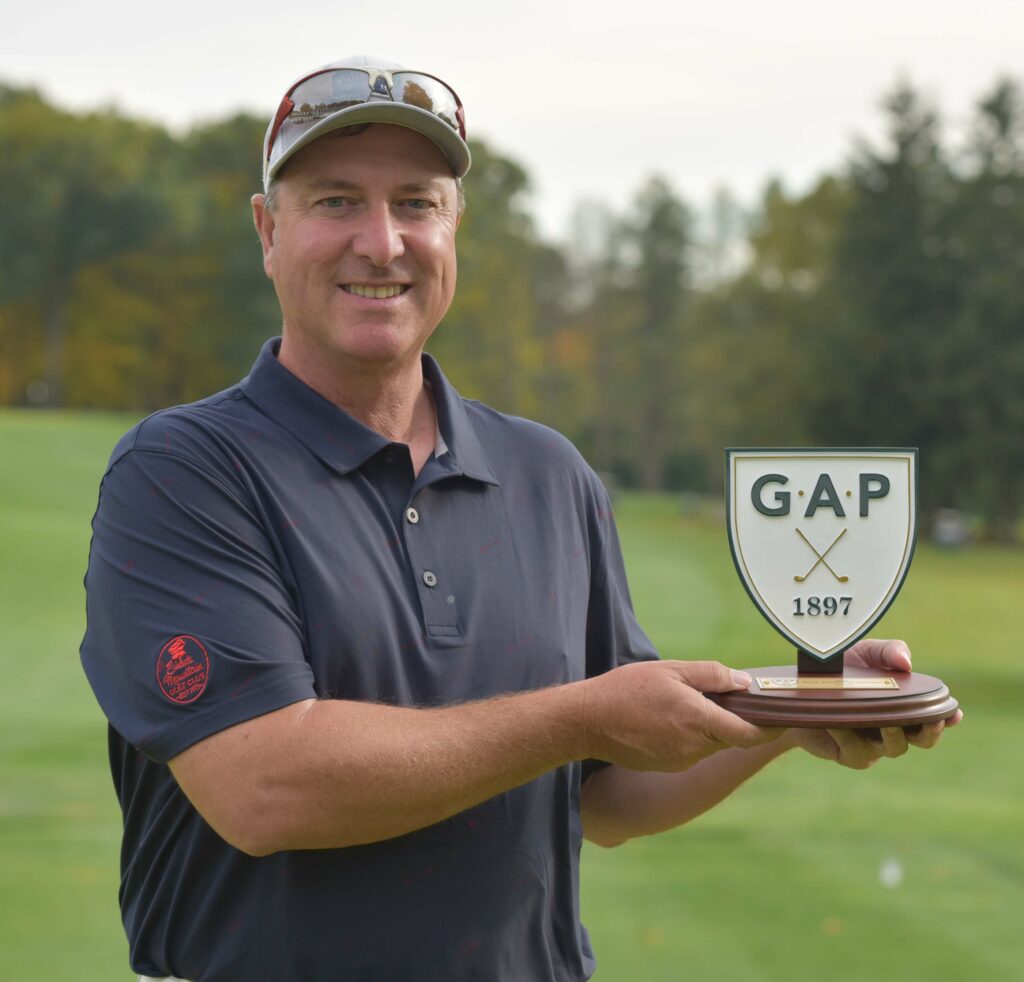 Five tournaments. Three wins. Two seconds.
"This is fantastic. I really looking forward to [this event every year]. It's a very important tournament for me," said Fieger, a Philadelphia Publinks Golf Association member, who lives in Denver, Pa. "What happens is I'm playing a lot of golf later in the year and I'm starting to hit my stride [as the Senior Amateur approaches].
"[This tournament is important because] this is where all the best seniors in Philadelphia play. You know if you win you are playing well. You are not going to back door it. What a way to end the season."
Fieger started Round 2 a shot clear of Brown. Playing together, the scoreboard remained that way until No. 11 (par 4, 359 yards). That's when a Fieger 3-putt bogey and subsequent Brown birdie, his second straight, brought the two level. Two groups in front Brown and Fieger, Joe Roeder of Merion Golf Club jetted into the equation with four birdies in his first 12 holes. He stood two back.
The tournament, in essence, came to a climax for Brown, Fieger and the field on No. 12 (par 4, 355 yards).
Fieger's tee shot found the left trees. Brown hit the fairway. Fieger, somehow, miraculously, escaped the fall foliage trouble with a low 4-iron. His ball skirted the edge of the green and rolled just over. Brown kept the pressure on and hit the green, his ball stopping 15-feet from the flag. The steely Fieger knocked his third-shot chip to foot. Brown's birdie effort took a look but wouldn't fall. The two remained tied.
"I was thinking this could be a two-shot swing again," said Brown, 56, of Cleona, Pa. "It just didn't happen. Then he went on a string of three [birdies] in-a-row on me. I couldn't match it."
Fieger re-broke with a flurry of sharp shots and clutch putts.
On 13 (par 3, 158 yards), he drilled a 7-iron to the center of the green and drained a 20-foot birdie straight up the hill. "I'm a streaky putter," said Fieger. That moved him a shot clear. On No. 14 (par 5, 523 yards), Fieger roped a 3-wood from 235 yards to the front of the green. He two putted from 60 feet, including a tricky six-footer for the 4. Back to a two-shot lead. The next hole, No. 15 (par 5, 489 yards), Fieger signed his championship papers. He laid up to 90 yards, knocked his gap wedge to four feet and sank the putt.
"I hit an ok drive, it was a little thin, but I had about 235 [yards] in [to the hole]. But it was into a stiff wind. I made the right decision. I was automatically going to hit 3-wood. And then I realized I may not get this over the water [guarding the green]. I hit a 7-iron and left myself 90 yards. Then I watched Dan who was about 20 yards further than me barely clear the water. I hit a smooth gap wedge and it turned out great."
Roeder added a fifth birdie, on No. 14, but couldn't find any more circles for the scorecard. He posted a final-round 69 to finish even par for the tournament and in third place.
NOTES–In a tournament within a tournament, Chris Storck of LedgeRock Golf Club emerged from a three-way tie secure his first Senior Silver Cross Award. Storck entered that competition's final round tied with Bill Burke of Galloway National Golf Club and David West of Philadelphia Publinks Golf Association.
His final-round score of even-par 72 put him two clear of the field.
The two rounds of the Senior Amateur Championship conclude the season-long Senior Silver Cross Award. The Senior Silver Cross is awarded to the player with the lowest aggregate score in the Francis B. Warner Cup (Gross), Frank H. Chapman Cup (Gross) and Senior Amateur.
"I played well in the first event of the year [the Warner Cup]. I finished second. Coming out of that I started to focus on the Senior Silver Cross," said Storck, 56, of Reading, Pa. "Fortunately, I played well in the correct events. It's a great accomplishment. I'm very happy."
GAP
Celebrating Amateur Golf since 1897, GAP, also known as the Golf Association of Philadelphia, is the oldest regional or state golf association in the United States. It serves as the principal ruling body of amateur golf in its region. The Association's 330 Member Clubs and 90,000 individual members are spread across Pennsylvania, Delaware, New Jersey and Maryland. The GAP's mission is to promote, preserve and protect the game of golf.
| | |
| --- | --- |
| Name, club | R1-R2–Total |
| Chris Fieger, Sr., Philadelphia Publinks Golf Association | 70-70–140 |
| Dan Brown, Manada Golf Club | 71-71–142 |
| Joe Roeder, Merion Golf Club | 75-69–144 |
| Jeff Frazier, Carlisle Country Club | 75-71–146 |
| Rich Pruchnik, Downingtown Country Club | 77-69–146 |
| P. Chet Walsh, Philadelphia Country Club | 75-71–146 |
| Glenn Smeraglio, LuLu Country Club | 72-75–147 |
| Chris Storck, LedgeRock Golf Club | 75-72–147 |
| Roc Irey, LuLu Country Club | 77-72–149 |
| Bob Beck, Lehigh Country Club | 72-78–150 |
| Jeff Hudson, Olde Homestead Golf Club | 74-76–150 |
| Adam Armagost, Little Mill Country Club | 76-75–151 |
| Christopher Desana, Little Mill Country Club | 76-75–151 |
| Rick James, Doylestown Country Club | 77-74–151 |
| Michael Vassil, Country Club of Scranton | 77-74–151 |
| David West, Philadelphia Publinks Golf Association | 75-76–151 |
| Joe Coulson, Wedgewood Golf Course | 77-75–152 |
| Edward Kelly, Old York Road Country Club | 74-78–152 |
| Mike Quinn, Philadelphia Publinks Golf Association | 77-75–152 |
| Christopher Clauson, LuLu Country Club | 76-77–153 |
| Don Donatoni, White Manor Country Club | 77-76–153 |
| Larry Martone, Stonewall | 77-76–153 |
| Robin McCool, Saucon Valley Country Club | 76-77–153 |
| Brian Trymbiski, Doylestown Country Club | 78-75–153 |
| Jeff Wiedecke, Shawnee Country Club | 77-76–153 |
| Michael Anderson, Philadelphia Cricket Club | 75-79–154 |
| Michael Fireman, Philadelphia Cricket Club | 80-74–154 |
| Alan Kline, Bucknell Golf Club | 77-77–154 |
| David Blichar, Olde Homestead Golf Club | 79-76–155 |
| Tom DiCinti, Philadelphia Publinks Golf Association | 78-77–155 |
| Ed Kahn, Little Mill Country Club | 77-78–155 |
| Jeff Rogatz, Wilmington Country Club | 76-79–155 |
| Bill Burke, Galloway National Golf Club | 75-81–156 |
| Kevin Kelly, Philadelphia Cricket Club | 77-79–156 |
| Gregory Osborne, Overlook Golf Course | 74-82–156 |
| Rich Fryer, Southmoore Golf Center | 75-82–157 |
| Perry Landis, Moselem Springs Golf Club | 78-79–157 |
| Carlos Ochoa, Little Mill Country Club | 80-77–157 |
| David Strohl, Olde Homestead Golf Club | 80-77–157 |
| John Conway, Little Mill Country Club | 76-82–158 |
| John Gosselin, Kennett Square Golf & Country Club | 82-76–158 |
| Brian Rothaus, Five Ponds Golf Club | 79-79–158 |
| Doug Fedoryshyn, Concord Country Club | 80-79–159 |
| Tom Humphrey, Wilmington Country Club | 76-83–159 |
| Fred Lening , Green Pond Country Club | 80-79–159 |
| Andrew Sterge, Applebrook Golf Club | 81-78–159 |
| Don Uhrig, LedgeRock Golf Club | 80-79–159 |
| John Nottage, Commonwealth National Golf Club | 77-83–160 |
| Miguel Biamon, Whitemarsh Valley Country Club | 82-79–161 |
| Jim Boburka, Green Pond Country Club | 82-79–161 |
| Drew Eddy, Manufacturers' Golf & Country Club | 79-82–161 |
| Thomas Krug, Commonwealth National Golf Club | 81-80–161 |
| Gregory Day, Old York Road Country Club | 82-80–162 |
| Paul Leddy, Golden Pheasant Golf Course | 80-82–162 |
| Andy Lykon, Wedgewood Golf Course | 83-79–162 |
| Jim Mastromatteo, Overlook Golf Course | 80-82–162 |
| Bob Buckley, Lehigh Country Club | 81-82–163 |
| Thomas Egolf, Southmoore Golf Center | 82-81–163 |
| Tom White, Buck Hill Falls Golf Club | 81-82–163 |
| Bill Davis, Merion Golf Club | 83-81–164 |
| Mark Kosko, Greate Bay Country Club | 82-82–164 |
| Mike Moffat, LuLu Country Club | 80-84–164 |
| Joe Arrante, Newark Country Club | 81-86–167 |
| Bob Dorsey, Medford Lakes Country Club | 82-85–167 |
| Jared Wills, Iron Valley Golf Course | 81-87–168 |
| Brian Sexton, Greate Bay Country Club | 82-87–169 |
| Marlin Detweiler, Lancaster Country Club | 81-89–170 |
| Jon Hutchinson, Olde Homestead Golf Club | 82-91–173 |
| Joe Owsik, Hershey's Mill Golf Club | 80-NC–NC |
| Joe Jasinski, Steel Club | 81-WD–WD |
| Paul Rogowicz, Yardley Country Club | 83-WD–WD |
| NC–no card; WD–withdrawal | |