Defending champ Fieger featured up top after Senior Amateur Day One
| Scorecards | History | Round Two tee times |
SPRING HOUSE, Pa. – The defending Senior Amateur Champion has set himself up to defend.
Chris Fieger, Sr. of Philadelphia Publinks GA has been on fire ever since entering the Senior Division ranks just two seasons ago. Wednesday at Old York Road Country Club, Fieger fired the day's lone sub-par round — a 1-under 71 — to claim the GAP Senior Amateur Championship lead after 18 holes Wednesday at Old York Road Country Club (par 71, 6,436 yards).
The 50th Senior Amateur, originally set for Wilmington Country Club, was moved in result of unplayable course conditions due to a tornado wiping through Wilmington weeks ago. The championship was transitioned to Old York Road. Fieger, in particular, took advantage of the venue relocation. Old York Road is one he hadn't played since his Temple University playing days, 40 years ago.
Six birdies fueled Fieger to the lead after the first day. His first red figure dropped on No. 2 (par 4, 338 yards) after a gap wedge from 95 yards stuck four feet from the cup, and the putt was made. After a three putt bogey — of which there were four during Fieger's round — on No. 3 (par 3, 175 yards), his next birdie wouldn't jar until the par-5, 523 yard 9th hole. It was there where Fieger's rescue approach landed just short, but a chip ran up to four feet and was converted for 4.
Back-to-back birdies followed suit to begin Old York Road's second nine. Pured gap wedges on both Nos. 10 (par 4, 399 yards) and 11 (par 4, 380 yards) led to a six-foot birdie and 25-foot birdie, respectively. A double bogey blemish came next on No. 12 (par 4, 349 yards) after Fieger blasted drive through the fairway, clipped a tree on his approach shot and failed to get up and down on the green. Down the stretch, he'd make those strokes up. A beautiful bunker shot lipped out for eagle on No. 15 (par 5, 522 yards), and finally, on the club's closer (par 4, 394 yards), Fieger tapped in from three feet after another ideal wedge approach.
"I only missed two greens today. Even with four three putts, I thought it was a good start."
"Looking back on the round today, I played really well. I've been playing really well lately, too," said Fieger, 57, of Denver, Pa. "I only missed two greens today. Even with four three putts, I thought it was a good start to [the championship]."
When talking about good starts, one must mention Fieger's previous two GAP Senior Amateur appearances.
In 2018, Fieger finished runner-up at Riverton Country Club. He three-putted the final green there to miss forcing a playoff by one shot as a Senior rookie. Last year at Little Mill Country Club, Fieger's 3-under 68 left him with a five-stroke lead heading into Day Two. A second round 3-over 74 secured the title.
Whether or not Fieger can compete among GAP's elite Senior fields has been answered. But now, the question transitions to whether Fieger can repeat or not.
"I've slept on the lead before. Tomorrow, having not played this course in 40 years, I think I'll be able to clean some mistakes up. I know where I can and can't take chances. For example, I will be playing No. 12 (where he made double bogey Monday) differently," said Fieger, 57, of Denver, Pa.
His game is primed for another win. After all, it's been only a few weeks since his last trophy collection on July 17.
"I won the [Pennsylvania Senior Amateur Championship at Stonewall], and then won the Lanco Open [at Overlook Golf Course], so I've done some winning. I've also had some really nice finishes that didn't result in victories, too. But I feel like I'm playing really well this season," said Fieger.
Sitting one back of Fieger is Yardley Country Club's Paul Rogowicz, who finished one back at even par. Despite a bogey on Old York's finisher, Rogowicz utilized his short game wizardry to set himself up for a run Thursday.
"I've played here at Old York Road enough to know that it's a tough course. You seem to play one side better or worse, like I did today on the front at 3 under," said Rogowicz, 56, of Yardley, Pa. "First off, congratulations to Old York Road for being able to host this week. The course is in great shape. I'm excited to come out here tomorrow, because anything can happen."
A total of 54 Senior players competed Wednesday. Tee times begin Thursday at 7:30 a.m., with the last group featuring the leaders Fieger and Rogowicz.
The Senior Silver Cross Award race has found itself all tied up. Adam Armagost of Little Mill Country Club and Oscar Mestre of Overbrook Golf Club both sit at 7-over 221 through 54 holes with 18 to go. Armagost fired a 10-over 81 Monday at Old York, while Mestre's 2-over 73 erased the previous deficit.
Super-Senior Division
A triad tops the Super-Senior Division at Old York Road Country Club (par 71, 6,098 yards). Vince Scarpetta, Jr. of Nittany Country Club; Rick Umani of Honeybrook Golf Club and perennial Super-Senior contender Don Donatoni of White Manor Country Club all posted 2-over 73s. Scarpetta and Umani are in search of a first SS title. Donatoni has eyes on his fourth (2013, 2016, 2018).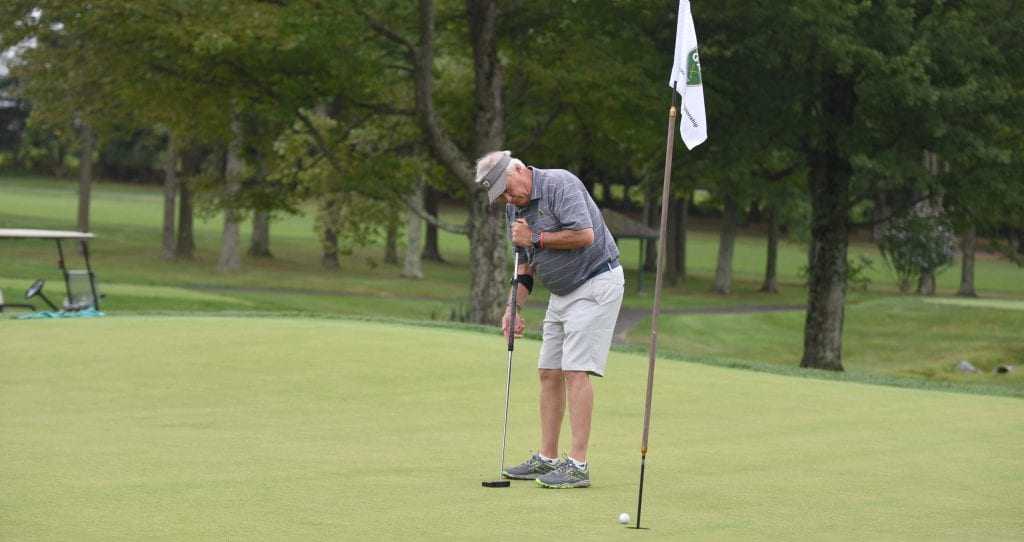 Umani was in the second group out at 7:39 a.m. He carded three birdies and five bogeys but finished at 1 under in his final five holes to set the initial Super-Senior mark. On No. 14 (par 3, 130 yards), Umani drained a 35-foot birdie after finding the green with an 8 iron. He followed that up with another red figure on No. 17 (par 4, 392 yards) when his pitching wedge cozied up to four feet left of the cup. Umani bogeyed No. 18 (par 4, 379 yards). His approached rolled though the green. He missed a 12-footer for par.
"I've been playing pretty well but I really haven't played much," said Umani, 67, of Glen Mills, Pa. "We bought a new house, have a fourth grandchild and have been busy at work. [Umani is a longtime salesman at Mercedes of Wilmington, Del.] I'm just happy to be playing. This is a lot of fun."
Umani already came within a whisker of raising a GAP title this year. He lost the Chapman Cup (Gross) at Yardley Country Club in a scorecard playoff to Frank Polizzi of Whitemarsh Valley Country Club.
Donatoni and Scarpetta played in the same grouping a few hours later.
Scarpetta, like Umani, carded three birdies and five bogeys. Scarpetta was 1 under at the turn but finished in 3-over 38 on the back. It was his first time at the venerable course.
"Once you know the course you now some of the places to miss. That doesn't mean you can miss it but you then know when wrong is pretty wrong," said Scarpetta, 68, of Moosic, Pa.
Scarpetta took advantage of the par 5s. He registered three birdies in four opportunities – all with a wedge in hand. On No. 4 (par 5, 497 yards), he sank a 20 footer after finding the green with a 60-degree wedge from 70 yards). On No. 9 (par 5, 467 yards), Scarpetta rattled the flagstick from 50 yards before converting a five-footer. On No. 15 (par 5, 496 yards), his 60-yard, 60-degree wedge finished three feet from the cup.
This is Scarpetta's first foray into the GAP Senior events. He is eligible for GAP events due to the Association's acquisition of the AGA a few years back.
Donatoni jumped into the fray late. He birdied No. 18 (par 4, 379 yards) after hitting a 9-iron from 126 yards to 15 feet.
"I said to myself 'I have a feeling this may mean something.' It was center cut. I can go home with a decent taste in mouth," said Donatoni, 72, of Malvern, Pa.
That red number softened the blow of a sputtering putter.
Donatoni had two 360-degree lip outs for par on Nos. 5 (par 3, 187 yards) and 6 (par 4, 376 yards). He also watched a par save scrape the edge on No. 14 (par 3, 130 yards).
Donatoni is in search of an eighth-straight Super-Senior Player of the Year Award. He entered the day in second place in the standings, trailing Chuck Dowds by 25 points. Donatoni's also won five of the last seven Super-Senior Silver Cross Awards. After today's round, he trails Tom DiCinti of Philadelphia Publinks Golf Association by two strokes.
"I guess I'm in the ball game," said Donatoni for those two awards. "I think today's round put me in contention. Today I was under a little pressure. I knew I had to shoot a good round. Tomorrow I'm going to come here and try to free wheel it. My game is better when I can get on the tee and go after it and not overthink it."
The Super-Senior Silver Cross is awarded to the player with the lowest aggregate score in the Francis B. Warner Cup (Gross), Frank H. Chapman Cup (Gross) and Senior Amateur Championship.
GAP
Celebrating Amateur Golf since 1897, GAP, also known as the Golf Association of Philadelphia, is the oldest regional or state golf association in the United States. It serves as the principal ruling body of amateur golf in its region. The Association's 288 Member Clubs and 75,000 individual members are spread across the Eastern half of Pennsylvania and parts of New Jersey and Delaware. The GAP's mission is to promote, preserve and protect the game of golf.
| | |
| --- | --- |
| Senior Division | |
| Name, club | Score |
| Chris Fieger, Sr., Philadelphia Publinks Golf Association | 70 |
| Paul Rogowicz, Yardley Country Club | 71 |
| Jeff Frazier, Carlisle Country Club | 72 |
| Christopher Clauson, LuLu Country Club | 73 |
| Robert Harrington, Merion Golf Club | 73 |
| Edward Kelly, Old York Road Country Club | 73 |
| Rand Mendez, Fieldstone Golf Club | 73 |
| Oscar Mestre, Overbrook Golf Club | 73 |
| Jeffrey Allen, Loch Nairn Golf Club | 74 |
| Gregory Day, Old York Road Country Club | 74 |
| Glenn Smeraglio, LuLu Country Club | 74 |
| Michael Vassil, Country Club of Scranton | 74 |
| Michael Anderson, Philadelphia Cricket Club | 75 |
| Tom Hyland, Little Mill Country Club | 75 |
| Craig Kliewer, Lebanon Country Club | 75 |
| John Nottage, Commonwealth National Golf Club | 75 |
| Joe Roeder, Little Mill Country Club | 75 |
| Michael Tash, Stone Harbor Golf Club | 75 |
| P. Chet Walsh, Philadelphia Country Club | 75 |
| John Wiseman, Talamore Country Club | 75 |
| Mark Kosko, Greate Bay Country Club | 76 |
| Stephen O'Sullivan, Philadelphia Cricket Club | 76 |
| Carlos Ochoa, Little Mill Country Club | 76 |
| Brian Rothaus, Philmont Country Club | 76 |
| Ron Weaver, Bent Creek Country Club | 76 |
| James Gavaghan, Commonwealth National Golf Club | 77 |
| Paul Hess, Hartefeld National | 77 |
| John Robinson, LuLu Country Club | 77 |
| Bob Beck, Lehigh Country Club | 78 |
| Michael Quinn, Philadelphia Publinks Golf Association | 78 |
| Tom Soares, Lehigh Country Club | 78 |
| Steve Walczak, Wilmington Country Club | 78 |
| John Alterman, Commonwealth National Golf Club | 79 |
| Matthew Kohn, White Clay Creek Country Club | 79 |
| Bryan Marvin, Old York Road Country Club | 79 |
| Patrick O'Brien, North Hills Country Club | 79 |
| Joseph Russo, Running Deer Golf Club | 79 |
| Pat Cahill, Whitemarsh Valley Country Club | 80 |
| Bill Charpek, Merion Golf Club | 80 |
| Blaise Giroso, Fieldstone Golf Club | 80 |
| John Gosselin, Aronimink Golf Club | 80 |
| David West, Wyncote Golf Club | 80 |
| Byron Whitman, Berkshire Country Club | 80 |
| Adam Armagost, Little Mill Country Club | 81 |
| Scott Carney, Commonwealth National Golf Club | 81 |
| Brian Corbett, Country Club of Scranton | 81 |
| Jeff Hudson, Olde Homestead Golf Club | 81 |
| Dan Levinson, Philadelphia Cricket Club | 81 |
| Robert Arthur, Tavistock Country Club | 82 |
| Andy Dietz, Laurel Creek Country Club | 84 |
| Paul Leddy, Seaview Country Club | 84 |
| Andrew Sterge, Applebrook Golf Club | 84 |
| Ed Kahn, Little Mill Country Club | 85 |
| Don Uhrig, LedgeRock Golf Club | 85 |
| Mark Cubberley, Mercer Oaks Golf Course | WD |
| Bob Gill, Fox Hill Country Club | WD |
| Super-Senior Division | |
| Don Donatoni, White Manor Country Club | 73 |
| Vince Scarpetta, Jr., Nittany Country Club | 73 |
| Rick Umani, Honeybrook Golf Club | 73 |
| Gary Daniels, Applebrook Golf Club | 74 |
| Tom DiCinti, Philadelphia Publinks Golf Association | 74 |
| Tom Humphrey, Wilmington Country Club | 74 |
| Robin McCool, Saucon Valley Country Club | 75 |
| Bob Billings, Rolling Green Golf Club | 76 |
| Elliot Sheftel, Lehigh Country Club | 76 |
| Frank Polizzi, Whitemarsh Valley Country Club | 77 |
| Dan Burton, Lancaster Country Club | 78 |
| Joe Cordaro, Saucon Valley Country Club | 78 |
| Tom Bartolacci, LuLu Country Club | 79 |
| Gordon Brewer, Pine Valley Golf Club | 79 |
| Ed Enoch, Old York Road Country Club | 79 |
| John Gonsior, The Bucks Club | 79 |
| Bob Majczan, Lookaway Golf Club | 81 |
| Steve Meyer, Rolling Green Golf Club | 81 |
| Craig Scott, Great Bear Golf Club | 81 |
| Buck Jones, Philadelphia Publinks Golf Association | 82 |
| Raymond Pawulich, Little Mill Country Club | 82 |
| Robert Dietrich, Loch Nairn Golf Club | 83 |
| Chuck Dowds, Applebrook Golf Club | 83 |
| Matthew Smith, Regents' Glen Country Club | 83 |
| Luke Wozniak, Fieldstone Golf Club | 84 |
| Anthony Kondracki, Makefield Highlands Golf Club | 93 |
| WD – withdrawal | |