Homer crowned Christman champ at Lookaway
BUCKINGHAM, Pa. – Officially time to start calling Matthew Homer "The Closer."
| Scoring portal | History |
Homer, a Wilmington Country Club member, birdied his final two holes Thursday at Lookaway Golf Club (par 72, 6,573 yards) to hoist the 23rd Christman Cup. The recent Delaware Junior Boys' Champion, a trophy he won with birdies on four of his final five holes at Chesapeake Bay Golf Club, finished the 36-hole Christman Cup at 5-under 139.
"These [past few weeks] have been the best of my golf career. It's just awesome. I've been taking it tournament-by-tournament this year, but I really enjoyed this one today, especially after seeing [twin brother] Jeff do it last year," said Homer.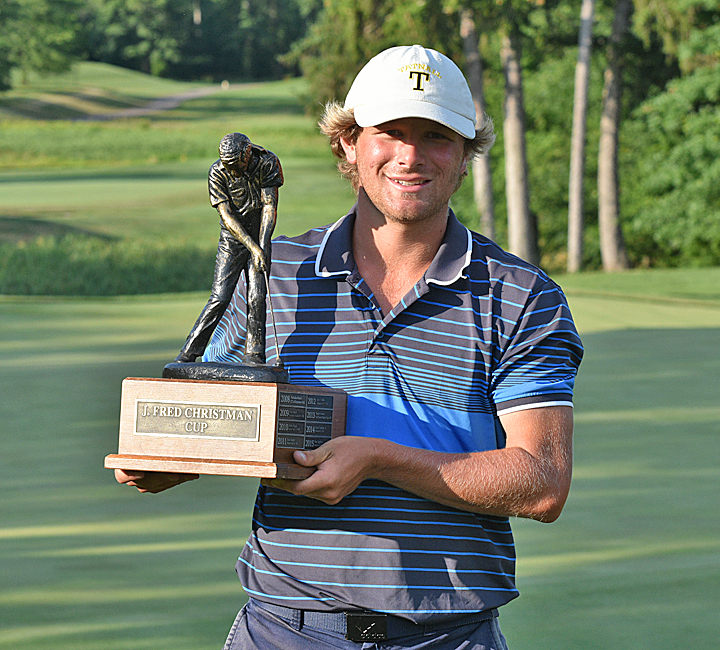 After the Christman's morning round, it was Homer who held the lead in result of a 3-under 69. Following in tow were a number of familiar names, including brother Jeff — who won last year's Christman at Chester Valley Golf Club — at 2-under par, North Hills Country Club's Tyler Leyden also at 2 under, and recent GAP Junior Boys' Champion Josh Ryan at 1-under par.
Homer began that first round 4 under through eight holes. It seemed like his winning streak would continue with relative ease, until his trusty flatstick gave out mid-round.
"I started really hot, and then I let my mind escape me there for a second. I started missing four, five, six-footers that I should have been making," said Homer, 17, of Wilmington, Del. "I finally was able to sink one of those makeable putts on 13 for birdie, and that kind of got me back in it."
With a one-shot lead heading into the afternoon, Homer knew he'd need to bring his best to better the rest of the stacked leaderboard. His second 18 began on Lookaway's second side. Homer's first birdie of round two came on, once again, No. 13 (par 5, 515 yards). After hooking his drive into the left fescue, he dug out and left just 80 yards in, where he tossed a wedge to seven feet and drained it. On the par-4, 415-yard 18th, a hybrid off the tee was followed by a 9-iron from 167 yards that was placed to 15 feet, and he walked it in for 3.
With three holes to play, The 1912 Club's Ryan held a one-shot lead with the Homer twins each sitting one back. After all three made par on No. 7 (par 4, 361 yards), it was Homer's time to shine. On No. 8 (par 5, 542 yards), he chased a 3-wood up from 260 yards and two putted from 40 feet for birdie while the other two parred. He stepped up to the 9th tee "somewhat knowing where he stood", but not definitively, meaning birdie was the only logical choice.
"I was playing with Josh, so I knew I was one up on him. I figured that Jeff (playing directly behind) was going to be right there, too," said Homer. "I knew I had to make birdie."
A heroic hybrid off the tee left him with 102 yards in on the par-4, 335-yarder. He then clipped a sand wedge, but it rolled out left to 25 feet from the cup. Homer stepped up, hit the ball with "a lot of pace", and drained the birdie look. He jumped up, fist in air, and screamed, "YES!" for the win.
"That was… just an amazing moment," said a speechless Homer. "I didn't want to leave that short. It was going fast. But it hit the hole and went in."
"The Closer" has racked up a number of big wins to start 2022. In addition to the Delaware Junior title, Homer collected the DIAA Boys' Individual title while representing The Tatnall School at Odessa National Golf Club in early June. He now holds both of Delaware state's individual titles. Oh, and throw in the Wilmington Country Club's men's club championship trophy in there, too.
"It's been all good vibes, week after week," said the champion.
Thursday's two rounds impacted the Harry Hammond Award standings greatly. Heading into the fourth and final leg, Homer and Ryan are now tied at 4-under par total. The Harry Hammond Award is comprised of Junior Boys' Championship Qualifying, today's Christman Cup and Jock MacKenzie Memorial, set for July 19 at Sandy Run Country Club.
The Christman Cup is named in honor of J. Fred Christman, former GAP Executive Committee member (1980-89) and Director of Competitions (1989-99). He chaired the organization's Junior Committee and thereby oversaw the administration of its Junior schedule annually. "Fred has been part of the glue that has held this organization together, making things work and handling many tough situations. Certainly, with the exception of Jim Sykes, no other individual has been as closely identified with GAP activities and players as Fred regardless of their status on the Executive Committee or staff," former GAP President Ray Cross (1997-99) wrote in a letter published in the October 1999 Philadelphia Golfer. Christman died on Sept. 14, 2019 at the age of 86.
GAP
Celebrating Amateur Golf since 1897, GAP, also known as the Golf Association of Philadelphia, is the oldest regional or state golf association in the United States. It serves as the principal ruling body of amateur golf in its region. The Association's 330 Member Clubs and 90,000 individual members are spread across Pennsylvania, Delaware, New Jersey and Maryland. The GAP's mission is to promote, preserve and protect the game of golf.
| | |
| --- | --- |
| Name, club | R1-R2-Total |
| Matthew Homer, Wilmington Country Club | 69-70–139 |
| Joshua Ryan, The 1912 Club | 71-69–140 |
| Jeffrey Homer, Wilmington Country Club | 70-72–142 |
| Tyler Leyden, North Hills Country Club | 70-72–142 |
| William Pabst, Elmhurst Country Club | 72-72–144 |
| Christian Deussing, Jericho National Golf Club | 75-70–145 |
| Jack Homer, Wilmington Country Club | 76-70–146 |
| Scott Hughes, Cedarbrook Country Club | 74-72–146 |
| Ethan Martin, Talamore Country Club | 73-73–146 |
| Winston Blank, Saucon Valley Country Club | 75-72–147 |
| Christian Matt, Cedarbrook Country Club | 77-70–147 |
| Nathan Guertler, Merion Golf Club | 73-75–148 |
| Sean Kelly, Bucknell Golf Club | 76-72–148 |
| Keller Mulhern, Whitford Country Club | 74-74–148 |
| John Stevenson, North Hills Country Club | 76-72–148 |
| Jack Dare, Riverton Country Club | 73-77–150 |
| Will Huntley, Blue Bell Country Club | 77-73–150 |
| Kasim Narinesingh-Smith, Radley Run Country Club | 73-77–150 |
| James Ulsh, Carlisle Country Club | 79-72–151 |
| Thomas Young, Saucon Valley Country Club | 77-74–151 |
| Aidan Farkas, Llanerch Country Club | 76-76–152 |
| Jackson Fryer, Commonwealth National Golf Club | 78-74–152 |
| Carson Thompson, Laurel Creek Country Club | 75-77–152 |
| Nolan Corcoran, Philadelphia Junior Tour | 75-78–153 |
| Adam Fluehr, North Hills Country Club | 76-77–153 |
| Tommy Marshall, Medford Lakes Country Club | 76-78–154 |
| Noah Moelter, Blue Bell Country Club | 78-76–154 |
| Anthony Ciconte, Wilmington Country Club | 78-77–155 |
| Liam McFadden, Overbrook Golf Club | 76-79–155 |
| Darren Nolan, Cedarbrook Country Club | 79-76–155 |
| Connor Toussaint, North Hills Country Club | 81-74–155 |
| Declan McLane, North Hills Country Club | 80-76–156 |
| Evan Barbin, Chesapeake Bay Golf Club | 80-77–157 |
| Will Dunsmore, Talamore Country Club | 83-75–158 |
| Kevin Lafond, Blue Bell Country Club | 79-79–158 |
| Zachary Antao, GAP Youth on Course | 79-81–160 |
| Ian Larsen, Honeybrook Golf Club | 77-83–160 |
| J.P. Hoban, McCall Golf Club | 85-76–161 |
| Michael Deussing, Jericho National Golf Club | 83-79–162 |
| Joseph Halferty , Cedarbrook Country Club | 86-79–165 |
| Jeffrey Seiler, Indian Valley Country Club | 86-79–165 |
| Owen Wisner, Reading Country Club | 81-84–165 |
| Lucas Steinmetz, Spring Ford Country Club | 84-83–167 |
| Justin Pileggi, USGA/GAP GC | 83-86–169 |
| Joe Ciconte, Wilmington Country Club | 82-88–170 |
| Matthew Dietl, GAP Youth on Course | 79-91–170 |
| Reilly Shaffer, Llanerch Country Club | 85-86–171 |
| Ian Natale, North Hills Country Club | 87-86–173 |
| Anthony Carson, GAP Youth on Course | 89-87–176 |
| Drew Miller, Pottsville ll TG GC | 95-98–193 |
| Sean Curran, Merion Golf Club | WD-WD–WD |
| Eric Fryer, Commonwealth National Golf Club | 88-WD–WD |
| Alec Hamilton, Country Club of Scranton | 87-WD–WD |
| Marshall Kain, Overbrook Golf Club | WD-WD–WD |
| WD – withdrawal | |