Back-to-back Brewers for Frazier
| Scoring portal | Stroke-Play Qualifying recap | Day Two recap | History |
HUNTINGDON VALLEY, Pa. – Back-to-back Brewer Cups for Jeff Frazier quickly became the story of the week at Huntingdon Valley Country Club (par 70, 6,410 yards). Two tries, two titles for the Carlisle Country Club champion. Throw in a co-medalist honor from Monday, and you can see why Frazier is the talk of the Senior town.
The No. 2-seeded Frazier downed No. 13 John Barry, a Lancaster Country Club member and Senior circuit newcomer, 2&1, to claim the 14th Brewer Cup presented by Callaway Golf. The win marks the first time a Senior has claimed back-to-back Brewer Cup trophies.
He endured it all — extra holes, heat, rain and a case of the butterflies — to get the job done. It all started in the morning Semifinal showdowns, where both Finalists advanced via two different tales of the tape. Barry had the most impressive — and shortest — showing, downing Lehigh Country Club's Bob Beck, the 2016 Brewer Champion, 5&4. Four Barry birdies were made in the morning for the early W. On the other side of the bracket, a Brewer showdown for the ages was hosted on HVCC's fairways. Frazier went on to defeat Overbrook Golf Club's Oscar Mestre, GAP's President, in 25 holes. Mestre ultimately conceded Frazier's birdie on the par-5 7th hole.
"I was really struggling after that one. It was a battle that either one of us could have won, really," said Frazier, who won last year's Senior title at LedgeRock Golf Club.
Due to the prolonged Frazier-Mestre Semifinal, the Seniors teed off in the Final at 1:55 p.m. Barry, fresh off a three-hour cool down, got off to a quick start on Nos. 1 (par 4, 376 yards) and 2 (par 4, 430 yards) with a pair of pars, while the fatigued Frazier began with bogey-bogey. A 10-foot birdie dropped on the par-3, 150-yard 3rd for Barry, giving him a commanding 3-up lead. Frazier found double-bogey trouble on No. 4 (par 4, 256 yards), giving Barry his fourth-straight hole win… and then Frazier put his foot down. A birdie was conceded on No. 5 (par 3, 153 yards) for Frazier to get one back. He followed that up with a winning par that bettered Barry's bogey on the par-4, 425-yard 6th. A two-putt birdie from 15 feet gave Frazier his third-straight win on No. 7 (par 5, 564 yards). After the players teed off on No. 8 (par 4, 364 yards), with both players finding the green in regulation, the skies opened up. Hail and lightning littered Huntingdon Valley's land.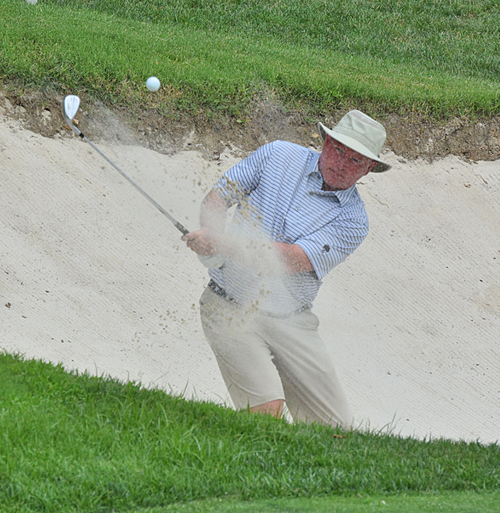 "I had those three hours to wait before the [Final], and then the rain delay threw a wrench in things," said Barry, 55, of Lancaster, Pa. "When we went back out, it was playing a little different. The speeds were different."
"I got a nice little nap in there [during the rain delay]," said Frazier, 56, of Mechanicsburg, Pa. "I needed that."
The twosome resumed play at 4:30 p.m. after an 80-minute stoppage. Both players needed to shake off the down time with some erratic play and putting. However, it was Frazier who woke up first, winning three in a row from Nos. 10-12. Barry didn't budge too much, though. His conceded birdie on No. 13 (par 3, 169 yards) got him back to 1 down. An eight-footer fell for birdie on No. 15 (par 5, 554 yards) that bested Frazier's par. On No. 16 (par 4, 365 yards), with the match level, Frazier began feeling the butterflies. He battled the nerves by hitting a driver off the deck, dead center, leading to a birdie 3. Frazier, 1 up. On the par-3, 200-yard 17th, Frazier found the middle of the green, putting the pressure on Barry. A hooked tee shot ran into the left greenside bunker, and then a sand miscue from Barry ran up and over into the right bunker. He'd go on to concede the hole to Frazier, crowning him the champ.
"He threw a lot of birdies at me today. We both played well all week, but he played well coming down the end there," said Barry.
"That's the beauty of it. You have to make a shot," said Frazier. "Coming down the back nine, you're just in a grind. You've got butterflies flying around your stomach, you're nervous beyond belief. But you just have to get it done."
Frazier got it done for a second time in a row.
"I got really lucky, which is what you have to do in match play. You need to play well and have luck," said the champion. "I'll have to think about playing again next year, just because I probably ran out of luck."
Luck or not, there's no denying history as the first Senior to win consecutive Brewers. Winning match-play championships is officially Frazier's forte.
Rothaus rakes in Brewer Super-Senior title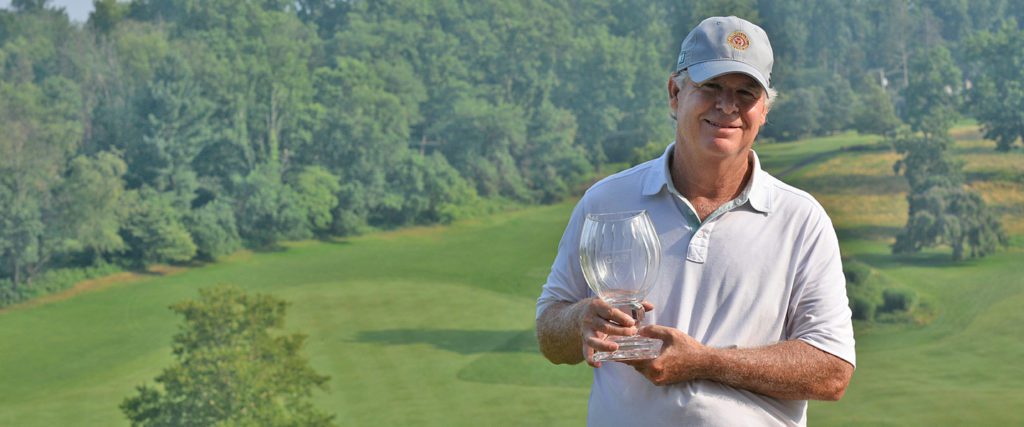 Mission accomplished.
The 65-year-old Philmont Country Club member, Brian Rothaus, captured his first-ever Super-Senior Brewer Cup title Wednesday at Huntingdon Valley Country Club (par 70, 6,180 yards). He defeated Overbrook Golf Club legend Chris Lange, 4&2, in the Final.
In the first Semifinal match this morning, Overbrook's Lange defeated Buck Hill Falls Golf Club's Thomas White, 2&1, to move on to the final round. Lange took the first lead of the match with a birdie on No. 4 (par 4, 252 yards). He then carded two more birdies on Nos. 8 (par 4, 350 yards) and 13 (par 3, 130 yards), gaining him the advantage, and ultimately the win on No. 17 (par 3, 197 yards).
In the second Semifinal match, Philmont's Rothaus defeated White Manor Country Club's Don Donatoni in 19 holes. Rothaus came up clutch in the end carding birdies on Nos. 16 (par 4, 364 yards) and 18 (par 4, 376 yards) to send the match into extra holes. Rothaus' momentum didn't stop as he carded his most important birdie of the day on No. 19 (par 4, 370 yards), punching his Final ticket against Lange.
"I knew that the match wasn't over, and I was fortunate enough to pull off the victory against Don," Rothaus, of Huntingdon Valley, Pa., said.
The Super-Seniors teed off in the Final at 12:55 p.m. Rothaus got off to a quick start early as he carded a birdie on No. 1 (par 4, 370 yards), stemming from a 54-degree sand wedge from 88 yards to 15 feet. On No. 7 (par 5, 550 yards), Rothaus carded a birdie to tie the match thanks to his 7-wood setting him up for a 25-foot putt.
"I knew that Lange was going to be a tough opponent to go against so I had to get off to a strong start early," Rothaus, a graduate of the University of Miami, said.
Right before the weather delay, Rothaus took a 2-up lead on No. 11 (par 4, 360 yards) when he carded another par while his opponent made bogey.
Inclement weather caused an 80-minute delay following the competition on the 12th hole in the match.
"I would rather not have a rain delay because I was in a nice flow," Rothaus said. "Even though I wasn't happy about it, I knew there was a job that had to be finished and that's what I was able to do."
Rothaus overcame the weather delay and closed things out with a clutch birdie on No. 16 (par 4, 364 yards). Rothaus used his 54-degree sand wedge from 101 yards to 20 feet, stepped up, and sank the clinching putt.
"Today my putter let me down, and Brian took advantage of those situations," Lange, 66, of Bryn Mawr, Pa., said. "This is a great achievement for Brian, he's been around here for a long time and I'm happy for him."
With the trophy in hand, Rothaus realized the magnitude of winning the Super-Senior Brewer Cup title, and ultimately, how it honors Gordon Brewer's dedication to the game of golf.
"It's such a great feeling and an honor to win this title," Rothaus said. "Gordon is a great player, and it's amazing to see him still play. I really enjoyed every moment of the tournament."
The Brewer Cup is named in honor of O. Gordon Brewer, Jr., the former president of Pine Valley Golf Club. He is a two-time U.S. Senior Amateur Champion and veteran of 42 USGA Championships. He's captured two Golf Association of Philadelphia Amateur Championship titles (1967, 1976), a GAP Senior Amateur Championship crown (1997) and a Senior Player of the Year (1997) as well as countless invitational titles. Seven years ago he was recognized for his contributions to the game with the USGA's Bob Jones Award.
GAP
Celebrating Amateur Golf since 1897, GAP, also known as the Golf Association of Philadelphia, is the oldest regional or state golf association in the United States. It serves as the principal ruling body of amateur golf in its region. The Association's 300 Member Clubs and 80,000 individual members are spread across the Eastern half of Pennsylvania and parts of Delaware, Maryland and New Jersey. The GAP's mission is to promote, preserve and protect the game of golf.
Senior Division
Finals
2. Jeff Frazier, Carlisle, d. 13. John Barry, Lancaster, 2&1.
Semifinals
13. John Barry, Lancaster, d. 8. Bob Beck, Lehigh, 5&4.
2. Jeff Frazier, Carlisle, d. 6. Oscar Mestre, Overbrook, 25 holes.
Super-Senior Division
Finals
2. Brian Rothaus, Philmont, d. 1. Chris Lange, Overbrook, 4&2.
Semifinals
1. Chris Lange, Overbrook, d. 5. Thomas White, Buck Hill Falls, 2&1.
2. Brian Rothaus, Philmont, d. 3. Don Donatoni, White Manor, 19 holes.