Frazier, Smith share Brewer Cup Stroke-Play Qualifying medal
HUNTINGDON VALLEY, Pa. Two even-par 70s — one early, one late — led the way Monday in the 14th Brewer Cup presented by Callaway Golf Stroke-Play Qualifying.
Defending champion Jeff Frazier of Carlisle Country Club and Gary Smith of Pine Valley Golf Club shared Senior medalist honors at Huntingdon Valley Country Club (par 70, 6,432 yards). Today's low honors also earned Smith the No. 1 overall seed and Frazier the No. 2 spot.
The Senior cut line stopped at 4-over 74. A 6-for-2 playoff teed off at 6:30 p.m. With birdies on the first playoff hole, Jeffrey Allen of Loch Nairn Golf Club and Rand Mendez of Fieldstone Golf Club secured the final two bracket berths.
Round-of-16 matches begin Tuesday morning at 8 a.m. The Senior Division will play two matches tomorrow, while the Super-Senior Division will play just the Quarterfinal round.
Frazier, who took home the trophy last year at LedgeRock Golf Club in his GAP debut, battled his way to a smooth scorecard. Two birdies dropped overall despite a handful of makeable birdie looks being missed. The round featured good vibes from the start on No. 1 (par 4, 372 yards), where Frazier's 60-degree wedge approach flirted with dropping before a tap-in birdie. The other red digit arrived on the par-5, 549-yard 15th, where Frazier chipped up to eight feet and made an eight-footer for birdie.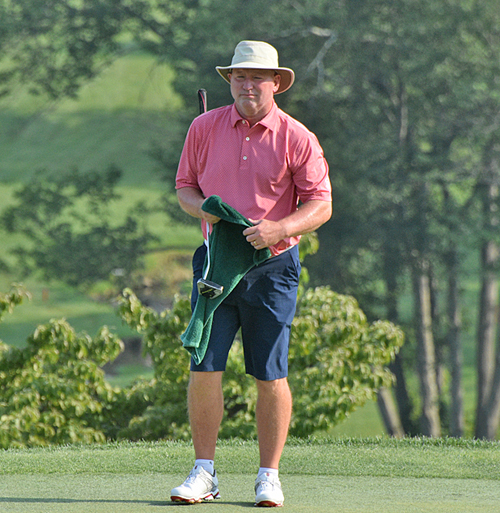 "I played really solid today. Very solid," said Frazier, 56, of Mechanicsburg, Pa. "This course, it just fits my eye. I was excited to get here this week, not only just to defend the trophy, but also to play Huntingdon Valley again."
Smith, playing in the first group out, wasted no time in making an impression on the leaderboard. His four birdies on the day (Nos. 5, 8, 11, 15) set the mark at level early on before Frazier matched it. His 9-iron tee shot on the par-3, 150-yard 5th hole was where things began getting good. After making the turn at 1 under, Smith settled in and played less aggressively. Game plan executed.
"I've been playing a lot of golf. And a lot of good golf. This is my ninth round in the past eight days alone," said Smith. "They key was just hitting fairways and greens today. For most of the day, I was able to do that. I'm hoping to continue that. I didn't play very aggressive today, but when you get to match play, that will change."
Connections to the Brewer Cup, and Huntingdon Valley for that matter, are aplenty for Smith. O. Gordon Brewer, Jr., the championship's namesake, was Smith's father-in-law for 25 years. He's also a former member of Huntingdon Valley, where he was for 37 years.
"The Brewer Cup is special to me because of that relationship. [Gordon] and I have a good relationship. And this place, Huntingdon Valley, I was here for a long time, so I wasn't missing it," said Smith, 61, of Huntingdon Valley, Pa. "Hopefully the rest of the week is just as good as today. I'm excited."
For Frazier, defending his Brewer title was the obvious motivation today. He loves Huntingdon Valley, having competed here in last season's Pennsylvania Golf Association Mid-Amateur Championship.
"I'm excited for the next few days now," said Frazier. "I think my game is in a good state, so we'll see what happens. I'm hoping to change the [no wins this year].
As the top-two seeds in the bracket, Frazier and Smith are both looking forward to the championship's match-play portion beginning Tuesday morning. Will it be one of the medalists bringing home the ultimate prize this week, or an underdog challenger from the bottom of the bracket?
As its been doing since 1897, Huntingdon Valley will surely provide a true champion.
Overbrook's Lange cruises to Supers medal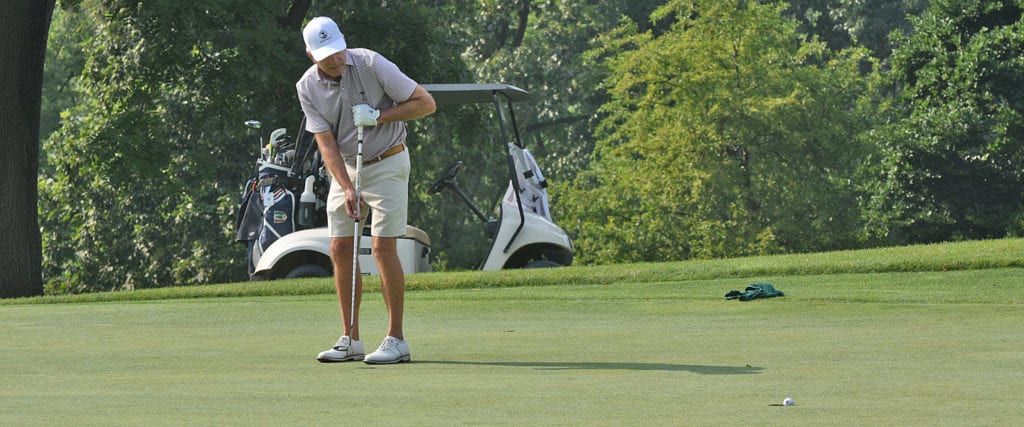 Chris Lange of Overbrook Golf Club, who boasts a Hall-of-Fame playing résumé including three BMW Philadelphia Amateur Championship titles (1984, 1993, and 1994) and the GAP career grand slam achievement, came to play once again.
Lange earned medalist honors in the Super-Senior Division Monday at Huntingdon Valley Country Club (par 70, 6,062 yards) thanks to a 4-under 66.
The cut line for the eight available match play spots stopped at 4-over 74. In a 3-for-1 playoff, Applebrook Golf Club's Chuck Dowds advanced on the first playoff hole to secure the final spot.
The Overbrook legend fired his first of six birdies of the day on No. 11 (par 4, 357 yards) thanks to a wedge shot to two feet, setting the 66-year-old up for an easy birdie putt.
"I started right from the get-go and continued to hit the ball well all day," Lange, of Bryn Mawr, Pa., said. "It was the first time I got to shoot my age 'which is 66,' and it's always a privilege to play at Huntingdon Valley."
Another birdie was soon to follow, as Lange tossed a 7-iron to 15 feet on No. 14 (par 4, 357 yards). Lange's momentum continued throughout the front nine as he carded four more birdies on Nos. 1 (par 4, 355 yards), 3 (par 3, 165 yards), 5 (par 3, 143 yards), and 8 (par 4, 332 yards). On No. 1, Lange hit a lob wedge to 20 feet, setting him up for the birdie putt. On No. 3, Lange hit a 7-iron from 160 yards to four feet and sank a putt for 2. On No. 8, Lange's birdie was jarred after a 9-iron approach nestled up to five feet, and on No. 8, he hit a wedge from 120 yards to 10 feet, setting him up for the birdie putt.
"I had a good mentality throughout the day and was able to execute," Lange said. "It was fun to coming back to Huntingdon Valley because I haven't been played here in a while."
Lange has had a long career of success in GAP as he's a two-time William Hyndman, III Player of the Year (1994 and 2004). While Lange took the 2010 Senior Amateur title at Sunnybrook Golf Club, Lange has never won a Brewer Cup.
In 2010, Lange finished as the runner-up to Saucon Valley Country Club's Robin McCool at Sandy Run Country Club. However, this time around, Lange plans to stay mentally strong as he looks to win his first Brewer Cup title.
"It's a nice golf tournament honoring Gordon Brewer because he has done so many great things for the game of golf," Lange said. "Anything can happen in match play. You have to take everything hole by hole and see what happens from there."
Lange will face No. 8-seeded Dowds in the Quarterfinals at 9 a.m. Tuesday.
The Brewer Cup is named in honor of O. Gordon Brewer, Jr., the former president of Pine Valley Golf Club. He is a two-time U.S. Senior Amateur Champion and veteran of 42 USGA Championships. He's captured two Golf Association of Philadelphia Amateur Championship titles (1967, 1976), a GAP Senior Amateur Championship crown (1997) and a Senior Player of the Year (1997) as well as countless invitational titles. Seven years ago he was recognized for his contributions to the game with the USGA's Bob Jones Award.
GAP
Celebrating Amateur Golf since 1897, GAP, also known as the Golf Association of Philadelphia, is the oldest regional or state golf association in the United States. It serves as the principal ruling body of amateur golf in its region. The Association's 300 Member Clubs and 80,000 individual members are spread across the Eastern half of Pennsylvania and parts of Delaware, Maryland and New Jersey. The GAP's mission is to promote, preserve and protect the game of golf.
| | |
| --- | --- |
| Stroke-Play Qualifying | |
| Senior Division | |
| Name, club | Score |
| Jeff Frazier, Carlisle Country Club | 70 |
| Gary Smith, Pine Valley Golf Club | 70 |
| Adam Armagost, Little Mill Country Club | 71 |
| Matthew Mingione, The 1912 Club | 71 |
| Tom Soares, Lehigh Country Club | 71 |
| John Barry, Lancaster Country Club | 72 |
| Bob Beck, Lehigh Country Club | 72 |
| Barry Cahill, Radley Run Country Club | 72 |
| Tom Finn, DuPont Country Club | 72 |
| Mike Gregor, Huntingdon Valley Country Club | 72 |
| Oscar Mestre, Overbrook Golf Club | 72 |
| Joe Roeder, Merion Golf Club | 72 |
| Michael Tash, Stone Harbor Golf Club | 72 |
| John Quirk, The 1912 Club | 73 |
| *Rand Mendez, Fieldstone Golf Club | 74 |
| *Jeffrey Allen, Loch Nairn Golf Club | 74 |
| Failed to qualify | |
| *Brian Dorey, Metedeconk National Golf Club | 74 |
| *Ronan Culligan, Saucon Valley Country Club | 74 |
| *Paul Rogowicz, Yardley Country Club | 74 |
| *Glenn Smeraglio, LuLu Country Club | 74 |
| Christopher Clauson, LuLu Country Club | 75 |
| Denis Darragh, Olde Homestead Golf Club | 75 |
| Doug Fedoryshyn, Concord Country Club | 75 |
| Kevin Kelly, Philadelphia Cricket Club | 75 |
| Craig Kliewer, Lebanon Country Club | 75 |
| Dan Levinson, Philadelphia Cricket Club | 75 |
| Carlos Ochoa, Little Mill Country Club | 75 |
| Gregory Buliga, Yardley Country Club | 76 |
| Mike Cavanaugh, Jericho National Golf Club | 76 |
| David Folkes, Metedeconk National Golf Club | 76 |
| Robert Frankil, Bellewood Country Club | 76 |
| Rick James, Doylestown Country Club | 76 |
| Michael Anderson, Philadelphia Cricket Club | 77 |
| David Blichar, Olde Homestead Golf Club | 77 |
| Mark Choi, Saucon Valley Country Club | 77 |
| Brian Groff, Lancaster Country Club | 77 |
| Jeff Hudson, Olde Homestead Golf Club | 77 |
| Tom Hyland, Little Mill Country Club | 77 |
| Stephen McIntyre, Philadelphia Publinks Golf Association | 77 |
| Joseph Russo, Running Deer Golf Club | 77 |
| Robert Schubach, Wedgewood Golf Club | 77 |
| Chris Smedley, Hartefeld National | 77 |
| George Steinmetz, Spring Ford Country Club | 77 |
| P. Chet Walsh, Philadelphia Country Club | 77 |
| Brian Corbett, Country Club of Scranton | 78 |
| Gregory Day, Old York Road Country Club | 78 |
| Bob Gill, Fox Hill Country Club | 78 |
| Andrew Sterge, Applebrook Golf Club | 78 |
| Byron Whitman, Berkshire Country Club | 78 |
| Frank Corrado, LuLu Country Club | 79 |
| Bill Davis, Merion Golf Club | 79 |
| Jay DesJardins, Stonewall | 79 |
| Paul Hess, Hartefeld National | 79 |
| Ed Kahn, Little Mill Country Club | 79 |
| Patrick O'Brien, North Hills Country Club | 79 |
| David Strohl, Olde Homestead Golf Club | 79 |
| John Alterman, Commonwealth National Golf Club | 80 |
| Jim Gavaghan, Commonwealth National Golf Club | 80 |
| Robert Harrington, Merion Golf Club | 80 |
| Brad Jankowski, Little Mill Country Club | 80 |
| Mark Kosko, Greate Bay Country Club | 80 |
| Michael Quinn, Philadelphia Publinks Golf Association | 80 |
| Don Uhrig, LedgeRock Golf Club | 80 |
| Michael Vassil, Country Club of Scranton | 80 |
| Joe Coulson, Wedgewood Golf Club | 81 |
| Mark Cubberley, Mercer Oaks Golf Course | 81 |
| Andy Dietz, Laurel Creek Country Club | 81 |
| Joe Duhack, LuLu Country Club | 81 |
| Bill Boyle, Metedeconk National Golf Club | 82 |
| Rob Galbreath, Huntingdon Valley Country Club | 82 |
| Philip Remig, Huntingdon Valley Country Club | 82 |
| Richard Young, Makefield Highlands Golf Club | 82 |
| Nick Dunphy, West Shore Country Club | 83 |
| John Nottage, Commonwealth National Golf Club | 83 |
| Jules Quinones, Blue Bell Country Club | 83 |
| Daniel Brooks, Wedgewood Golf Club | 84 |
| Steven Harris, White Manor Country Club | 84 |
| Bob Loftus, Overbrook Golf Club | 84 |
| Greg Mitchell, Fieldstone Golf Club | 84 |
| Mike Shevlin, LuLu Country Club | 85 |
| Kevin Wall, Old York Road Country Club | 86 |
| Karl Beeson, Trump National Golf Club – Philadelphia | 88 |
| Michael Schoedler, Five Ponds Golf Club | 88 |
| David West, Wyncote Golf Club | 88 |
| Nicholas Angiulo, Deerwood Country Club | 91 |
| Greg Blackburn, Honeybrook Golf Club | 92 |
| Todd Anderson, Wilmington Country Club | WD |
| Jon Lavin, Rolling Green Golf Club | WD |
| John Luca, Philadelphia Publinks Golf Association | WD |
| J. Kirk Luntey, Merion Golf Club | WD |
| Ron Weaver, Bent Creek Country Club | WD |
| Super-Senior Division | |
| Chris Lange, Overbrook Golf Club | 66 |
| Brian Rothaus, Philmont Country Club | 69 |
| Don Donatoni, White Manor Country Club | 71 |
| Gordon Brewer, Pine Valley Golf Club | 72 |
| Tom Humphrey, Wilmington Country Club | 73 |
| Mike Owsik, Hershey's Mill Golf Club | 73 |
| Thomas White, Buck Hill Falls Golf Club | 73 |
| *Chuck Dowds, Applebrook Golf Club | 74 |
| Failed to qualify | |
| *Gary Daniels, Applebrook Golf Club | 74 |
| *Robin McCool, Saucon Valley Country Club | 74 |
| Jimmy Muller, Manufacturers' Golf & Country Club | 75 |
| Frank Polizzi, Whitemarsh Valley Country Club | 75 |
| Al Van Horn, Commonwealth National Golf Club | 75 |
| Tom Borsello, Wyncote Golf Club | 76 |
| Buck Jones, Philadelphia Publinks Golf Association | 76 |
| Scott Carney, Commonwealth National Golf Club | 77 |
| Bob Dorsey, Medford Lakes Country Club | 77 |
| Drew Panebianco, Five Ponds Golf Club | 77 |
| Sheldon Pollack, Bala Golf Club | 77 |
| Jim Prendergast, Philadelphia Publinks Golf Association | 77 |
| Tom Bartolacci, LuLu Country Club | 78 |
| John Gonsior, The Bucks Club | 78 |
| Gene Maginnis, Saucon Valley Country Club | 78 |
| Bennett Meyer, Rolling Green Golf Club | 78 |
| Rich Thon, The Springhaven Club | 78 |
| Vince Yost, Cedarbrook Country Club | 78 |
| Wayne Bartolacci, LuLu Country Club | 79 |
| Bob Billings, Rolling Green Golf Club | 79 |
| Robert Dietrich, Loch Nairn Golf Club | 79 |
| Tom DiCinti, Philadelphia Publinks Golf Association | 80 |
| Mike Farlling, Carlisle Country Club | 80 |
| George Henninger, Huntingdon Valley Country Club | 80 |
| Art Kania, Merion Golf Club | 80 |
| Joe Cordaro, Saucon Valley Country Club | 82 |
| Elliot Sheftel, Lehigh Country Club | 82 |
| Dan Burton, Lancaster Country Club | 84 |
| Frank Bowen, Rolling Green Golf Club | 85 |
| Mark Leaman, Overlook Golf Course | 85 |
| Steve Tagert, Spring Ford Country Club | 85 |
| Vince Scarpetta, Jr., Nittany Country Club | NC |
| Marlin Detweiler, Lancaster Country Club | WD |
| Gary Yeager, Five Ponds Golf Club | WD |
| WD – withdrawal; NC – no card | |
| * – decided in playoff | |