Overlook's Osborne opens up Super-Senior circuit with W
PHILADELPHIA, Pa. — Super Seniors stood alone for the first time Tuesday in the Francis B. Warner Cup at Bala Golf Club. Of those in the field, only one of them stood alone at the top of the leaderboard, clasping the first-ever independent Super-Senior event's hardware.
| Scoring portal | History |
That Super-Senior champion was Gregory Osborne of Overlook Golf Course, who battled the mid-90s temperatures at Bala (par 68, 5,184 yards), besting a field of 69 Supers to win the overall hardware in the 14th Francis B. Warner Cup Super-Senior. His 2-under 66 got the job done — the first time the 68-year-old has bettered his age in a competitive round. He also bested the rest of the field by a startling six strokes.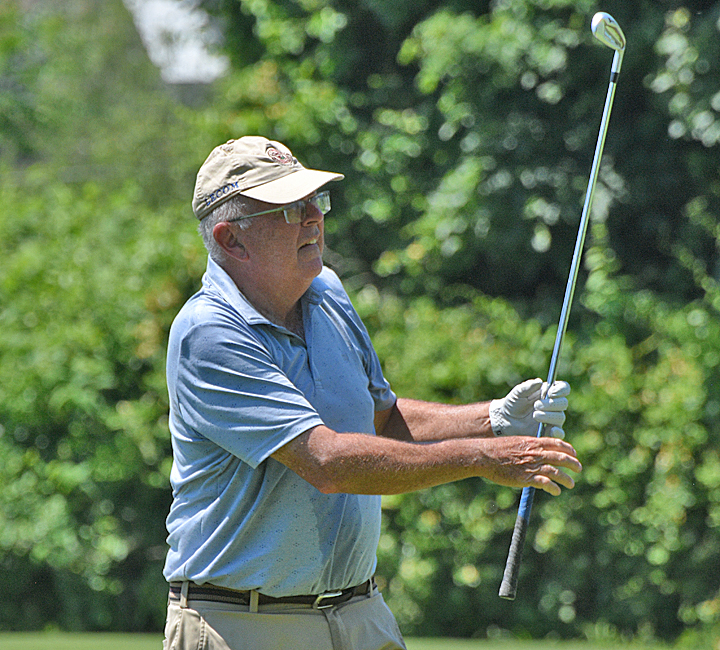 To meet the needs of its members, GAP instituted a separation of the Senior and Super-Senior Divisions in Major competitions. The 88th Francis B. Warner Cup for Seniors was played May 5 at 1912 Club. Galloway National Golf Club's Bill Burke fired a 2-under 69 to take the trophy that day.
In addition to the overall title, today's competition was split into Divisions: 65 years of age or older (Super-Senior) and 70 years of age or older (Legends). The Bucks Club's John Gonsior claimed the Legends crown in a match of scorecards versus Philadelphia Publinks GA's Buck Jones at 6-over 74.
Osborne, who last fall won the 2021 Super-Senior Amateur Championship at Country Club of Scranton, sizzled once again Tuesday. Starting on Bala's challenging front side, he'd grab back-to-back birdies to kickstart his round. On No. 3 (par 4, 328 yards), he pured a 3-wood and his sand wedge approach landed eight feet short of the hole, followed by the make for 3. A tap-in followed next on the par-3, 188-yard 4th after a 5-iron rolled down the slope to a foot.
"I hadn't played here before, so to get going early was nice. It's such a fascinating golf course," said Osborne, of Lititz, Pa. "The course was set up perfect for us Super Seniors. The yardage was a long 5,100 yards, so there was challenges there. It's a fun golf course. It really is."
After making the turn at 1 under, five pars arrived to start the second side. A birdie would drop on the short, downhill 16th (par 3, 94 yards) after Osborne landed a gap wedge to eight feet and drained it. On Bala's closer (par 4, 354 yards), his best drive of the day only left him with 105 yards coming in. He tossed a gap wedge to six feet and walked it in. Two-under par, signed, sealed and delivered.
"Really happy the way I played all around today. This is the first time I've shot my age in a competitive round, so I'd call that a success in itself," said Osborne. "And I beat it by two."
As the season's first Super-Senior Major, there's plenty of golf left to be played this summer. Osborne will be on the tee sheets for anything and everything offered, whether it be GAP Majors, Pennsylvania Golf Association competitions, Philadelphia Publinks events or Lancaster County tournaments.
Osborne's playing resume speaks for itself. He appeared in the U.S. Senior Amateur Championship in 2011 and 2012. Locally, he's won multiple Lancaster County Golf Association titles, including the Senior Championship in 2010 and 2015. In 2016, he tied for third in the Pennsylvania Golf Association Senior Amateur Championship at Lancaster Country Club. He's now won back-to-back Super-Senior Majors in GAP, dating back to his 2021 Super-Senior win at Scranton.
"I'm going to be playing a lot. Everything I can play in. Even if there are events that I don't think I can win, I'm going to try and compete. You just never know how long you can play this game for, so I'm going to play until I can't," said the champion.
Osborne can still play, that's for sure. And he can still raise trophies, too.
Francis B. Warner of Philadelphia Cricket Club served as GAP secretary-treasurer for 18 years. After his death in 1933, the Association started the Francis B. Warner Cup as an ongoing tribute in his memory. It is traditionally the first Senior Major of the GAP tournament season.
GAP
Celebrating Amateur Golf since 1897, GAP, also known as the Golf Association of Philadelphia, is the oldest regional or state golf association in the United States. It serves as the principal ruling body of amateur golf in its region. The Association's 330 Member Clubs and 90,000 individual members are spread across Pennsylvania, Delaware, New Jersey and Maryland. The GAP's mission is to promote, preserve and protect the game of golf.
| | |
| --- | --- |
| Overall | |
| Name, club | Score |
| Gregory Osborne, Overlook Golf Course | 66 |
| Tom Borsello, Wyncote Golf Club | 72 |
| Mark Walker, Laurel Creek Country Club | 72 |
| John Gonsior, The Bucks Club | 74 |
| Buck Jones, Philadelphia Publinks Golf Association | 74 |
| Joe Duhack, LuLu Country Club | 75 |
| Mike Moser, Kennett Square Golf & Country Club | 75 |
| Mike Owsik, Hershey's Mill Golf Club | 75 |
| Brian Rothaus, Five Ponds Golf Club | 75 |
| Vince Scarpetta, Jr., Nittany Country Club | 75 |
| Steve Tagert, Spring Ford Country Club | 75 |
| Rich Thon, The Springhaven Club | 75 |
| Bernie Zbrzeznj, Whitemarsh Valley Country Club | 75 |
| Scott Carney, Commonwealth National Golf Club | 76 |
| Dennis Konczyk, Union League Golf Club at Torresdale | 76 |
| Michael Quinn, Philadelphia Publinks Golf Association | 76 |
| Craig Scott, Great Bear Golf Club | 76 |
| Alan Wagenschnur, Newark Country Club | 76 |
| Robin McCool, Saucon Valley Country Club | 77 |
| Drew Panebianco, Five Ponds Golf Club | 77 |
| Raymond Pawulich, Little Mill Country Club | 77 |
| Steve Walczak, Wilmington Country Club | 77 |
| Bob Billings, Rolling Green Golf Club | 78 |
| Art Brosius, DuPont Country Club | 78 |
| Chuck Dowds, Applebrook Golf Club | 78 |
| Peter Mimmo, North Hills Country Club | 78 |
| Archie Struthers, The Shore Club | 78 |
| William Chase, Regents' Glen Country Club | 79 |
| Paul Cornely, McCall Golf Club | 79 |
| Drew Harmer, The Springhaven Club | 79 |
| Matthew Smith, Regents' Glen Country Club | 79 |
| Al van Horn, Commonwealth National Golf Club | 79 |
| Marlin Detweiler, Lancaster Country Club | 80 |
| Bob Dorsey, Medford Lakes Country Club | 80 |
| Mike Farlling, Carlisle Country Club | 80 |
| Tom Mallouk, Lookaway Golf Club | 80 |
| Jim Mastromatteo, Overlook Golf Course | 80 |
| Jimmy Muller, Manufacturers' Golf & Country Club | 80 |
| Jim Prendergast, Philadelphia Publinks Golf Association | 80 |
| Brian Sexton, Greate Bay Country Club | 80 |
| Michael Vassil, Country Club of Scranton | 80 |
| John Ward, Atlantic City Country Club | 80 |
| Jeffrey Amrhein, Briarwood Golf Club | 81 |
| Christopher Clauson, LuLu Country Club | 81 |
| Joe Culley, The Springhaven Club | 81 |
| Jim Finlan, Penn Oaks Golf Club | 81 |
| George Henninger, Huntingdon Valley Country Club | 81 |
| Sheldon Pollack, Bala Golf Club | 81 |
| Howard Press, Little Mill Country Club | 81 |
| Vince Yost, Cedarbrook Country Club | 81 |
| Matthew Bellis, Commonwealth National Golf Club | 82 |
| Larry Borowsky, White Manor Country Club | 82 |
| Charlie McClaskey, Philadelphia Publinks Golf Association | 82 |
| Stephen Lyons, Applecross Country Club | 83 |
| Larry Seltzer, Commonwealth National Golf Club | 83 |
| Chuck Caparo, The 1912 Club | 84 |
| Mark Monkhouse, Makefield Highlands Golf Club | 84 |
| Keith Wilson, Play Golf Delaware | 85 |
| Michael Berger, Kennett Square Golf & Country Club | 86 |
| Bob Majczan, Lookaway Golf Club | 86 |
| Robert Schubach, Wedgewood Golf Course | 86 |
| Gary Sutton, Regents' Glen Country Club | 89 |
| Eric Lamm, Schuylkill Country Club | 90 |
| Michael Rose, Talamore Country Club | 92 |
| Robert Lodovici, Little Mill Country Club | 93 |
| Mike Anton, Lookaway Golf Club | WD |
| Robert Brusco, Medford Village Country Club | NS |
| Gary Daniels, Applebrook Golf Club | WD |
| Fredrick Wass, Mercer Oaks Golf Course | WD |
| Super-Senior Flight (65-69 years old) | |
| Gregory Osborne, Overlook Golf Course | 66 |
| Tom Borsello, Wyncote Golf Club | 72 |
| Mark Walker, Laurel Creek Country Club | 72 |
| Joe Duhack, LuLu Country Club | 75 |
| Mike Moser, Kennett Square Golf & Country Club | 75 |
| Mike Owsik, Hershey's Mill Golf Club | 75 |
| Brian Rothaus, Five Ponds Golf Club | 75 |
| Vince Scarpetta, Jr., Nittany Country Club | 75 |
| Rich Thon, The Springhaven Club | 75 |
| Scott Carney, Commonwealth National Golf Club | 76 |
| Dennis Konczyk, Union League Golf Club at Torresdale | 76 |
| Alan Wagenschnur, Newark Country Club | 76 |
| Drew Panebianco, Five Ponds Golf Club | 77 |
| Steve Walczak, Wilmington Country Club | 77 |
| Chuck Dowds, Applebrook Golf Club | 78 |
| Peter Mimmo, North Hills Country Club | 78 |
| Archie Struthers, The Shore Club | 78 |
| William Chase, Regents' Glen Country Club | 79 |
| Paul Cornely, McCall Golf Club | 79 |
| Drew Harmer, The Springhaven Club | 79 |
| Matthew Smith, Regents' Glen Country Club | 79 |
| Marlin Detweiler, Lancaster Country Club | 80 |
| Bob Dorsey, Medford Lakes Country Club | 80 |
| Mike Farlling, Carlisle Country Club | 80 |
| Jim Mastromatteo, Overlook Golf Course | 80 |
| Jimmy Muller, Manufacturers' Golf & Country Club | 80 |
| Brian Sexton, Greate Bay Country Club | 80 |
| Michael Vassil, Country Club of Scranton | 80 |
| John Ward, Atlantic City Country Club | 80 |
| Jeffrey Amrhein, Briarwood Golf Club | 81 |
| Christopher Clauson, LuLu Country Club | 81 |
| Joe Culley, The Springhaven Club | 81 |
| Jim Finlan, Penn Oaks Golf Club | 81 |
| George Henninger, Huntingdon Valley Country Club | 81 |
| Vince Yost, Cedarbrook Country Club | 81 |
| Larry Borowsky, White Manor Country Club | 82 |
| Stephen Lyons, Applecross Country Club | 83 |
| Mark Monkhouse, Makefield Highlands Golf Club | 84 |
| Keith Wilson, Play Golf Delaware | 85 |
| Michael Berger, Kennett Square Golf & Country Club | 86 |
| Robert Schubach, Wedgewood Golf Course | 86 |
| Eric Lamm, Schuylkill Country Club | 90 |
| Robert Brusco, Medford Village Country Club | NS |
| Gary Daniels, Applebrook Golf Club | WD |
| Fredrick Wass, Mercer Oaks Golf Course | WD |
| Legends Flight (70 years or older) | |
| John Gonsior, The Bucks Club | 74 |
| Buck Jones, Philadelphia Publinks Golf Association | 74 |
| Steve Tagert, Spring Ford Country Club | 75 |
| Bernie Zbrzeznj, Whitemarsh Valley Country Club | 75 |
| Michael Quinn, Philadelphia Publinks Golf Association | 76 |
| Craig Scott, Great Bear Golf Club | 76 |
| Robin McCool, Saucon Valley Country Club | 77 |
| Raymond Pawulich, Little Mill Country Club | 77 |
| Bob Billings, Rolling Green Golf Club | 78 |
| Art Brosius, DuPont Country Club | 78 |
| Al van Horn, Commonwealth National Golf Club | 79 |
| Tom Mallouk, Lookaway Golf Club | 80 |
| Jim Prendergast, Philadelphia Publinks Golf Association | 80 |
| Sheldon Pollack, Bala Golf Club | 81 |
| Howard Press, Little Mill Country Club | 81 |
| Matthew Bellis, Commonwealth National Golf Club | 82 |
| Charlie McClaskey, Philadelphia Publinks Golf Association | 82 |
| Larry Seltzer, Commonwealth National Golf Club | 83 |
| Chuck Caparo, The 1912 Club | 84 |
| Bob Majczan, Lookaway Golf Club | 86 |
| Gary Sutton, Regents' Glen Country Club | 89 |
| Michael Rose, Talamore Country Club | 92 |
| Robert Lodovici, Little Mill Country Club | 93 |
| Mike Anton, Lookaway Golf Club | WD |
| WD – withdrawal; NS – no show | |