| Scorecards | History | Notebook | Video | Photo Gallery | News Portal |
Jeremy Wall became the first back-to-back winner of the BMW Philadelphia Amateur Championship in 25 years, defeating medalist and 2014 titleholder Jeff Osberg, 3&2, at Stonewall (par 70) Saturday. Wall and his masterful short game never trailed in the scheduled 36-hole Final, becoming the 10th player in the 119-year history of the championship, and first since Chris Lange of Overbrook Golf Club in 1993-94, to successfully defend the title.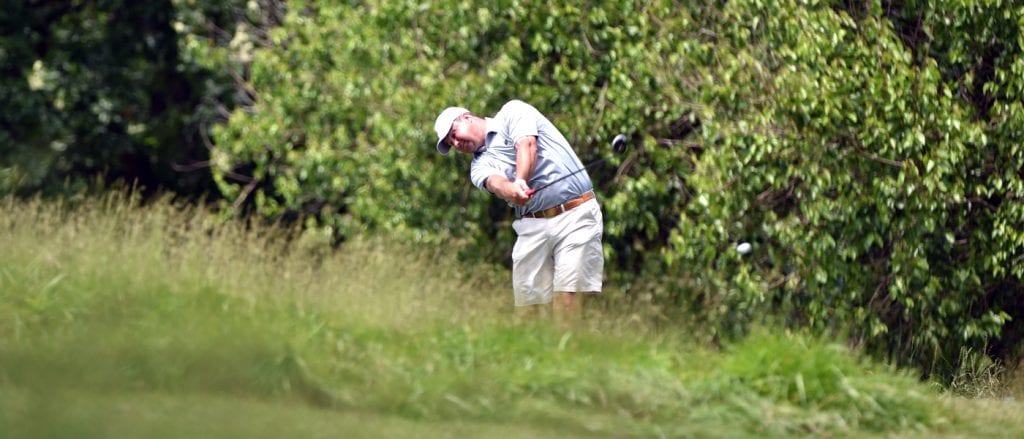 "[The Amateur] is a total marathon and to get through it and be the last guy standing. All those emotions of winning and repeating were a little much to handle," said the sentimental Wall on his thoughts when accepting the J. Wood Platt Trophy. "And the way it ended. [Me] making a putt. That's what I've been doing the whole week. For whatever reason, everything was going in.
"To have my name on [the trophy] twice is cool," he said before adding with a smile. "And I have two more than [brothers] Jack and Ethan."
Wall, 23, of Brielle, N.J., a lifelong Manasquan River Golf Club member, never trailed in the Championship Match. Wall took No. 1 (par 5, 507 yards) with a par; built a 3-up lead after nine holes; a 5-up advantage thru 18 holes and had a 4-up spread through 27 holes.
"It was a great week. I wish I would have played a little bit better in the Final but I lost to a well-deserved champion who played some really great golf today," said Osberg, 34, of Bryn Mawr, Pa. "Making the Final is difficult. I felt like I had a difficult match every single match. I was down in every match this week. I was really happy the way I battled back."
Wall put Osberg on the defensive with clutch par saves and birdie putts throughout the match. He made a remarkable 11 of 14 putts inside 10 feet.
After taking No. 1, on No. 4 (par 4, 397 yards) he canned a treacherous 15-footer running down the hill to go 2-up. Osberg parred No. 7 (par 3, 158 yards) to cut the deficit in half, before Wall sped away with an eight-foot birdie on No. 8 (par 4, 331 yards) and two-putt par on No. 9 (par 3, 211 yards). Wall was 3-up. Hole No. 12 (par 4, 344 yards) told the story of the Final.
Wall pulled his drive left into the fescue adjacent to the No. 13 tee box. Osberg, who won No. 11 (par 5, 594 yards) to cut the deficit to 2-down, lashed his driver 40 yards from the green. Wall proceeded to clip a 54-degree wedge from 118 yards to 20 feet. Osberg, from the fairway, cozied his wedge to six feet. Wall made his putt for the unlikely 3, and Osberg's shorty slid to the low side.
Wall then took No. 15 (par 3, 178 yards) and added a snazzy up-and-down on No. 18 (par 4, 442 yards) from the left greenside fairway between the practice putting green wall and the 18th green. Wall's final stroke was an uphill eight-footer. He led 5-up.
"That was a big one. I remember last year Andrew [Mason] made a big putt on No. 18 to keep it at [4-down]. And then before you know it, he won four of the first six holes in the afternoon to draw even," said Wall. "I didn't want that to happen again. I want to keep the pedal down and make as much separation as I possibly could."
There were two times in the final 18 holes when the outcome looked in doubt before Wall reasserted himself.
Osberg won Nos. 25 and 26 (Nos. 7 and 8) to close the deficit to 3-down but pulled his 2-iron into the lake on No. 27 (No. 9) and eventually lost the hole. The Pine Valley member made another two-hole run on Nos. 31 and 32 (No. 13, par 4, 485 yards and No. 14, par 4, 391 yards) but again stumbled on the ensuing par 3. On No. 33 (No. 15), Osberg, similar to the morning, missed the green in the clumpy left rough. Wall, who did the same in the first go-around, clubbed down and purposely came up short with a 7-iron. Osberg left his first chip short and his next, again like the morning, ran long. Wall would win the hole with a conceded par.
On the 34th and final hole, No. 16 (par4, 436 yards), Wall pulled a 7-iron from 183 yards left of the green. He knocked his chip to eight feet, and when Osberg's birdie slip past the cup, the wonder Wall did it again.
"[His short game] was pretty unbelievable," said Osberg, playing in his third Final in six years. "I think his entire game is really great. It was spectacular. He made a ton of big putts. A ton of crucial par saves. He made some phenomenal par saves."
Added Wall, "It was crucial to close it out on No. 16. I didn't want it to get to No. 18 because then he would have had hope."
Final
23. Jeremy Wall, Manasquan River Golf Club, d. 1. Jeff Osberg, Pine Valley Golf Club, 3&2.
GAP
Celebrating Amateur Golf since 1897, GAP, also known as the Golf Association of Philadelphia, is the oldest regional or state golf association in the United States. It serves as the principal ruling body of amateur golf in its region. The Association's 274 Full Member Clubs and 75,000 individual members are spread across the Eastern half of Pennsylvania and parts of New Jersey and Delaware. The GAP's mission is to promote, preserve and protect the game of golf.