Lees, Yao fire 4-under 67 for #USWomensFourBall Qual. medal
PAOLI, Pa. – In July, Kaitlyn Lees and Samantha Yao found out their collegiate golf program at Dartmouth College would be discontinued.
Tuesday at Waynesborough Country Club (par 71, 6,069 yards), the duo was more than motivated by that disappointing news. Playing in their team's honor, Lees and Yao fired a 4-under 67 to earn medalist honors in a U.S. Women's Amateur Four-Ball Championship Qualifier administered by GAP.
The medalists bettered 13 teams trying to qualify for the championship proper to be played at Maridoe Golf Club (Carrollton, Texas) on April 24-28. This will be the seventh edition of the U.S. Women's Amateur Four-Ball, which was created in 2015. The competition is open to any female amateur golfer whose Handicap Index does not exceed 14.4.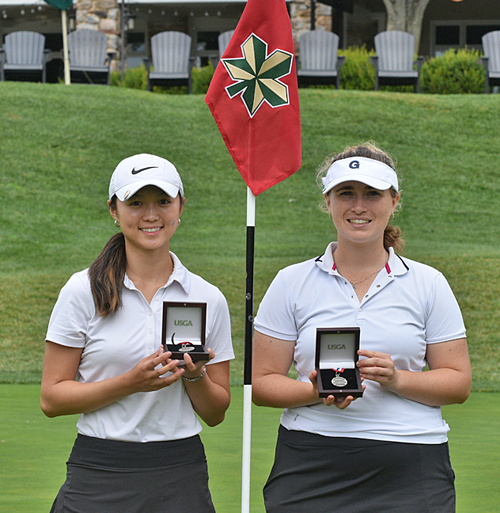 A playoff decided the second Qualifying ticket available. Two teams finished at 2-under par 69 in regulation. Oihana Etxezarreta (Spain) dropped a 20-foot birdie on the second playoff hole to advance alongside teammate Anna Kittelson (Boise, Id.).
Taking the event's first alternate position was Isabella Dilisio (Hatfield, Pa.) and Jackie Rogowicz (Yardley, Pa.) after falling in the playoff. The second went to Sawyer Brockstedt (Rehoboth Beach, Del.) and Ellison Lundquist (Furlong, Pa.) who finished at 1-under 70.
The day didn't begin as planned for the medalists. Lees and Yao started 1-over through three holes. It wasn't until No. 5 (par 4, 383 yards), that their invitation-earning performance really kickstarted. It was their where Yao placed a hybrid approach on the green and got a 20-foot birdie to fall over the front lip of the cup. The duo would go on to make the turn at even par.
On Waynesborough's second side, a whopping four birdies would be carded. Lees started things off on No. 10 (par 4, 378 yards) after her wedge approach landed to 15 feet and the putt was converted. Yao would get one for the team on No. 12 (par 4, 315 yards) after a bombed drive left wedge in and the 10 footer was jarred. On the par-3, 135-yard 15th, both players placed their tee shots within five feet. Yao made her putt to get the team to 3 under. Finally, on Waynesborough's closer (par 5, 468 yards), Yao's 82-yard bunker shot was blasted, spun back to the flagstick nestling to 20 feet, and the long putt was drained.
"That one, I was really happy with. It was a tough shot out of the [fairway] bunker, and it stayed on, and I was able to make the putt to end," said Yao, 19, a White Manor Country Club member.
Both Lees and Yao have figured out their futures for now. Lees has transferred to Georgetown University to resume her playing career, while Yao has decided to remain at Dartmouth to finish out her academic degree. Now, their future includes a berth in a national championship.
"It felt amazing to get back out here and compete again. It's been awhile. Obviously, it's always great qualifying for [national championships]" said Yao, medalist in last year's U.S. Girls' Junior Championship Qualifier at Steel Club. "This one's different because you add a teammate to it, and pulling someone else in to back you up, it's a lot of fun."
"I didn't really know if this Qualifier was even still happening until Sammy told me," said Lees, 20, a Merion Golf Club member. "Honestly, I feel like I might cry, because I've come so close to qualifying [for USGA championships] a few times. To come out here today and represent our team, it was a great day for us."
Etxezarreta and Kittelson, teammates at the University of Delaware, used a 20-foot birdie bomb on the second playoff to advance. Etxezarretta, playing in her first competition in the United States dropped the walkoff winner.
"Teeing off in the playoff, yeah, we were a little nervous," said Etxezarreta, 18, of Spain. "But, you know, the [winning] putt, it was pretty straightforward. I was able to just roll it in."
"It's unreal. It's crazy to know that [we're going to a national championship]," said Kittleson, 20, of Boise, Id. said. "We're just so happy right now."
GAP
Celebrating Amateur Golf since 1897, GAP, also known as the Golf Association of Philadelphia, is the oldest regional or state golf association in the United States. It serves as the principal ruling body of amateur golf in its region. The Association's 288 Member Clubs and 75,000 individual members are spread across the Eastern half of Pennsylvania and parts of New Jersey and Delaware. The GAP's mission is to promote, preserve and protect the game of golf.
| | | |
| --- | --- | --- |
| Names | City, state | Score |
| Kaitlyn Lees/Samantha Yao | Bryn Mawr, Pa./Berwyn, Pa. | 67 |
| *Oihana Etxezarreta /Anna Kittelson | Spain/Boise, Idaho | 69 |
| Alterates (in order) | | |
| *Isabella Dilisio/Jackie Rogowicz | Hatfield, Pa./Yardley, Pa. | 69 |
| Sawyer Brockstedt/Ellison Lundquist | Rehoboth Beach, Del./Furlong, Pa. | 70 |
| Failed to qualify | | |
| Callie Kemmer /Alyssa Roland | Washington, D.C./Newtown Square, Pa. | 71 |
| Angie Whitley Coleman/Samantha Perrotta | Wilmington, Del./Bordentown, N.J. | 72 |
| Natasha Kiel/Alise Knudson | New Hope, Pa./Dallas, Texas | 73 |
| Megan Meng/Angelina Tolentino | Pennington, N.J./Mount Laurel, N.J. | 73 |
| Kelly Athey/Katie Hutterer | Rockville, Md./Pittsburgh, Pa. | 73 |
| Tiya Chowdary/Sydney Yermish | Belle Mead, N.J./Wynnewood, Pa. | 73 |
| Siena Ferrick/Lene Sperling | Vienna, Va./Germany | 74 |
| Lauren Jones/Riley Quartermain | Newtown Square, Pa./Bryn Mawr, Pa. | 75 |
| Megan Adelman/Kayla Maletto | Bryn Mawr, Pa./Sinking Spring, Pa. | 77 |
| | | |
| * – decided on second playoff hole | | |