BLUE BELL, Pa. – A 1-over 73 wasn't the way Kyle Sterbinsky wanted to begin a long day of U.S. Amateur Qualifying. A 9-under 63, good for a new course record, was exactly how he wanted to end it.
Sterbinsky, a Wake Forest University redshirt senior, garnered an 8-under 136 total Monday at Cedarbrook Country Club (par 72, 6,939 yards), earning medal honors in a U.S. Amateur Qualifier. His second-round 63 was good enough for Cedarbrook's new course record by two strokes, a low mark previously held by six-time GAP Major winner Brandon Matthews.
Two-strokes back of Sterbinsky and securing the day's final qualifying ticket was Temple University's Dawson Anders at 6-under 138. The first alternate position went to Saucon Valley Country Club's Matt Mattare (5-under 139), with the second going to Huntingdon Valley Country Club's Vince Kwon (4-under 140).
Today's #USAmateur Qualifier marks the second administered by the Golf Association of Philadelphia this season. The championship proper will take place Aug. 12-18 at Pinehurst Resort & Country Club in Village of Pinehurst, N.C.
Sterbinsky's opening 18 holes couldn't have been more opposite than his second loop. That 1-over 73 opening round featured tee struggles and past demons.
"Everything was kind of in a funk. The common theme over the past year has been struggling off the tee, just being really bad. In the morning it was a little better, and I just kind of scraped it around," said Sterbinsky, a Huntingdon Valley Country Club member. "In the afternoon, I found something off the tee. That allowed me to hit fairways, and that was the difference. I haven't had that freedom in awhile."
Freedom also opened up the history books.
Things began catching fire almost immediately in the afternoon, with a round starting on the back nine, when four-straight birdies on Nos. 11 through 14 ignited the round. The par-4, 385-yard 11th hosted an 80-yard wedge approach that skipped up to two feet, leading to a tap-in. A two-putt red figure from 25 feet kept things going on No. 12 (par 5, 515 yards). On the par-3, 190-yard 13th, Sterbinsky's 7-iron off the tee landed 12 feet from the cup, and the putt fell over the front lip for his longest make of the day. The medalist's "best hole of the day" came on No. 14 (par 4, 445 yards) after a 6-iron from 200 yards out made way for a five-foot make for 3. Another tap-in birdie fell on Cedarbrook's finisher (par 4, 401 yards), resulting in a 5-under 31 turn.
"I was great off the tee [on the front]. I got some mojo back, I guess," he said.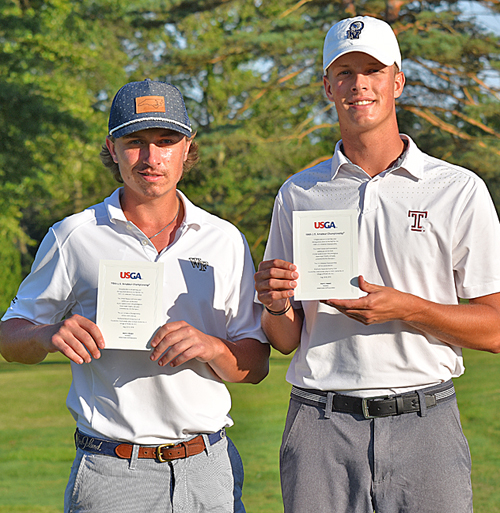 Cedarbrook's front side was next. A missed two footer on No. 1 (par 4, 401 yards) wasn't the ideal beginning, but a highlight on No. 2 (par 5, 522 yards) made up for it. After a bombed big stick off the tee found the fairway, a downwind 8-iron rolled up to a foot, leading to an eagle. The good mojo continued on the following par-4, 411-yard 3rd hole, where Sterbinsky's wedge from the short rough resulted in a four-foot birdie.
Four pars came on Nos. 4 through 7 before the day's final red number arrived. A 97-yard wedge was lifted, spun back and found real estate three feet from the cup before finding its bottom. An up-and-down sand save on No. 9 (par 3, 210 yards) gave Sterbinsky the new course record at 63 — two better than Matthews.
"I had no idea what the [previous course record] was. Walking up No. 9, I didn't even know what I was at because I was just focusing on my bunker shot and [making par]," said Sterbinsky. "I was lucky enough to do that."
The previous course record was posted in 2013, when Brandon Matthews, a former Temple University standout and current Korn Ferry Tour professional, carded a final-round, 7-under 65 to win the 111th Joseph H. Patterson Cup. Now, it belongs to a Demon Deacon.
Sterbinsky is now set for his third U.S. Amateur appearance (2013, 2016). This year's Pinehurst stage is one he's quite familiar with, being roughly 100 miles from Wake Forest's campus.
"I've played it a bunch. One of my teammates lives down there, so I get down there a few times a year [with him]. We probably get down there, with the whole team, once a year," said the medalist. "It's a great spot."
Not only does today's performance comes at the perfect time for Pinehurst, but also for Sterbinsky's golf game. His last two years at Wake have hosted a redshirt year in 2017-18, followed by just a single-start this past season.
"I kind of needed to just get everything back on track. A lot of struggles in the golf game mentally. That and tough school work aren't the best combination," said Sterbinsky, a communications major. "I've got another year of eligibility left, so we'll see what happens next."
Anders, a 20-year-old rising junior for the Temple Owls, claimed his spot at Pinehurst with a 6-under-par total of 138.
The 2017 GAP Junior Boys' Champion carded rounds of 70 and 68 and surged into qualifying position by going 3 under on his final nine holes of the day.
Anders did his damage on the front side's two par fives. On No. 2, he knocked a wedge to six feet from 138 yards, leading to one of his seven final-round birdies. On No. 6 (par 5, 565 yards), Anders splashed a greenside bunker shot to tap in distance for another 4, before picking up what ultimately was the decisive birdie on No. 8. There, Anders' 58-degree wedge traveled 96 yards before stopping three feet from the hole. A two-putt par on No. 9 secured the Telford, Pa. resident's one-shot advantage over Mattare.
During this pivotal stretch, an altered mental approach allowed Anders to emerge with one of the crowning achievements of his golfing career.
"I'm trying to just go out there and go low, not think about what could happen," Anders, a member at Indian Valley Country Club, said. "I just focus on hitting good shots and that's why I've been able to go low lately."
By keeping his eyes off the leaderboard and his foot on the accelerator, Anders' managed to fend off numerous competitors as well as his own nerves.
Anders' first U.S. Amateur appearance will also mark his first trip to Pinehurst, one of golf's renowned destinations. It is a trip, needless to say, Anders is excited to make.
"It will be cool to see the course and get to play with some of the best amateurs," Anders said.
NOTE: Two aces were jarred on the day. Philadelphia Cricket Club's Cal Buonocore holed his first-career ace with a 7-iron on the par-3, 165-yard 16th. Steven Kluemper of Bethlehem, Pa. rolled his tee shot in on the par-3, 195-yard 5th.

GAP
Celebrating Amateur Golf since 1897, GAP, also known as the Golf Association of Philadelphia, is the oldest regional or state golf association in the United States. It serves as the principal ruling body of amateur golf in its region. The Association's 274 Full Member Clubs and 75,000 individual members are spread across the Eastern half of Pennsylvania and parts of New Jersey and Delaware. The GAP's mission is to promote, preserve and protect the game of golf.
Qualifiers
Name, city, state
Scores (R1-R2-Total)
Kyle Sterbinsky, Yardley, Pa.
73-63–136
Dawson Anders, Telford, Pa.
70-68–138
Alternates (in order)
Matthew Mattare, Jersey City, N.J.
68-71–139
Vince Kwon, Marlton, N.J.
68-72–140
Failed to qualify
Erik Brubaker, Delmar, Md.
70-72–142
J.T. Spina, Schwenksville, Pa.
73-69–142
Daniel Charen, Langhorne, Pa.
72-71–143
Kevin O'Brien, Philadelphia, Pa.
71-72–143
Gregor Orlando, Haverford, Pa.
71-72–143
Sean Seese, Rydal, Pa.
70-73–143
Matthew Crescenzo, Cheltenham, Pa.
73-71–144
Kyle Vance, Audubon, Pa.
72-72–144
Troy Vannucci, Marlton, N.J.
69-75–144
Matt Graeff, Blue Bell, Pa.
71-74–145
Michael O'Brien, Philadelphia, Pa.
70-75–145
Michael Brown, Maple Shade, N.J.
73-73–146
Ryan Dornes, Lancaster, Pa.
76-70–146
David Hicks, Cape May Court House, N.J.
71-75–146
Matt Kreider, Lititz, Pa.
71-75–146
David Stanford, Vienna, Va.
75-72–147
Peter Beneteau, Canada
79-69–148
Steven Kluemper, Bethlehem, Pa.
72-76–148
Andrew Lombardo, Lansdale, Pa.
73-75–148
Evan Barbin, Elkton, Md.
73-76–149
Andrew Cornish, Pottstown, Pa.
74-75–149
Jeffrey Cunningham, West Palm Beach, Fla.
74-75–149
Luca Jezzeny, Furlong, Pa.
68-81–149
Hayden Moffat, Hatboro, Pa.
76-73–149
Logan Sabins, Spring Lake Heights, N.J.
71-78–149
Alexander Butler, Philadelphia, Pa.
77-73–150
Nelson Hargrove, Gladwyne, Pa.
76-74–150
Jack Irons, Naples, Fla.
75-75–150
Michael Lenartowicz, Canton, Ohio
71-79–150
Mariano Medico, Shavertown, Pa.
76-74–150
Erik Reisner, Philadelphia, Pa.
74-76–150
Billy Pabst Jr., Roaring Brook Township, Pa.
72-79–151
Ronald Robinson, Hatfield, Pa.
78-73–151
Noah Schwartz, Cherry Hill, N.J.
77-74–151
Stevie Castellani, Jupiter, Fla.
76-76–152
Benjamin Pochet, Royersford, Pa.
77-75–152
Ric Sucro, Plymouth Meeting, Pa.
74-79–153
Michael Winter, Hamilton, N.J.
81-72–153
David Colleran, Radnor, Pa.
78-76–154
Buddy Hansen, Blue Bell, Pa.
76-78–154
Quentin Griffith, Pennsauken, N.J.
76-79–155
Conor McGrath, Huntingdon Valley, Pa.
78-77–155
Pete Moran, Chester Springs, Pa.
75-80–155
Josh Anderson, Columbus, Ohio
75-81–156
Hayden Greer, Moorestown, N.J.
82-74–156
Noah Harrington, Ambler, Pa.
80-76–156
David Kim, Dresher, Pa.
75-81–156
Liam McGrath, Huntingdon Valley, Pa.
79-77–156
Cal Buonocore, Newtown Square, Pa.
78-79–157
Kevin Sarlo Jr., Burlington, N.J.
82-75–157
Jake McCloskey, West Chester, Pa.
81-77–158
Tyler Canfield, West Chester, Pa.
73-86–159
Rocco Sgrillo, Philadelphia, Pa.
76-83–159
Antonio Farinella, Knoxville, Tenn.
80-80–160
Jack Hamilton, Canada
78-82–160
Christian Matt, Lower Gwynedd, Pa.
83-78–161
Thomas Lewis, Doylestown, Pa.
81-81–162
Michael Mitnick, Linwood, N.J.
80-82–162
Sean Sigall, Sicklerville, N.J.
79-84–163
Colin Walsh, Warminster, Pa.
81-84–165
Timmy Lorenzo, Maple Glen, Pa.
85-81–166
Gwinyai Murahwa, Zimbabwe
83-83–166
Andrew Smith, Ambler, Pa.
81-86–167
Stephen Dressel, Wayne, Pa.
75-WD–75
Sam Carollo, Ashburn, Va.
79-WD–79
John Buliga, Langhorne, Pa.
81-WD–81
Cole Berman, Bryn Mawr, Pa.
WD-NS–WD
Chris Lange, Bryn Mawr, Pa.
WD-WD–WD
Matthew Law, Yardley, Pa.
WD-WD–WD
Alex Mulrooney, Wilmington, Del.
WD-WD–WD
Gary Schoeman, Philadelphia, Pa.
WD-WD–WD
Nicholas Scott, Harleysville, Pa.
WD-WD–WD
Lodie Van Tonder, Pennsville, N.J.
WD-WD–WD
Frankie Gregor, North Wales, Pa.
NS-NS–NS
Michael Li, People's Republic of China
NS-NS–NS
WD – withdrawal
NS – no show