Marie collects 42 Net points for Fall Net trophy
SPRINGFIELD, Pa. – Five Ponds Golf Club's Jason Marie had his biggest fan by his side, and in his golf cart, Monday at the Tee it Forward – Fall Net Championship.
Marie, joined by his wife Jill, fired a gross round of 9-over 80 on his way to 42 Stableford Net points for the Men's overall title at Rolling Green Golf Club (par 71, 5,540 yards).
Originally set to be played at Medford Lakes Country Club, the championship was moved to Rolling Green due to New Jersey travel restrictions in wake of COVID-19. Rolling Green's championship pedigree, paired with an ongoing, massive tree removal project, had the field excited to tee off. Marie was one of those players highly anticipating a shot at Rolling Green.
"When I heard the change, I was really excited because I have heard some great things about this place. Rolling Green doesn't just host local championships, but also on the national level, so you know it's a really nice course," said Marie, 42, of Maple Glen, Pa.
Rolling Green doesn't just host local championships, but also on the national level, so you know it's a really nice course.
His debut was one to remember. Marie tallied three gross birdies (net eagles) on the day, resulting in the hardware. A chip-in on No. 1 (par 4, 389 yards) for gross birdie earned his first of the day. On No. 5 (par 4, 359 yards), a gap wedge from 122 yards out nearly was holed, leading to a tap-in net eagle. His third and final birdie came on the par-3, 210-yard 10th hole, when Marie's 4-iron tee shot ran up on the green and the birdie putt was jarred.
"I was proud of the way I played today, especially on these greens. I've played in a bunch of Net events lately, so I knew what I needed to do," said Marie.
Today marks the second career GAP Net win for Marie. He took the 2018 Sprint Net Championship at Coatesville Country Club. Recently, he's been playing well, too. Marie finished 21st (Net) in the Four-Ball Stroke Play Championship at Indian Valley on Aug. 24. He followed that up with top honors at the GAP Member Play Day Aug. 27 at Manufacturers' Golf & Country Club.
"You know, my goal is to play with those guys in the Gross championships, but I'm enjoying the grind of playing in all these events," said Marie.
He's enjoying them so much that he's even now getting his family involved in GAP competitions. Marie's wife, Jill, finished second overall in the Women's Division with 38 Stableford Net points of her own. Jason and Jill have even introduced their daughter and son to the game. Competing in GAP events is quickly becoming a family affair for the Maries, and so is winning.
"It makes playing even more fun, enjoying the experience with her. She used to never sign up for tournaments, and now, she's really getting into them and enjoyed the round today," said Marie. "She's been playing in GAP Member Play Days, and we're looking forward to the Mixed Foursomes [at Overbrook Golf Club]. We're even hoping to one day get our own family foursome together with my daughter and son."
The Men's First Flight featured handicaps of 0 to 12. The Second Flight hosted handicaps of 13 to 16, while the Third Flight was 17 and above.
Knowlton takes overall Women's title in GAP debut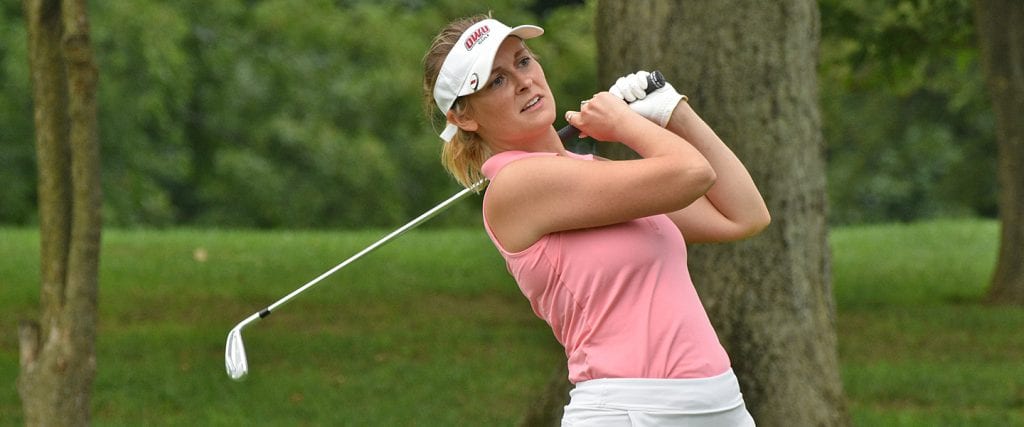 Eight Women teed off Monday at Rolling Green, yet only one walked away with the top overall Women's honor. Not even a broken driver could stop Liz Knowlton from claiming that fame.
Knowlton, a Hickory Valley Golf Club member and former Ohio Wesleyan University player, collected 41 Stableford Net points for the Women's overall trophy.
On the front nine, Knowlton carded 19 Stableford Net points. However, on the 9th tee, Knowlton's trusty TaylorMade SLDR driver — one that she utilized all four years of college — broke down.
"I hit a fabulous drive and looked at my driver and noticed it's completely broken. So the adjustment piece was just sliding back and forth and was really loud and so if it were to stay broken and making that noise in my back swing, it would have really had some constant problems. I'm so thankful that the golf shop was able to help me out with a wrench to tighten it back up just so I could keep swinging it," said Knowlton.

With her bandaged driver back in the bag, Knowlton's championship run began on the second side where she'd go on to grab 22 points. The highlight of Knowlton's round came on No. 16 (par 3, 122 yards). Her 8-iron landed on the left fringe, took a hop and nestled down to five feet. Her downhill birdie look was drilled, resulting in four Net points. Gross bogeys on Rolling Green's last two holes gave Knowlton the number she needed, ending with 41 total Net points.
I was hoping to shoot in the 80s, but it's not like I'm Tiger Woods out there. But playing a great golf course like this, it was a really fun day.
"I played well and I'm happy shooting 90 here on a tough course like this. I was hoping to shoot in the 80s, but it's not like I'm Tiger Woods out there. But playing a great golf course like this, it was a really fun day," said Knowlton.
Knowlton, a Columbus, Ohio resident, returned to the GAP region during quarantine. She picked up golf again and has been playing "religiously", establishing a handicap along the way at Hickory Valley. After fine-tuning her game, she wanted to test it out in competition, hence today's GAP debut.
"I had nothing else to do, so I decided to tighten up my game and wanted to get involved in some tournaments. I went over and got my handicap established again and played all summer, getting ready for this tournament," said Knowlton. "This was my first GAP tournament, and it was a really fun all-around experience. It was run better than even some of the college tournaments I've played in. It was a great day."
In the Women's Division, there were two Flights. The First featured 6 to 19 handicaps, while the Second hosted handicaps of 20 and above.
The Tee It Forward — Fall Net Championship, formerly known as the Second Handicap, is open to players 18 years of age and older with handicap index less than 36.0. The event began in 1946. The Golf Association of Philadelphia adopted the Tee It Forward parameters and changed the scoring format to net Stableford in 2012.
GAP
Celebrating Amateur Golf since 1897, GAP, also known as the Golf Association of Philadelphia, is the oldest regional or state golf association in the United States. It serves as the principal ruling body of amateur golf in its region. The Association's 288 Member Clubs and 75,000 individual members are spread across the Eastern half of Pennsylvania and parts of New Jersey and Delaware. The GAP's mission is to promote, preserve and protect the game of golf.
| | |
| --- | --- |
| Men's | |
| Overall | |
| Name, club | Points |
| Jason Marie, Five Ponds Golf Club | 42 |
| Thomas Brennan, Moselem Springs Golf Club | 40 |
| Joseph DeAngelis, Makefield Highlands Golf Club | 38 |
| Evan Berson, Radnor Valley Country Club | 38 |
| Matthew Miller, Golf Tour Greater Philadelphia | 36 |
| Richard Breder, The Shore Club | 36 |
| Jay Dilworth, The Shore Club | 36 |
| Tom Watterson, Loch Nairn Golf Club | 36 |
| Larry McClure, Frosty Valley | 36 |
| David Kearney, Lehigh Country Club | 34 |
| James Reger, McCall Golf Club | 33 |
| John O'Rourke, McCall Golf Club | 32 |
| Frank Andrusiewicz, Mercer Oaks Golf Course | 32 |
| Rob Armstrong, Phoenixville Country Club | 32 |
| John Kivitz, McCall Golf Club | 32 |
| George Crouse, Ramblewood Country Club | 32 |
| Michael Mannon, Phoenixville Country Club | 31 |
| Ken Donlavage, Wyoming Valley Country Club | 31 |
| Scott Bracken, Medford Village Country Club | 31 |
| Bob Graham, Downingtown Country Club | 31 |
| William Erskine, Philadelphia Publinks Golf Association | 30 |
| Timothy Horan, Radley Run Country Club | 30 |
| Michael Kyle, Talamore Country Club | 30 |
| Don Neill, LuLu Country Club | 29 |
| Eric Martin, Penn Oaks Golf Club | 29 |
| Richard McGroggan, Makefield Highlands Golf Club | 28 |
| J.T. Clarke, Running Deer Golf Club | 27 |
| Ed Osciak, Loch Nairn Golf Club | 27 |
| Jeff Vecere, The Shore Club | 26 |
| Doug Mael, Makefield Highlands Golf Club | 26 |
| Garth Sprecher, Lancaster Country Club | 25 |
| Joseph Kelly, Deerwood Country Club | 25 |
| Bob Marshall, Greate Bay Country Club | 25 |
| Rich Hartmann, McCall Golf Club | 25 |
| Robert Riley, Scranton Canoe Club | 25 |
| David Rosenthal, Radnor Valley Country Club | 24 |
| Mark Simpson, Kennett Square Golf & Country Club | 24 |
| Kevin Merlini, LuLu Country Club | 24 |
| Duke Rittersbach, Five Ponds Golf Club | 24 |
| Gerald Barr, Lehigh Country Club | 24 |
| Frank Cook, McCall Golf Club | 23 |
| Jeff Cross, Pitman Golf Course | 23 |
| Nick Pasquale, Blue Heron Pines Golf Club | 23 |
| Scott Dichter, Meadia Heights Golf Club | 22 |
| Terrance Welsh, The Shore Club | 21 |
| Patrick Riley, The Bucks Club | 14 |
| Terry Radcliffe, Overlook Golf Course | WD |
| Stephen Silvano, McCall Golf Club | WD |
| Bill Gudal, Applecross Country Club | WD |
| Scott Brody, Golden Pheasant Golf Course | DQ |
| | |
| First Flight (Handicap Index 0.4-13.4) | |
| Name, club | Points |
| Thomas Brennan, Moselem Springs Golf Club | 40 |
| Joseph DeAngelis, Makefield Highlands Golf Club | 38 |
| Matthew Miller, Golf Tour Greater Philadelphia | 36 |
| Larry McClure, Frosty Valley | 36 |
| David Kearney, Lehigh Country Club | 34 |
| Frank Andrusiewicz, Mercer Oaks Golf Course | 32 |
| John Kivitz, McCall Golf Club | 32 |
| George Crouse, Ramblewood Country Club | 32 |
| Michael Mannon, Phoenixville Country Club | 31 |
| Scott Bracken, Medford Village Country Club | 31 |
| Eric Martin, Penn Oaks Golf Club | 29 |
| J.T. Clarke, Running Deer Golf Club | 27 |
| Garth Sprecher, Lancaster Country Club | 25 |
| Rich Hartmann, McCall Golf Club | 25 |
| Gerald Barr, Lehigh Country Club | 24 |
| Nick Pasquale, Blue Heron Pines Golf Club | 23 |
| Scott Dichter, Meadia Heights Golf Club | 22 |
| Stephen Silvano, McCall Golf Club | WD |
| Scott Brody, Golden Pheasant Golf Course | DQ |
| | |
| Second Flight (Handicap Index 12.0-17.1) | |
| Name, club | Points |
| Jason Marie, Five Ponds Golf Club | 42 |
| Evan Berson, Radnor Valley Country Club | 38 |
| Jay Dilworth, The Shore Club | 36 |
| Tom Watterson, Loch Nairn Golf Club | 36 |
| James Reger, McCall Golf Club | 33 |
| John O'Rourke, McCall Golf Club | 32 |
| Ken Donlavage, Wyoming Valley Country Club | 31 |
| Bob Graham, Downingtown Country Club | 31 |
| William Erskine, Philadelphia Publinks Golf Association | 30 |
| Don Neill, LuLu Country Club | 29 |
| Richard McGroggan, Makefield Highlands Golf Club | 28 |
| Doug Mael, Makefield Highlands Golf Club | 26 |
| David Rosenthal, Radnor Valley Country Club | 24 |
| Kevin Merlini, LuLu Country Club | 24 |
| Jeff Cross, Pitman Golf Course | 23 |
| Patrick Riley, The Bucks Club | 14 |
| | |
| Third Flight (Handicap Index 17.8-30.5) | |
| Name, club | Points |
| Richard Breder, The Shore Club | 36 |
| Rob Armstrong, Phoenixville Country Club | 32 |
| Timothy Horan, Radley Run Country Club | 30 |
| Michael Kyle, Talamore Country Club | 30 |
| Ed Osciak, Loch Nairn Golf Club | 27 |
| Jeff Vecere, The Shore Club | 26 |
| Joseph Kelly, Deerwood Country Club | 25 |
| Bob Marshall, Greate Bay Country Club | 25 |
| Robert Riley, Scranton Canoe Club | 25 |
| Mark Simpson, Kennett Square Golf & Country Club | 24 |
| Duke Rittersbach, Five Ponds Golf Club | 24 |
| Frank Cook, McCall Golf Club | 23 |
| Terrance Welsh, The Shore Club | 21 |
| Terry Radcliffe, Overlook Golf Course | WD |
| Bill Gudal, Applecross Country Club | WD |
| | |
| Women's | |
| Overall | |
| Name, club | Points |
| Elizabeth Knowlton, Hickory Valley Golf Club | 41 |
| Jill Marie, Five Ponds Golf Club | 38 |
| Lisa Dichter, Meadia Heights Golf Club | 28 |
| Pat Ellis, Spring Mill Country Club | 28 |
| Carol Landgraf, Riverton Country Club | 27 |
| Muffy McCabe, French Creek Golf Club | 27 |
| Donna Williams, White Manor Country Club | 22 |
| Susan Simpson, Kennett Square Golf & Country Club | 21 |
| | |
| First Flight (Handicap Index 6.1-12.3) | |
| Name, club | Points |
| Lisa Dichter, Meadia Heights Golf Club | 28 |
| Pat Ellis, Spring Mill Country Club | 28 |
| Carol Landgraf, Riverton Country Club | 27 |
| Muffy McCabe, French Creek Golf Club | 27 |
| | |
| Second Flight (Handicap Index 13.9-29.2) | |
| Name, club | Points |
| Elizabeth Knowlton, Hickory Valley Golf Club | 41 |
| Jill Marie, Five Ponds Golf Club | 38 |
| Donna Williams, White Manor Country Club | 22 |
| Susan Simpson, Kennett Square Golf & Country Club | 21 |
| | |
| DQ-disqualification; WD-withdrawal | |