Kreamer wins Tee it Forward – Fall Net at Bala
PHILADELPHIA, Pa. – Brian Kreamer took care of business at his home course, as he does regularly.
Kreamer, Bala's Club President, took home the Men's Overall trophy Monday in the 72nd Tee it Forward – Fall Net Championship. His 3-over 71 equaled 39 Stableford Net points, collecting Kreamer the overall title at Bala (par 68, 5,036 yards).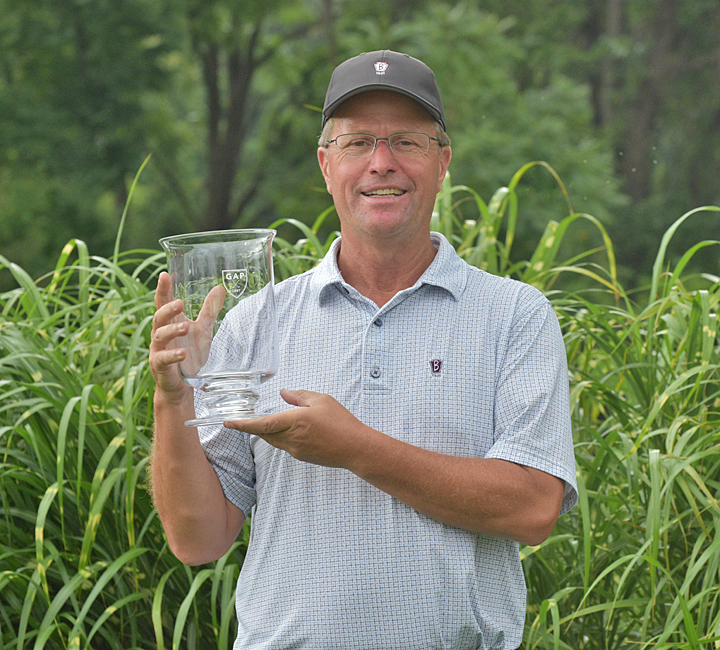 After a front-nine gross score of 2-over 35, Kreamer continued his steady play on the back. Coming down the home stretch, a birdie on the par-4, 293-yard 17th hole sealed the victory for the club president.
"I finally got one there on 17. I had about 84 yards in, and hit a wedge to 15 feet, and got the birdie to fall," said Kreamer. "I kind of knew what I needed to do because I saw someone might be in the house [at 38 and 36]."
He would go on to bogey the par-4, 362-yard 18th hole, but it wouldn't matter. Playing to a 6 Handicap Index on the day, he was getting a stroke there, giving him the two points needed for the one-point victory over the field of 45.
Today's win makes it a Net Championship sweep for Kreamer, who also took home the 2016 Spring Net title on home turf. It's no secret he knows where the success lies — or doesn't — on Bala's fairways.
"It definitely helped being here at home. A 71? That's one of my better scores this year," said Kreamer, 52, of Wynnewood, Pa. "I have a [three-year term] as club president. I've been involved here with the Golf Committee for awhile. We're always proud to host GAP events here, and I always try and play in them. The events are always top notch and fun."
The Men's First Flight featured handicaps of 1.2 to 8.8. The Second Flight hosted handicaps of 9.3 to 13.1, while the Third Flight was 14.4 to 28.9.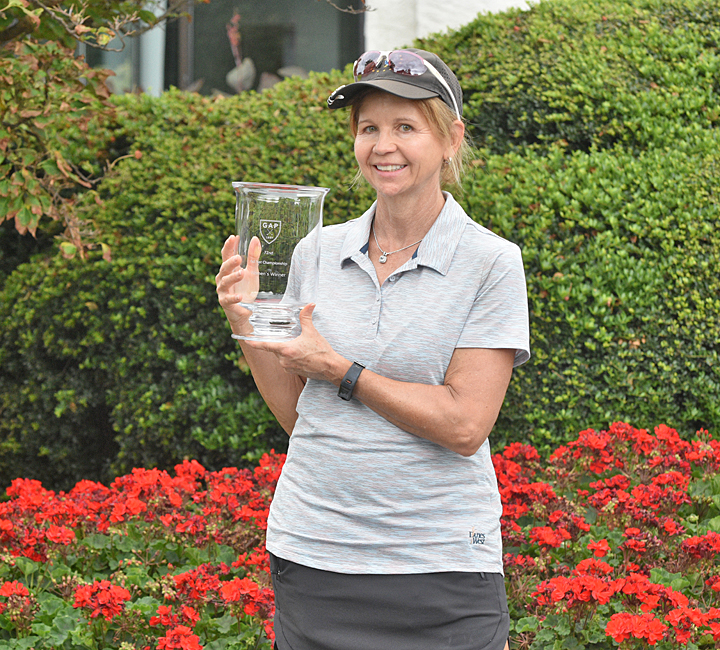 In the Women's Division, five ladies played for the overall trophy. The champion at day's end: White Manor Country Club's Leslie Debbas.
Debbas rode a phenomenal back-nine gross score of 4-over 39, finishing with 36 Stableford Net points. Six net birdies were collected on the championship-winning card. None more important than four of those on Bala's second side.
"I was nervous at the beginning. I still get nervous at the start, plus those first few holes can get you," said Debbas, 58, of West Chester, Pa. "But I settled in there eventually. I played really well on the back. That's one of my best [back nines]."
As a White Manor for two years, Debbas was able to make her GAP competitive debut today. After the hardware win today, it won't be her last.
"It really shows that all the hard work pays off. It's just really exciting," said Debbas.
The Tee It Forward — Fall Net Championship, formerly known as the Second Handicap, is open to players 18 years of age and older with handicap index less than 36.0. The event began in 1946. The Golf Association of Philadelphia adopted the Tee It Forward parameters and changed the scoring format to Net Stableford in 2012.
GAP
Celebrating Amateur Golf since 1897, GAP, also known as the Golf Association of Philadelphia, is the oldest regional or state golf association in the United States. It serves as the principal ruling body of amateur golf in its region. The Association's 300 Member Clubs and 80,000 individual members are spread across the Eastern half of Pennsylvania and parts of Delaware, Maryland and New Jersey. The GAP's mission is to promote, preserve and protect the game of golf.
| | |
| --- | --- |
| Men's | |
| Overall | |
| Name, club | Points |
| Brian Kreamer, Bala Golf Club | 39 |
| Carl Manawelian, Jeffersonville Golf Club | 38 |
| Michael Kyle, Talamore Country Club | 36 |
| Eric Naccarelli, RiverWinds Golf & Tennis Club | 35 |
| Don Neill, LuLu Country Club | 35 |
| Michael Jones, Waynesborough Country Club | 34 |
| Chris Martin, Bent Creek Country Club | 34 |
| Tyler Wray, Penn Oaks Golf Club | 34 |
| Augustine Altieri, Medford Village Country Club | 33 |
| Ed Kocher, LedgeRock Golf Club | 33 |
| Joseph Templin, LedgeRock Golf Club | 33 |
| Steve Kollias, Concord Country Club | 33 |
| Don Skahan, Golf Course at Glen Mills | 32 |
| Mike Connell, The Springhaven Club | 32 |
| Nick Gaudio, RiverWinds Golf & Tennis Club | 32 |
| Max Adkins, Ingleside Golf Club | 31 |
| Kevin McCarty, Philadelphia Country Club | 31 |
| Joe Zulli, Trump National Golf Club – Philadelphia | 31 |
| Andrew Repetto, Philadelphia Publinks Golf Association | 31 |
| Herb Mays, Downingtown Country Club | 30 |
| Joseph DeAngelis, Makefield Highlands Golf Club | 30 |
| Scott Dichter, Meadia Heights Golf Club | 30 |
| Andrew Richardson, Jeffersonville Golf Club | 30 |
| William Erskine, Philadelphia Publinks Golf Association | 29 |
| Anthony Vega, Flourtown Country Club | 29 |
| Aaron Levy, Jeffersonville Golf Club | 28 |
| Brent Mudry, Flourtown Country Club | 28 |
| Palmer Roop, Downingtown Country Club | 28 |
| John O'Rourke, McCall Golf Club | 28 |
| Robert Hsu, Lookaway Golf Club | 28 |
| Robert Brusco, Medford Village Country Club | 27 |
| Scott Miller, Five Ponds Golf Club | 27 |
| Vincent Botto, White Oaks Country Club | 27 |
| Tom Watterson, Loch Nairn Golf Club | 26 |
| Franklin Scheller, Elmhurst Country Club | 26 |
| Brandon Clark, Conestoga Country Club | 25 |
| Jason Marie, Five Ponds Golf Club | 25 |
| Stewart Vann, Tavistock Country Club | 24 |
| Ed Osciak, Loch Nairn Golf Club | 24 |
| Francis Doyle, Makefield Highlands Golf Club | 23 |
| Tom Clarke, Scotland Run Golf Club | 23 |
| Dennis Huggins, White Oaks Country Club | 20 |
| Samuel Ecker, Cedarbrook Country Club | 19 |
| Ted Hospodar, Overbrook Golf Club | NS |
| Jason Lohr, Regents' Glen Country Club | NS |
| | |
| First Flight | |
| Name, club | Points |
| Brian Kreamer, Bala Golf Club | 39 |
| Michael Jones, Waynesborough Country Club | 34 |
| Joseph Templin, LedgeRock Golf Club | 33 |
| Steve Kollias, Concord Country Club | 33 |
| Nick Gaudio, RiverWinds Golf & Tennis Club | 32 |
| Joe Zulli, Trump National Golf Club – Philadelphia | 31 |
| Herb Mays, Downingtown Country Club | 30 |
| Andrew Richardson, Jeffersonville Golf Club | 30 |
| Aaron Levy, Jeffersonville Golf Club | 28 |
| Brent Mudry, Flourtown Country Club | 28 |
| Robert Brusco, Medford Village Country Club | 27 |
| Franklin Scheller, Elmhurst Country Club | 26 |
| Francis Doyle, Makefield Highlands Golf Club | 23 |
| Jason Lohr, Regents' Glen Country Club | NS |
| | |
| Second Flight | |
| Name, club | Points |
| Eric Naccarelli, RiverWinds Golf & Tennis Club | 35 |
| Chris Martin, Bent Creek Country Club | 34 |
| Ed Kocher, LedgeRock Golf Club | 33 |
| Don Skahan, Golf Course at Glen Mills | 32 |
| Andrew Repetto, Philadelphia Publinks Golf Association | 31 |
| Joseph DeAngelis, Makefield Highlands Golf Club | 30 |
| William Erskine, Philadelphia Publinks Golf Association | 29 |
| Palmer Roop, Downingtown Country Club | 28 |
| John O'Rourke, McCall Golf Club | 28 |
| Brandon Clark, Conestoga Country Club | 25 |
| Jason Marie, Five Ponds Golf Club | 25 |
| Stewart Vann, Tavistock Country Club | 24 |
| Dennis Huggins, White Oaks Country Club | 20 |
| Samuel Ecker, Cedarbrook Country Club | 19 |
| Ted Hospodar, Overbrook Golf Club | NS |
| | |
| Third Flight | |
| Name, club | Points |
| Carl Manawelian, Jeffersonville Golf Club | 38 |
| Michael Kyle, Talamore Country Club | 36 |
| Don Neill, LuLu Country Club | 35 |
| Tyler Wray, Penn Oaks Golf Club | 34 |
| Augustine Altieri, Medford Village Country Club | 33 |
| Mike Connell, The Springhaven Club | 32 |
| Max Adkins, Ingleside Golf Club | 31 |
| Kevin McCarty, Philadelphia Country Club | 31 |
| Scott Dichter, Meadia Heights Golf Club | 30 |
| Anthony Vega, Flourtown Country Club | 29 |
| Robert Hsu, Lookaway Golf Club | 28 |
| Scott Miller, Five Ponds Golf Club | 27 |
| Vincent Botto, White Oaks Country Club | 27 |
| Tom Watterson, Loch Nairn Golf Club | 26 |
| Ed Osciak, Loch Nairn Golf Club | 24 |
| Tom Clarke, Scotland Run Golf Club | 23 |
| | |
| Women's | |
| Overall | |
| Leslie Debbas, White Manor Country Club | 36 |
| Tracey MacGown, Saucon Valley Country Club | 35 |
| Marie Gregg, Elmhurst Country Club | 34 |
| Jill Marie, Five Ponds Golf Club | 33 |
| Charlotte Kocher, LedgeRock Golf Club | 29 |
| | |
| NS-no show | |