Bernard, Kelleher medal in #PattersonCup Qualifier at Green Valley
| Scorecards | History |
LAFAYETTE HILL, Pa. – Bogey free is the way Dan Bernard always wanted to be.
Fifteen pars, and more importantly three brilliant birdies, made that dream possible Wednesday at Green Valley Country Club (par 71, 6,686 yards). Aronimink Golf Club's Bernard battled to a 3-under 68 to secure a share of medalist honors in a Joseph H. Patterson Cup Qualifier presented by Callaway Golf.
Joining the bogeyless Bernard in the top spot was Country Club of Scranton's Troy Kelleher. While Kelleher did have a bogey on his card, he bettered Bernard's birdie total with four total.
On a day featuring blue skies and red numbers, the cut line fell at 3-over 74 on the day. The 117th Patterson Cup will be hosted at Applebrook Golf Club, Aug. 7-8.
Bernard, a frequent GAP Major competitor, began his blemish-free round on Green Valley's second side. On the par-5, 502-yard 11th, Bernard hooked his drive left, punched out and lifted a 7-iron back to safety 105 yards out. His gap wedge approach from there came to rest 12 feet from the cup, and the birdie putt was converted. The next sub-par figure came on No. 15 (par 3, 216 yards) when Bernard's 4-iron tee shot rolled out to 20 feet leading to a birdie bomb. Crucial par saves came both on No. 16 and 17 featuring up-and-down saves.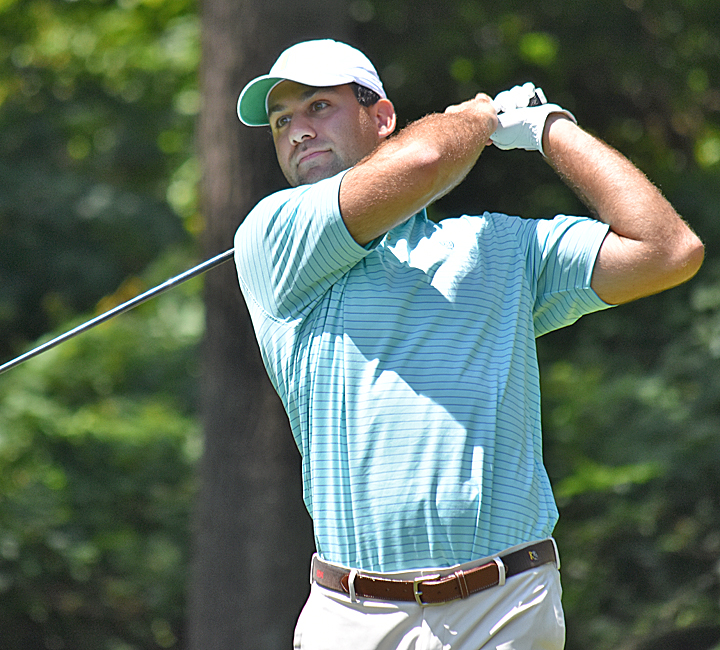 Making the turn at 2 under, Bernard found himself near the top of the leaderboard just below his playing partner, Merion Golf Club's Nelson Hargrove, who made the turn at 3 under before a final score of 2-under 69. The competition seemed to fuel both their games. Bernard's final birdie came on No. 4 (par 3, 191 yards) when a 5-iron found the back of the green, resulting in a 15-foot sliding make for 2. On his final test of the day, No. 9 (par 4, 393 yards), Bernard's bunker blast from the back-left sand rocked the flagstick and almost fell, but instead a par closed out the medal-winning round.
"My short game saved me a lot. I was able to make pars whenever I did get in some trouble. I was also hitting my iron shots really well today, plus the putter was really good once I got in the greens," said Bernard, 28, of Philadelphia, Pa.
For Kelleher, it was the fiery flatstick that brought him to 3 under. The lone bogey for Kelleher came on No. 10 (par 3, 177 yards), but a two-putt birdie on the next hole, No. 11, quickly erased that. On No. 17 (par 4, 416 yards), Kelleher's drive was blasted, leaving just a short wedge in, resulting in a 15-foot jarred putt for birdie. "One of the worst putts of the day" for Kelleher turned into one of his best on No. 1 (par 4, 373 yards) when his powerful putt from off the front of the green ricocheted off the back of the cup and in for a 3. His final birdie dropped on the par-5, 525-yard 3rd after Kelleher got up-and-down from 50 yards out.
"Putting is usually the weakness in my game while ballstriking is where I score from. Today, I only hit 9 or 10 greens but was able to get up and down a bunch and make birdie putts," said Kelleher, 18, of Clarks Summit, Pa.
Bernard's accomplishment of his first-career bogey-free round may now be in the books, but he's already got his sights set on another goal: competing for a GAP Major Championship.
"I always plays well in the Qualifiers to get into the Majors, but once I get there, I haven't been playing well," said Bernard, a former Bucknell University standout. "I really don't know, but I'm more comfortable in these Qualifiers, which might even be more stressful than the actually championship. Obviously the guys that are playing in any Major are going really low, so you're forced to play aggressive. That's what you have to do to play with the big boys out there."
At Applebrook, a spot Bernard is rather familiar with, Bernard hopes the qualifying success translates to the main stage.
"Love that place. I've played there a bunch of times, knowing a few members there. We played the front nine there, too, when I was playing for Malvern Prep. It's an awesome track," he said. "I didn't even know that I would be playing [in the Patterson] because the way I've been playing lately, so it was really nice to put together this round today."
For Kelleher, an incoming freshman at Franklin & Marshall College, getting accustomed to competing against the region's top talents is what GAP Majors mean to him.
"This will be my third [GAP Major], having played at Gulph Mills last year and [in the GAP Open] last week at Huntingdon Valley. I didn't make any putts, unfortunately, and it was really hard," said Kelleher. "When you come down here from Scranton, there's tougher competition against a bunch of great players. It's just a pleasure to be competing in them."
The remaining two #PattersonCup Qualifiers will be held Thursday at Riverton Country Club, followed by a rescheduled date of Aug. 1 at Great Bear Golf Club.
The second oldest Championship in the Golf Association of Philadelphia, the Joseph H. Patterson Cup memorializes a man who fostered the game in its infancy. Joseph Henry Patterson, a Philadelphia Cricket Club member, competed in the first out-of-town match played by a team of Philadelphians. Friends of Patterson donated the Cup, designed by J.E. Caldwell & Co., to the Association in 1900.
NOTE: Brady Erb of Meadia Heights Golf Club jarred his first career ace with a 4-iron on No. 4 (par 3, 191 yards).
GAP
Celebrating Amateur Golf since 1897, GAP, also known as the Golf Association of Philadelphia, is the oldest regional or state golf association in the United States. It serves as the principal ruling body of amateur golf in its region. The Association's 274 Full Member Clubs and 75,000 individual members are spread across the Eastern half of Pennsylvania and parts of New Jersey and Delaware. The GAP's mission is to promote, preserve and protect the game of golf.
Qualifiers
Name, club
Score
Dan Bernard, Aronimink Golf Club
68
Troy Kelleher, Country Club of Scranton
68
Michael Cook, Applebrook Golf Club
69
Nelson Hargrove, Merion Golf Club
69
Mark Benevento, Jr., Greate Bay Country Club
70
Alexander Butler, Bluestone Country Club
70
J.T. Spina, Spring Ford Country Club
70
Jeffrey Cunningham, Lu Lu Country Club
71
Bryan Keeling, Spring Mill Country Club
71
John Lalley, Llanerch Country Club
71
Jeffrey Romines, Philadelphia Publinks GA
71
Steve Skurla, White Manor Country Club
71
Mike Valentine, Commonwealth National Golf Club
71
Eric Carlidge, North Hills Country Club
72
Scott Forrester, Lu Lu Country Club
72
Matt Kristick, Blue Bell Country Club
72
Patrick McRae, West Chester Golf & Country Club
72
Darren Nolan, Talamore Country Club
72
Jonathan Radick, Spring Mill Country Club
72
Ron Robinson, Commonwealth National Golf Club
72
Alex Seelig, Reading Country Club
72
Cory Siegfried, Aronimink Golf Club
72
Robert Bechtold, Fieldstone Golf Club
73
Nicky Marrollo, Whitford Country Club
73
Robert Olseski, III, Applebrook Golf Club
73
Eric Palumbo, Rolling Green Golf Club
73
Andrew Wallace, Green Valley Country Club
73
Brendan Bacskai, Applebrook Golf Club
74
Kevin Cahill, Merion Golf Club
74
Andrew Carnevale, North Hills Country Club
74
William Howard, V, Applebrook Golf Club
74
David Hurly, White Manor Country Club
74
Joshua Isler, Radley Run Country Club
74
Tyler McGarry, Fox Hill Country Club
74
Will Riva, Bent Creek Country Club
74
Jon Rudisill, Stone Harbor Golf Club
74
Sean Seese, Huntingdon Valley Country Club
74
R.J. Wren, LedgeRock Golf Club
74
Failed to qualify
Brett Brenner, Green Valley Country Club
75
Brandon Cassidy, Commonwealth National Golf Club
75
Nicholas Fioravante, LedgeRock Golf Club
75
Alexander Kim, Blue Bell Country Club
75
Bo Maguire, Brookside Country Club
75
David Robbins, Jericho National Golf Club
75
Daniel Wu, Blue Bell Country Club
75
Connor Bennink, Kennett Square Golf & Country Club
76
Bryce Bundy, Spring Mill Country Club
76
Andrew Curran, Philadelphia Cricket Club
76
Gary Daniels, Applebrook Golf Club
76
Brady Erb, Meadia Heights Golf Club
76
James Greenhalgh, Eligo Club
76
Jack Habeeb, Country Club of Scranton
76
Matthew Lafond, Blue Bell Country Club
76
Stephen Lorenzo, Manufacturers' Golf & Country Club
76
Frankie McVeigh, Llanerch Country Club
76
Cory Meyer, Philmont Country Club
76
Nick Ostash, Five Ponds Golf Club
76
Michael Shevlin, Sr., Lu Lu Country Club
76
John Breslin, North Hills Country Club
77
Matthew Crilley, Steel Club
77
G. Patrick Dougherty, Philadelphia Cricket Club
77
Thomas Dzwonczyk, Country Club of Scranton
77
Jake Fazio, Huntingdon Valley Country Club
77
Ryan Gelrod, Philadelphia Cricket Club
77
Kevin Haag, Glenmaura National Golf Club
77
Mark Hill, Rolling Green Golf Club
77
David Kim, Commonwealth National Golf Club
77
Nick Kuhn, Blue Bell Country Club
77
Thomas Lewis, Commonwealth National Golf Club
77
Regan Papariello, St. Davids Golf Club
77
Brandon Raihl, Hartefeld National
77
John Bradbeer, Merion Golf Club
78
John Hansel, Sandy Run Country Club
78
Kevin Karabin, Glen Oak Country Club
78
Daniel Keenan, White Oaks Country Club
78
Taylor Kellogg, Philadelphia Cricket Club
78
Kevin O'Brien, Cedarbrook Country Club
78
Rocco Sgrillo, Philmont Country Club
78
Charlie Baker, Gulph Mills Golf Club
79
Joshua Brown, Greate Bay Country Club
79
Mark Coassolo, Brookside CC of Allentown
79
Thomas Fisher, North Hills Country Club
79
Kyle Kellenbenz, Whitemarsh Valley Country Club
79
Joe Kerrigan, Jr., Llanerch Country Club
79
Kyle Price, White Clay Creek Country Club
79
Michael Quinn, Philadelphia Publinks GA
79
Griffin Smith, Jericho National Golf Club
79
Brad Sokol, Green Valley Country Club
79
George Steinmetz, Spring Ford Country Club
79
Scott Storck, Philadelphia Cricket Club
79
Dave DiValentino, Five Ponds Golf Club
80
Kyle Ginty, Talamore Country Club
80
Corey Haydu, Spring Mill Country Club
80
Mark Hodgson, Medford Village Country Club
80
Austin Lauver, Hershey Country Club
80
Andrew Lombardo, Indian Valley Country Club
80
Steve Marshalek, Philadelphia Publinks GA
80
Alec Stern, Philadelphia Country Club
80
Daniel Tennekoon, Golf Course at Glen Mills
80
Jason Wilt, Philadelphia Publinks GA
80
Davis Flannery, Overbrook Golf Club
81
Justin Gohn, Concord Country Club
81
Buddy Hansen, IV, Blue Bell Country Club
81
Jack Hirsh, Philadelphia Cricket Club
81
Steven Sandberg, Rolling Green Golf Club
81
Christopher Swartz, Philadelphia Publinks GA
81
Rodney Anders, Indian Valley Country Club
82
Simon Asadoorian, Heidelberg Country Club
82
Ed Brown, Wild Quail Golf & Country Club
82
Christopher Knox, Downingtown Country Club
82
Matthew Pulcini, Saucon Valley Country Club
82
Chris Walker, Whitemarsh Valley Country Club
82
Dan Agoglia, Philadelphia Cricket Club
83
Ellis Chandler, Honeybrook Golf Club
83
Cory Haldeman, Saucon Valley Country Club
83
Steve Jones, Applebrook Golf Club
83
Justin Katz, Rolling Green Golf Club
83
Jack Quirk, Huntingdon Valley Country Club
83
Reed Winkler, DuPont Country Club
83
Joshua Brauer, Spring Ford Country Club
84
Cal Buonocore, Philadelphia Cricket Club
84
Mark Czerniakowski, Lu Lu Country Club
84
Kenny Engel, Jr., Bensalem Township Country Club
84
Eamon Evans, Glenmaura National Golf Club
84
Fran Migliocco, DuPont Country Club
84
Ryan Pensabene, Huntingdon Valley Country Club
84
John VanDame, Jr., Talamore Country Club
84
Case Hummer, Aronimink Golf Club
85
Kyle Henofer, Indian Valley Country Club
86
Thomas Crawford, Jr., Makefield Highlands Golf Club
87
Brendan May, North Hills Country Club
87
Keller Mulhern, Whitford Country Club
87
Rich Thon, The Springhaven Club
87
Michael Axelrod, Bluestone Country Club
88
Christian Haldeman, Saucon Valley Country Club
88
Tyler Joseph, Green Valley Country Club
89
Andrew Lombard, The Springhaven Club
89
Zach Sandler, Bluestone Country Club
90
Daniel Caparo, Cedarbrook Country Club
93
Rajat Gogia, Applecross Country Club
94
Brian Dinuzzo, Green Valley Country Club
95
Noah Harrington, Bluestone Country Club
NS
Chuck Lynch, Jr., Whitemarsh Valley Country Club
WD
Ryan Barnett, The ACE Club
WD
Voltaire Escalona, Philadelphia Cricket Club
WD
Matt Keim, Brookside Country Club
WD
Steve Oh, Philadelphia Publinks GA
WD
NS – no show; WD – withdrawal