Pro advice, aspirations on display at Patterson
| Scoring portal | History | Media guide | Course flyover |
FORT WASHINGTON, Pa. – Some words of wisdom were exchanged among the 10:50 a.m. group Thursday in the Final Round of the 119th Joseph H. Patterson Cup presented by Provident Bank. 
LuLu Country Club's Jim Sullivan and Little Mill Country Club's Michael Hyland, both former professionals, advised Northampton Country Club's Zach Juhasz on his professional golf aspirations throughout their loop around Manufacturers' Golf & Country Club.
"It was great. Jim and Michael were talking to me a bunch, especially in the beginning of the round," Juhasz, 24, of Bethlehem, Pa., said. "I was telling them what I plan on doing, and they emphasized the importance of staying true to myself and my game."
As Juhasz turns professional, he plans on competing in several mini-tours, including the APGA Tour and the PGA TOUR'S Mackenzie Tour. After getting a sponsor's exemption, Juhasz will compete in his first APGA event scheduled for Sept. 20-22 at Bluestone Country Club in Blue Bell, Pa.
"I'm excited to compete on the APGA Tour. We'll see how I do and go from there," Juhasz said. "I know that golf is hard, and there's going to be some challenges making this transition, but no matter what, it's important to have fun with it."
Sullivan, who played professionally from 1999-2002, and Hyland, a pro from 2002-03, both know a thing or two about how challenging it can be to transition from amateur to professional status. Dedication, paired with skill, are a must.
"After attending the PGA Tour Qualifying School, I knew that you had to be very responsible and even take some financial sacrifices to have a chance to play well professionally," Hyland, 42, of Medford, N.J., said. "Given the experience that Jim and I have, we were able to keep him calm throughout the day, and we essentially became cheerleaders for him because we know the potential he has."
"Zach is a great kid, and I would fully encourage him to give professional golf a shot because anything can happen," Sullivan, 46, of Glenside, Pa. "My biggest takeaway playing as a professional is that you have to take it very seriously and be all in because there's always something you can improve on with your game."
Regarding Juhasz's play on the course, he finished the #PattersonCup tied for seventh place alongside Huntingdon Valley Country Club's Stephen Cerbara at 5-under 138. Not a bad way to go out from the amateur game.
"This will likely be my last amateur event for a while as I prepare to turn professional, so it was a tremendous experience, especially getting to play at a course like Manufacturers','" Juhasz said. "I can't thank Jim and Michael enough for the advice they have given me and their willingness to help me out."
Silver Cross goes to Bradbeer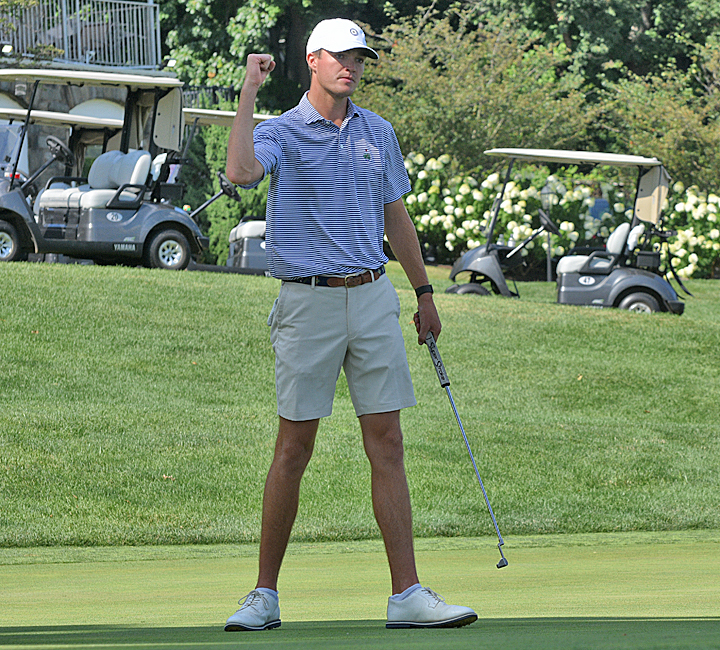 Peter Bradbeer of Merion Golf Club, this year's BMW Philadelphia Amateur Championship Stroke-Play Qualifying medalist, took the season-long Silver Cross Award in a big way. Bradbeer carded a 4-under 67 in Round One, followed by a course-record 64 in the Patterson's Final Round to secure the Award. His four-round total ended at a startling 17-under 268.
The 23-year-old broke the 72-hole Silver Cross scoring record, previously set by Jeff Osberg in 2015 (275). His 17-under number bettered the rest of the field by a remarkable 10 strokes. Michael Brown, Jr. of LuLu Country Club and Carlisle Country Club's John Peters both finished as runner-ups at 7-under par 278.
Bradbeer, who previously took home the 2017 Patterson Cup, also won the Silver Cross that season.
The Silver Cross is presented to the player with the lowest aggregate score in the qualifying rounds of the BMW Philadelphia Amateur Championship and the Joseph H. Patterson Cup.
NOTE: LuLu's Jon Rusk jarred his fourth-career ace on the par-3, 114-yard 8th hole with a 54-degree wedge. Rusk finished tied for 16th place at even-par 143.
The second oldest Championship in GAP, the Joseph H. Patterson Cup memorializes a man who fostered the game in its infancy. Joseph Henry Patterson, a Philadelphia Cricket Club member, competed in the first out-of-town match played by a team of Philadelphians. Friends of Patterson donated the Cup, designed by J.E. Caldwell & Co., to the Association in 1900.
Provident Bank
Provident Bank, a community-oriented financial institution offering "Commitment you can count on" since 1839, is the wholly owned subsidiary of Provident Financial Services, Inc. (NYSE:PFS), which reported assets of $12.92 billion as of Dec. 31, 2020. With $9.84 billion in deposits, Provident Bank provides a comprehensive suite of financial products and services through its network of branches throughout northern and central New Jersey, as well as Bucks, Lehigh and Northampton counties in Pennsylvania and Queens County in New York. The Bank also provides fiduciary and wealth management services through its wholly owned subsidiary, Beacon Trust Company and insurance services through its wholly owned subsidiary, SB One Insurance Agency, Inc. For more information about Provident Bank, visit provident.bank or join the conversations on Facebook (ProvidentBank) and Twitter (@ProvidentBank).
GAP
Celebrating Amateur Golf since 1897, GAP, also known as the Golf Association of Philadelphia, is the oldest regional or state golf association in the United States. It serves as the principal ruling body of amateur golf in its region. The Association's 300 Member Clubs and 80,000 individual members are spread across the Eastern half of Pennsylvania and parts of Delaware, Maryland and New Jersey. The GAP's mission is to promote, preserve and protect the game of golf.