Mannies' Donofrio tops Chapman (Net) at Coatesville
COATESVILLE, Pa. – A personal-best round usually does pretty well in the Stableford Net world.
Manufacturers' Golf & Country Club's Lou Donofrio is the latest example.
Donofrio, playing as a 4 course handicap, fired a gross round of 2-over 73, equaling 38 Net points and the overall crown in the Frank H. Chapman Memorial Cup (Net) at Coatesville Country Club (par 71, 5,441 yards). Donofrio topped a field of 38 players for the victory Thursday.
The 38 Net points mark was matched in regulation by Radley Run Country Club's Greg Smith. However, due to the USGA-recommended scorecard tiebreak method of back nine Net scores, Donofrio prevailed. Both players had matching back-nine scores of 19 points. The tiebreaker then went to the final six holes, where Donofrio's 13 points bettered Smith's 11 for the trophy.
You couldn't have drawn up a more picture-perfect early autumn day at Coatesville. You also couldn't draw up a better Net scorecard on Thursday than the Mannies' member produced. His three true birdies helped propel him to the top during his career-low round.
On No. 3 (par 5, 479 yards), Donofrio's wedge approach came to rest 15 feet away, and he drained that for the massive 3-point birdie. His next two came on Coatesville's second side. On the par-5, 402 yard 15th, Donofrio blasted a 5-iron from 168 yards out to the back of the green and two putted for the 4. His most impactful would be on Coatesville's closer, the par-4, 320 yarder. It was there where Donofrio's 54-degree wedge rolled out to 15 feet and he'd go on to jar it for what would ultimately be the winning putt.
"I putted really, really well today. I didn't miss a single putt within five feet, and that was the difference," said Donofrio, 57, of Lansdale, Pa.
Beginning the season as a 12 handicap, the champion's game is clearly trending toward the low-handicapper range. In fact, after a few lessons throughout the year, he's got a lofty goal in mind moving forward.
"This is my first time in a GAP tournament. I've really been working on my handicap and my game. I got a few lessons back at Mannies and I've gotten a lot longer which has really helped," said Donofrio. "My ultimate goal is to be able to try and qualify for something like the [GAP Open] or something like that.
Confidence will stem from Coatesville today in the form of the champion's first trophy. Next up for Donofrio may be his first GAP Major appearance.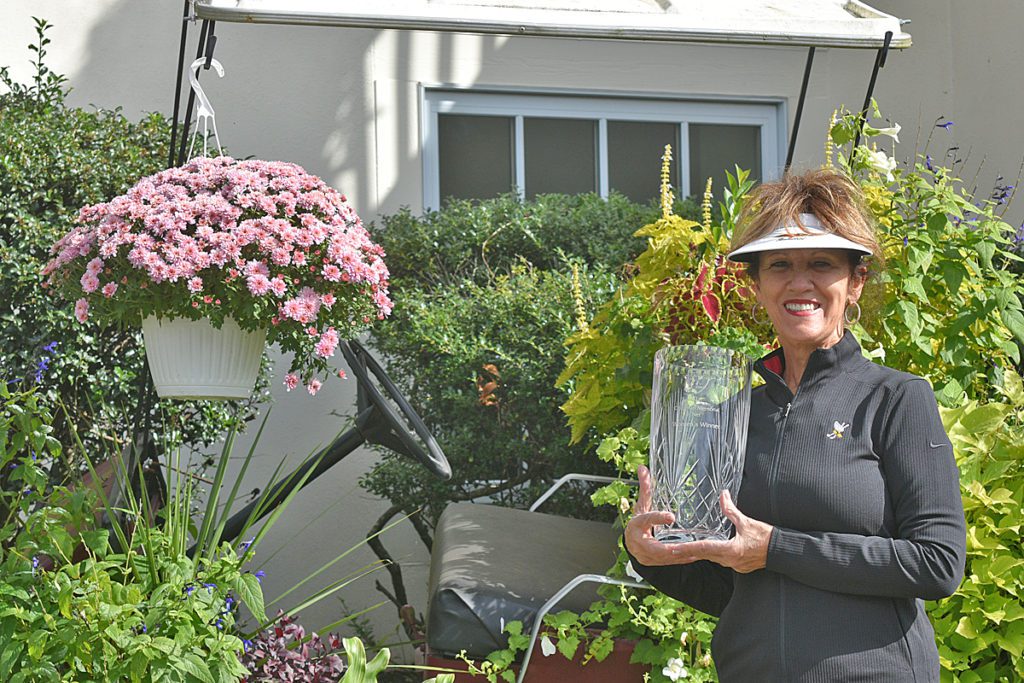 The Women's Division was a competition between five women going for the overall prize. In the end, the triumphant trophy was taken by LedgeRock Golf Club's Charlotte Kocher who finished with 32 Net points.
Kocher, this season's Francis B. Warner Cup (Net) Champion at Talamore Country Club, utilized four net birdies to top the Women's Division by seven points. It was another solid performance for Kocher, whose game has found a level of consistent in 2021. Playing alongside her husband, Ed, also helped the swing today.
"I only had one real par today, but I played really solid. I was able to take a lesson up at LedgeRock to fix my driver, where I was spraying it right, but that helped today and that really showed," said Kocher, 64, of Lititz, Pa. "I just played my game."
The Women's' Champion, a big fan of the GAP's Net offerings, says it's an event anyone should try out.
"You know, you don't have to be a super great player. It works out really well because you only have to focus on playing your own game. If you play to your handicap, you're going to do well. It's definitely a lot of fun for us," said Kocher.
Frank H. Chapman, a Whitemarsh Valley Country Club member, served as the Association's secretary-treasurer for 23 years. He died on June 7, 1955 at the age of 88. The Net tournament is held in his honor.
GAP
Celebrating Amateur Golf since 1897, GAP, also known as the Golf Association of Philadelphia, is the oldest regional or state golf association in the United States. It serves as the principal ruling body of amateur golf in its region. The Association's 300 Member Clubs and 80,000 individual members are spread across the Eastern half of Pennsylvania and parts of Delaware, Maryland and New Jersey. The GAP's mission is to promote, preserve and protect the game of golf.
| | |
| --- | --- |
| Men | |
| Overall | |
| Name, club | Points |
| *Lou Donofrio, Manufacturers' Golf & Country Club | 38 |
| *Greg Smith, Radley Run Country Club | 38 |
| John Morgenthaler, Coatesville Country Club | 37 |
| Shahab Bina, White Manor Country Club | 35 |
| Gerald Barr, Lehigh Country Club | 34 |
| Don Neill, LuLu Country Club | 33 |
| William Erskine, Philadelphia Publinks Golf Association | 33 |
| Joseph Templin, LedgeRock Golf Club | 33 |
| Robert Hsu, Lookaway Golf Club | 32 |
| Pete Farina, Philadelphia Publinks Golf Association | 31 |
| Patrick Foley, Moselem Springs Golf Club | 31 |
| Mark Petty, Lookaway Golf Club | 31 |
| Mick Dunphy, Flourtown Country Club | 31 |
| John Lobb, Bellewood Country Club | 31 |
| Joseph DeAngelis, Makefield Highlands Golf Club | 30 |
| Bob Sinton, Radley Run Country Club | 30 |
| Jack McCormick, Stone Harbor Golf Club | 30 |
| Tom Mallouk, Lookaway Golf Club | 29 |
| Timothy Kiorpes, Lookaway Golf Club | 29 |
| Jerry Maxwell, Five Ponds Golf Club | 29 |
| Thomas Brennan, Moselem Springs Golf Club | 29 |
| Terry Williams-Woodward, Bellewood Country Club | 28 |
| Ed Kocher, LedgeRock Golf Club | 28 |
| Gerry McCloy, Flourtown Country Club | 28 |
| Sev Panossian, Golf Course at Glen Mills | 27 |
| Michael Kyle, Talamore Country Club | 26 |
| R.B. D'iorio, The Springhaven Club | 26 |
| Phillip Yang, Five Ponds Golf Club | 26 |
| James Reger, McCall Golf Club | 25 |
| Kevin McCarty, Philadelphia Country Club | 24 |
| Jeff Kline, Mercer Oaks Golf Course | 24 |
| James McFadden, Talamore Country Club | 24 |
| Duke Rittersbach, Five Ponds Golf Club | 23 |
| Gene Toczylowski, The 1912 Club | 19 |
| Mike Walker, Raven's Claw Golf Club | 18 |
| Joseph Tully, MakefieldHighlandsGolfClub | WD |
| John Wiskoski, FlourtownCountryClub | WD |
| Terrance Schmidt, TalamoreCountryClub | DQ |
| | |
| First Flight (Handicap Index 4-7) | |
| Name, club | Points |
| Lou Donofrio, Manufacturers' Golf & Country Club | 38 |
| Gerald Barr, Lehigh Country Club | 34 |
| Joseph Templin, LedgeRock Golf Club | 33 |
| Pete Farina, Philadelphia Publinks Golf Association | 31 |
| Patrick Foley, Moselem Springs Golf Club | 31 |
| John Lobb, Bellewood Country Club | 31 |
| Thomas Brennan, Moselem Springs Golf Club | 29 |
| Terry Williams-Woodward, Bellewood Country Club | 28 |
| Gerry McCloy, Flourtown Country Club | 28 |
| Tom Mallouk, Lookaway Golf Club | 27 |
| Sev Panossian, Golf Course at Glen Mills | 27 |
| John Wiskoski, Flourtown Country Club | WD |
| Terrance Schmidt, Talamore Country Club | DQ |
| | |
| Second Flight (Handicap Index 7-11) | |
| Name, club | Points |
| Greg Smith, Radley Run Country Club | 38 |
| John Morgenthaler, Coatesville Country Club | 37 |
| Shahab Bina, White Manor Country Club | 35 |
| William Erskine, Philadelphia Publinks Golf Association | 33 |
| Mick Dunphy, Flourtown Country Club | 31 |
| Joseph DeAngelis, Makefield Highlands Golf Club | 30 |
| Timothy Kiorpes, Lookaway Golf Club | 29 |
| Ed Kocher, LedgeRock Golf Club | 28 |
| R.B. D'iorio, The Springhaven Club | 26 |
| Phillip Yang, Five Ponds Golf Club | 26 |
| James Reger, McCall Golf Club | 25 |
| James McFadden, Talamore Country Club | 24 |
| Mike Walker, Raven's Claw Golf Club | 18 |
| | |
| Third Flight (Handicap Index 11+) | |
| Name, club | Points |
| Don Neill, LuLu Country Club | 33 |
| Robert Hsu, Lookaway Golf Club | 32 |
| Mark Petty, Lookaway Golf Club | 31 |
| Bob Sinton, Radley Run Country Club | 30 |
| Jack McCormick, Stone Harbor Golf Club | 30 |
| Jerry Maxwell, Five Ponds Golf Club | 29 |
| Michael Kyle, Talamore Country Club | 26 |
| Kevin McCarty, Philadelphia Country Club | 24 |
| Jeff Kline, Mercer Oaks Golf Course | 24 |
| Duke Rittersbach, Five Ponds Golf Club | 23 |
| Gene Toczylowski, The 1912 Club | 19 |
| Joseph Tully, Makefield Highlands Golf Club | WD |
| | |
| Women | |
| Overall | |
| Name, club | Points |
| Charlotte Kocher, LedgeRock Golf Club | 32 |
| Leslie Kalemjian, White Manor Country Club | 25 |
| Alison Kellock, Flourtown Country Club | 24 |
| Karen Hilliard, Spring Ford Country Club | 24 |
| Patty Wright, Tanglewood Manor Golf Club | 24 |
| | |
| *decided in scorecard playoff | |
| DQ – disqualification; WD – withdrawal | |