Salvation sought: Junior Boys' semifinals set
| Scoring portal | History | Notebook | Day One recap | Day One notebook | Photo gallery |
COATESVILLE, Pa. — Redemption streams through the semifinalists in the 105th Junior Boys' Championship, part of the GAP Junior Series presented by Citadel.
Huntingdon Valley Country Club's Patrick Isztwan (Round of 16), Talamore Country Club's Patrick Sheehan (Quarterfinals), Loch Nairn Golf Club's Austin Barbin (Semifinals) and Shawnee Country Club's William Mirams (Final) each suffered a loss that lingers a year later. The quartette posted two wins apiece Tuesday at Coatesville Country Club (par 70, 6,286 yards) to move a step closer to salvation.
Sheehan, the tournament's No. 1 seed, and Mirams, the reigning Junior Boys' runner-up, square off at 7:30 a.m. tomorrow. The Barbin/Isztwan contest, a Round of 16 rematch from 2018, will follow at 7:37 a.m.
"I nipped him on the 17th hole [at Blue Bell Country Club, site of last year's Junior Boys' Championship]. His putting was on, and my putting was on. It was a putting contest," Barbin, 18, of Elkton, Md., said. "It's going to be a fun match tomorrow."
"I know it will be a tough match, but I'm fully expecting to make it through to the Final. I have high expectations," Isztwan, 16, of Huntingdon Valley, Pa., said. "Austin is a solid player. I don't think [having experience playing against him] changes anything at all. I'm going to try and come out hot like I did today. I'm going to try to win the match and beat him down."
Isztwan certainly scorched his way to the semifinals Tuesday. He dismissed The Springhaven Club's Kevin Smith, 6&5, in the quarterfinals. A birdie-birdie start set the tone. On No. 1 (par 5, 460 yards), Isztwan reached the fringe with a 5-iron and two-putted. He executed a 30-footer for birdie on No. 2 (par 3, 160 yards) following an 8-iron tee selection.
"My caddie (Dylan Topaz) gave me a great read. I didn't know exactly what the putt was going to do," Isztwan, an incoming junior at William Penn Charter School, said. "He told me left edge. I hit it left edge and it went in. That was a huge momentum swing."
Isztwan took Nos. 4-6 to move 5-up in a flash. The sequence went as follows: routine par on No. 4 (par 3, 157 yards), a 9-iron 145 yards to eight feet for birdie on No. 5, a 15-footer for par on No. 6 (par 3, 203 yards). Isztwan led by as many as five in his Round of 16 bout against Concord Country Club's Win Thomas. He ultimately prevailed, 1-up.
Isztwan didn't make the same mistake twice.
"Having had that same experience in the morning, I knew exactly what to do," Isztwan said. "I didn't let up on Kevin. I kept the foot down."
Barbin's foot slammed atop the accelerator in his 5&4 victory over fellow Loch Nairn member Nikita Romanov in the Round of 16. It toggled on and off, however, in the quarterfinals against Spring Mill Country Club's Liam Hart. He lost three straight holes to enter Coatsville's back nine in a deficit. A presumably unlucky 2-iron on No. 11 (par 4, 276 yards) turned lucky.
"I kind of got a break in a way by pulling it far enough left where I actually had a wedge shot in," Barbin said. He hit a 54-degree wedge 90 yards to 17 feet for birdie. Fortunes followed Barbin, a recent Red Lion Christian Academy graduate, to the par 4, 430-yard 14th hole.
"My ball was right in front of a tree root. I came down through perfectly on it [with an 8-iron from 125 yards]. It jumps out and stops two feet from the hole," he said.
A birdie-birdie finish secured a 3&1 victory over Hart, a recent Holy Ghost Preparatory School graduate. Barbin, who will attend the University of Maryland in the fall, spun a 58-degree wedge from 92 yards to five feet on No. 16 (par 4, 313 yards). He received a conceded 3 on the next hole (par 4, 436 yards) after hitting a 9-iron 160 yards to five feet. Trouble in the left tree-line for Hart prompted a handshake.
Barbin's upcoming clash against Isztwan isn't the only rematch connected to Coatesville. In a case of semifinals déjà vu, Mirams, 17, of Stroudsburg, Pa., edged Rolling Green Golf Club's Andreas Aivazoglou in 19 holes to advance to the quarterfinals Tuesday. The recent Notre Dame Jr/Sr. High School graduate knocked a 60-degree wedge 50 yards to four feet for birdie on No. 1 (par 5, 460 yards), the first extra hole.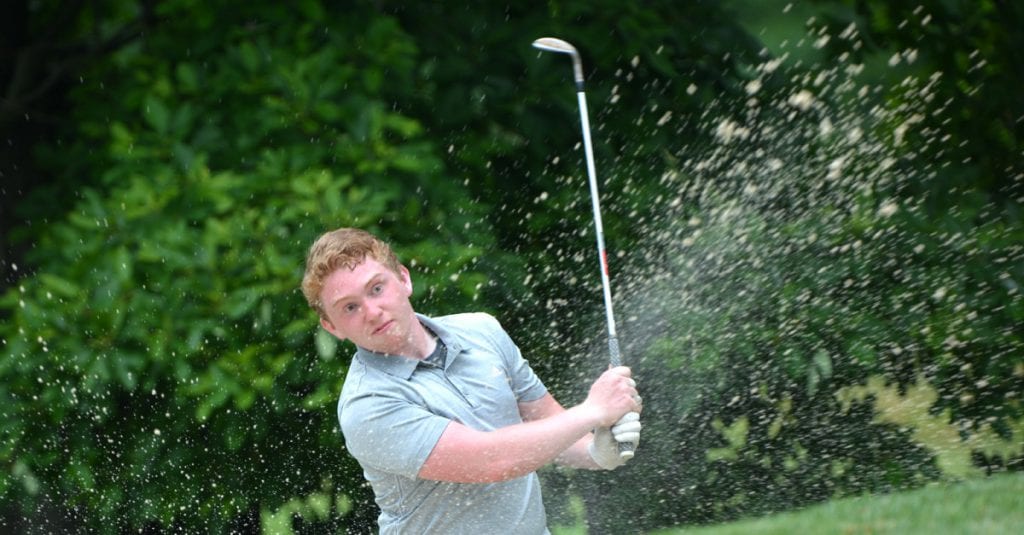 In a battle of literal — and nominal — willpower, Mirams, who will attend the University of Delaware in the fall, then defeated Kennett Square Golf & Country Club's William Bennink, 4&3. He separated comfortably after a conceded eagle on No. 11; credit a superfluous 3-wood to seven feet there. Mirams is looking to become the 19th player to appear in the Junior Boys' Final in consecutive years.
"I definitely want to make a stand. Last year was rough, finishing [as runner-up]," Mirams, who lost to Spring Ford Country Club's Ryan Tall, 4&3, a year ago, said. "I just got to get to the Final. That's my main goal. Other than that, I just need to keep the ball in play. I don't really see an issue with the putting. I just need to stay in the game. We'll see what happens.
"Sheehan will be good competition. I know his length, that's for sure."
Sheehan's length jives — and thrives — with Coatesville and its rigid yet receptive terrain. He dispatched Gulph Mills Golf Club's Charlie Baker, 4&3 before ousting Blue Bell Country Club's Nick Martin, 1-up, in the quarterfinals.
"I can reach every par 5. Even some of the par 4s I'm able to hit driver up close to the green," Sheehan, 18, of Doylestown, Pa., said. "That helps. I think it gives me an advantage."
Sheehan, who will attend Penn State University in the fall, jumped to a 3-up lead through five holes against Martin. On No. 2 (par 3, 160 yards), he knocked a 9-iron to five feet for birdie. Sheehan buried a 35-footer for eagle on the par 5, 533-yard No. 3 after reaching the green in two with a 6-iron from 202 yards. On No. 5 (par 4, 403 yards), he pummeled a 9-iron 172 yards to 12 feet for birdie.
A few bad swings, a leaky putter and a streaky Martin brought matters to a standstill entering the 17th hole (par 4, 436 yards). Both players veered right on the dogleg left, navigated tree obstacles and reached the green safely in regulation. Martin watched his six-footer to match Sheehan's 4 stop short.
"It was probably the right read. I just didn't hit it," Martin, 17, of Audubon, Pa., said.
Sheehan, a recent Central Bucks High School East graduate, reached the Junior Boys' Semifinals in 2017. He lost to Tall in the Quarterfinals, 2&1, in 2018.
Nothing tall — well, maybe Coatesville's trees — will stand in the way of either Mirams or Sheehan as the road to redemption winds into Wednesday.
The Junior Boys' Championship is the premier Major in the GAP Junior Division. It is open to GAP Member Club golfers aged 14-18 who have not started their college education and who hold a handicap index of 14.4 or lower. Sixteen players qualify for match play; an additional 16 advance into the event's First Flight.
The Junior Boys' Champion is awarded the Peg Burnett Trophy, named in honor of the Association's Executive Secretary from 1951-76. Ms. Burnett was an ardent Junior golf supporter who emphasized sportsmanship and respect for the game. "I was very strict about checking the rule book. I didn't make the rules, but since they are there, you have to abide by them."
GAP
Celebrating Amateur Golf since 1897, GAP, also known as the Golf Association of Philadelphia, is the oldest regional or state golf association in the United States. It serves as the principal ruling body of amateur golf in its region. The Association's 274 Full Member Clubs and 75,000 individual members are spread across the Eastern half of Pennsylvania and parts of New Jersey and Delaware. The GAP's mission is to promote, preserve and protect the game of golf.

Citadel
Citadel is a credit union that has provided banking, investments, and insurance services to the Greater Philadelphia community for more than 80 years. At over $3 billion in assets, Citadel is one of the area's largest locally owned, not-for-profit financial institutions, proudly serving residents of Bucks, Chester, Delaware, Lancaster, Montgomery, and Philadelphia counties. Citadel has been ranked number one among all credit unions in Pennsylvania for providing value to customers by Callahan & Associates, and was named one of the best performing credit unions in the nation by SNL Financial. To explore products and services, visit www.CitadelBanking.com.

Quarterfinals
1. Patrick Sheehan, Talamore CC d. 8. Nick Martin, Blue Bell CC, 1-up
5. William Mirams, Shawnee CC d. 13. William Bennink, Kennett Square G&CC, 4&3
2. Austin Barbin, Loch Nairn GC d. 7. Liam Hart, Spring Mill CC, 3&1
14. Patrick Isztwan, Huntingdon Valley CC d. 6. Kevin Smith, The Springhaven Club, 6&5
First Flight
9. Evan Barbin, Loch Nairn GC d. 1. Connor Bennink, Kenneth Square G&CC, 2&1
5. Billy Pabst, Jr., Elmhurst CC d. 13. Evan Drummond, Applecross CC, 4&2
7. Morgan Lofland, Phoenixville CC d. 15. Andrew Curran, Philadelphia Cricket Club, 5&4
3. Tyler Zimmer, Philadelphia CC d. 11. Andrew Miller, Philadelphia CC, 2&1
Round of 16
1. Patrick Sheehan, Talamore CC d. 16. Charlie Baker, Gulph Mills GC, 4&3
8. Nick Martin, Blue Bell CC d. 9. Michael Walz, White Manor CC, 6&5
13. William Bennink, Kennett Square G&CC d. 4. Matthew Lafond, Blue Bell CC, 2&1
5. William Mirams, Shawnee CC d. 12. Andreas Aivazoglou, Rolling Green GC, 19 holes
2. Austin Barbin, Loch Nairn GC d. 15. Nikita Romanov, Loch Nairn GC, 5&4
7. Liam Hart, Spring Mill CC d. 10. Luke Watson, Spring Ford CC, 19 holes
14. Patrick Isztwan, Huntingdon Valley CC d. 3. Win Thomas, Concord CC, 1-up
6. Kevin Smith, The Springhaven Club d. 11. Darren Nolan, Talamore CC, 2&1
First Flight
1. Connor Bennink, Kennett Square G&CC d. 16. Conrad Benford, Spring Ford CC, 7&5
9. Evan Barbin, Loch Nairn GC d. 8. Jack Davis, Aronimink GC, 1-up
13. Evan Drummond, Applecross CC d. 4. Dylan Lasecki, Blue Bell CC, disqualification
15. Andrew Curran, Philadelphia Cricket d. 2. Stephen Butler, Indian Valley CC, 6&4
7. Morgan Lofland, Phoenixville CC d. 10. Joey Morganti, Llanerch CC, 2&1
3. Tyler Zimmer, Philadelphia CC d. 14. John Bradbeer, Merion GC, 2-up
11. Andrew Miller, Philadelphia CC d. 6. Jake Maddaloni, Aronimink GC, 19 holes