Former Junior Boys' champ aids Blue Bell's Martin
| Scoring portal | History | Day One recap|
COATESVILLE, Pa. — Winning the GAP Junior Boys' Championship is in the hands of the golfer. He must be well prepared, in good form and locked in for a grueling week of competition. But while it is, of course, the player who, in the end, hits the shots, it certainly does not hurt to have a former champion serving as your caddie.
This was the strategy implemented by Nick Martin, 17, as he took to Coatesville Country Club for the 105th Junior Boys' Championship, part of the GAP Junior Series presented by Citadel. Kyle Vance, the 2015 titleholder, carried the bag for his former high school teammate in Monday's stroke play qualifying round.
The partnership between the Vance, who now plays at Kansas State University, and Martin can be traced back to their days as teammates on the golf team at Methacton High School. When Martin, now a rising senior, was just a freshman at Methacton, Vance was in his final year at the school.
The duo began the day with a single goal in mind: finish stroke play in the Top 16.
"I was telling Nick earlier, you just got to get in the Championship Flight," Vance, 20, of Audubon, Pa., said. "That's what we want to get into. Then we know, when you get into match play, anything can happen."
So far, all is going according to plan. Martin posted a 2-over-par, 73 to qualify for the Championship Flight. His round was highlighted by a chip-in for birdie on the opening hole (par 5, 489 yards) and several lengthy makes , including a 20-foot birdie putt on No. 15 (par 5, 533 yards).
"His [Vance's] reads around the green were very beneficial," Martin, 17, of Audubon, Pa., said. "We were rolling it well."
Martin's score also helped lead Blue Bell Country Club to a second consecutive Junior Team Championship. The club's recent success in the Junior Boys Championship is a testament to the strong Junior golf program it has built.
"It's really easy to get a group out [at Blue Bell]," Martin said. "We have a group chat of like eight guys, so we're always going out and playing at some point. The practice facilities at Blue Bell are amazing, so you can really work on your game. Being young, in the summer we don't have much to do besides golf so you can really put in the time and effort."
Martin will face Michael Walz of White Manor Country Club in his Round of 16 match Tuesday. Vance will be back on the bag.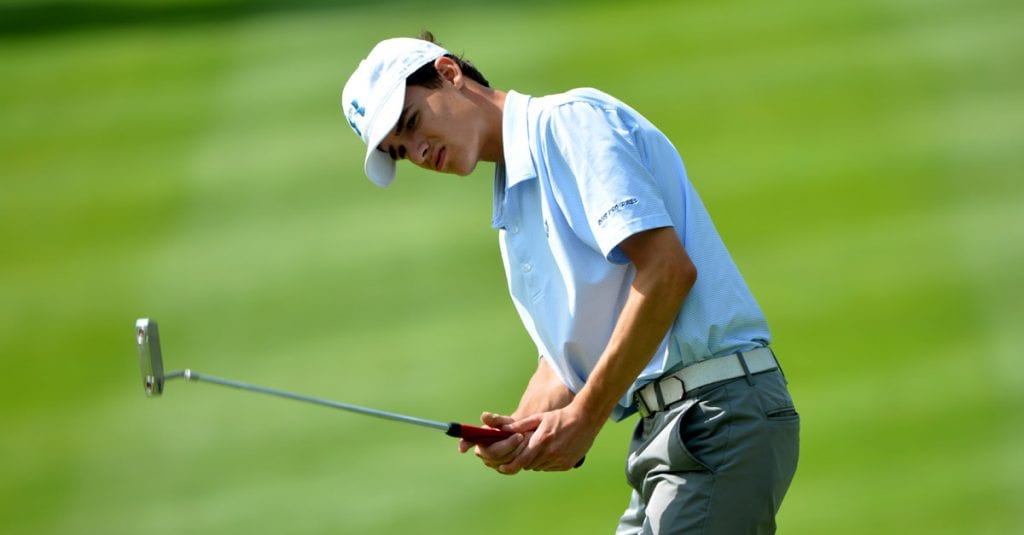 Baker, Romanov advance in 5-for-2 playoff
Ominous skies had loomed over Coatesville for much of the afternoon, but as preparations began for the 5-for-2 playoff to determine the last spots in the GAP Junior Boys' Championship Flight, the rain finally began to fall.
The downpour did not last long, however, and as the rain subsided, Nikita Romanov of Loch Nairn Golf Club and Charlie Baker of Gulph Mills Golf Club, emerged along with the sun, beating out Stephen Butler of Indian Valley Country Club, Tyler Zimmer of Philadelphia Country Club and Connor Bennink of Kennett Square Golf & Country Club.
Romanov did not wait long to notch his spot among the Championship Flight qualifiers. On No. 1 (par 5, 489 yards), the first hole of the playoff, Romanov clipped a wedge to six feet and promptly proceeded to roll in the birdie.
The pressure of the playoff caused little distress for Romanov, whose family heritage proved useful for navigating the tense situation.
Romanov's parents, Irina Romanova and Igor Yaroshenko, competed together as ice dancers in both the 1994 and 1998 Olympic Games.
"They've always pushed me to be better," Romanov, 18, of Wilmington, Del., said. "[I was] not really nervous. I enjoy doing this stuff."
Romanov's birdie had the La Salle University commit safely through to take on fellow Loch Nairn member Austin Barbin in the Round of 16. Baker, Butler, and Bennink all recorded pars on the playoff's opening hole and headed for the tee on No. 2 (par 3, 155 yards). There, Butler would drop out of the race after a bogey, leaving Baker and Bennink to play No. 3 (par 5, 522 yards).
Each player lay two sitting on the right side of the fairway for their approach on No. 3. Baker would play first from 80 yards, knocking a 58-degree wedge to 35 feet below the hole location. Bennink, from just a couple paces closer, came up just short with his wedge shot, leaving him a lengthy birdie look. Bennink then left his fourth shot five feet below the hole, prompting Baker to take an aggressive approach on his own birdie chance. The putt raced a good four feet past the hole.
"I was trying to die it really but I saw his [Bennink's] come up so short," Baker said. "I saw it was slightly uphill, so I just made sure I got it there."
Bennick proceeded to miss his par, however, giving Baker the chance to clinch the final Championship Flight's final spot.
Despite the inevitable nerves, the 17-year-old made no mistake, pouring it into the center of the cup.
"I'd be worried if I wasn't nervous," Baker, a rising senior at The Haverford School, said. "There was something on the line."
A man of the moment, Baker kept his composure, earning him a match with stroke play medalist Patrick Sheehan in Tuesday's Round of 16. Just last year, Baker fell to Sheehan in the Round of 16 at Blue Bell Country Club. He will be looking to rewrite the script this year.
"I hit a ton of greens today, so it's just feeling comfortable on the greens," Baker said. "It's just hitting greens and making some putts for birdie."
The Junior Boys' Championship is the premier Major in the GAP Junior Division. It is open to GAP Member Club golfers aged 14-18 who have not started their college education and who hold a handicap index of 14.4 or lower. Sixteen players qualify for match play; an additional 16 advance into the event's First Flight.
The Junior Boys' Champion is awarded the Peg Burnett Trophy, named in honor of the Association's Executive Secretary from 1951-76. Ms. Burnett was an ardent Junior golf supporter who emphasized sportsmanship and respect for the game. "I was very strict about checking the rule book. I didn't make the rules, but since they are there, you have to abide by them."
GAP
Celebrating Amateur Golf since 1897, GAP, also known as the Golf Association of Philadelphia, is the oldest regional or state golf association in the United States. It serves as the principal ruling body of amateur golf in its region. The Association's 274 Full Member Clubs and 75,000 individual members are spread across the Eastern half of Pennsylvania and parts of New Jersey and Delaware. The GAP's mission is to promote, preserve and protect the game of golf.

Citadel
Citadel is a credit union that has provided banking, investments, and insurance services to the Greater Philadelphia community for more than 80 years. At over $3 billion in assets, Citadel is one of the area's largest locally owned, not-for-profit financial institutions, proudly serving residents of Bucks, Chester, Delaware, Lancaster, Montgomery, and Philadelphia counties. Citadel has been ranked number one among all credit unions in Pennsylvania for providing value to customers by Callahan & Associates, and was named one of the best performing credit unions in the nation by SNL Financial. To explore products and services, visit www.CitadelBanking.com.