Lookaway's Little leads 116th Open after Round 1
| Scorecards | History | Round 2 Tee times |
DOYLESTOWN, Pa. – Michael Little was officially named the Lookaway Golf Club professional – his first head position – in June. A career assistant, the title change, obviously, brought on greater responsibilities. Atypically, Little's game has gotten stronger since becoming Lookaway's main man.
Little's strong season continued in the 116th Open Championship Monday at Doylestown Country Club (par 72, 6,557 yards). He carded an opening-round 4-under 68 to grab a one-stroke, first-round lead on a field of the Philadelphia area's top amateurs and professionals.
Amateurs Will Davenport of Whitemarsh Valley Country Club, the 2019 Middle-Amateur Championship, and Brandon Dalinka of The Ridge at Back Brook are in second place after carding 3-under 69s. In all, 10 players are under par.
The final round begins at 8 a.m. Little and Davenport are paired together in the final group at 12:30 p.m. Defending champion Jeff Osberg, an amateur from Pine Valley Golf Club, is in 11th place at even par.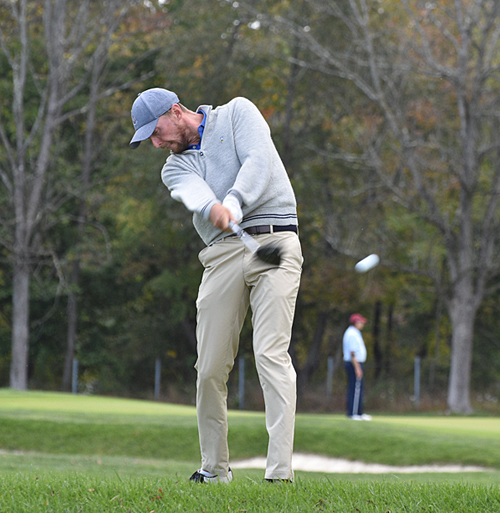 "This is always an event I asterisk on my schedule. I always want to play well in this event and I finally did and it feels really good," said Little, 36, of North Wales, Pa. "I've had some opportunities to work on my game, but being the new head pro at Lookaway, there are a lot more responsibilities. I think that's actually freed me up to not think as much as [about my game], knowing I have a big responsibility to go back to the club. I feel that's really helped my game this year versus hurting it."
Little has already recorded two Philadelphia PGA Section victories this season as well as securing the 2020 DeBaufre Scoring Average title. He won the William Hyndman, III Memorial Classic at Huntingdon Valley Country Club and the TaylorMade Classic at White Manor Country Club, both in August.
"I went over a few basics over the two days, to tighten up my clubface and to work on my putting stroke. I came out today thinking about trying to execute and not worry too much about shooting a good score. That seemed to benefit me today," said Little, whose top career finish in the Open was a tie for fifth in 2017 at Philadelphia Country Club.
Little's focus resulted in 12 pars, five birdies and a bogey.
He opened with a red figure on No. 1 (par 5, 540 yards) after lifting a lob wedge from 50 yards to a foot. On No. 8 (par 4, 297 yards), Little almost drove the green. His tee ball landed in the greenside bunker and he got up-and-down for birdie. A bogey on No. 12 (par 4, 352 yards) proved to be his lone blemish before finishing in a flurry with three birdies in his final six holes. Little canned a 50-footer from the fringe on No. 13 (par 3, 196 yards); hit another fantastic short flop shot on No. 14 (par 5, 501 yards) from 30 yards to three feet and converted a short birdie putt on No. 18 (par 5, 519 yards) after finding the greenside bunker.
The final birdie was a bit of redemption for Little who bogeyed that hole in 2019 to fall out of a playoff for the Doylestown Open title.
Little's confidence received an added boost recently. He qualified for his third PGA Professional Championship with a Top-5 finish in the 99th Philadelphia PGA Professional Championship in late September.
Davenport turned in 3 under, but finished his inward side level. He bogeyed No. 16 (par 4, 380 yards) due to a wayward drive but responded on No. 17 (par 3, 163 yards) with a 30-foot birdie.
Dalinka finished in a frenzy. He birdied Nos. 17 (par 3, 163 yards) and 18 (par 5, 519 yards), both times hitting a 7-iron. He hit it to 15 feet in the 17th and just missed an eagle putt from eight feet on the final hole before tapping if for birdie.
The Open Championship is GAP's third oldest championship. The Amateur is 119 years old and the Joseph H. Patterson Cup is 117.
GAP
Celebrating Amateur Golf since 1897, GAP, also known as the Golf Association of Philadelphia, is the oldest regional or state golf association in the United States. It serves as the principal ruling body of amateur golf in its region. The Association's 288 Member Clubs and 75,000 individual members are spread across the Eastern half of Pennsylvania and parts of New Jersey and Delaware. The GAP's mission is to promote, preserve and protect the game of golf.
| | |
| --- | --- |
| | |
| Name, club | Score |
| Michael Little, Lookaway Golf Club | 68 |
| (a) Brandon Dalinka, The Ridge at Back Brook | 69 |
| (a) William Davenport, Whitemarsh Valley Country Club | 69 |
| (a) Michael R. Brown, Jr., LuLu Country Club | 70 |
| Alexander Knoll, Glen Brook Golf Club | 71 |
| Chris Krueger, Kings Creek Country Club | 71 |
| (a) Andrew Mason, Huntingdon Valley Country Club | 71 |
| (a) Connor McNicholas, The 1912 Club | 71 |
| Zac Oakley, Bidermann Golf Club | 71 |
| Mark Sheftic, Merion Golf Club | 71 |
| Trevor Bensel, Overbrook Golf Club | 72 |
| David McNabb, Applebrook Golf Club | 72 |
| (a) Jeff Osberg, Pine Valley Golf Club | 72 |
| David Quinn, Laurel Creek Country Club | 72 |
| Steve Swartz, West Shore Country Club | 72 |
| Andrew Turner, French Creek Golf Club | 72 |
| (a) Troy Vannucci, Little Mill Country Club | 72 |
| (a) David Herbst, West Shore Country Club | 73 |
| John Pillar, Sr., Country Club at Woodloch Springs | 73 |
| Braden Shattuck, Bidermann Golf Club | 73 |
| Billy Stewart, The ACE Club | 73 |
| Ross Brown, Fox Hill Country Club | 74 |
| Pat Butkus, Tavistock Country Club | 74 |
| Christopher Filling, Seaview Golf Club | 74 |
| Ashley Grier, Overbrook Golf Club | 74 |
| (a) Jalen Griffin, Five Ponds Golf Club | 74 |
| Curtis Kirkpatrick, Indian Spring Golf Course | 74 |
| (a) Grant Skyllas, LedgeRock Golf Club | 74 |
| (a) J.T. Spina, Spring Ford Country Club | 74 |
| Rich Steinmetz, Spring Ford Country Club | 74 |
| Michael Tobiason, Deerfield Golf Club | 74 |
| (a) Conrad Von Borsig, Philadelphia Cricket Club | 74 |
| Dustin Wallis, Dustin Wallis Golf | 74 |
| (a) Lukas Clark, Galloway National Golf Club | 75 |
| (a) Jack Irons, Little Mill Country Club | 75 |
| Brian Kelly, Bucknell Golf Club | 75 |
| David Pagett, Whitemarsh Valley Country Club | 75 |
| Brendon Post, University of Delaware | 75 |
| (a) Matthew Teesdale, The 1912 Club | 75 |
| Travis Deibert, Doylestown Country Club | 76 |
| Joseph Kogelman, GOLFTEC – Moorestown | 76 |
| Hugo Mazzalupi, Patriots Glen National Golf Club | 76 |
| Dustin McCormick, Glen Brook Golf Club | 76 |
| Parks Price, Country Club of York | 76 |
| (a) Andrew Cornish, RiverCrest Golf Club & Preserve | 77 |
| Gregory Farrow, Deerwood Country Club | 77 |
| (a) Andrew Keeling, Kennett Square Golf & Country Club | 77 |
| (a) Tony Peressini, Doylestown Country Club | 77 |
| George Forster, Radnor Valley Country Club | 78 |
| Jeffrey Herb, Waynesborough Country Club | 78 |
| Bob Lennon, Wilmington Country Club | 78 |
| Greg Matthias, Tavistock Country Club | 78 |
| (a) Oscar Mestre, Overbrook Golf Club | 78 |
| (a) Brian Isztwan, Huntingdon Valley Country Club | 79 |
| (a) Conor McGrath, Huntingdon Valley Country Club | 79 |
| Billy Sautter, Philadelphia Cricket Club | 80 |
| (a) Zach Barbin, Loch Nairn Golf Club | 82 |
| (a) Peter Barron, III, Galloway National Golf Club | WD |
| (a) Michael Davis, Aronimink Golf Club | WD |
| (a) Kyle Deisher, Huntingdon Valley Country Club | WD |
| (a) Matthew Finger, DuPont Country Club | WD |
| Mike Furey, Saucon Valley Country Club | WD |
| Stuart Ingraham, MGOLF Driving Range & Learning Facility | WD |
| (a) Max Siegfried, Aronimink Golf Club | WD |
| Bill Walker, Riverton Country Club | WD |
| (a) Zachary Falone, Sakima Country Club | DQ |
| DQ – disqualification; WD – withdrawal | |
| (a) – amateur | |