| Scorecards | Recap | Video |
Their birth dates may be separated by 10 years, and their homes by more than an hour. But this week, Andrew and Bryan Keeling found themselves in close proximity — near the top of the 36th GAP Middle-Amateur Championship leaderboard.
Bryan, 37, of Holland, Pa., and Andrew, 27, of West Chester, Pa. , each notched top-30 finishes in GAP's first Major of the year. Bryan finished tied for 26th with rounds of 72 and 79, while Andrew followed an incredible opening round 65 with a 75 Thursday — eventually finishing as the tournament's runner- up.
While Bryan's own play was impressive in its own right, he was particularly grateful for the chance to see Andrew play so well.
"It's extra exciting for me," Bryan said. "I get to concentrate on my own game, but to have somebody else to really follow and care about their result, it's a lot of fun. We have a little competitive nature between the two of us, but I think when it comes to something like this we just want to see each other excel."
For the Keelings, golf provides the opportunity for some brotherly bonding. Given the distance between their residences, Bryan and Andrew do not get to play together all that often. Instead, the two golf aficionados communicate remotely about their games frequently. Whether it is sharing swing videos, drills or strategy tips, the Keelings' mutual love for the game means they are rarely short on conversation material.
Bryan, a Spring Mill Country Club member, and Andrew, who plays out of Kennett Square Golf and Country Club, are not usually on the same golf course. The GAP Middle-Amateur, however, seems to bring the pair together. Just last year, they were grouped together at Llanerch Country Club.
"I don't know how they let that happen," joked Andrew. "It's good support. You get a buddy out there."
Fresh off surgery, defending champ Hyland finishes T-5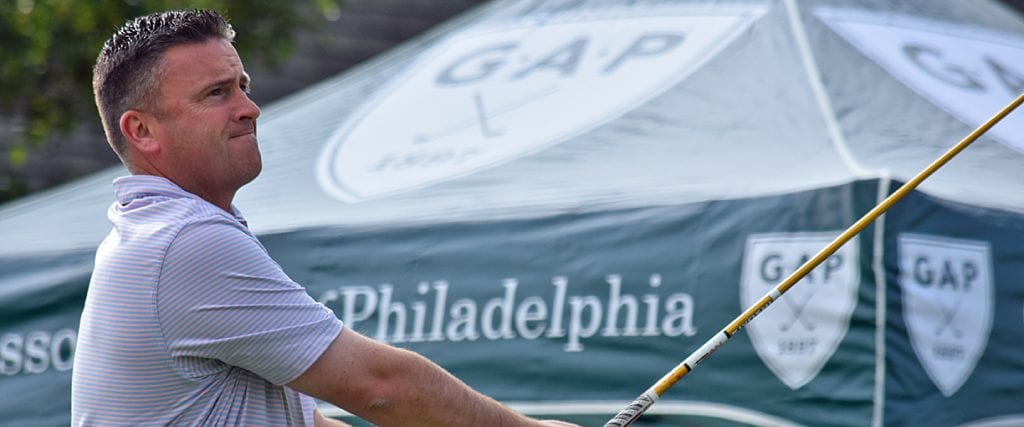 Following a lumbar discectomy surgery in March, Michael Hyland was told by doctors that he would need to wait three months before resuming golf-related activities. However, with a Middle-Amateur title to defend, the Little Mill Country Club member made the executive decision to resume playing a month early.
"I'm technically not here," joked Hyland, 40, of Medford, N.J. "The course is so awesome. I was not missing Rolling Green."
Before the Middle-Amateur began on Wednesday, Hyland swung a golf club just twice since February – in a BMW GAP Team Match last Sunday, and during a trip to Topgolf. Despite limited preparations, Hyland finished in the tournament's Top 5, shooting rounds of 72 and 71.
"I had literally no expectations whatsoever," Hyland said. "I was trying to make the cut. To come in the Top 5 is tremendous for me."
Brennan's 68 solo red round on Day 2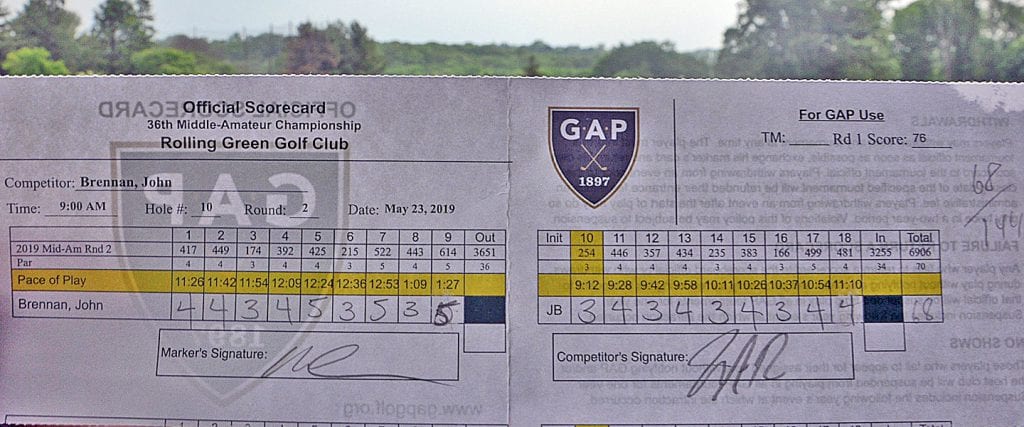 John Brennan had his taste of Middle-Amateur supremacy in 2012, the year of his victory at Chester Valley Golf Club.
Thursday at Rolling Green, he didn't get a chance to lift the trophy. He did, however, finish firing on all cylinders, carding a 2-under 68. Brennan's scorching final 18 was the only round under par on Thursday. More importantly, it catapulted the Cricketeer into solo eighth place.
With three birdies on the card, Brennan said "he didn't do too much different than yesterday" when he carded a 6-over 76. So, what was the key today?
"The par 3s, definitely," said Brennan, 40, of Collegeville, Pa. "If you can make pars on all five of them, like I did today, you're going to pick up a few strokes on the field. That's exactly what happened. Yesterday I struggled on the par 3s, and really, that was the biggest difference between the two rounds."
On paper, the difference is startling. Brennan was 4-over par on the par 3s on Wednesday, including a triple bogey on the 203-yard 14th. He went even par on those same holes Thursday.
Even as a GAP Major regular, Brennan only gets a round or two in per week. Most of his weekly hours are spent at Spring-Ford High School, both as a teacher and tennis coach. The amount of golf practice he desires ultimately isn't what his game requires based on his playing record.
"It's tough because I only get out once or twice a week. I know a lot of guys out here who have the opportunity to play all the time, but I'm happy with where my game is considering that," he said. "Anytime you can finish this high in a GAP Major is a really big deal."
GAP
Celebrating Amateur Golf since 1897, GAP, also known as the Golf Association of Philadelphia, is the oldest regional or state golf association in the United States. It serves as the principal ruling body of amateur golf in its region. The Association's 274 Full Member Clubs and 75,000 individual members are spread across the Eastern half of Pennsylvania and parts of New Jersey and Delaware. The GAP's mission is to promote, preserve and protect the game of golf.